Pros
Signing up via Facebook

Non-paying members are able to send messages (but can't read messages from others)

There is a video chat

Super intuitive navigation

There are many quizzes, games, stories and other interesting things
Cons
Many fake profiles

Sexbot service instead of real people

No app

Flawed customer service

Communication options are very limited for nonpaying users
Verdict
If you are looking for NSA hookups of any sorts, we must recommend you to look elsewhere and don't waste your time and, importantly, money on SexSearch
---
SexSearch – Is It Legit?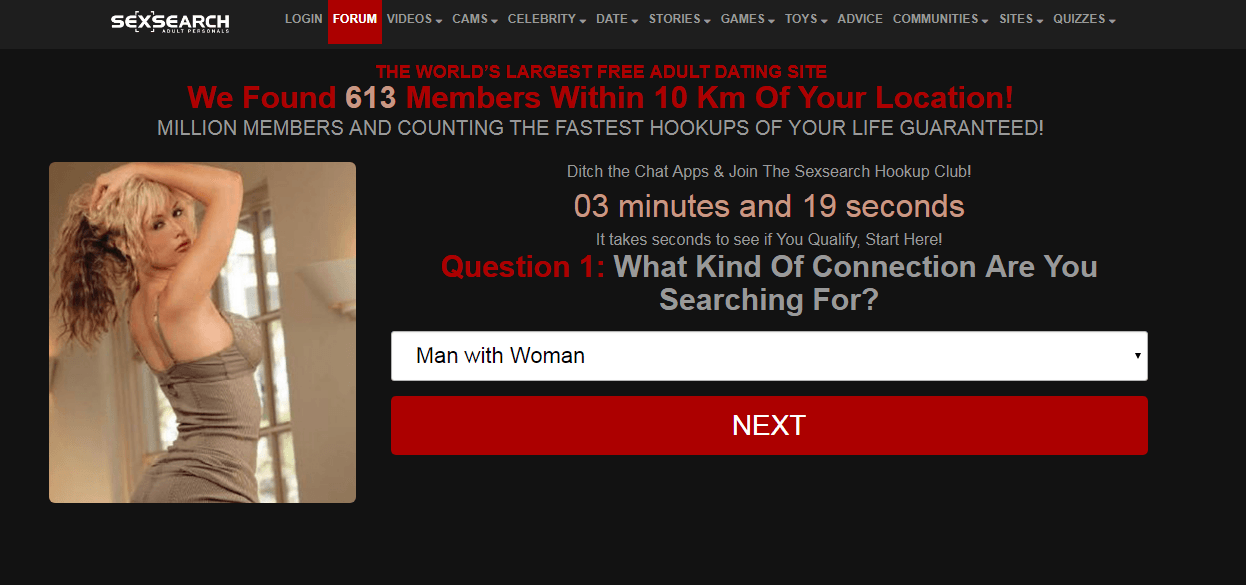 To this day, many people still consider online dating to be some form of light-minded entertainment. Many online dating services oppose this opinion fiercely by claiming that they are for earnest-minded people and backing up those claims by numerous success stories from their lasting history on the market. Other websites embrace the stigma and proclaim that there's nothing wrong with NSA hookups of any sort, thus catering to the niche audience that's not looking for any lasting commitments.
SexSearch.com belongs to the latter category. It's run by a company called Dating Factory that has its reputation slightly stained by scam-related scandals. However, instead of investigating and re-investigating those scandals, we're going to try and look at SexSearch objectively to determine whether this particular Dating Factory's website is indeed legit.
First glance
The website is built quite logically, and the navigation is super intuitive. The design is enticing and instantly inspires a flirty mood. A visitor gets persistently prompted to sign up, but you might as well take some more time to look around.
Among other things, you can find the website's blog dedicated to tips and other details of casual NSA dating. However, most of the information in there is of very little value. Instead, the texts look like they are deliberately stuffed with innuendos or other triggers to facilitate the visitor's decision to sign up immediately.
The website also loudly proclaims that it has over one million users worldwide. It may seem exciting, but if we go nitpicking, we might notice that the amount of global users plays little to no role for someone who's looking for a quick hookup. It's difficult to imagine someone who wants a quick hookup right now regardless of location. Of course, there are cybersex fans, but the website never specifies that it caters to this subculture in particular. So, that's where our suspicion begins, but we're moving on nevertheless.
Signing up and getting started
You can use your Facebook profile to sign up with SexSearch or start your profile from scratch. Either way, you will have to pass through several steps to set up your profile here. You will have to indicate your gender, sexual preference, your desired username and password, and your email address. It takes less than a minute. There are no more mandatory details to provide. 
To complete the setup, you will have to follow the verification link sent to the email address that you have indicated, – and your profile is ready to go. One should expect that such an explicitly adult platform will have some extra verification procedures to ensure that the users are indeed of legal age, but that doesn't happen here.
If you ever choose to remove your account, it's easy to do in your account settings. If you do that, however, remember to cancel your subscription first – not to get billed for the service of a non-existing account and to avoid any other possible misunderstandings.
Profile quality
Once your profile is set up, you are welcome to fill it out by writing a few lines about yourself and uploading some photos and videos. None of this is necessary to continue chatting on the website, and you can update or modify this information at any time.
Your profile picture is always publicly visible to all users. As for other photos and videos that you upload, you can choose to have them private and only share them with select users. It's possible to go without a profile pic and only have private photo/video galleries. However, if your photos or videos involve graphic nudity, they will only be visible to paying subscribers, regardless of your privacy settings. But – in this regard, that's all the moderation there is.
The fact that all the profile details are non-mandatory at SexSearch leads to an overwhelming number of empty profiles with nothing but a profile pic or without even that. Moreover, there is a striking difference between male and female profiles. Most men here have no photos or photos of very poor quality, even worse than one's regular bathroom selfies. As for women, they often (but not always) tend to have utterly revealing profile pictures with gorgeous lady parts – breasts or butt cheeks – clearly visible under a shred of clothes and leaving little to the imagination. Such disproportion is yet another sign that raises suspicion because it looks like being aimed specifically at straight men who are too horny to think straight.
Contacting other members: Free VS paid version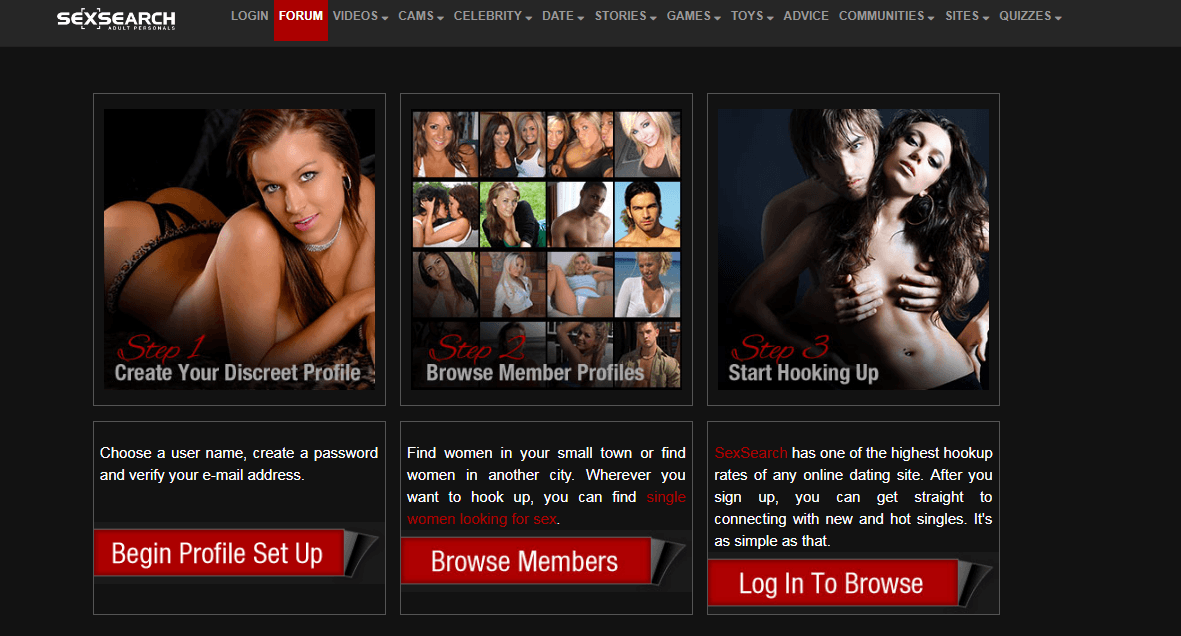 Most of SexSearch's interaction functionality is hidden behind a paywall. There are some things you can do as a free user, but it cannot be called an online dating experience in any sense. You can use the basic search and browse other lists of users, such as who's new, who's online, the VIPs, and a few more. You can add profiles you like to favorites and see who's added you. But the messaging is entirely limited: free users can only send messages (as well as winks or e-cards) but cannot access their inbox to see what others write to them. In other words, the main part of any online dating service – the messaging – is only available to paying subscribers at SexSearch.
Paying subscribers can use advanced search options (which, admittedly, are of little help because the profiles are not filled out anyway) and message whoever they want. In addition, paying members have access to a set of SexSearch's special features, the most noteworthy of which are:
Video chat. Use your webcam and microphone to communicate with your partner through SexSearch.
Photo filter. Adjust which photos of other users you will get shown. If you wouldn't like to see any nudes for some reason, you can specify it in the Photo Filter and see only decent photos. Likewise, you can specify to see only the X-rated content.
Our communication experience
Despite the empty profiles, the SexSearch members seem to be quite active. We got our inbox literally flooded just a few minutes after setting up a profile! So, we had no choice but to purchase a subscription to see what all these people write to us. What we got was a diverse variety of lines like 'hi, wanna have some fun?' Some of them were funny, however: people were admiring our appearance even though we haven't uploaded any photos yet. This is yet another suspicious sign.
Subscription prices and other payment details
As for the price, SexSearch charges quite moderately – not too expensive and not too cheap. A one-month subscription costs $24.99, but – like with many other fee-based dating services – you can reduce the monthly rate by subscribing for a longer period and paying in advance. As such, if you pay for three months in advance, the whole period will cost you $59.95 which equals $19.99 per month. A six-month subscription can save you even more: it costs $89.95 making it $14.99 per month.
For an extra $14.99 per month, you can purchase a VIP add-on. It will highlight your profile and make it show up at the top of other users' search results. Other than that, it doesn't add any valuable advantages.
All subscriptions are adjusted to renew automatically by default. In case you wish to discontinue your subscription, you can do so in your account settings. We recommend you do it no later than 14 days prior to the expiration date. Otherwise, you will get billed for the next term regardless of whether you intend to use SexSearch or not because the service doesn't have a refund policy.
Like other Dating Factory's websites, SexSearch accepts all major credit and debit cards, as well as regular bank transfers.
Fallbacks of SexSearch
We have already mentioned some of SexSearch's setbacks, but there are a few more of those to be taken into account:
Flawed customer service. First of all, there's no option to report a suspicious or abusive user. SexSearch simply doesn't have such a function. As for other concerns, you can only submit them in written form via email or a submission form on the website. There is no hotline or even instant chat. It would be fine-ish if the site bothered to state how long it takes before a concern is addressed, but it doesn't. Technically, they reserve the right to investigate a user's concern indefinitely which, in practice, equals ignoring it.
No app. A mobile app is essential for any online dating service, especially for the one aiming at quick hookups. If you look for a lasting commitment, you might reply later when you're at your computer, but quick hookups often need to be arranged on the go, here and now. You can access SexSearch through your phone browser, and, fortunately, there's a mobile-optimized version of the website.
Low profile quality. One might agree that detailed profile information is not essential for this kind of dating, but at SexSearch, the profiles are the opposite of informative. It's literally blind dating.
A certain fine print in the Terms of Use. We have saved this one for last because it's the definitive SexSearch's drawback. Few people bother to read the Terms and Conditions of online services, but we did. And what we have found there completely blew our minds and rendered the entire service illegitimate. We are talking about several clauses dedicated to 'online emissaries.' The service describes them as artificial profiles that interact with real members by sending them automated messages for the purposes of amusement. In other words, they admit having some profiles on their website that don't have real people behind them. To make things worse, such profiles are not marked in any special way. So, you can only guess whether you're chatting with an actual person or with a bot. Of course, it doesn't necessarily mean that all your chat partners here will necessarily be bots. But the website also doesn't bother to mention the percentage of these 'robotic' profiles on the platform.
Final verdict
Unfortunately, this last detail that we have mentioned is so critical that it entirely annihilates whatever advantages SexSearch may have. Instead of landing NSA dates, the platform offers you a chat with a sexbot. We are not here to throw accusations of false advertising or scamming, but online daters need to beware that SexSearch delivers something different from what it promises. We can imagine an audience that will be willing to pay for cybersex with sexbots (and we are by no means judging), but such activity can hardly be classified as online dating.
If you are looking for NSA hookups of any sorts, we must recommend you to look elsewhere and don't waste your time and, importantly, money on SexSearch. There are plenty of legit and efficient online platforms for that on the internet, and you can easily find our reviews about them.
As for SexSearch, we might suggest Dating Factory two options. The first one would be to discontinue the shamefully misguiding use of those 'online emissaries' and take care that there are only genuine profiles on the site. The second option would be to stop advertising SexSearch as a platform for finding hookups or as an online dating venue at all and rebrand it as some sort of a sexbot service. It's not our place to advise which option is better. 
As of now, we cannot even give SexSearch any grade because we cannot classify it as a dating service at all.
---
More online Dating Services
---