Pros
Focuses on the interaction of users

Quickie sex roulette

Great price and quality balance

Online adult movies

Starting chat is as easy as never before

Best matches based on your profile
Cons
Absence of the mobile app
Verdict
Flirtbuddies website of accessible hookup and sex offers
---
Flirtbuddies review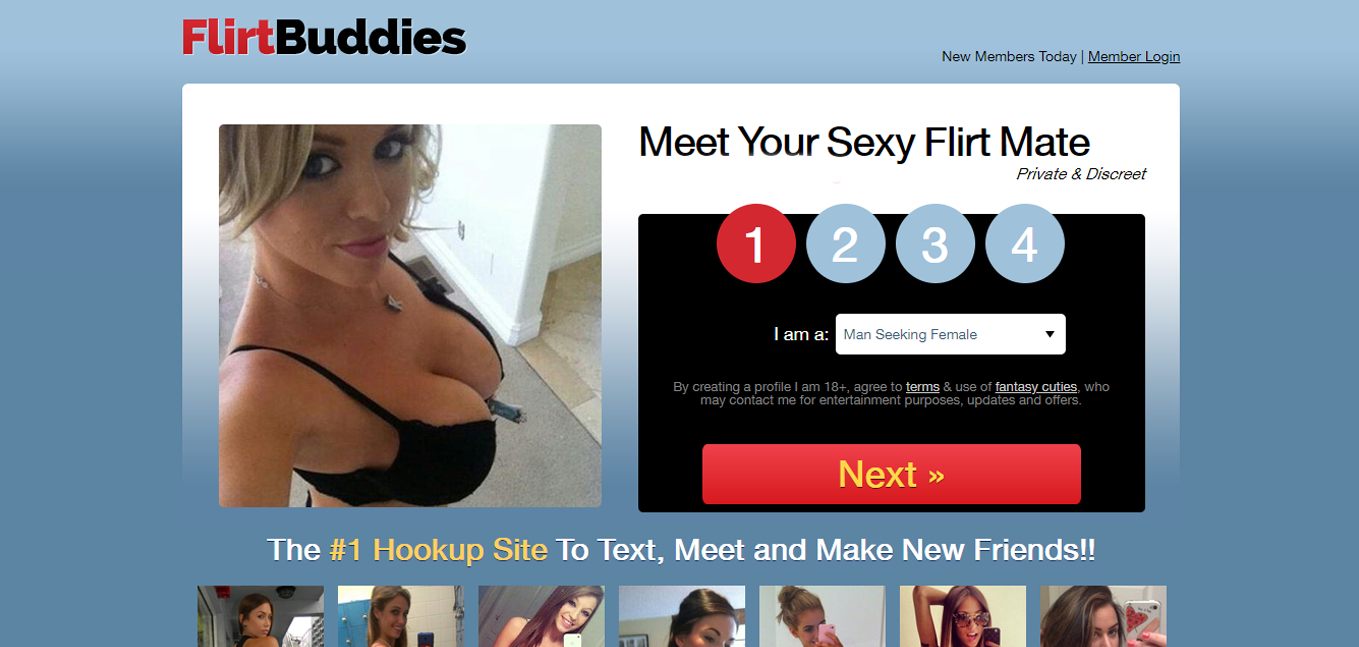 It should be thrilling to have an own flirt buddy – a guy or girl to bang with, without obligations. It's like in the movie with Mila Kunis and Justin Timberlake 'Friends With Benefits'. Eventually, they come up in falling in love with each other – but that's a film, while you live in real life and can choose not to have any heart feelings (unless you don't strive to).
This is why Flirtbuddies site has been started – to let you search for such 'sex buddies' around if you don't have any in your proximity. Seems like people who register on such sex-date sites are ready to go much farther than they would when meeting someone in reality – and you should use this obvious advantage!
So, let's check out, what Flirtbuddies website of accessible hookup and sex offers you.
Member Structure
We did not find disclosed data about the correlation between males and females on this site of heavy flirting. But if you are actually interested in this, you should address customer support to make them send you this info. As far as we can tell, there is a bigger number of ladies here than of men (which is good, as you won't have large competition from other men, receiving a lot of female attention concentrated at you).
Signing Up
Right on the homepage, you see the registration form – it consists of 4 easy steps, which you can pace through, like, for 3 minutes. Below the form, you see random profile pictures of classy girls, who are also members of the site and do not mind about a classy fancy bang-bang.
First, tell who you are – a man seeking a female or a woman wanting a man. Come up with a username (no shorter than 4 characters and no longer than 15). If it is taken already, the system prompts you to some other good-looking name (one our friend would like to take Lover2000 but it was already taken, so he was offered and agreed to a much better name "Lover2020"). Come up with a password. Enter a valid e-mail address (it will be checked). If you want to enter just a dummy address – you are not able to, as the system crosschecks the existence and tells you whether this e-mail is junk, right away. Also, you will not fool it by inserting some one-day-living or 10-minutes-living address, as the system is smart enough to filter those out. So, go with a good one. 
The activation process, unlike other hookup sites, does not take place immediately. Once the account is created, you are offered to login. Only then, you see a pop-up with a request to complete the registration by verifying the e-mail address (with a possibility to resend the activation letter).
In your e-mail box, you can either click a huge dark-red button "Activate My Account" or enter the activation number into the site's special field. As you do it, access is granted.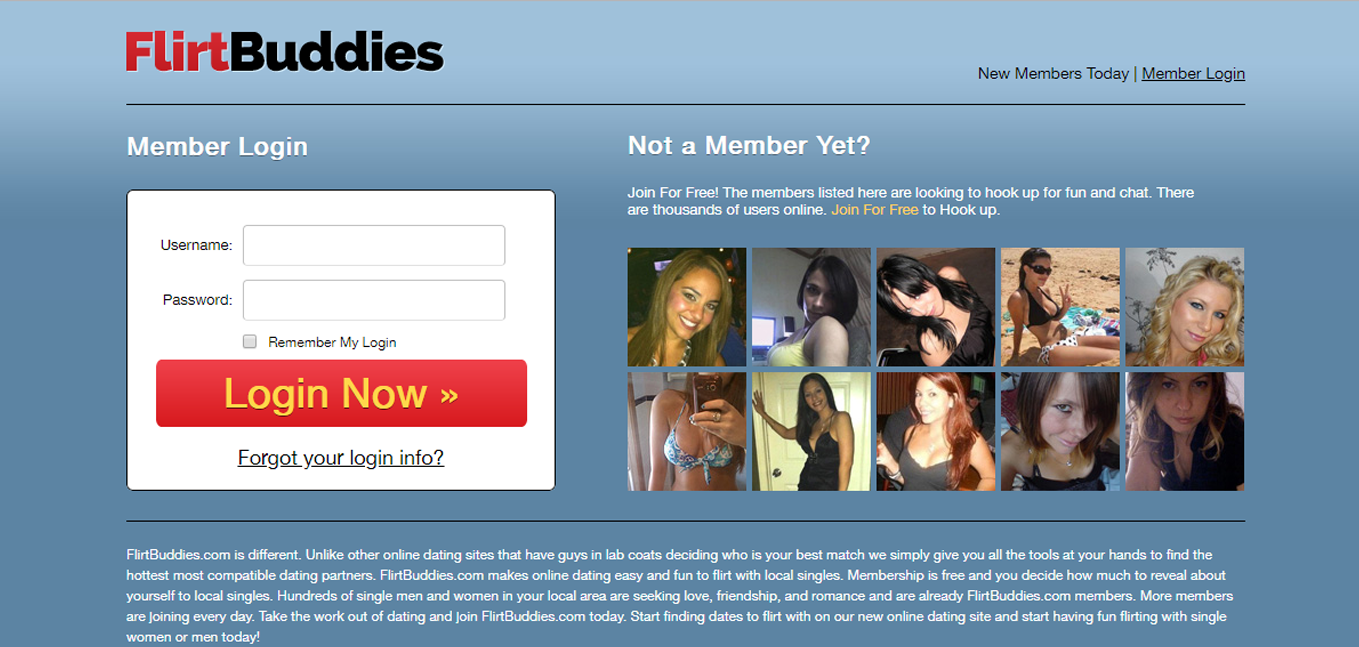 What to do next?
Obviously, questions may arise about how to use your profile – as there is so much information here. Let's figure out.
On the top, you see the buttons of your account settings, a number of tokens left (and with an opportunity to get them), contact to customer support, and do the log out. 
Slightly below, you can upgrade your account quickly. If there are any discounts apply for you today – they are shown. We'll talk about upgrades and prices later on.
In the center and lower, you see a list of women near you. Your city should be proper if you want to receive nice matches, not someone located not even close to your country or state.
Member tweets on the left – what other people say. And you can too! On the right, you see a quick look at your own profile, have a form of a search for women. By going down below, you see: 

a list of live webcams active right now
online adult movies that one can watch
recent chats that you're having
featured members (those that might be of high interest to you)
newest hotties (ones who have just recently registered)
best matchups (these are women nearby you who wanna bang-bang)
and the list of those who have viewed your profile just recently (during the last 7 days).
You can interact with any of those – to an extent, to which your profile allows. Usually, an unpaid profile only allows its owners to view general info of people but not respond to them, view a full profile or write tweets.
Making Contact
To make contact with anyone, you should make any of the actions disclosed below:
Click on a profile in the sections 'Search', 'Messages', 'Quickie', 'Newest', 'Friends/Favorites', 'Chat' (all located at the top of your profile page), or 'Member Tweets', 'Women Near Me', 'Live Web Cams', 'Live On Cam Now!', 'Recent Chats', 'Featured Members' (you can be here, too), 'Member Ratings: Hot or Not?', 'Newest Hotties', 'Best Matchups', 'Who Viewed Me' (by default, views for the last 7 days are given) – these blocks are located from the top to the bottom of a member page and you can click directly at any profile.
When you select a profile to your liking, you may review it by the filled-in information (about a person and about the one, whom this person searches for – we'll tell about the list of fields to fill in later on in this Flirtbuddies review). If you see that a profile matches you based on this or that criteria, you are welcome to write to the owner of it. 
Starting chat is as easy as never before: simply click at the green chat icon that is blinking on the left upper part of every opened profile. 
Another fabulous opportunity for making contact is to answer all those people who write you first. What is advantageous about this website is that every day of using it, you will be contacted by dozens of people of those whom you are interested in (males, females or couples) – because, well, they are here for the same thing as you are – getting a hookup and get horny dreams implemented in reality.
Profile Quality
When going to profile settings, you can manage whether your profile will be accessible to all registered users or should be hidden. You can input changes and see how your profile looks like in the search results. Obviously, to make it better, you should upload several nice pictures (or at least one – a profile main one). Profiles without pics are usually skipped by nearly all users. If you aren't sure what should be given on a picture – you can adhere to the photo rules and recommendations of the site. Generally, if you just post you, your face + your body or a part of your body, this should be okay. Do not hesitate to upload a nude picture – as, you know, you are on the site where people wanna bang and are in search of a sex partner for quick hot relations. 
There, you can also change your password, e-mail, enable/disable browser notifications, view the list of blocked users, and delete your account should you want so.
Indicate your exact position in order to get relevant hints from a system about girls around you desiring to bang (otherwise, there may be some 2,000 kilometers between you and she might be even having a different time zone – not so much invigorating for quick sex, yeah?). You will be reminded to complete your profile on any occasion – until you do. By default, a newly registered person gets 0% profile completion, which must change if he or she wants to have sex. 
So, let's talk now about the fulfillment of your profile. We are intending to lead you through the stages of it, to full completion (100% of it will be shown in your profile as you go through all steps). Let's say in advance that a lot of fields in the user questionnaire suppose indefinite answers like "Say to you later". But you should understand, although the system takes such replies as possible, it would be much more exciting to other users to know more about you – to decide whether they are prone or against a hookup with you, in addition to pictures, which reveal your appearance (as what can be possible interest in reading information, at 80% consisting of nonsense blanks?). So, let's go:
In order to start fulfillment, press the 'Complete My Profile' button in the right top corner of your profile page. Above it, you can see at what % your profile is completed at a given point in time. Needless to say that it is better to strive to 100%.
The first step consisting of filling in three fields:

Profile Title
About You
You Want.
Fields # 2 and 3 require you to write anything from 30 to 500 characters – at your discretion. The system also warns you that for the sake of privacy, no external contact data outside of this site in the textual or graphical filling of your profile isn't allowed and will be removed when found by the administration.
3. At the next stage, you are asked to upload from 1 to maximally 6 of your pictures to characterize you. As this is an adult site, you can upload any indecent pictures, even the main one, which is going to stand on your main image of a profile. Nobody's child here, you know. Every picture is desirable to be of nice quality and to be at least 200 x 200 pixels. If it is not of the required pixel rate, the system informs you of this upon uploading pics. After that, every piece that you upload goes to the administration of the site for manual verification – to make sure you are not posting some hard-to-get or nonsense pictures. It is advisable to make them convey what you look like or showing some portion of your body to make other people to xxx-hook-up you. Also, upon uploading pics, you should define one of them as your main one. If only one pic is uploaded, it is automatically assigned as the main pic.
4. The step now is called 'My Profile – About Me'. Here, you are offered to fill in those fields (most of them are predefined so you just tick an answer or select from the dropdown list, to simplify and speed-up all your actions):
My Hair: blond, black, brunette, redhead, gray, other
My Eyes: black, green, hazel, blue, brown, gray, other
Marital Status:

Will Tell You Later
Attached
Divorced
Married
Separated
Single

Race:

Will Tell You Later
American Indian
Asian
Black / African American
Caucasian / White
East Indian
Hispanic
Middle Eastern
Pacific Islander
Various (we don't know what the hell does this mean)
Other

Religion:

Will Tell You Later
Protestant
Catholic
Jewish
Muslim
Buddhist
None

Education:

Will Tell You Later
High School
Junior College / Trade / Technical
4-year college / University
Master's Degree
Advanced Degree

Income (Estimated annual income):

Will Tell You Later
Below 15,000 US dollars
15,000 – 25,000 US dollars
25,000 – 35,000 US dollars
35,000 – 50,000 US dollars
50,000 – 100,000 US dollars
Over 100,000 US dollars

Height:

Will Tell You Later
Below 5 feet
From 5 feet 1 inch to 6 feet 4 inches with a step equal to 1 inch – the long drop-down list is formed, yeah
Taller than 6 feet 4 inches
Also, it is possible to manually input your height in centimeters if you use a metric system (which is far more convenient, transparent, and comprehensible than the non-metric system of measures).
Weight:

Will Tell You Later
Manual input in pounds
Manual input in kilograms – at your discretion

Body type:

Will Tell You Later
Average
Few extra pounds
Slim 
Athletic
Muscular (bodybuilder)
Large

Birthday:

Automatically fulfilled based on what you indicated during the registration on the site and now can be changed here
MM
DD
YYYY

Do you Smoke?:

Will Tell You Later
I am a non-smoker
I am a light smoker
I am a heavy smoker
I am a cigar or pipe smoker

Do You Drink?:

Will Tell You Later
Do not drink at all
I am a light or social drinker
I am a heavy drinker

What language(s) do you speak (it is possible to tick many answers – from 1 to all):

English
French
Japanese
Spanish
Chinese
German
Korean
Swedish
Italian
Portuguese
Tagalog.
Next, you are going to fill nearly the same fields about the one, whom you are looking for. The set of fields is basically the same; it differs only in a few things, which are:
(Looking for a) Gender:
I want to meet for:

Friends
Dating
Intimacy
Swingers
Lust
Fetish

Their age:
Their distance from me:

Within 5…1,000 miles (with 8 possible options within this range)
Within my city/town
Within my state
Within my country.
The extra difference of the questions about you and about a potential partner is that you can answer 'Will Tell You Later' about you and 'Does not matter' about them. Easy-peasy.
5. Now you see that your profile is completed at a certain percentage. If you have answered all questions and uploaded at least one pic, then it should be 100%. Very good result!
App
We have not found any app for this website – neither for Android nor for iOS in proper app stores of those. The site does not offer to download an app of it as well. We're expecting this feature to come out of their house in the future. Today, it is hard to find any advanced person, the user of the Internet, without a mobile phone. The statistic says that in 2019, over 50% of the entire user traffic in the world is generated by mobile users. If to add tablets and all mobile forms of gadgets, like watches and glasses to this statistic, the amount rises to 60%, with PC and laptop platforms stably losing a market share every year. Well, you can use the site from your smartphone – but it is best viewed on a big screen. 
Real Life Review
Samantha from Canada says:
'I did not expect to find anyone thanks to this site – as it looked more like porn base to me as I registered. However, I gave it a try and started writing to all members who suited me based on search results. In two days, I had 100+ incoming letters, chats, and responses to my chats and letters – a solid base from whom to choose. In 2 weeks, I had 20+ firm partners to hook up. In 2 months, I had over 30 sexual encounters with different partners happened in real life. This enjoyment grows like an avalanche – and I'm definitely not going to be alone anymore! I know where to find reliable hookups for lustful sex!'
Design and Usability
The design is fully tuned at the user experience – at getting in touch with other users. At the center of everything is an interaction between profiles of users. There are 2 basic ways to find them – through search and through clicking anywhere in the user interface. In order to make a user informed about what's new with him or her, there are icons of informational messages at the top of the profile – specifically, in sections 'Messages', 'Quickie', and 'Chat'. 
Costs and Prices:
As for the pricing, you immediately see 4 options of payments (after you try to fulfill any action that is paid):
1 month for $29.95.
3 months for $49.95 (thus, you save 45% of the price for each month!)
6 months for $69.90 only – you save 61% of the monthly price, which is a whopping offer, suitable for everyone)
$2.97 per day during a limited 3-day trial ($8.90 for the entire period – which is amazingly close to the monthly price of $11.65 if you pay for 6 months in one go, which is roughly only $0.38 per day – getting laid for so little money was never possible before right?).
The main difference between the 3-day trial and 1, 3, or 6-months usages is that in the first case, you get only limited offers (like 10 profile views and messages per day, which is not an awesome thing), whilst in the monthly usage, all possible limits are withdrawn – you chat and view as much as you want, nightly and daily. So how to go for it?
It is easy with your bank card – by selecting the payment option and clicking on the button below, you are sent to a payment screen, where the payment data is entered:
First name and last name
Card number and its expiration date
Security code (3 or 4 digits at the back of your card)
Billing or postal code.
You can choose a type of card to pay: Visa, MasterCard, JCB, and Discover. As you enter the payment data, press "Upgrade Now" and you will be redirected to a secure payment area. Get a confirmation from your bank and that's it – your account for the chosen period of time is activated in the 'premium' opportunities.
After that, you can instantaneously start messaging to people (messages older than 30 days are deleted automatically), search for them, watch the XXX movies located on the corresponding section (kindly provided by webmastercentral.com website with lots of 'cherries' categorized into more than 20 categories). 
So, just to sum up the Flirtbuddies review of price: is it expensive or cheap? Based on the estimation of other sites of the same manner and filling, with the same approach to users, and with other things the same or similar, this site is above the average. But if you are looking for quality fun and interaction with hundreds of online members (which are online at any time of the day and year) – the price could be acceptable. Make sure to check your automated billing settings – to allow the site to withdraw money from the means of payment indicated by you – if you don't want to bother with the renewal of your subscription once the time comes to pay for another period of VIP profile. 
Special Features
One thing we'd like to highlight particularly: Quickie roulette – try one, this is fun.
"Quickie" is a type of sex roulette: if you want to fuck somebody, just say "Yes" to an appeared profile in this section. Say "No" if you're not buzzed by a person. And click the "View Profile" button in the middle if you want to know more before you decide.
Someone of the random online members that you can see on the left will probably be appearing in this sex roulette and thus, you can form a list of people to have sex with quicker than usual. 
Here's how it works:
Even the owners of free profiles can view 10 randomly selected profiles a day. Click one of two Yes/No buttons. 'Yes' adds a person to your list. "No" skips him or her. 
A person is notified that he or she has been hit "Yes" and may respond to this after a while. If she/he responds 'Yes', then you form a list of 'Quickies' with everyone who liked you back. 
The rest is just technical – meet them and have a hot bang-bang whenever you like. 
The more you play – the bigger are the chances for lucky quick sex without obligations.
Our rating
We were thinking about giving it 5 out of 5 stars but we have to deduct 0.5 for the absence of the mobile app. We hope that guys will catch up!
Editors Conclusion
The site focuses on the interaction of users. Chat windows are positioned closer to the middle of the screen – so when they pop-up, you can't ignore them. However, if you do not want to interact right now, it is the same easy to close those windows.
The color gamut is neat and cozy for eyes, considering that users may be active on the site for long hours.
All in all, we consider it a solid basis for having a fun time. Register now and have a lot of sex fun together with Flirtbuddies.
---
More online Dating Services
---
Brides by countries on site