Pros
Free members can communicate with paying members

Many interesting special features

There is a mobile app

Tight security measures

Premium and Gold memberships are moderately priced

Verified profiles are marked
Cons
Communication features are very limited for standard users

The profiles are not very detailed
Verdict
In our opinion – definitely yes. We base our verdict on actually testing all of the site's features and scanning for any problems or security glitches. We find it a great place for singles in search of a Brazilian partner not going to let borders prevent them from finding them
---
BrazilCupid: A place to meet Latin beauties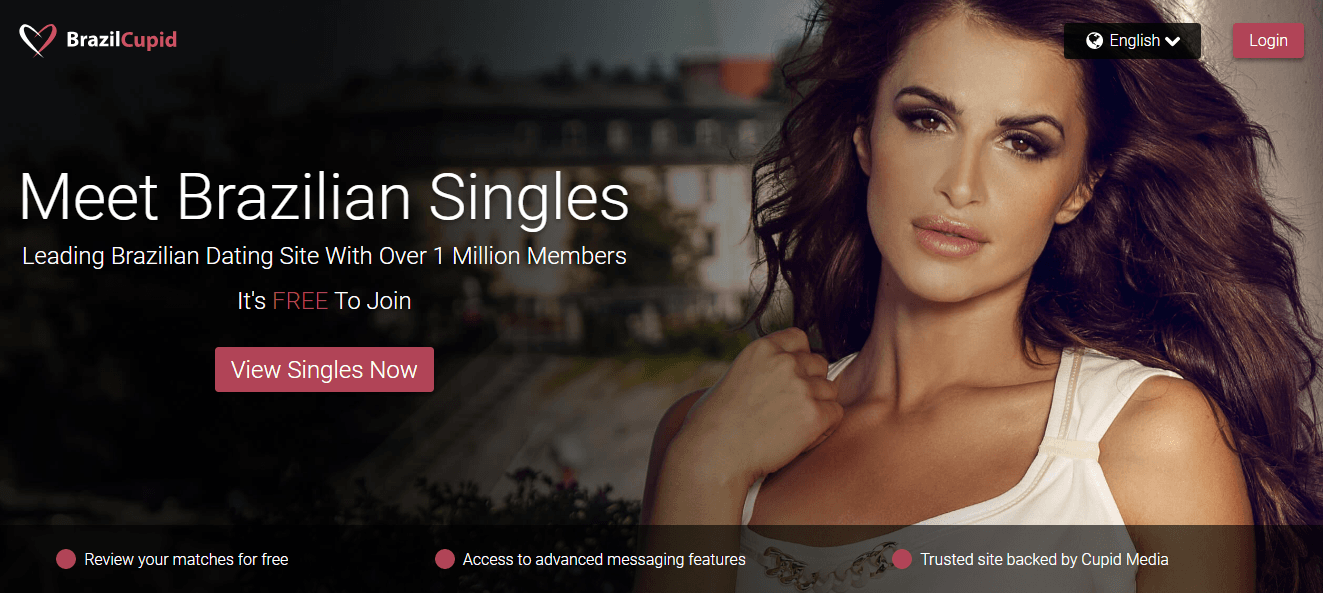 Launched in 2004, BrazilCupid is now known as the top site for dating Brazilians. Since it's owned and operated by Cupid Media, it offers all the same functionalities as other websites operated by the group and shares the same organizational structure. This is beneficial for those who had previously used other dating services from this group since they will get the hang of this site quickly. BrazilCupid's design is really simple and seems a bit outdated, but it provides a pleasurable and convenient dating experience for all interested in getting in touch with Brazilian singles. 
BrazilCupid: Facts and figures
The site has over 100,000 registered members internationally. 
It gets most of its traffic from Brazil, the United States, the United Kingdom, France, and Turkey.
It has an almost equal gender ratio, with men outnumbering women by only 4%.
Half of all registered users are active. 
The site gets approximately 500 logins every day.
Most women on BrazilCupid are Standard non-paying members.
Most men are divorced and looking for wife #2 or #3.
How to sign up for BrazilCupid
The process of registration is not complicated at all. Prospective members have to follow a few simple steps, and they'll gain access to the site's database and start looking for their perfect partner. There are two possibilities for registering – using your e-mail or your Facebook account. If you choose the first option, we suggest you create a separate e-mail address for dating purposes instead of registering with the one you're using for work or private correspondence. Facebook registration is quicker but implies syncing your BrazilCupid account with your Facebook account which can lead to some information being shared between the two. BrazilCupid will never post anything on Facebook without your permission, though. 
If you opt for the e-mail registration, you will be asked to provide your name, age, gender, and location. To make sure your account is safe we encourage you to choose a strong password. It should contain at least six characters, out of which at least one capital letter, one number, and one symbol. Also, try not to use your date of birth, names of your children or pets, or anything else that can be easily linked to you.
As this is a site for an adult audience only, the minimum age requirement is 18.
How to communicate with other members
Communication options depend on your Standard or Premium member status. Standard members can send messages to everyone, but only those with Gold or Platinum memberships will be able to read them. Unfortunately, information on the type of membership is not something readily available, so there's no way to tell if the person you wrote to will ever read your message. There is a way around this, though – become a full member, and you'll be able to communicate with everyone on the site. This is especially advisable for male users as most women are free members and will never get a chance to view your messages unless you upgrade.
Free members can send interests and like other people's profiles, but cannot access chat rooms, send or receive video messages or use the instant messenger. This all becomes available once you become a Premium member. 
What do profiles on BrazilCupid look like?
Profile info is visible to everyone and includes a member's first name, age, gender, location, and the time they were last active. The profile photo is also shown as well as a short text written by the profile owner to emphasize a point of particular importance. For instance, the text can read 'Contact me only if your intentions are serious.'
You can find both empty looking, sketchy profiles and those completely filled-in. Users should decide for themselves how much information they are willing to share or how much detail they want to go into. Of course, the more detailed a profile is, the more attention it attracts. 
Completed profiles appear more authentic and trustworthy and generally, get more messages and interest showing than empty-looking ones. Also, if a profile describes your personality in more detail, you have a better chance of being matched to someone who really suits you. Your gender, age, and location are much less precise criteria for being matched than your interests or personality features.
Users have the option to personalize their profiles by writing a couple of paragraphs in the 'Bio box' in their own words. Uploading a picture that shows your face clearly is an absolute must, but you can add more photos and specify who is allowed to see them.
BrazilCupid mobile app: Availability and design

BrazilCupid comes with a mobile app that's practical for users who spend little time using their desktop computers. It is convenient for members who wish to continue using BrazilCupid everywhere they travel, as it allows access to all of the site's features on the go. It provides an opportunity to check new messages, reply to them, get notifications, and browse member profiles. If you're an American tourist vacationing in Brazil, you can sit in a beach bar and look for Brazilian beauties living nearby. That said, BrazilCupid primarily caters to those looking for long-term relationships and marriage, but you can just as easily find a quick hook-up using this app.
The app has the same user-friendly interface as its desktop version. Users can easily download it from Google Play and App Store for free. Its design lacks sophistication and appears a bit outdated but nevertheless works without a glitch and offers an awesome user experience.
What BrazilCupid members say about this dating site
Jake (43): 'I stumbled upon this app by chance and downloaded it without expecting much really. After creating a profile and looking around a bit, I found Maria. She lives in Sao Paulo, and I live in Texas. Perhaps you would say we're an unlikely match, but it's actually quite the opposite. As soon as we started exchanging messages, I knew we have a lot in common. She was raised on a farm just like I was, and we both love horses and the great outdoors. We are making plans for her to come and visit. I even found information on how to get her the American visa on this site. I really owe BrazilCupid a lot.'
Jeremy (38): 'I married my high school sweetheart when I was still very young, only to discover years later that we don't share the same outlook on life. Our divorce was amicable, but I'm planning to be more careful when choosing my second wife. I want to make sure we have much in common before we tie the knot. That's why I thought a dating service might help me. Sites like BrazilCupid enable you to enter filters and search criteria in order to find someone ideally suited to you. Sure, there are plenty of fake profiles out there, but I'll take my time, and I'm pretty confident that I'll find my soul mate. I've been using BrazilCupid for a couple of weeks now, and so far it's been a pleasurable experience.'
Special features on BrazilCupid
Cupid Tags: this trademark of all Cupid Media dating sites makes them stand out from the rest. Users tag themselves with a couple of distinctive personality features or interests which also serve as search filters. When another user types words you've used as Cupid tags, your profile pops up in their search results.
Verified member feature: uploading a copy of a government issued document to your profile makes it look more trustworthy. Members can see if someone is a verified member by looking for a green check mark on their profile photos.
Instant messenger: offers real-time communication to Premium members. They can communicate by live text or video.
'Interested in me' feature: can be found in the Activity menu of a person's profile. It displays the names of members who expressed interest in you. If you find any of them appealing, you can go ahead and send them a message.
'Search by body type' feature: only available to paying members. Premium users can enter search filters such as breast size, waist circumference, and the like. 
Quick matchmaker tool: while looking at a person's profile you can use this tool to check how well you would suit each other. This is quite a useful feature. But to make it work, you should have a completed profile. If you don't share any personal details about yourself, it's impossible to know who will be a good match for you.
Membership options, prices, and billing
Standard membership
Free
Only gives limited access to the site's features
Can communicate only with paying members
Gold membership
From 10 USD a month on a 12-month membership plan
Allows communicating with all members on BrazilCupid
Grants access to more (but not all) features than Standard membership 
Platinum membership 
From 12.50 USD a month on a 12-month membership plan
Grants full access to all BrazilCupid features, including video calls, message translating, and using advanced matching algorithms. 
Fees can be paid with PayPal, Paysafecard, credit or debit cards, or direct bank transfer. Membership renews automatically after the initial membership period expires. If you wish to stop being a paying member, you need to uncheck the Membership auto-renewal option in the billing section of your account. Please make sure you do it at least 48 hours before the end of your membership period. Otherwise, you will be charged for the subsequent period as well.
All monetary transactions are secured by an SSL encryption which makes it safe to upload your credit card information on this site. BrazilCupid takes client safety very seriously. They meticulously scan all profiles in search of the fake ones and have a dedicated Fraud Prevention Team. In case you get contacted by a suspicious person, please block them immediately and report them to the site's moderators. This can be easily done from several site tabs including the messages folder, someone's user profile, and the Instant messenger.
The final verdict: Is BrazilCupid worth trying out?
In our opinion – definitely yes. We base our verdict on actually testing all of the site's features and scanning for any problems or security glitches. We find it a great place for singles in search of a Brazilian partner not going to let borders prevent them from finding them. Most male members appear to be in their 40s or 50s and seeking their wife #2 or #3. Women are somewhat younger, and most of them have not been married previously.
Overall, we would give BrazilCupid a solid 3.5/5 grade. Members who left their comments on the site have rated it even higher. We give the operators credit for their efforts to make this a perfectly safe place for online dating. At the same time, we suggest they update their mobile app and refresh its design to make it more appealing to the younger population.
---
More online Dating Services
---