Pros
The design is made in a way to make users amused

It is easy to register

Detailed profile information

Best matches based on internal algorithms

Safety

Live Web Cams
Cons
There is no app

The site is quite expensive
Verdict
Xmeets is the website of online hookups, which is designed for high users' fun and amusement.
---
Xmeets review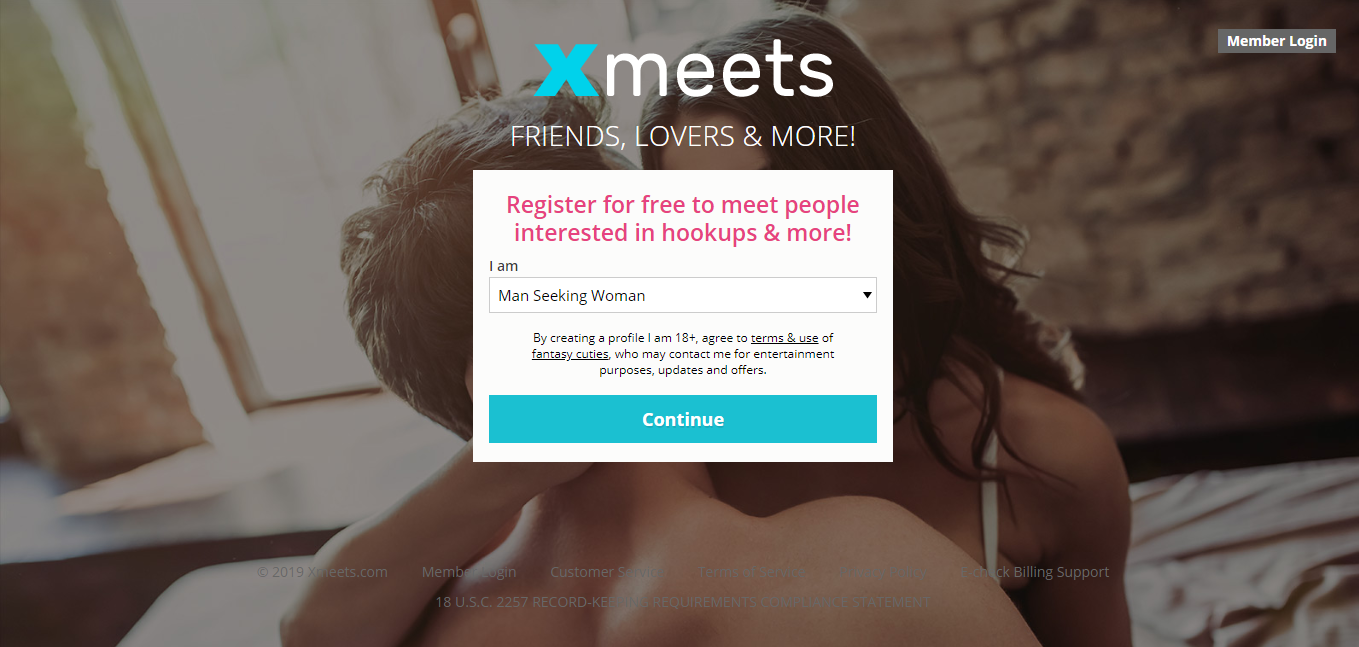 Nearly everyone wants to have a sexual hookup without obligations from time to time (no matter if you're single or married). Especially, married people starve for a fresh gulp of air in their suffocating marriages (show me at least any of your friends who would be completely happy about what he or she is having in bed in quality, length, trembling feelings, spontaneity, and buzz). 
That's why the Xmeets site has been created. There, after the registration, it is possible to find many people with the same interests – in your area – who are dying of meeting someone to hook up with. No obligations, no strings attached, nothing you have to worry about, and definitely, no heart feelings. It's like dating with escort models only much better and without the need to pay 4-5-6-7 hundred for their one-time visit. With Xmeets, the one-time hookup can even grow into regular clandestine and sweet meetings if you and your secret date like each other after the first time of having sex. Shouldn't such an invigoration of life be worth just a couple minutes of your time to register? 
Let's have now a close look at this site in our Xmeets review.
Interface of the site
On a starting page, there is nothing spectacular – everything yummy starts after the registration. On the homepage, all you see is:
Member login
Customer service
Terms of service
Privacy Policy
And E-check Billing Support.
So, come on and register here to find out what's hidden!
Member Structure
This site is mostly habituated by women seeking a hookup with a man but currently, we cannot say anything about the exact ratio of the first and second, as the site does not give such statistics publically. You can request it privately by sending a corresponding letter to customer support and wait for their answer. 
Signing Up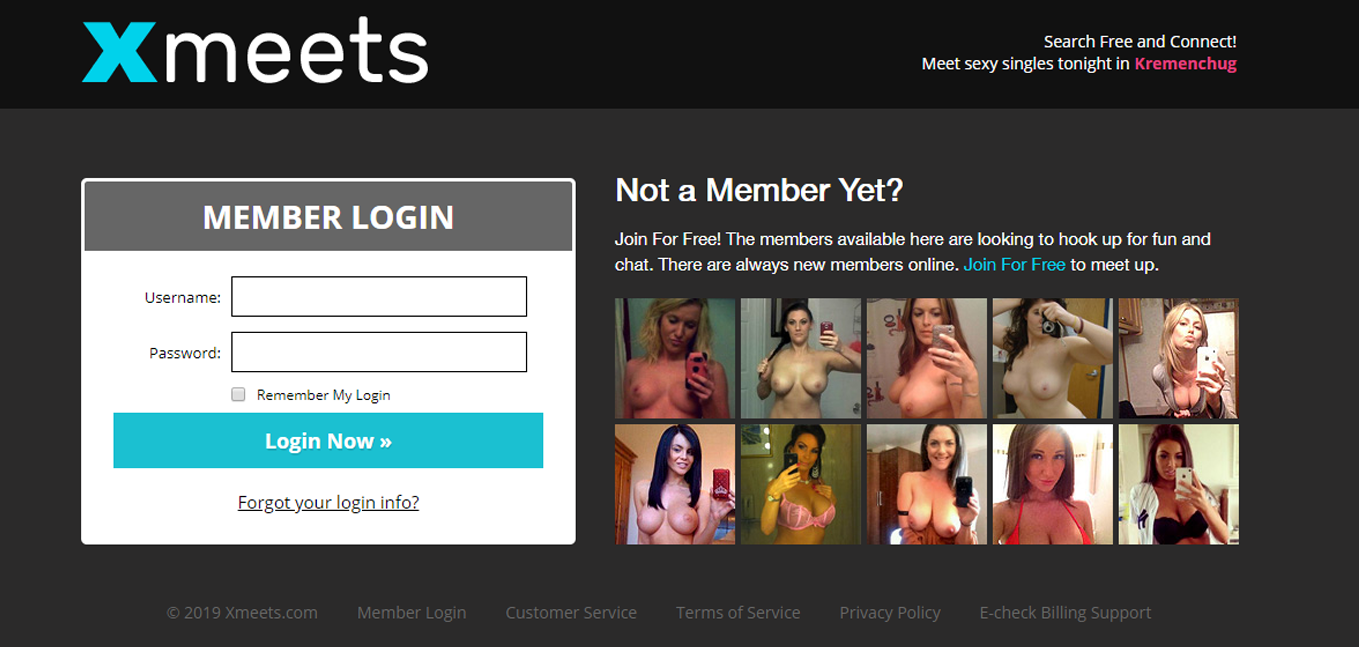 For a start, you have to use the registration form positioned in the middle of the screen. You have to indicate who you are. To pick something, let's pick that a registrant is a man looking for a woman. Then press a button at the bottom to start with. 
Come up with a username – it should be untaken on this site, between 4 and 15 characters. Only English is accepted. 
Password should be of the same length, and can be any – even a dummy one should do if it suits you.
Enter the valid e-mail (it will be checked in order to deliver you access to the site). Bear in mind that some e-mail boxes are not accepted, as they cannot be verified for the correctness and existence. For an easier hookup, it is recommended to use gmail.com addresses.
As you register, the system creates an account, which is now waiting for verification. Open the mailbox and find a letter with verification there. If it's not in the incoming folder, check your spam – it may be there. For instance, the spam may happen with Hotmail addresses.
In the letter, either click a huge button of marine color "Activate Your Account" or enter the sequence of numbers in the site's confirmation box. 
Now, let's have a much closer look at what is inside of the just verified profile. 
Making Contact
There are a number of possibilities to search for users to start making contact:
through the 'Search' directly
viewing profiles of members in the sections 'Member Tweets', 'Messages', 'Quickie', 'Newest', 'Friends/Favorites', 'XXX Movies', 'Chat', 'Women near me', 'Live Web Cams', 'Live on Cam now!', 'Recent Chats', 'Member Ratings: Hot or Not?', 'Newest Hotties', 'Best Matchups', 'Who Viewed Me', 'Amateur Member Videos'. Basically, everything on this site is tuned to make you access girls' profiles from as many places as possible, as literally clicking anywhere on the site, with high probability, you are going to click at a profile of a member. 
Once you are in a profile, on the left, there is a green button of starting a chat. You can do it through text and, in the process of chatting, you can send your videos and pictures, as well as to ask a girl to send you hers. The entire interface is done for the simplicity of viewing people's profiles and getting in contact with them. 
Profile Quality
On a top string, you see your username, account settings, the number of currently available tokens, a link to customer support, and a button to log out.
Slightly below that, there is the main menu, using which, you govern your account:
Home
Search
Messages
"Quickie"
Newest
Friend and favorites
XXX movies
Chat.
In the top right corner of every point, you see how much notifications you have. 
Slightly below, there is a string with information – as a rule, discounts, which are applicable to you right now. We will talk about the pricing a bit later but for now, it is expedient to say that there are discounts for new members and ones that appear at times. Using them is a favorable decision to save your money for the cheapest subscriptions.
In the main user area, there are such blocks of information:
On the left – a selected profile, which you might like. For newly registered persons, this block also contains the ten reasons why upgrading to a gold (paid) profile is extra beneficial:

Search for meet-ups with real people in your area
You can search based on a number of criteria to narrow down the results and get only the ones that highly suit and satisfy you
You can view as many registered profiles as you wish, knowing who is online or offline, and to whom it is possible to make a quick yet effective hookup
You can see private photos, which are only accessible to those who pay (you can upload those into your profile, too, if you're an attractive person and desire some 'strawberry pie')
You access to personal matchmaking, which is based on a fulfilled profile (you should do it in the profile settings)
You can text a person through a cellphone (eventually, he or she will agree to meet you and you can save this contact to make an infinite number of future hookups)
Track new members on a daily basis
You will receive a sex action guaranteed – as many of our users actually register to receive a hookup, not just to be dull on a site that they even don't visit.

On the bottom, you see pictures taken randomly from recently added profiles. They aren't clickable – they are just for your information. 
After the registration, you should ideally fulfill your profile so as to make other chatters have a will to write to you and view your profile. You can start fulfilling it by pressing the corresponding button in the right top corner. Initially, your profile right after the registration is 0% filled, that is, its quality is very low. To raise it to maximal possible mark, do the following actions in the fulfillment:
Indicate your 'Profile Title'
Write two fields, 'About You' and 'You Want' with some information from 30 to 500 characters
Next, you have to upload your photo (it gives +25% to the completeness of a profile). It must be at least 200×200 pixels in width and height. The system will tell you if this requirement isn't met. In this section, you can upload up to 6 of your photos. One of them will become a primary photo. If only one is added, this is going to be a primary photo. Make sure it is clearly visible, of normal quality, so other users can estimate you or understand what is shown in this picture. 
Fill in all personal fields as the system asks you:

the color of your hair and eyes
marital status
race
religion
education
income (estimated annually, in the currency of your country, EUR or USD)
height (in inches or cm)
weight (in pounds or kilos) – this field is with manual entry
birthday
smoking and drinking
what languages do you speak?
All indicated fields except for the weight are picked from drop-down lists or are marked as checkboxes, which simplifies your input.
Indicate information about whom you would like to meet:

gender
the color of her or his eyes and hair
marital status
race
religion
education
income
height
weight
body type
smoking
drinking
what are the purposes of your future meetings
age span
distance from you.

As you answer all the above, your profile is considered totally completed. Bear in mind that the administration of the site will be checking the pictures you upload and has to approve or deny the picture(s). If it denies, then you just have to pick another photo(s). The reason for having at least one pic uploaded is that there is a mark in the search form to make your search amongst the profiles with pictures only. If you mark this, you aren't able to see profiles, where at least one picture isn't present. The same will be applied for you – girls will not see your profile if they are going to tick this mark in their search. Do you want it? We guess, no. 
App
There is no app available for this site, not for iOS, not for Android. The site also does not offer to download the app from its pages, and when you visit it from your phone, you also see it is not mobile optimized, so it basically reflects the same as it is visible on PC. You can, however, try to create your own app of it using available on the Internet software, which allows creating apps in several clicks, but we are deeply in doubt that the quality of it will be high. 
Also, we found several clones of xmeets online – they are called 'xmeet', but this is not the same, surely.
Real Life Review
Below, we place the real-life xmeets review left by Aniston, a girl who has found a very active man with a great level of energy to tame her lust:
'I registered on this site just to bring some new current into my life. I mean, sexual side of it. Upon registration, I saw so many liberated pictures of other members (especially, females), so I started to think that why wouldn't I do the same as they do? I started to post my nude pictures on the site and searching for men, finding ones, who would feel okay about a quick bang-bang. It turned out that nearly every man was okay about a fling without obligations – and I considered starting going on dates. Fortunately, the site provides full possibilities of sharing your contact data and exact location in private chats, so I immediately used such a possibility. The same weekend, I had my first fling with a man from my city, Arkansas. Getting into it seemed not that hard, I was afraid it was going to be harder. Now I meet him for my 10+ sex date and I am perfectly happy about his energy and what he delivers me in terms of intimate gratification.'
Design and Usability
The design is made in a way to make users amused and feel full fun while on the site. The entire user interface is divided into sections, which open up the sexuality of people from all possible sides, and these are:
Amateur Member Videos
Best Matchups
Chat
Friends/Favorites
Live on Cam now!
Live Web Cams
Member Ratings: Hot or Not?
Member Tweets
Messages
Newest
Newest Hotties
Quickie
Recent Chats
Who Viewed Me
Women near me
XXX Movies.
These 16 sections make sure you are fully covered. It is possible to view profiles of ladies from these sections right at once, with one mouse click. Inside of them, you see the same information, as you filled about yourself. You can browse through pictures – public and private ones (if a girl has private ones).
Thanks to notifications in the right up corner of sections 'Messages', 'Chats', and 'Quickie', you can see the current interactions with a member that you have. They are updated in an online mode. For instance, when you receive a new notification in these sections, it will blink for a while to make you informed about the news. So, in this way, you can make sure you aren't missing anything. 
Also, the system will remind you if you have to pay for anything – for instance, when your current subscription ends or if you need to replenish the account by now to stay connected. This helps when you are unaware of your current payment status. 
Costs and Prices:
Right on the top center of your profile, you see the payment information:
You can start a limited trial for 72 hours for only €2.97 for 1 day. You can view 10 profiles a day and send messages
Not for so much bigger money, for only €11.65 per month, you can get a deal for 6-months membership (which is only meager €69.90 for half-year term!). You will be able to view any number of profiles per day and send any number of messages you like. 
If you are not sure about such a long term, you can opt for a 43% costlier option for 3 months, which is going to cost ya €16.65 a month or €49.95 for the period. As for us, it's quite more expedient to add 20 more Euros to receive twice as big term – but that's your decision.
If you are only interested to be a visitor for 1 month, you may see it costs €29.95 (257% of the monthly price when paid for 6 months in one go). 
All three mentioned month-based accesses give you any number of views and letters viewed/sent. 
 So is this site expensive or cheap? Compared to other sites in the same niche and with similar functionality, this site is expensive.
Special Features
"XXX movies" section is one of the reasonable points of the interests of users – they are accessible from the affiliate website wbr.webmastercentral.com. In order to access them, you should have a premium membership – clicking any of the videos, you'll be offered to obtain it if you haven't done yet. Or, if you did, the video begins immediately. It is possible to view the basic information about the video – like the length and name. Currently, there are 28 pages with XXX films on the site. 
In the "Chat" section, it is easy to start a chat with any member. You should bear in mind that you, probably, will receive chat messages, but in order to answer them, you have to obtain a paid membership. On the left, there are random people whom you can chat with. In the center, there are your pending chats and your recent chats. 
The "Friends and Favorites" section represents those whom you've added to your list of Friends and Favorites. Thanks to easy access through this page, you will not forget their names and can start chatting at any time you feel lonely.
Another interesting section is the "Quickie". There, you are shown a carousel of pictures of ladies and you just hit one of three buttons – like "Yes", "No", or "View Profile" answering the question whether you are interested in a quickie with her/him/them. To make this fun carousel effective and appealing for both potential partners, it is obligatory for you to add several of your best pictures. At least one is needed in any case to make use of the Quickie section. If you click "Yes", then a partner is informed about your option and will have to adopt a decision about you – whether he or she wants quick sex with you, too. If not – well, try again, with another person. If yes – then it is your lucky time and you can progress further. Reentering this section at any time, you can play the game again, saying Yep or Nope, or you can see your quickie matches. But the latter one may take time – as the user, you ticked as "Yes" has to be online, view your quickie offer and respond "Yes" as well. So don't expect the list to appear right at once as you say "Yes".
Also, it is a daily limit in the game – as soon as the number depletes, you have to wait for another day to start to play this fun game again. 
'Live on Cam now!' and 'Live Web Cams' features available from the starting page of a user profile allow you to join the view of what is currently streaming by the population of this erotic site. These may be user streams, as well as professional models' streams. This can be a wonderful alternative to XXX sites with porn and erotic videos (basically, there is a lot of explicit content here, in videos and on pages). 
The game inside of the site called 'Member Ratings: Hot or Not?' is what you can spend your time on with the fun. Inside of it, you see a random member profile and you can answer if this particular member hot or not for you. Bear in mind that the game is not endless – it ends after you give like 10 answers for every 24/48 hours. The same, other participants of the site may answer this about you.
Member tweets. On the left up corner in the profile, you can leave your own tweets and can read what other users tweet. The tweets are filled with sexual explicitness – and you can see the profiles of those who write them to chat with them in privacy. 
Our rating
The rating we give to this site is 4.5 stars out of 5 for the sake of following reasons:
It is easy to register
The profile information that is offered by the system to fill in is very detailed about you and about your partner, so there are increased chances for a nice match-up
The list of recent chats is conveniently positioned on the right down corner of the profile page, marking those fellas who are online in the current moment. Every chat is supported by a small profile picture so you visually differentiate between people
Everything on the site is done in a manner to make you interact with other users, so opening their profiles is more than super easy
The site offers you best matches based on internal algorithms – they are visible in the section 'Best Matchups'. You can view profile by profile or you can view all
The general color scheme of the site is very eyes-friendly and tuned for long hours of being on the website. 
We deduct 0.5 stars for the fact that this website does not yet have its own mobile app (but we are hoping it will be designed in the future, as over half of the entire Internet population today browses websites through mobile phones only). Also, too exaggerated demand to pay, which is thrown at new members may seem annoying to some.
Editors Conclusion
Xmeets is the website of online hookups, which is designed for high users' fun and amusement. Everything in its design and essence is thought in a way to allow users to interact with others applying as little effort on finding them as possible. Minimalism is what we would like to emphasize. So, you're in the right place for having fun if you are here for:
viewing XXX videos and pictures of other members
being a part of online streaming of members (professional models and amateurs (we personally prefer the second option, as it is actually more fun and sincere nearly always and people look much more natural than the models with improved boobs, lips, asses, and other parts of their bodies))
getting hookup with those members who are actively engaged with you by writing you first. Even if they do not – you can always find someone and write first on your own.
Have fun with your registration, match, and quickie game in Xmeets!
---
More online Dating Services
---