Pros
Free&Easy registration

Free browse through profiles

It's free to send messages, but not to everyone

Mobile app

Perfectly balanced percentage of genders, 50% each
Cons
Non-paying users are limited in communication

Low rate of daily users
Verdict
CaribbeanCupid is a quite good site for those who are interested in the Caribbean beauties
---
Find your exotic love on CaribbeanCupid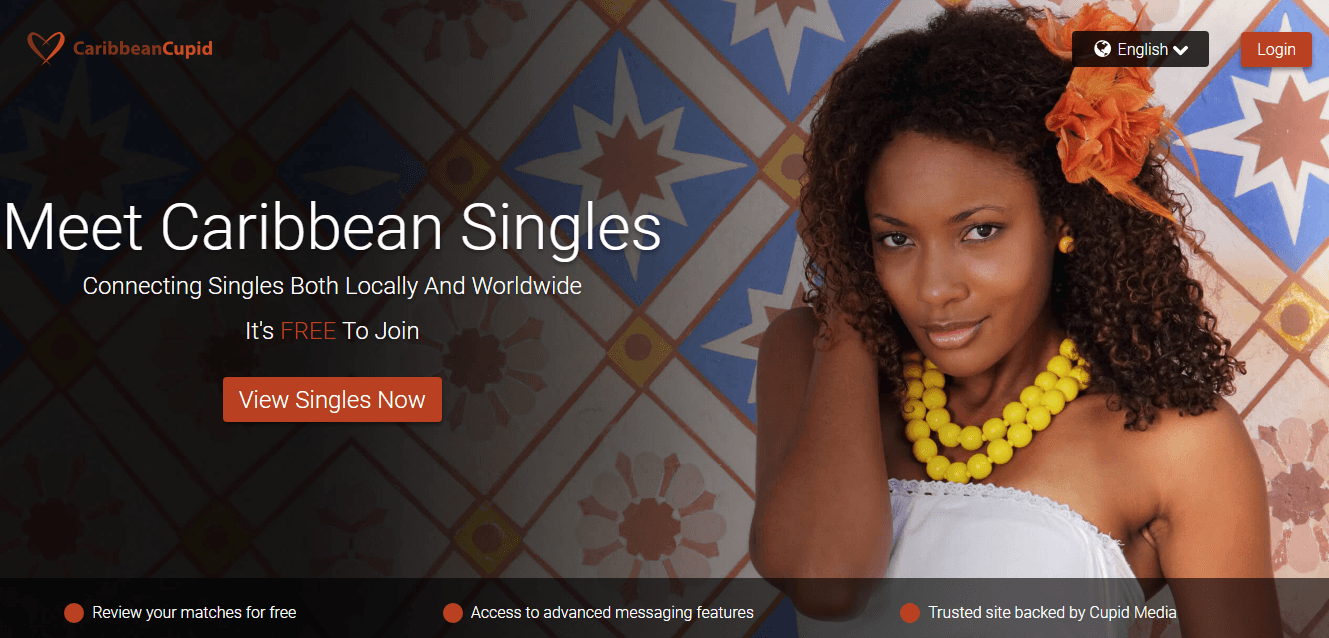 The website has the advantage of free sign up
There is a mobile app for Android devices
Your email doesn't need to be verified if you don't want it to be
It's still not very popular, so the number of members might be considered pretty low
Developed by one of the major companies in the dating industry, Cupid Media, CaribbeanCupid promises to bring together singles from the Caribbean region with others all over the world. Cupid Media has over 35 dating websites under its management, all niched based on ethnicity, religion or location, and a high reputation for successful matching.
The online platform comes with many exciting features, like advanced search criteria or high capacity for profile information, and lots of them are free. On the other hand, to be able to indulge in everything it has to offer, it might be recommended to get yourself one of the premium membership plans, Gold or Platinum.
All you need to do to get started on your soulmate quest is to register with an email and password and then start browsing attractive members. Who knows, you might just find the love of your life, or at least a beautiful friendship or an exciting adventure.
Who will you bump into on CaribbeanCupid?
Each member will have their personal profile which they can fill out
There is a perfectly balanced percentage of genders, 50% each
Users come from diverse backgrounds, most of them from English speaking nations
200,000 members are from the United States 
The number of active members is pretty low, only 55,000 each month
In general, you won't need to worry about understanding other users, as most of them are from English speaking countries. About 30% of the total number come from the United States, and the others are usually from Caribbean countries, like Bahamas, Jamaica, Barbados, Belize, Trinidad and Tobago, the British Virgin Islands, etc.
Considering the relatively low number of registered members, it doesn't come as a big surprise that only 55,000 are active monthly. Then again, the website isn't overwhelmingly trendy at a worldwide level yet. Nonetheless, its community is quite diverse.
One thing which might be considered a plus is the balance between genders on CaribbeanCupid, the equality giving members of both groups good chances of finding partners. Age-wise, most users are in the 35-44 age group.
How do you get an account on CaribbeanCupid?
It is free to register on CaribbeanCupid, and it only takes a couple of minutes
Facebook can also be used to log in
Profile verification is not mandatory
Your photos and information can be updated and edited anytime
When signing up for an online dating platform, you might be very eager to go checking out all the interesting and attractive people there and might feel like you can't wait much longer to get to them. Well, then Cupid Media's is the right choice for you, as its websites offer quick registration and profile setup. It's the same with CarribeanCupid. All you need is your email and a spark of creativity for a password, and you're good to go.
Another alternative is for you to log in with Facebook. No need to worry, none of your Facebook friends will know, as this website won't start posting or sharing information on your behalf. It's up to you how many photos and details you want to add to your account, but the creators suggest that having at least a profile picture and answering a few questions about yourself could increase your level of success.
Since we didn't mention it, you probably guessed that it's not mandatory to verify your profile. However, you could look more trustworthy to others with a green verification badge underneath your name. To get one, you need to upload a clear copy of your ID or passport. No one except the admins will see it, and they will only use it to check your identity.
Getting in touch with those you fancy
You can view anyone's profile
It's free to use basic and advanced searches when looking through profiles
It's free to send messages, but not to everyone
Standard members can get in touch only with those who pay
Premium memberships are needed to message anyone
Usually, when wanting to express our interest in someone, we start texting them. This can be done on CaribbeanCupid, but with some restrictions. For example, those with free accounts can only message Gold and Platinum members. On the other hand, premium memberships allow you to message anyone and read all the messages you receive.
In case you somehow can't afford a premium account or merely consider that you have better things to spend your money on, you can also choose the option of showing interest or add members whom you find attractive to your favorites list. Then, keep your fingers crossed for them to notice and find a way to reach you.
Still don't know whom you like? Just start browsing and searching through profiles. You can add various search filters and check out those who match your criteria. The website also offers you a few category options that represent the most popular searches.
Quality of profiles on CaribbeanCupid
Only first names will be displayed
It's free to look at any profile picture
Loads of details can be added to a profile
Information and photos can be changed or updated at a later time
Those who got their accounts verified have a green badge near their names
Profile pictures and information are available for everyone to see as they please. You can add a lot of details about your interests, hobbies, work and so on and this might help the right person find you in the ocean of accounts. Of course, there is no need to put in all the effort at once, because profiles can be edited and updated anytime.
There are those who claim that this website has a higher rate of scammers than other Cupid Media online platforms. Whether that is true or not, you could eliminate any suspicion by verifying your account with an ID. The moderators will award you with a green badge. Surely, it doesn't mean that all those who don't have it are of questionable intentions.
The app version of CaribbeanCupid

Free for Android, nonexistent for iOS
Only 10,000 users so far
For those of us that might want to keep even our dating lives at pocket reach, Cupid Media has developed a mobile app as the equivalent for the CarribeanCupid website. It is free to download, but so far it only exists on Google Play for Android users. It offers the same features as the web page, with a simple display and manner of use.
Design and ease of using the website
As you might have noticed if you used other Cupid Media online platforms before, the design of CaribbeanCupid is also simple and allows you to easily navigate through the website and find all its nice features. Some might say it looks a bit outdated, but it gets the job done, and it gives away a positive vibe through the yellow and orange shades that remind us of the Caribbean cultures. Also, there are displaying options to adjust the layout of the app on your device, and there are language options as well.
Costs involved for CaribbeanCupid's services
What do I get for free?
Your profile and adding pictures and information to it
Basic matching and the possibility of showing interest in others
Blocking and reporting those who are suspicious or offensive
For what will I need to pay?
Sending messages to anyone
Leaving comments on others' photos
Special search filters
Going incognito so you can browse in peace
Highlighting your profile so that it shows up first in a search
Get all the ads out of your sight
Premium memberships can be either Gold or Platinum, and subscribers can pay for it either through bank transfer, credit card or PayPal. Memberships get renewed automatically, but this setting can be turned off.
As for price range itself, Platinum membership for one month costs 29.98$, and the Gold one costs 24.98$. However, if you choose to make a commitment for a year and pay for the whole term in advance, Platinum will come at only 10$ per month and Gold membership at 8.33$ per month.
Out-of-the-box Features
Some special features that not all dating websites out there offer:
Cupid Tags, which are keywords that you can add to your profile which will make you show up in someone's search results when they look for those specific words
Verifying your account to increase its credibility
Frequently Asked Questions
General Facts
What information do I need to provide when calling customer service?
You will need to tell them the name of the website and your member ID.
Does customer service work 24/7?
They will only receive your calls from Monday to Friday between 9 AM and 4 PM, in Queensland, Australia time zone.
Is there any age restriction for CaribbeanCupid?
Yes, you need to be at least 18 to use it.
Profile Help
Does my profile need to be approved?
Yes, the moderators of CaribbeanCupid will review new profiles and also updated ones to ensure they don't break any of the website's terms and conditions.
Between 24 and 48 hours.
What is the point of profile verification?
It reassures others that you are trustworthy and your account is not fake.
How do I know if a profile is fake?
For those with a verification badge, they are surely not. For the others, you can't be confident.
What photo format can I upload?
They can be in JPG, BMP, GIF or PNG format and no larger than 10MB.
Why does the website log me out?
If you remain inactive for 20 or more minutes, it will log you out automatically for security reasons.
Messages
You can set it up to receive messages only from specified members.
What happens to the other messages?
They get filtered out into another folder and get deleted automatically after two months.
Usability
Is the website available in a language different from English?
Yes, you can go to your settings menu and select your preferred language from there.
Can I also read messages in a different language?
Platinum members can get translation services for all their messages. If you have a Gold or Standard membership, you can only get a translation of messages you receive from Platinum users.
Memberships
How does one pay for a premium membership?
The available payment options are as follows: a credit or debit card, a check or bank transfer, vouchers, and PayPal.
Will my membership automatically renew?
Yes, but this can be changed in your settings menu, where you can turn off auto-renewal.
---
Brides by countries on site