Pros
Mobile App

Sleek and Modern Interface

Easy signup

Millions of members worldwide

Free for sugar babies

No monthly charges for sugar daddies

Profiles verified via video submission
Cons
No live video chat
Verdict
Exceptional Sugar Daddy Dating Website Providing Mutually Beneficial Relationships
---
Secret Benefits Review: Where Generous Men meet Attractive Women.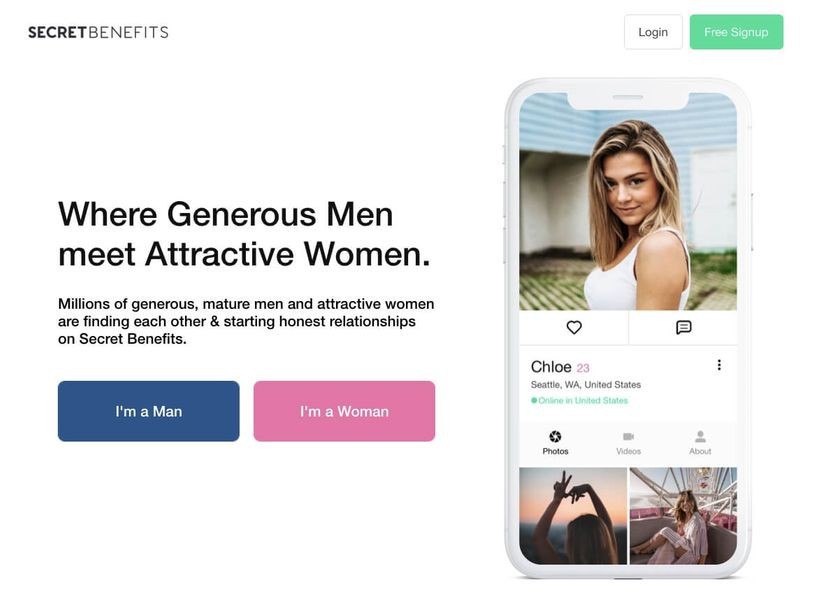 Secret Benefits is a sugar daddy dating website with millions of sugar daddy and sugar baby members looking for mutually beneficial relationships. Since 2015, Secret Benefits has transformed the sugar dating scene making this niche type of dating more mainstream and socially acceptable to those looking for truly meaningful relationships.
Although this is not the only platform providing a venue for sugar daddies and sugar babies to meet, Secret Benefits has quickly gained the confidence and trust of those in the sugar dating community due to their focus on providing an easy no-fuss sign up process, unique credit-based system, top-notch website security, and excellent member support.
Member structure and site activity
The gender breakdown is about 50/50.  Men have typical age ranges from 35-55, and most of the women range from 20-35 years old. Despite Secret Benefits being a very specific type of dating platform, they have attracted over 14 million monthly visits to the website from people all over the globe. The majority of members live in the United States followed by Canada, the UK, and Australia. Most active members are registered as single, however, it's also possible that some members are in active relationships.
Who can be a sugar daddy?
The term "sugar daddy" is often used loosely. Typically, people may think a sugar daddy is an older man willing to throw money into a relationship to be with a younger attractive woman. This is a stereotype, and is not the rule.
Secret Benefits actually attracts all types of men. Some of them may be considered rich, some may be comfortably retired, but many of them are simply hard-working professionals looking for a lovely lady to enjoy life with.
Most would agree that men with a mature attitude and the desire to take care of the woman they're dating is the key role of a sugar daddy on Secret Benefits. This can be in the sense of emotional support, mentoring, career and schooling support, as well as financially being able to support the relationship. Finding a mutually beneficial relationship is really up to connecting with someone that understands and accepts each other's desires, whatever that may be. 
The main tip for sugar daddies here is to be upfront in your profile description with what you are looking for in a relationship. It's particularly important to be as completely honest with yourself and any woman considering you as their potential sugar daddy. It's also advisable to be upfront with what you are wanting to offer in the relationship. It's really all about everyone being as honest and upfront in the beginning. No one likes to beat around the bush and be unnecessarily disappointed down the road.
Who can be a sugar baby?
Most women may not think they can be a sugar baby. That's just not true. You don't need to be a model, a bombshell college babe, or even necessarily a young woman. Secret Benefits believes that there is someone for everyone, and that is surely reflected in the diverse amount of women that have signed up on the site.
The men that join Secret Benefits often want to find a woman looking for someone that will treat them with respect and make them feel good about the woman they are with. Your age, ethnicity, or body type should not discourage you. There are all kinds of men looking for all kinds of women to take care of and enjoy their lives with. Let the world be your oyster.
One of the main tips that Secret Benefits likes to share with sugar babies on the site is to make sure you understand your needs and desires and be sure to make that clear. It's best to put your relationship expectations and needs in your profile description. This takes the guesswork out of it for sugar daddies looking at your profile, and ultimately, this saves everyone time and potential future misunderstandings.
It's also very important to mention that you should always take your personal safety seriously. Secret Benefits encourages everyone to keep conversations strictly on the website at least until after the first date. Don't give out your home address, email, or phone in the beginning. It's also best practice to meet in a public place for the first date. Many choose to first meet up for a non-committal cup of coffee at a local café just to see if the chemistry is there.
Getting started: How to sign up
Starting a profile on Secret Benefits doesn't get much more streamlined. If you have ever joined a dating website before you probably know how tedious creating a profile can be. Secret Benefits clearly realized how much of a turnoff this can be for people just getting started and instead allows new members to start with a basic profile if desired.
To start, you must first confirm if you are a man or a woman (signup is 100% free for everyone). You must provide an email, create a password, username, enter your location, age, and ethnicity.
Once that is complete you may choose to load a photo (you may also make it private if you want). Next, you must enter what you are looking for in at least 10 characters. Basically describe your wants whether it be casual dating, travel, great conversation, or a long-term relationship. It's encouraged that you be very honest here in order to find someone that matches your needs and desires.
Create a tempting tagline to entice members to check out your profile. And finally, describe what you have to offer. Say something interesting about yourself and what would make you a good sugar baby or sugar daddy. That's it! Your profile is created and you can start searching for your match.
How to find and contact other users
Searching and looking at other member's profiles is free for everyone. This is a great feature especially for sugar daddies as this allows them to decide if there are enough interesting profiles before committing to purchasing credits and reaching out to potential matches.
Once your profile is created you will see everyone within your city area starting with the most active members with a profile photo. From there, you can make your search criteria as granular as you desire.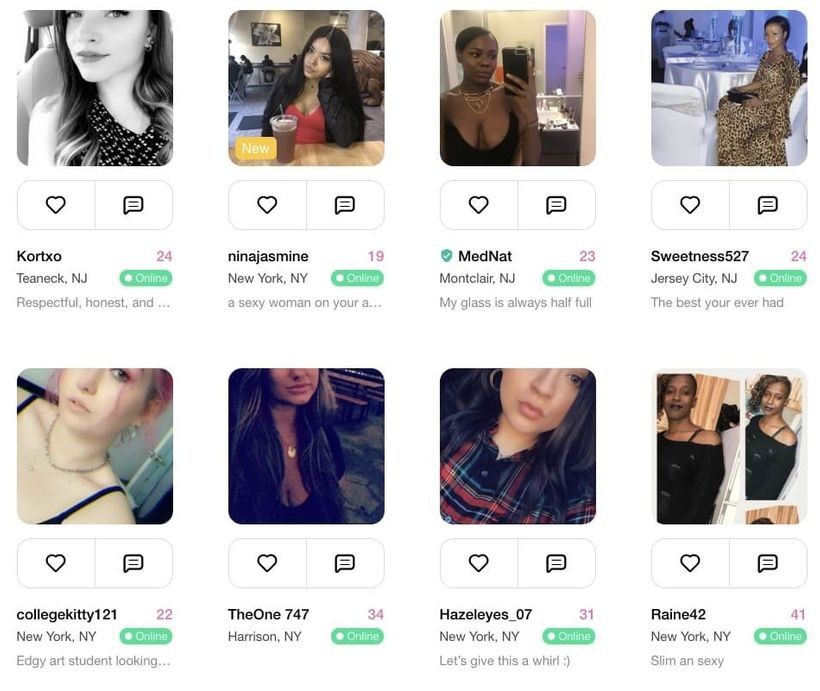 Filter/Search options:
Search by city
Distance 5-200 miles from your location
Photos & Videos: Has Photos? Has Videos? Verified?
Ethnicity
Age
Body Type
Height
Hair color
Gender (including a transsexual option)
Smoking
Drinking
Piercings
Tattoos
A few other search filter options they may want to consider are relationship status, type of relationship desired, sexual preference, and net worth.
Once you have entered in your search specifications, your results will immediately appear for your consideration. At this point, you may favorite profiles by clicking the heart icon next to the profile that got your attention which will allow the person to know you are interested, or you can send a message. Sugar babies may message members for free. Sugar daddies must purchase credits to message. To open up a message with a sugar baby costs 10 credits. Once you have opened a message with a member all future messaging with that member is unlimited.
Sugar babies may also choose to create private photo and video albums. If a sugar daddy wants to see them, he must ask the sugar baby for permission and if permission is granted he may use 10 credits to view the album.
As many of us in the online dating world are aware of, the worry of fake profiles and potentially being catfished (the act of luring someone in by means of a fictional online persona) is always a possibility. For this reason, Secret Benefits has taken action and encourages members to get their profile verified. To do this, they must submit a selfie video of themselves to the moderators. Once verified, your profile will be featured as verified for other users to see.
The Mobile Version
Secret Benefits does not currently have a mobile app. However, the rumor is they may be launching an app in the near future. In the meantime, the mobile web version works great. Visibility and functionality on the mobile website works just as well as an app would, so when they do launch their app you can rest assured that it will be well worth the wait.
Pricing
Sugar babies may use Secret Benefits 100% for free. They are never asked for payment information. The payment system for sugar daddies is unique compared to most dating websites because they use a credit system versus a monthly membership fee. Most men find this to be very convenient as they don't need to worry about charges each month and only pay when they want to message a new sugar baby or request to see a secret album.
Credits never expire so use them whenever you desire. Also worth noting is sugar daddies with credits receive priority support and are shown higher in the search results.
Free Services for sugar daddies
Create an account and visible profile
Use the search function
View sugar baby profiles
Fee-Based Services
Send messages. 10 credits will open unlimited messaging with a sugar baby.
View secret albums. 10 credits will open each album that a sugar baby grants you access to.
| | | |
| --- | --- | --- |
| Duration / Credits / Coins | Costs | Total |
| 100 Credits | 0.59 USD / Credit | 59.00 USD |
| 500 Credits | 0.34 USD / Credit | 169.00 USD |
| 1000 Credits | 0.29 USD / Credit | 289.00 USD |
Payment Options
        Credit Card
        Bitcoin. Contact their support for instructions.
Payment Discretion
        Secret Benefits offers a discreet billing feature on your cardholder statement.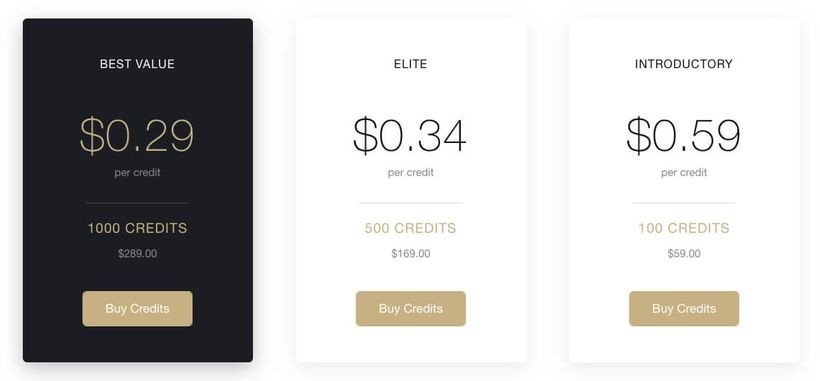 FAQS
Secret Benefits gives their members access to the most comprehensive blog and newsletter in the sugar dating world. Their customer support is also available to help 7 days a week. Here are some of their most frequently asked questions:
What am I not allowed to include in my profile?
It's always recommended to use good judgment and taste. Members are prohibited from using sexually explicit, abusive, or profane language. Fake photos, photos of others, or explicitly nude photos are also prohibited.
Is it possible to hide my profile from being viewed by others?
Yes, this is an option to stop your profile from appearing in search results. Any conversations you have already started may be continued, however, you may not search for others while your profile is hidden.
Is there a free trial?
Free trials are not offered. Secret Benefits is completely free to sugar babies and always will be. Sugar daddies may create their profile and view profiles for free before committing to the purchase of credits.
Site Security
Can I include my contact information in my profile?
No. Secret Benefits has a strict rule primarily for safety purposes that no personal contact information is allowed in your profile. The message and chat feature should be primarily used for all initial communication with members. If your personal contact information is reported to be in your profile description, your account may be deactivated and subject to review by the site.
How do I get my profile verified?
While logged into your profile page, click on the "Get Verified" tab and follow the instructions to submit your selfie video. Normally, getting verified takes up to 24 hours to be approved.
What type of photos and videos am I allowed to upload?
Any photo or video must be of yourself. Do not upload sexual content, nudity, other people, contact information, copyright material, drug or any other illegal actions.
How do I report other members?
If you feel in danger or that any violation of the community rules was abused by another member, click on the button with the three dots on the member's profile and click the "Report" tab. You may also choose to block a member by clicking on the three dots on the member's profile that you wish to block. 
Usability of the Site
How do I know when I receive new messages on Secret Benefits?
While logged into your Secret Benefits profile, click on the "Messages" tab in the top navigation bar. You may also get notifications of new messages to the email you've registered with your profile.
How do I edit my Secret Benefits login details?
You will see a profile icon in the top right-hand corner of your profile page. Click on that and locate the Settings tab. Under Settings, you can change your email, password as well as change your privacy settings.
How do I change my username on Secret Benefits?
You will need to contact the support team and request they change your username.
How do I unsubscribe from the Secret Benefits email newsletter?
Locate the profile icon in the top right of your profile page, click on that and then click on the "Settings" tab. Under "Email Preferences" you need to click the box next to "Email me Herb's/Stella's sugar dating stories" and then click the Save tab at the bottom of the page.
How do I know how my Secret Benefits credits have been used?
The credit icon is on the top-right part of your profile page. Click on that to locate your credit history.
Online consumer reviews of Secret Benefits
The members of Secret Benefits clearly love using the site. Here are a few testimonials we found:
"Women, there are a lot of men on here, which is to our advantage.
Put up a thoughtful profile and they will come knocking.
I have met all kinds of professional, successful, attractive men and I have really been able to pick and choose.
I've had a two year casual relationship, one year with a guy that just lives to Skype me, and several flings.
I love this site! Impossible to choose sometimes on certain nights. I just try to be upfront, but there are times I just don't have the energy to chat them all back. I feel bad about that but that's just the way it is sometimes."
"My old bud from college told me about Secret Benefits. Said he was scoring dates with younger hotties so had to give it a try. It was free to join and look around so what the hay. I didn't believe most of the really hot profiles were true. However, I came across a beautiful woman 9 years younger from Panama. We hit it off and agreed to try a long distance relationship… we skype and text all day. Been going on for over a year now. Planning to fly her over this Christmas to start a life together. We are both very happy and excited to be with each other!"
"Real pleased with everything up to now. I've honestly only been on secretbenefits.com for a few weeks now. Everything working out fine. Just had my first date off the website last weekend. She was really beautiful and very lady like. She got me feeling on the shy side but real excited too. Worked up the courage to ask her out again this weekend and she called me right back to say yes. Kinda taken back at my good fortune. Feeling really good for the first time in a long time."
Site Summary
Secret Benefits is one of several sugar daddy dating websites that you can find online. However, their streamlined and minimalist approach to the website is very refreshing and truly stands out from the rest. They clearly developed a platform to only provide exactly what people want from a dating website and nothing more. The site's idea is clearly to provide the space for people to meet and get out of their way.
The biggest advantage of using Secret Benefits is the large and constantly growing amount of genuine members. Many of the sites members are dating refugees from other tired dating websites and are looking for the real deal where they can find a perfect match and realize how powerful a truly mutually beneficial relationship can be.
The customer support is available 7 days a week and has a great reputation with the site's users. They also take everyone's privacy and safety very seriously which is very comforting to anyone that knows what it's like to question a dating website's integrity.
It would be great if they were able to get their mobile app up and going, and perhaps a live video chat for members would be a great addition as well.
To sum up, it's clear to see that Secret Benefits has thought carefully about what people do and don't want from an online dating platform. It's very encouraging to experience a website like this that truly gets it. Whether you are new to the online dating scene or a seasoned veteran looking for a great site to connect with real people, Secret Benefits is a fantastic sugar daddy dating website that is sure not to disappoint.
---
More online Dating Services
---