Pros
The site is available on many languages

A small percentage of inactive profiles and high responsiveness of all members

Live chat

Mobile app

Easy to use
Cons
A considerable percentage of unverified and possibly fake profiles

Scammers will typically come up with a heart-breaking story of a family member falling ill and desperately needing money

There is no free messaging

Big rivalry among men. As Colombian Cupid is dominated by men (87% vs. 13%)
Verdict
Generally, we are comfortable giving this site our recommendation, although their inability to provide complete safety to its users raises some red flags. We acknowledge that this is something not easily achievable in Latin America and encourage the site's potential members to keep a lookout for scammers.
---
Colombian Cupid: A leader in Latino dating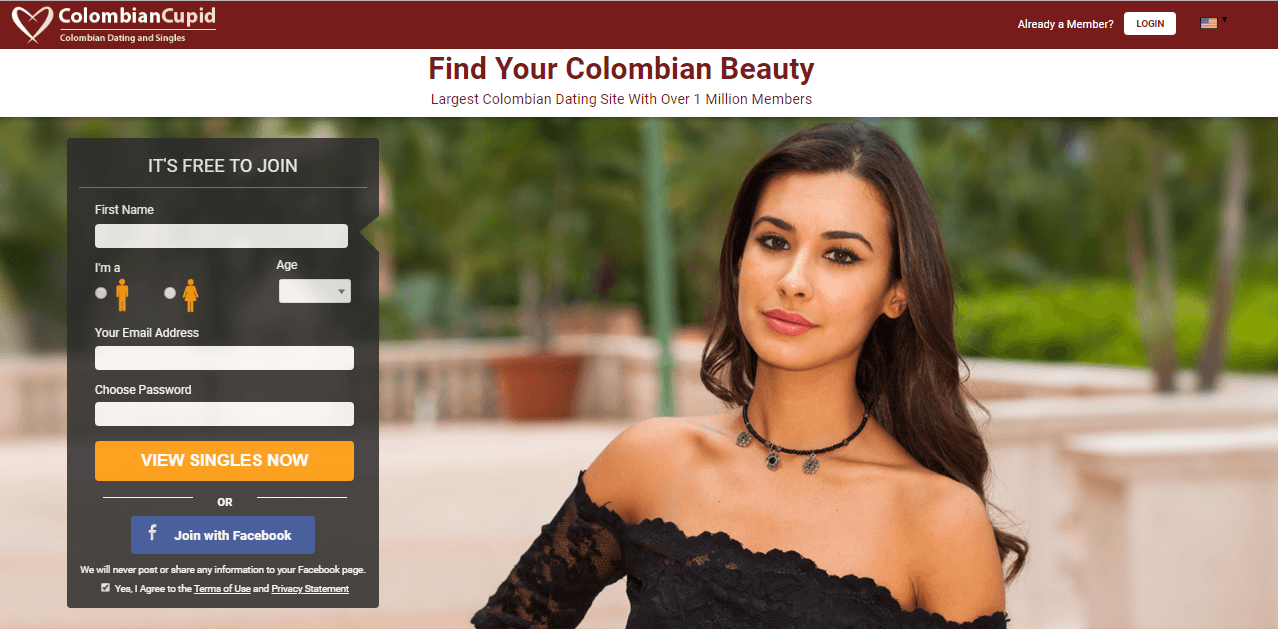 As a part of the Cupid Media network, Colombian Cupid targets the Latin American population, predominantly but not exclusively Colombian. Users don't have to be of Hispanic descent to be eligible to subscribe. They just need to be fascinated with Latin beauty. Northern American, European, and Asian men have all tried their luck in dating voluptuous Colombian women on this platform. They found the ladies to be quite interested in foreign men who treat them with so much more respect than local men ever could. The site advertises its dedication to enabling long-term relationships and marriages. But one can also use it for finding someone to spend time with during their Colombian holiday. According to members' testimonies, the latter task is the easiest to achieve, as the platform offers quick hookups along with more committed relationships.
Member structure on Colombian Cupid
Similar to most dating sites, Colombian Cupid is dominated by men (87% vs. 13%). Being culturally specific but still having more than 100,000 members, it offers a real chance to meet your perfect match. The site is mostly visited by the US, Colombia, Chile, Germany, and Turkey citizens, with the average of 5,000 daily logins. 
Since the registration procedure is rather simple and straightforward, everyone can join without going through a lengthy verification and authentication process. Of course, the number of fake profiles runs understandably high, when all the site asks for is to provide a first name, e-mail, age and gender. Photos at least undergo some scrutiny, as they take 1-2 days to get approved and be added to one's profile. Using celebrity photos instead of your own, adding offensive pictures, or uploading photos not showing your face clearly is not allowed.
What to expect from profiles featured on Colombian Cupid 
If a person goes through the effort of completing their dating profile, it can actually provide quite a lot of information. Completed profiles are detailed and fairly informative. However, a user is not obliged to fill in all the data, so this tiresome process is often left unfinished. Users are not very enthusiastic about creating profiles either when they have already done it on multiple sites in the dating niche.
Nevertheless, you would be well advised to enter as much personal information as you feel comfortable sharing since it makes your profile stand out and arouse interest. Becoming a paying member is another thing that speaks volumes about a person. Even though membership fees are not particularly high and most people can afford them, it takes some commitment and serious intentions to take online dating a step further. Becoming a Gold or Platinum member usually means you're set on finding a partner through this service. 
Communication options on Colombian Cupid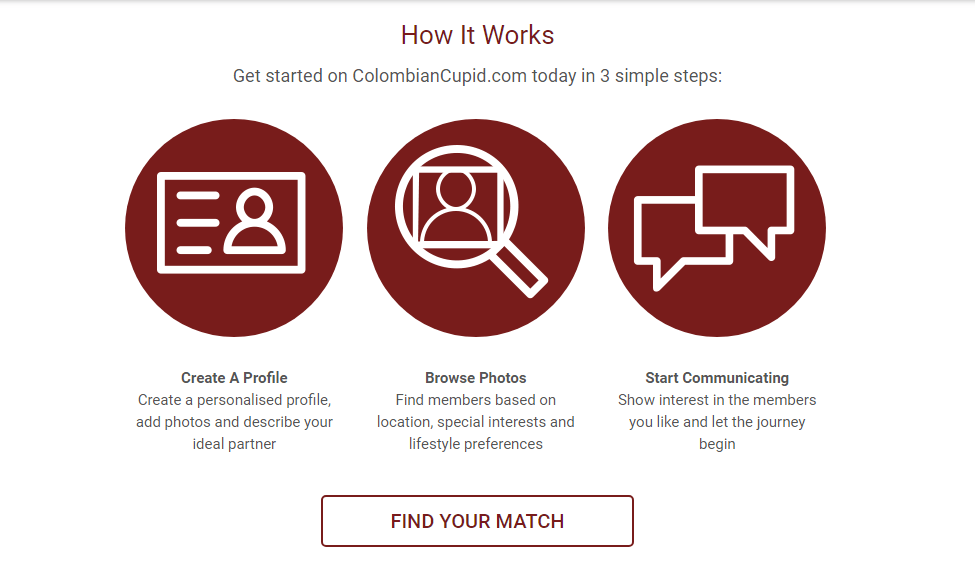 Although Standard members can read all profiles and view profile photos for free, they can only message Gold and Platinum users. So, one of two users at least has to be on a paid membership plan to contact another. Once you overcome that obstacle by signing up for at least a month's premium membership, dating on this site becomes very easy. The shortest opening sentence sent to someone you like suffices to get things started. Speaking at least some Spanish will help you since Colombian girls are rarely fluent in English. Message translation services are available to Platinum members only. Although communication between Standard members is restricted, they can still enjoy the benefits of basic matching for free. To find out who's interested in you, simply choose 'Interested in me' option featured in the Activity subsection of your personal homepage on this site. If you stumble upon those you really like among these profiles, just show your interest back to them.
Premium memberships and pricing
There are two types of premium memberships on Colombian Cupid – Gold and Platinum. They enable you to communicate with all members without any limitations whatsoever. So, unlike some dating services, Colombian Cupid doesn't charge you for sending each message separately. You buy a month's, three months' or a year's subscription and use texting and instant messaging all you like. The fees vary from 10 USD/month for a year's Gold membership subscription plan to 34.99 USD/month for Platinum membership paid monthly. With their help, you gain access to unrestricted interaction with all Standard and Premium members, the opportunity to use advanced search options and to have your profile highlighted. On top of the basic matching available for everyone, you'll benefit from sophisticated matching systems that will allow you to find a partner who's ideally suited to you.
The payment options are similar to those offered by other dating sites and include PayPal, Credit and Debit Cards, Bank transfer, and Paysafecard. The site uses SSL encryption to protect the safety of all monetary transactions. The membership renewal is automatic, so if you wish to terminate your paid member status, you need to do it a couple of days before it expires. 
Are paid memberships a rip-off or not?
Colombian Cupid has had a significant number of complaints from people claiming to be victims of fraud. Their accounts were permanently banned days after paying membership fees. No viable explanation has ever been given except for stating that these users had violated the Terms of agreement. On this basis, the site has never offered them any refund, and they can't reactivate their accounts. The users have started a financial battle by opening bank disputes which can take weeks to resolve and even then refund is not guaranteed. It remains unclear what the site meant, and the whole thing might look like fraud to newcomers. Nevertheless, we don't mean to scare you off, but we feel obligated to inform you about this.
Upsides of using Colombian Cupid
A large number of great looking Latinas using this service
A small percentage of inactive profiles and high responsiveness of all members
Girls whose profiles are featured on this site are open to new experiences and excited to date foreigners
You'll be able to land multiple dates with gorgeous Colombian women during a short Colombian holiday
Cupid Tags available on all Cupid dating platforms allow you to use keywords to describe your personality and make your profile turn up in searches 
You can place members on the Block list if you find their messages offensive or wish not to let them contact you in the future
Possibility to use a live chat that includes video and text (only for Gold and Platinum members)
Downsides of Colombian Cupid: things to beware of
A considerable percentage of unverified and possibly fake profiles. 
High prevalence of Colombian girls from disadvantaged families who are just after your money 
Scammers will typically come up with a heart-breaking story of a family member falling ill and desperately needing money 
It is difficult to find ladies who are genuinely interested in long-term relationships, instead of being gold-diggers or just after a US green card or a ticket out of Colombia. There are those who are family-oriented and will make great wives. You just have to sort them out from the pile of those that do not deserve your attention
The flakiness of Colombian women who seem committed to meeting you, just to blow you off completely without a word of excuse once you arrive into their country. Be prepared for this and always have a back-up plan. Perhaps it's best to set up dates with several women throughout your stay in Columbia. At least some of them will show up.
Colombia is still not a very safe place for foreign tourists, so visiting your Colombian girlfriend can be a risky business. If you plan to do this, we encourage you to enlist the services of a personal guide who'll take all the necessary precautions and make sure you stay safe.
Does this site have a mobile app?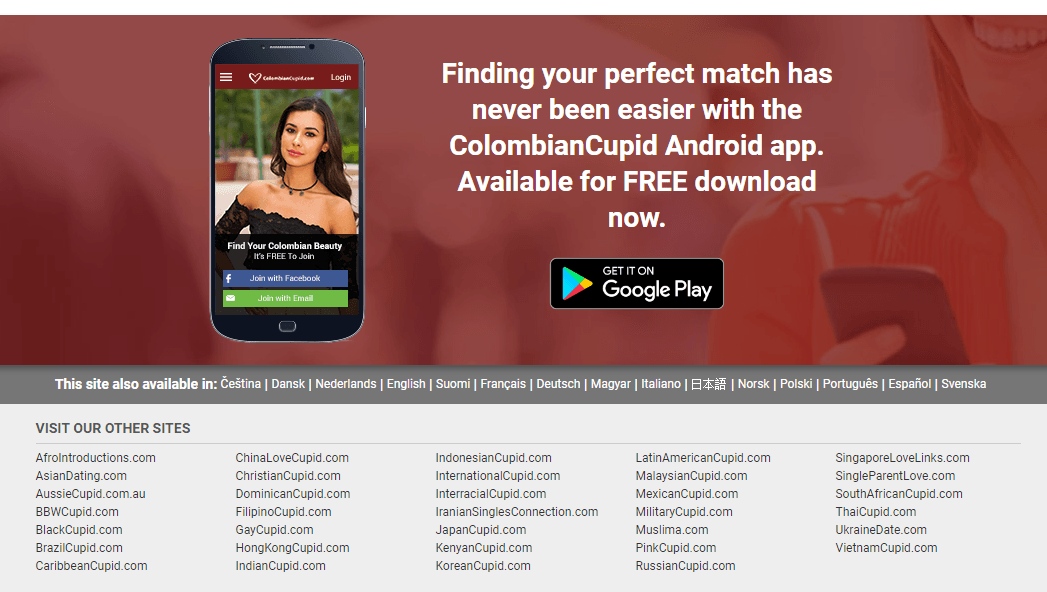 Colombian Cupid mobile app is available for free download on both Google Play and App store. Although style-wise it can't compete with some of the fancy dating apps out there, it still offers a functional interface which is easy to use even for those less technically knowledgeable. Staying in touch with your Colombian dates even when you are away from your computer is surely beneficial, especially during an actual vacation in Columbia. You can find a nice spot in a beachfront bar, enjoy the sun, and exchange messages to arrange a meeting with the ladies you have met online. It sure beats straining your eyes by staring at a computer screen in a stuffy hotel room desperate to find a local date. 
A bit of advice, though: don't wait to get to Columbia to start using Columbian Cupid. Register at least a couple of weeks beforehand and create a database of girls you'd like to meet once you're in the country. That way you won't waste valuable vacation time browsing through thousands of profiles and have a list of favorites before you even set foot in Columbia. You'd be well-advised to choose a few Colombian girls while you're still back home and initiate contact with them. Send them photos of your everyday life which will allow them to get to know you and not fear you're some kind of a sexual predator.
Overall rating 
As a site dedicated to matching people of Hispanic origin (mostly Colombian) with those who show a deep interest in Columbian beauty, this site offers culture-specific dating. If you're seeking some first-hand Colombian love experience, we encourage you to try this service. The number of its members is not huge, but those who register are very active and willing to chat online. Also, to meet someone in person, you should be prepared to travel to Colombia. By taking the necessary precautions allowing to avoid being ripped-off as a naïve tourist, you can make your Colombian trip a really enjoyable experience. Finding a lovely local girl to share your holiday with will certainly add to its fun. 
In total, we would rate this site with 3.5/5. Most of its features are of average quality, except for the contact-making part which we would only rate 2/5 since it's disabled for Standard users. Setting up a profile is effortless, but if you'd like to make your profile stand out from the rest, we suggest you spend a little more time completing it. Adding Cupid tags will allow other users to locate you when performing a search by keywords. Other search options include searching for users who are currently active or those who comply with your match criteria.
Generally, we are comfortable giving this site our recommendation, although their inability to provide complete safety to its users raises some red flags. We acknowledge that this is something not easily achievable in Latin America and encourage the site's potential members to keep a lookout for scammers.
---
More online Dating Services
---
Brides by countries on site