Pros
3-day free trial

Sending messages to others is free, but those with free accounts only get to send a maximum of three messages per day

There are no ads to bother you

You can look at profiles even without registering an account

500,000 members are online monthly, 2000 daily

Profile verification

The profiles are quite detailed
Cons
Features for free members are limited

Premium memberships are really expensive

There is no mobile app
Verdict
SugarDaddyForMe is a high-quality service with a really high price for membership. Though, all essential features are free. Limited per day, but free. So we definitely recommend to give it a shot
---
SugarDaddyForMe Full Review of the Features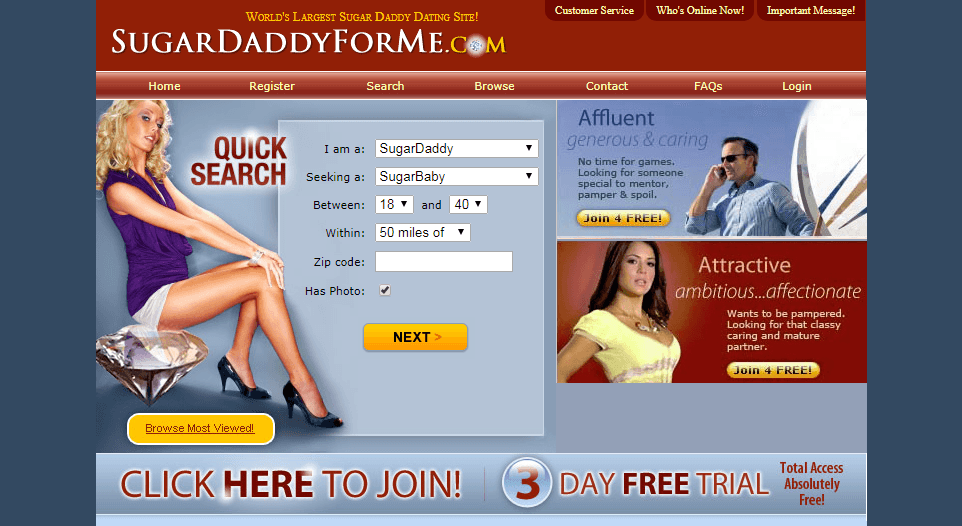 Millions of registered users, both sugar dads and moms, and sugar babies
New members can get a 3-day free trial for all the website's features
There are no ads to bother you
You can look at profiles even without registering an account
Messaging possibilities depend on your membership type
Premium memberships are really expensive
The web design is years behind, and the website seems a bit slow
SugarDaddyForMe was started is 2004, and it claims to be the world's largest sugar daddy dating website. Its main purpose is to help wealthy, older men find younger, beautiful ladies to bury in gifts and other treats. Of course, the online platform has adapted to include also the sugar mommy type of woman and the sugar male baby.  Besides, it gives the possibility to enter extramarital relationships. Some of the young users claim not only to have found an older, rich lover, but also a wise mentor to share their knowledge and life experience.
Member Structure on SugarDaddyForMe
Each to their own profile to fill out as they wish
Users are from all over the United States, and their number reaches a bit over four million
500,000 members are online monthly, 2000 daily
65% of the members are ladies, and 35% are men
There is no email verification
The website claims that 1000 new members register daily and 2000 users, old and new, are online each day. The online platform mostly composes of powerful, older and experienced men (or sometimes women), who are willing to share their wealth to make their potential younger lovers happy. Most young women on the website claim their reason for using it comes from being tired of dating poor or broke and immature men from their own age group.
Signing Up SugarDaddyForMe
Signing up takes a couple of minutes
You don't need an account to be able to look at profiles on the website
You can even do searches without having an account
When you sign up, you have to choose one category of people that describes you best, and you consider yourself to be a part of
You can get an email newsletter from the website
Profiles can be browsed without having one of your own, and you can choose to look at those who are online at that moment, the most viewed, or other criteria of your choice, like age, location, the category you are in or the one you came to the website for. Categories in which you can place yourself when creating a profile are: sugar daddy, sugar momma, sugar baby, sugar male babe, gay sugar daddy, woman for extramarital or man for extramarital. One of the good points is that you get to search and check out these features for free, while on other websites you have to be a premium member to have access to search filters.
If you do decide to sign up, building up a profile is quick and easy, it will take you about five minutes. You need to give away a bit of basic personal information, like your age, gender and location details, and then write a description of yourself and one of the person you would ideally like to find there. You also have to choose a headline for your profile, which must be at least three characters long. This, along with your personal description (which must be between 15 and 4,000 characters long), is required from the beginning. One of the things people find interactive about this website is that adding your height comes in the form of a ruler.
Having a profile picture from the beginning is not mandatory, but we tend to believe that photos will attract more attention to you. The creators of the website actually suggest that those who have photos on their profile get 20 times more responses, but that might be a bit of a stretch on the situation.
Making Contact with Other Users
Sending messages to others is free, but those with free accounts only get to send a maximum of three messages per day
Premium members get to text as much as they like
Those with premium memberships pay an additional fee if they want users with free accounts to be able to reply to them
There are different icons for every type of message
After you register, you will need to wait a bit for the admins to check your profile and approve it, before you can start messaging others. Unfortunately, free members can send a bare three messages per day; more than that, they cannot read or reply to the messages they receive. The messaging feature is similar to email service: you can see the sender, subject and the time when you got the text, and also view the ones you sent yourself.
Messages can vary by the type of icon you see near them. A reverse arrow is a symbol for a reply you got from someone; you can click on it and see what they said. A golden bar indicates a Gold member and a star indicates a Total-Access member. For the last ones, their status allows you to read and reply to their texts even if you don't pay a cent for your own account. Messages can be color-coded with flags.
Profile Quality on SugarDaddyForMe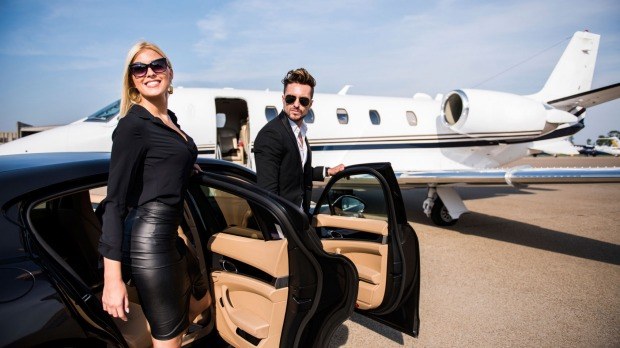 You can see anyone's profile picture
Free users can only see three photos in someone else's profile
Profiles are usually detailed, and information can be edited at a later time
You can share a profile, show it to your friends
You can see if someone is currently online and their membership type
With some memberships, you can add notes to a profile, and they will be only yours to see
Sending an email or a kiss is a way to show interest in another user
It is absolutely free for you to see all the profile pictures you want and be amazed at the creativity which shows through the user names attached to them. Let's just say some of them might be a bit more colorful. You will be able to know how many pictures someone has uploaded, but, as a free member, you only get to check out three of them.
The information contained in the profiles usually refers to some personal details of the user, like their age, gender, marital status, income, race, height and body type, but also the category of people where they would like to look for a partner. Also, their location (city or town) appears in their profile, along with an estimation of their distance from you, based on the address and zip code you provided when creating your account.
In your search for someone, you have the advantage of not going at it blindly. Their type of membership will be displayed, and you will know from the beginning how difficult it would be to communicate with them. If available, you can send users an email or a kiss. Gold members have the advantage of being able to add notes to profiles, visible only to themselves, to help them keep track on their progress, on the quest of finding the perfect mate.
SugarDaddyForMe Website Design and Usability
The website's design has long been out of fashion. It still keeps the small-sized profile pictures displayed one near another in a style that was common fifteen years ago. The situation is the same with the banners, which seem taken from a '90s soap opera. At the same time, it is simple to use, anything can be found quickly, which is helpful for the older members, which is SugarDaddyForMe's paying demographics. The color combination is also not that bad, suitable for a dating site.
The biggest downside, however, is that SugarDaddyForMe does not have a downloadable app, so users will have to suffice with a desktop version. 
Costs and Membership Prices on SugarDaddyForMe
What is free:
Setting up a profile
Browsing profiles and viewing photos
Sending three pictures
What you're going to need money for:
Profile highlight, coming up first in search results
Quicker account approval from the admins
Limitless space for your messages
Adding notes to interesting profiles
Actual costs are shown below:
Silver Membership:  39.95 USD/month
Silver Membership + Total Access: 54.90 USD/month
Gold Membership: 44.95 USD/month
Gold Membership + Total Access: 59.90 USD/month
The 'Total Access' feature ensures the messages you send to free members can actually be read and responded to. 5.95$ out of what you pay is considered an administration fee. One might say, and they'd be right, that SugarDaddyForMe is an expensive dating website. If you are not sure whether the premium membership is worth it, you can try it for free, for three days.
Payment for a premium membership can be done through credit card or cheque. You don't need concern yourself about the security of your financial information, as the company's database is secured and encrypted. Also, when you pay through a credit card, your transaction's confidentiality will be ensured by the charges getting plain names like SCbills.com or RGhelp.com, with nothing pointing at dating.
When paying by cheque, you can send it to the company's office in Miami, including your username, email address and the type of membership you want to sign up for. Premium memberships can be canceled by phone at (866)920-9610 or by sending an email to [email protected].
Special Features on SugarDaddyForMe
There is a really cool one, called Weekend Planner. You can show others your calendar for the current week, separated into time slots. Usually, those are one hour long, except for the one between 9 AM and 5 PM. All your hourly cells can be colored as follows: blue for work, gray for sleeping, red for busy and green for available. This makes your connection with others easier, as it can tell them when you have the time for potentially hanging out on a date.
FAQs
Facts
What is Sugar Daddy for Me?
Sugar Daddy for Me is an online dating service, which brings together older, wealthier men and women, called sugar daddies or mommies, with younger sugar babies.
No, or at least, not yet.
Creating an account and viewing profiles is free, but a lot of other features are not.
Yes, the members are not fake, and matches really seem to be found on this website.
Yes, all personal and financial information is protected and encrypted for saving you from potential scammers or those looking for escort services.
Does it have a chat feature?
There is no actual chat, messages are sent and received through something similar to emails.
Contact
How do I get in contact with the company?
You can call them on (866)920-9610.
Payment
How much does SugarDaddyForMe cost?
Prices for premium memberships vary between 39.95 and 59.90 USD per month.
Cancellation
How do I cancel my subscription?
Premium subscriptions can be canceled by calling (866)920-9610 or by sending them an email at [email protected]. Make sure to do so before your current subscription auto-renews.
---
More online Dating Services
---