Pros
It worries about your online dating safety

It is possible to switch into 10 languages

Impressive options of search

Possibility to start your own blog

Customer support

Free porn
Cons
There is no app
Verdict
The play is worth investments
---
Hornywife review
When you are bored in your marriage or want to find the one who is, the best solution to do it is online. Hornywife.com is exactly the site to do it – with over 97 million registered users all over the world, it is practically easy as a clap of a finger to find a horny match for yourself right after the registration.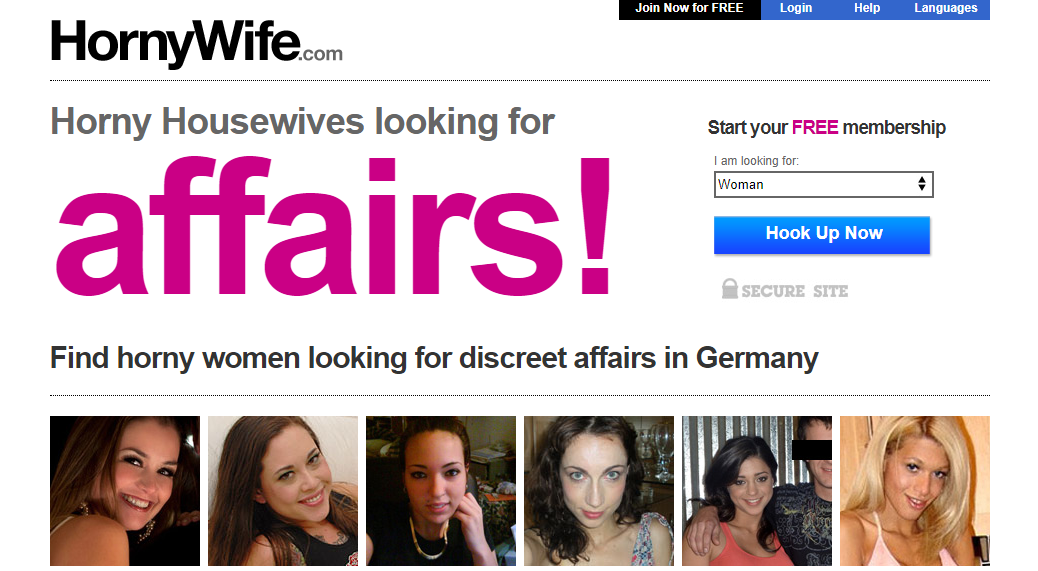 Member structure
As you enter the site, it immediately shows you how many registered users are in your country and how many of them are online. As of the moment of writing this Hornywife review, there have been 828,000+ members in the author's country and more than 57,000 users online at a time. 
What is known about the site hornywife.com:
It is registered since 1998 (although the company exists since 1996)
It worries about your online dating safety (as it has several pages to inform you about this issue, as well as the 'Protect Kids' page, which tells how to protect your children online and to set up the web filtering software; also, there is a possibility to report abuse or ads, which are too sexually explicit).
It is possible to switch into 10 languages: Chinese, Korean, Swedish, Dutch, Italian, Portuguese, German, Japanese, French, and Spanish – in addition to English set by default.  
So, shall we continue to review what's inside?
Signing up
It is easy to get started with a new account. You can do it through the 'Login' button located on the right top or through choosing whom you are looking for and clicking at the "Hook Up Now" button.
The options of your search are impressive:
Man
Woman
A couple consisting of a man and woman
A couple of two women or two men
A group of people (including men and/or women)
TS/TV/TG.
Well, it seems like your horny desires will be completely satisfied with the members of this site.
The registration takes 5 steps.
During the first one, you are shown what the other opportunities of this site here are beside of a possibility to hook up somebody: there are live webcams of participants and pre-recorded sex videos. We think there is no need to explain, what is the difference between those two (but if we do – then you should know that during the webcam with someone, you can ask a person to do some horny things (and he/she'll do), while a video is just a video, unchangeable in sequence). Also, you see how many active members are around you at a time, with their logins and estimated locations. 
To start register, you choose who you are (out of those 6 options above that we've just mentioned) and tick marks whom you are looking for.
2. Upon clicking "Next", you are shown a screen, where you have to fulfill:
You full birthday
Your country (automatically selected based on your current geolocation but you can change it)
State (if applicable)
The closest city to you (the drop-down list is formed based on what other users have entered before).
Click "Next" as soon as you're ready.
3.On this step, you are highly encouraged to complete the registration with a sequence of videos that appear on the left, in the section of videos from webcams and pre-recorded sex videos, as they become totally explicit, where every charm of a woman/man (based on your search's preferences) is visible. Those videos change one another, so you can enjoy horny people totally undressed and doing various arousing stuff with their bodies, taking luring poses. 
Now you have to enter our e-mail (the real one, as it will be verified by sending a letter on it), come up with a username (it must be untaken – the system will tell you so), and a password (there are no demands to hyper-secure password, so any to your liking will be okay).
4. On step 4, you are asked about:
Your sexual orientation
Body type
Race 
Marital status.
You should pick from the drop-down list, which makes it easier for you, as you don't pretty much use a keyboard. 
5. The final step is asking you about what is you Introduction Title (at least 10 characters long), offers you to tell a little about yourself in the free form (this is an optional step), and you give your consent with what system asks you to read by pressing "Done".
Now, the registration is complete and you should only verify the e-mail address that you've indicated in step 3. At this stage, if anything goes wrong and you can't get your activation e-mail, you can indicate another mail to make sure to receive it.
If there won't be a clickable link in an incoming letter, you just copy it and paste it into a new window. Then, your full registration is done and you can buy the subscription now. 
If you don't want to obtain a premium profile, you don't have to, unless you don't wanna see people's full profiles, their videos, photos, and use other features of the site.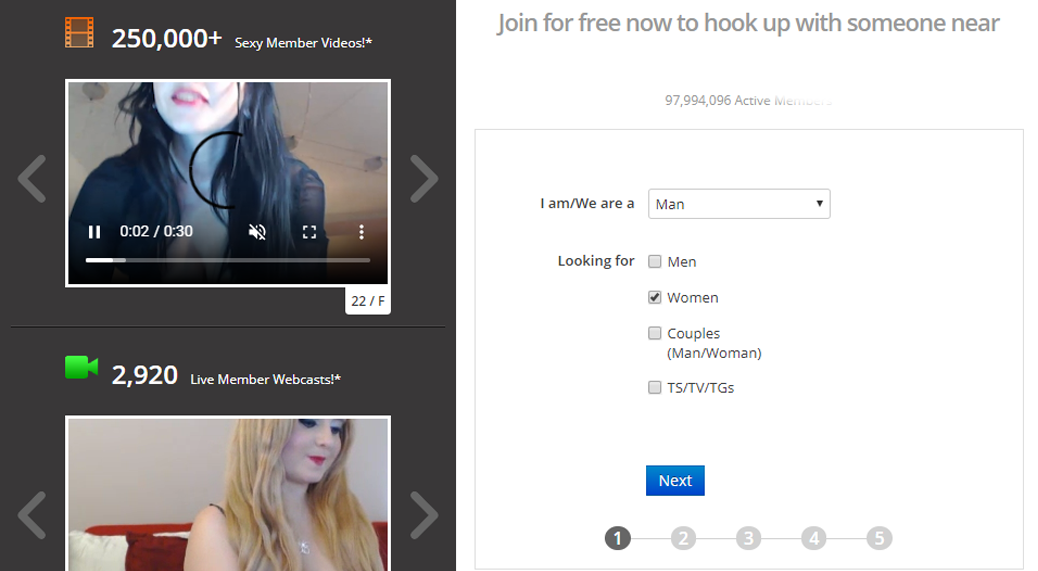 Making contact
It is possible to make contact with any user based on several available possibilities:
Browse who is online in your member's profile
Click at Nude models broadcasting or Live members broadcasting (two blue buttons just below the menu at the top)
Click at tabs "New matches", "Members Near Me" or "VIPs". 
You can also search for members and input your preferences for the search.
You can scroll down the page and watch the new posts of members. Upon clicking each profile from those or the ones who gave a comment, you can send them a message or video/pics of yours. 
Profile quality
Here's what a premium profile of the site gives you:
Open any of millions of existing profiles of people, browse them fully, including any number of their pictures and videos
A possibility to hook up with them
You can select – whether you just buy a premium account that can be only accessible by the same premiums or you can make it open for any profile, even a free one.
To improve the profile quality, the first thing you do is fulfilling all fields:
Introduction
Languages that you speak
Your astrology sign
Fill in testimonials
Connect Bling! service
Add your sex academy courses and your Kinks
Fulfill you compatibility chart (consists of 7 lines: gender, distance from your woman or man, age, race, sexual orientation, body type, marital status – these are filled for you and for your preferential partner)
Earn your top fans and when you have them, you can chat with them to earn extra points
Add more to the list of your activities – do the posts, likes, and shares
Add videos & pictures to your photo albums
Change your status of the profile (the one, which is instantly visible to every user of the site)
Go through the entire section of Questions and Answers (you can add and edit these topics to your profile and change them in the future). There are 9 sections with about 9 questions in each, a total of 84 questions that completely describe you, your habits, and your life. These questions may sound like 'What kind of nightlife do you enjoy?' or 'What is your ideal date?' or 'Describe what you do for a living'. There are many questions about sex stuff as well like 'Have you ever had cybersex?', 'How much is oral sex enjoyable to you?' or 'What areas of your body are erogenous zones in addition to the obvious ones?' Going through those questions, you can largely increase the quality of your profile and make people read about you when they find you. Eventually, as this is so much more than just a dating site (this is much more about erotic and pornography than about purely dating), you might find a person to your liking and long-lasting sexual and mundane relations exactly because of fulfilling this section with questions and answers. 
You can also start your own blog from your personal profile – if you are good at blogging. In addition to the blog, it is possible to create polls, see who your watchers are, and to view where you are quoted. What is more exciting – you can popularize your blog by adding keywords to it, review the title, send a link to it to your friend, and make edits whenever you feel is necessary. 
Consider that the system does not prompt you to fill in the entire everything on your personal profile. It's that if you do, then you shall receive extra points to your profile and can meet other people with a huge rate of success (as they don't want to make friends to somebody, whose profile is blank. Neither do you, right?). 
App
There is no app, as Hornywife reviews say – and we didn't find any neither. But there is a mobile version of the site – and you can find it by googling or inserting this link into your browser on a mobile phone: hornywife.com/go/page/landing_page_ffadult_34.m.html?lang=spanish&dcb=hornywife.com&mobile=1
Design and usability
Once you are in your profile, you can start exploring other people's profiles and set up actions and filters.
When it comes to filters, you can, by clicking on your username located in the right top corner, to set up quick filters of the content you see:
Everything
No nudity
Some nudity.
You can also upgrade and view your profile, view your account, make changes, and log out. Slightly below there, a help center link is located.
The buttons of your profile let you come to a homepage, read incoming letters and respond, chat with people and turn notifications on/off. 
Next, you can upload a photo, edit the details of your profile, upload and manage your pics and videos. 
Slightly below that, on the left, you can see the statistics for the past 90 days:
messages
friends
how many flirted with you
top fans
who hot-listed you
times of views of your profile
testimonials
gifts and tips received
the number of profiles you can view
how many viewed profiles there are
who is in your hotlist
who are your top fans
with whom you have flirted
your favorite pictures and videos.
Below those, you can access the store and join a group to your interests. 
In the middle, the main section of action is positioned. You can see how many members are live-streaming right now, and how many professional nude models are broadcasting. 
You can see the online users and see the scrollable list of their actions – like in your social media, only here, you'll see the explicit content. You can also find matches to you, see who's around your area, and browse VIPs.
You can click at any of the shown profiles, which are found automatically for you. Also, if you don't feel like the matches or other profiles shown to you are of relevance to your expectations, you can refine your search preferences to receive better results.
When you hover a mouse over any profile you'd love to view, you immediately see your options. A full premium member can open any number of profiles within the paid period. If you do not have this kind of access yet, you can view every individual profile for €2.95 paid one time. Opening the profile, you see:
if the match is full or partial
location
age
the number of pics/friends/videos
a person's interests and profile data.
With this person, you now can flirt, send a message, give a tip, send gifts, add to friends, and add to hotlist.
Real life review
We publish here the hornywife review, which was done by Alexis from New Orleans, 34, one of the site's long stayers:
'When the first time I came here, I did not expect so much nudity and openness, expecting that this would be a simple dating site. But, in several minutes as I was here, looking around, I liked the explicitness of the flesh, which was as if in the porn site. This is partially a porn site, where people are open to such a big extent that they are literally free-minded. I did not think at once that I would do and – moreover – post my nude pics or videos on the site. But, you know, it's like a drug – I am now seeking approval of the people I don't even know. And I like it!
In two weeks of active usage of the site, I had over 40 friends joined me and followed my new videos and pictures. In two months, I became very much more open than I was before. I can often now stroll without panties down the street or not wearing any underwear at all when I am at the office. And I get to know more people on the street with bigger ease – this all is thanks to using this site, which became my sex life savior. I have been renewing my premium subscription 20 times now and I feel a completely new person! I've had 15 sex dates thanks to the site and I will not be going to stop.'
Costs and prices
What it costs:
1 month of the premium goes for €19.95
3 months of the premium go for €12.95 a month (€38.85 for 3 months, which give flamboyant -35% discount compared to 1-month subscription)
12 months of the gold subscription cost you €9.95 a month (119.40 Euros for a year). This option of the subscription is not immediately available right after your registration – obviously, to make people spend more money initially. Only after the first period of paid subscription or in 2-4 weeks of not showing the money activity, the system will show you this option on the list of available ones. Clever, guys!
If you wanna open your profile for everyone, that costs ya €17.95 a month or €32.85 for 3 months.
You can pay with your credit card (Visa, MasterCard, and Discover are amongst the payment options) – then enter your cardholder's name, card number, CVV/CVC, expiration date, and indicate your billing address, or you can pay with Direct Debit, Pay by Mobile (only 1 month of a premium membership is available through the SMS payment), and Mail/Fax orders. 
Is this site expensive or cheap?
Compares to all other sites of this direction and looking at the closest competitors (which are Ashley Madison and 'No Strings Attached'), this site is cheap. Even better it is that you can prolong your premium account at 3 months, receiving basically one-third off the price of the 1 month-only subscription. 
Special features
The list of special functionalities of the site is as follows:
A possibility to answer over 80 questions about you. This is something that we haven't met in other dating sites (and especially pornographic and so very explicit sites like this one).
So many free erotica and explicit porn submitted by users of the site, on their free will, and free of charge (they aren't paid for doing so).
There is a mechanism, which is close to livejasmin.com site – streaming of webcams. Users of the site and professional models can do so – which means that you can do, too. It is the same basis as on livejasmin.com – a user is paid for streaming if his or her broadcast is being watched. Additional services may also apply – those, which make people earn more money, like private services during such broadcasts.
You can run your own blog and add articles to the section of erotic stories. The best authors of the latter are paid (but it is a long way of becoming so, in the first place) and thus, you can show your writing talent and get paid for it. And if you are going to become a successful blog owner with lots of shares, likes, and reposts, you can start earning on your blog. But it is advisable for you to think over the principles of being a blogger at an erotic site with limited access, as not everyone will be able to see your posts even if you send someone a direct link. If you want to succeed as a standalone blogger (even in the area of erotica), it is recommended for you to choose some platform open for the general public.
You are receiving plenty of pieces of advice on how to do actions on the site: like tips for erotic and porn broadcasts, tips for writing your texts, wherever they are, and how to get more likes and friends to your profile.
There is a specially created Sex Academy, which was created together with Penthouse. There, users can receive a degree in Sex sciences after graduating from the course. After they do so, they receive a special sign in their profile to inform other members of the site about their course graduation. This can help find new sex partners and can boost up sexual life.
You can interact not only with other users just like you and me but also with professional models, who are here to show you their appealing bodily traits through videos and webcams. Text input through the keyboard is also possible. To join them, go to Live Model Chat or click at the button of currently ongoing Nude models broadcasting at the top of your profile. In the broadcast option, you can choose free or paid services.
You have the 'What's Hot' menu in your profile. By clicking at it, you see the list of the hottest currently photos, videos, albums, members, top members, and can enter adult movies. This is the easiest way of searching something hotter than can be viewed in your site's newsfeed.
Adult chat rooms. These are created for those, who would like to interact with other users in groups, being divided by interests & location. 
The internal game called 'Hot or Not' is played approximately the same as you do on Tinder – you get a list of random users, which you mark as 'Hot' or skip. If a user is marked as 'Hot', he or she is notified and when he or she gets online, (s)he can view your profile and say whether you are hot for him or her as well. If you are marked as hot – you both get notified about this issue and can do further actions – like meet in person and have sex. If there is no mark of hotness, there is no mutual match, obviously. 
Our rating
There is a lot to discover on the site thanks to its unique peculiarities. Seeing so much free porn, not paying extra for one standalone piece of it in your newsfeed, as well as viewing any number of porn inside of all profiles that are open to you in the premium subscription is a very rare and alluring offer that one can find online. So, during rating it to 5 stars as a max, we'd give it 4.5 stars, deducting 0.5 for too many elements in its interface (it could have been simpler).  
Editors conclusion
Considering the goal of why people join this site, it is less a dating and matchmaking site and much more a community of sexually liberated people who post their nude pictures and videos online waiting for some response from other users. 
You can meet a man or woman here for a hookup but you will have to obtain a premium account first in order to see the contacts and write a message. Also, some other site actions are limited and you have to obtain a premium account first to enjoy all the advancements of the site. For instance, you will be receiving letters to your inbox but you aren't going to view the people's profiles (even of those automated matches that are sent by the system to you) if your account is basic. 
We have spent 90 days on the site, trying to figure out is it worth it or not. 
So, we have sent 270 emails to different women in our area over 3 months of time, distributing them more or less evenly throughout the timeline. We have received 130 responses and have agreed to 17 dates out of these. We went to 15 real dates (with two being canceled for various reasons) and got hooked up with 10 women. Eventually, if to consider the scarce money that we paid for 3 months and the outcome of 10 ladies with whom we have had sex, it must be said that the play is worth investments. 
---
More online Dating Services
---