Pros
Customer assistance is of superb quality

The features function like clockwork

You can use the search functions and view other members' profiles even before purchasing a subscription

Free 7 Day Trial

High quality profiles

Quick&easy&free registration
Cons
No income verification

No app

All interaction options are reserved for paying members exclusively

Subscription plan is really expensive
Verdict
One of the original sugar daddy sites
---
SugarDaddie: Connecting Generous Gentlemen and Ambitious Ladies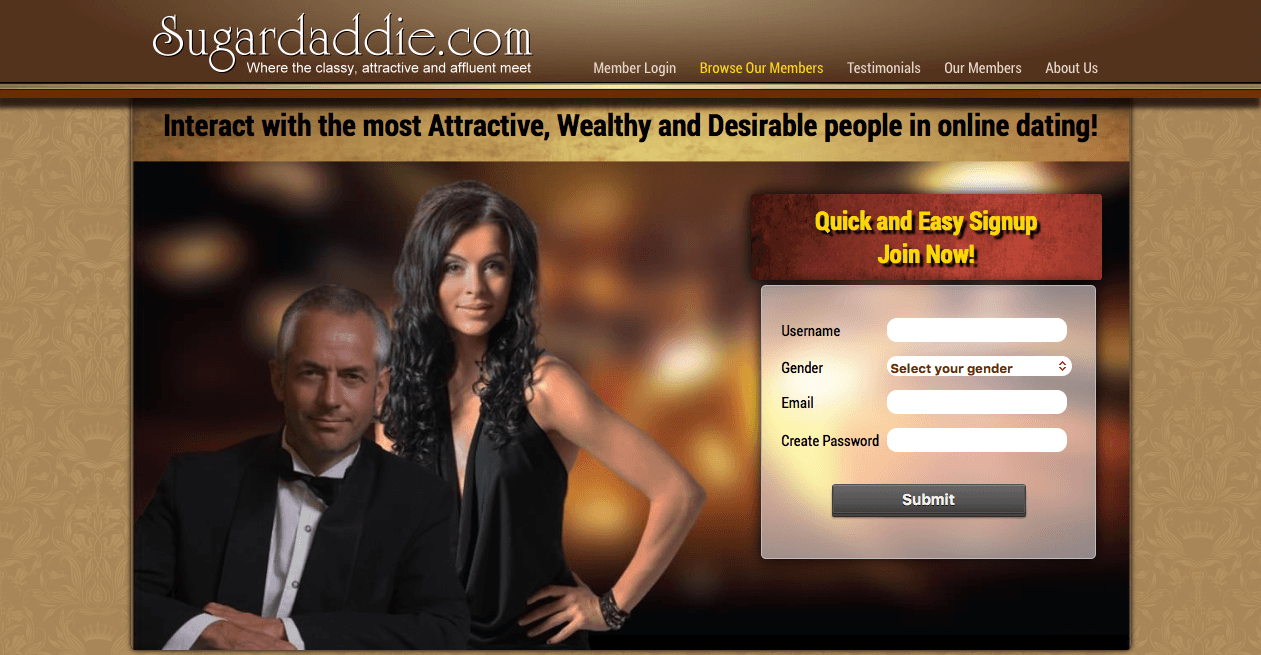 SugarDaddie is an online dating platform that's here to assure you that it's ok to insert some financial interest into the romantic department. The platform's prolonged and successful existence is accompanied by an impressive number of success stories. This proves that relationships based on a model where the husband provides an above-average living standard for his wife who returns the favor by being an excellent wife and pleasing his eye at all times, are indeed viable.
Why services like SugarDaddie.com exist
It is surprising how many people up to this day tend to be convinced that a romantic relationship and financial interest are two mutually exclusive things. For centuries, men and women united into families where a man was expected to be the sole breadwinner. Yet, there is a persistent stereotype that it's dirty on a woman's behalf to express an explicit interest in the contents of her potential husband's purse: she gets "rewarded" with a reputation of a gold-digger and gets frowned upon. Likewise, men often get frowned upon when they boast their respectable income and eagerly lavish their love interests with expensive presents to win them over, as if they were buying women like assets.
It may be true that, in its purest form, such an approach to one's romantic life may lead to disappointing or even tragic consequences: we have all heard stories like this. Admittedly, however, we have heard even more stories of couples who meant to overcome any possible obstacles with love alone and failed miserably. A woman might state that she's not interested in how wealthy her future husband is, but then she gets disappointed when he proves unable to provide for the kind of lifestyle she desires. Likewise, a man may claim that he's not that shallow and superficial to care about his woman's exterior beauty alone, and then he loses interest in her as she becomes less attractive (which is more prone to happen if she has to work hard to contribute to the family budget).
Everyone needs to understand that genuine love between two partners and the material sustainability being provided by one of them are not mutually exclusive. There's no reason why a young, attractive, and ambitious lady should instantly discard a wealthy and charitable gentleman only because he is somewhat older. Likewise, there is no reason why this gentleman should be forbidden to show interest in such a lady. After all, if love conquers all obstacles, then these should be the easiest ones to overcome, by any logic.
Fortunately, there are many people who understand this. With the rise of online dating, they created a demand for a niche platform that would facilitate this kind of connections. Several services have arisen to cater to this niche, but SugarDaddie.com stands out among them. This platform was founded in 2002 and stood the test of time. Throughout its existence, it facilitated so many successful and lasting relationships that some of them got significant media exposure, elevating SugarDaddie.com's brand reputation. This altogether has contributed to the platform's increasing popularity, and today, the website can boast an impressive user base that counts over 5 million people, most of whom come from the US, Canada, the UK, and Australia.
If you are inexperienced in online dating, you are welcome to read on and see if you should take advantage of what SugarDaddie.com has to offer.
Design and first impressions
SugarDaddie.com aims for a minimalistic style in black and gold colors. Assumingly, it's supposed to inspire respectability and authority. It seems like it must also associate with sustainability because the website looks like the design hadn't undergone any changes since its foundation back in 2002. To us, it looks outdated, but an untrained eye of a regular user may appreciate the simplicity and, let's face it, the classiness of site layout.
The functions and features are not too extensive to get a user confused. Everything one may need can be found effortlessly and intuitively. This ease of navigation, accompanied by lack of distraction, does indeed provide for a pleasant user experience. Speaking of distractions, there are also no ads on the website, not anywhere, not even the smallest and possibly relevant ones.
Registering and getting started
At SugarDaddie.com, users are not allowed to sign up with their Facebook or other social media accounts. One must always create a profile from scratch and fill in all the details manually. The first thing you do is enter your email address to which the website will send a verification email with an activation link. Following this link, you will get directed to a page where you should enter the essential details about yourself: your age, location, hobbies, annual income, etc. It will take you no more than a couple of minutes, but you must do it instantly because the verification link is only valid for a limited amount of time.
SugarDaddie.com caters to heterosexuals exclusively. So, users who specify their gender as male will be automatically assumed to be seeking for women and vice versa.
Naturally, you should also upload a photo. The staff takes some time to review it and ensure its authenticity, but this counts only for the profile photo. Later, users can upload up 12 photos. You can modify all your profile details at any time later on.
Member interaction
You can use the search functions and view other members' profiles even before purchasing a subscription, but all interaction options are reserved for paying members exclusively. There is no way for free users to communicate whatsoever. However, even when you are a paying member, the choice of communication channels is quite scarce for a premium service. You can only exchange text messages and interact on the website's forums. One must admit that it's fair to expect more features from a service that poses itself as above average.
We've also noticed a number of users who use SugarDaddie.com not only for romantic purposes. They use it for building connections that might be beneficial for their careers. If you are young and attractive, you might have issues with using these qualities as assets to boost your career. If you don't, however, then SugarDaddie.com might be an excellent tool for such purposes.
Subscription plans and payment options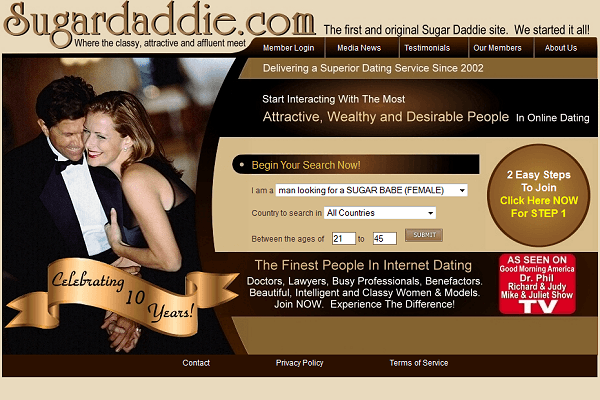 As one might expect, the prices at SugarDaddie.com are somewhat higher than the average in the online dating market. The basic one-month subscription costs $39.99, but – same as anywhere else, you can save by buying a longer subscription. You pay only $22.66 per month if you subscribe for three months, $19.83 per month if you subscribe for half a year, and $17 per month if you subscribe for the whole year. Of course, you will get billed for the whole period at once, i.e., $67.99, $118.99 or $203.99 respectively.
Despite the relatively high prices, there are a few perks that other online dating services don't offer. For example, if you buy a subscription plan no later than 24 hours after you sign up, you get a 15% discount, regardless of which subscription plan you choose. With the utterly scarce set of functions available to SugarDaddie.com's non-paying users, it doesn't make sense to wait anyway because there's literally nothing to do here as a non-paying member.
Another pleasant and customer-friendly feature is the absence of automatic subscription renewals. By default, you will not have your subscription renewed automatically once it expires and get billed for it. Most premium online dating services have auto-renewal on by default and bill users for renewing their subscriptions if the latter are forgetful to cancel the auto-renew, which is a point of irritation to many users. SugarDaddie.com chooses not to be such a petty gold-digger. Of course, this means that you have to renew your subscription yourself when necessary, but the staff will remind you when it's due by emailing you automated notifications that your subscription is soon to expire. There is no option to have your subscription renewed automatically.
The only payment methods accepted by SugarDaddie.com are major credit cards and your mobile phone account balance.
Customer assistance
Every business owner knows the value of customer-friendliness. This is especially true for businesses targeted at wealthier clientele: They are always only as good as their customer assistance service. The customer support at SugarDaddie.com is not only prompt and professional, but they are also utterly friendly and patient. And – importantly – they are reachable via all the channels you can imagine. The most convenient is, of course, the hotline which is, unfortunately, only available in the US and the UK. This means that users from other countries and regions will have to address any concerns they may have in written form.
Apparent disadvantages
It looks like SugarDaddie.com's management spends the lion's share of its revenue on sustaining their fantastic customer support services. Considering the limited amount of available functions, it makes little sense because the need for assistance with their services arises quite rarely. It would, presumably, make more sense to spend some money on the website development – to update the design, to add some new exciting features (video calls, for example, etc.) In other words, one might say that the number of features you can use at SugarDaddie.com should cost less than the money they ask for it, and this is their biggest setback. There are, however, a few more disadvantages that potential users should be aware of:
No app
This is derivative from the overall lack of attention to development issues that we have already discussed. SugarDaddie.com has no app – neither for iOS nor for Android devices. So, if you'd like to access the site from your mobile device, you'll have to do it through your browser. Even there, the website doesn't have a version optimized for mobile devices, and for this reason, it looks considerably less appealing than on your computer screen. It goes without saying that it takes forever to load, especially on some pages of the website.
No income verification
Aside from the development issues, there is a noteworthy concern regarding the profile quality at SugarDaddie.com. It seems like the website's verification procedures are indeed effective and that all the profiles are authentic – except one crucial detail. Members mention their annual income, but the website does nothing to verify that data, relying solely on the members' honesty and good faith. Technically speaking, nothing stops a user from trying to appear wealthier than he (or she) is. It might be no big deal for most online dating services, but for SugarDaddie.com, it indeed is. As a platform that centers its whole ethos and appeal around this particular characteristic of a person, SugarDaddie.com needs to find a legal, ethical, and efficient way to verify their members' annual income.
Final verdict: Is SugarDaddie Legit?
On the whole, SugarDaddie.com does have some critical flaws. One might expect more exciting features from such a pricy service. In their defense, however, the features that they do offer function like clockwork, and, should any issues arise, the customer assistance they provide is of superb quality. Still, it can't be a valid reason for neglecting the issues concerning the website (and app) development and the quality of the user base, which seems to be the case with SugarDaddie.com.
We must admit though that, in our opinion, SugarDaddie.com does deliver an enjoyable and meaningful online dating experience. So, if you are ready to use it only from your computer, if you are satisfied to communicate with other users in written form, and if you are ready to inquire about your potential partner's income from them yourself, then you'll surely find SugarDaddie.com both useful and enjoyable.
---
More online Dating Services
---