Pros
Quick&easy Registration

Clubs and events in your area organized by Swinging Heaven

Photo galleries, videos, and stories

There are a lot of channels for communications

Personal ads. If you prefer having some quiet time in a pleasant company, you can write an ad. State the time, place, and other essential details, and wait until someone responds

All basic features (and even more) are free. You can even write messages (only 3 per day, but still - you can)

Profile pictures are visible to everyone for free

Safety
Cons
No app

Few single women profiles
Verdict
Swinging Heaven is a well-thought-out online dating platform for swingers. The website provides a safe and inviting environment for finding swinging partners, as well as for any other swinging-related activities.
---
Swinging Heaven: Find partners and join swinging-related fun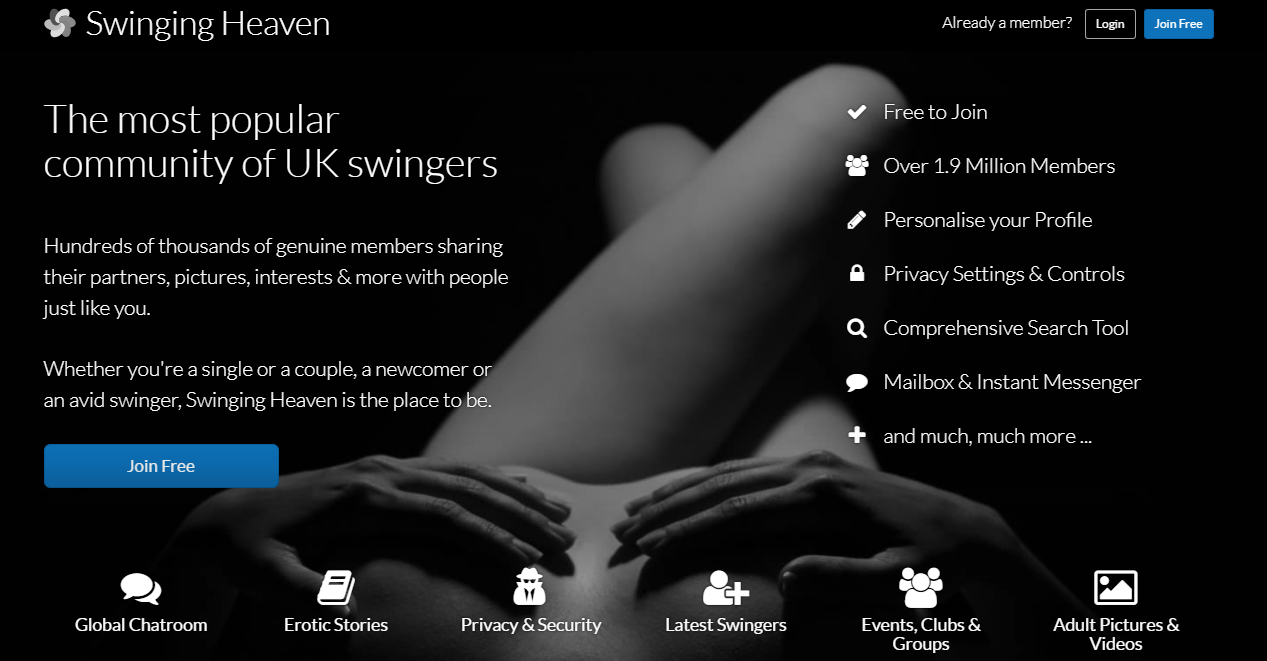 Swingers are among the groups of sexually active people that have to deal with a social stigma. To this day, media often portrays them driven by nothing but lust and, as such, capable of the deeds most foul in pursuit of their perverse desires. Of course, if one thinks about it, there's nothing remotely wrong about what consenting adults do without exerting any harm on the third party. Still, it doesn't look like swingers suffer from the stigma. Quite the contrary – they effectively found communities, organize their events, and enjoy their activities at discretion, without attracting much attention from the public eye.
Of course, these communities couldn't but take advantage of the rapid development of the internet and begin to connect online. Numerous online services have arisen recently to cater to this niche. Swinging Heaven is a unique instance of an entire network of online dating platforms. It connects swingers from various parts of the globe providing separate (but not isolated) platforms for the UK, the US, Canada, Australia, etc. Today, we'll take their British website SwingingHeaven.co.uk as an example and see how well it delivers.
The first thing we have to mention when talking about a dating service for swingers is that people can meet here for a very particular set of activities. Those are everything that friendship with benefits may encompass. You can find hookups for 'conventional' sex, or any sorts of fetishes may be involved. You can find friends with whom you could share and discuss your fantasies and desires without being judged. You can simply find people who are eager to share their spicy stories if this gets you off. But if you seek emotional intimacy or an exclusive commitment, you should most definitely find a better place to be looking for that.
With that out of the way, let's see what Swinging Heaven is and if it is any good.
Registration process and profile quality
Signing up for Swinging Heaven must be the easiest among all the dating platforms. What you are to do is enter a valid email address, your desired username and password, and your account type. Understandably prioritizing anonymity, Swinging Heaven has no option to sing up via Facebook. It's possible to create an account of a single male, a single female, or a couple. Choosing the latter option, you will set up two joint accounts with a shared inbox. It's done in a single step, and your profile is set up in just one minute!
Then, however, it still needs to get verified. To do that, you will have to wait for the verification email, follow the link from there, and upload a selfie clearly showing your face where you are holding a paper with your username on it. This photo will only be used for verification purposes exclusively, so you don't have to take too much care about looking presentable on it. Normally, it takes a couple of minutes. Nevertheless, in a rare instance when it takes a little longer, a user is welcome to go on setting up their account. 
There are plenty of fields one can fill, but none of them are mandatory, not even the profile picture. To let users get used to it in no time, Swinger Heaven decided to adopt a layout which is quite similar to Facebook. You can fill in the fields about your hobbies, sexual preferences (straight, bi, gay or lesbian), and fetishes you're into or are willing to try out (BDSM, cybersex, double penetration, etc.) You can upload a profile photo and create photo albums – public or private. Interestingly, private photo albums are not only for sharing upon request, – you can grant someone access to your private photo albums even before they request it. Members can modify any profile details at any time.
Either way, you will not be able to buy a subscription or even use the entire set of free functions before getting verified. If you forget to follow the verification link or lose it, you will receive reminder emails so you can undergo the authentication process later. Once your profile is verified, you automatically get a free seven-day trial period and enjoy premium features to get the full taste of Swinging Heaven. This way, you know what you're bargaining for when purchasing a subscription.
Browsing through user profiles at Swinging Heaven, we have found that almost all of them are filled out and quite informative, although the system doesn't require one to fill in any of the details. Also, it appears that there is a slight majority of male profiles over female ones here (60/40), but ladies are more active, particularly when it comes to streaming.
We have also noticed testimonials under some of the user profiles. This is genuine user feedback that members leave about each other. If someone has had a splendid time with someone else, they are welcome to leave a little compliment like that. Likewise, if a member has proven to be abusive or offensive, they will also receive some honest feedback for others to see. We must say that more dating websites should have a similar feature that does an excellent job to facilitate the self-regulation of the community. Of course, you can also block and report users, like anywhere else.
If a member gets too many complaints, they get banned from the website. Then, this user cannot log in and instead receives a notification about getting banned and a brief explanation of the reason. If they feel like it's unfair, they are welcome to contact Swinging Heaven's customer support, explain themselves, and clarify the situation.
If you no longer feel like spending time on the website, you can simply abandon your profile and wait for it to get terminated as inactive. Alternatively, you can delete it yourself. It will anyway be irreversible, and you won't be able to restore your profile. Should you decide to return to Swinging Heaven, you'll have to set up a new profile from scratch.
Communication opportunities: Free VS Paid version
Surprisingly, Swinging Heaven doesn't hide most of its communication features behind a paywall, not even as an extra security measure. Non-paying users are free to browse and partake in the platform's numerous groups (like on Facebook), chat rooms, message boards, and even streams. If you are a non-paying user and you cannot join a group, it's not because you haven't bought a subscription but because this group is an invitation-only. Free users can send only three messages (text and audio) per day and view most of the photos.
Upgrading to Premium subscription, members can message others as much as they want and send video messages. They also get access to all photos and videos, including adult content. Viewing photos and videos, they will notice that this content is in higher quality than it used to be before the upgrade. In addition, Premium subscribers can create groups.
There is also a 'Premium & Extras' subscription plan, which gives you access to an even more extended set of features. First of all, the photos and videos will get shown to you in even higher resolution. You will have your ads highlighted. You can see who has viewed your profile. You can mingle with fellow Extras in Swinging Heaven's Extras Only chat room. Finally, you will receive priority support, should you ever run into any sort of issues.
Special features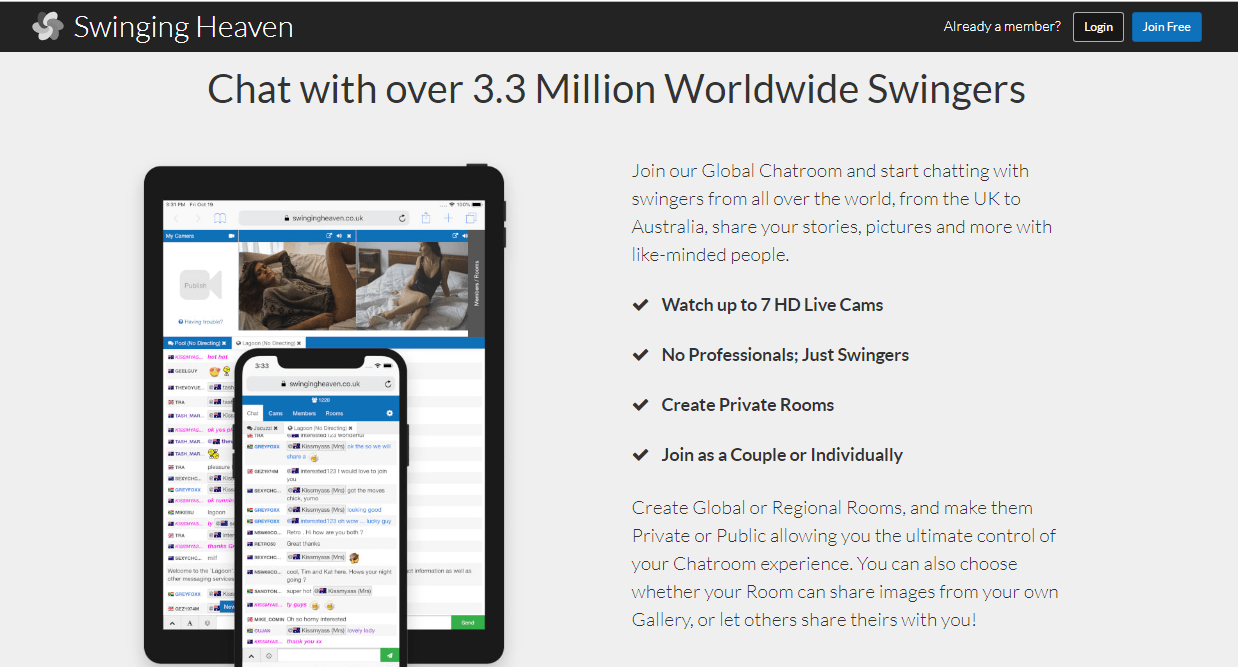 To facilitate your communication and overall experience with the website even further, Swinging Heaven has come up with a set of useful and exciting features:
Quickies. Those are pre-written texts that you create yourself. You can use them to write the same message to multiple users instead of typing it all over again. It can be as simple as 'hi, what are you doing this Friday?' or something as creative as you want. 
Photo galleries, videos, and stories. It appears that swingers are often somewhat exhibitionist. Many of them like to share their experiences right here on Swinging Heaven. Some of them prefer to write about it, others make videos or photo galleries, but they are all genuine and have an author. You're welcome to look through all this content and even contact the author(s).
Clubs and events. Regardless of whether you're an experienced swinger or new to the scene, it's always useful to know more about swinger clubs and parties in your area. You can find it right here on the website. Users can check out the events and show that they will attend. Premium users can also create their own events.
Dogging. Some swingers prefer to indulge in their activities in the outdoors. In the UK, it's called 'dogging.' At Swinging Heavens, you can see recommendations as to which places are safer and more comfortable for such pastime.
Personal ads. If you prefer having some quiet time in a pleasant company to starting an entire party, you can write an ad (with or without photos). State the time, place, and other essential details, and wait until someone responds. 'Premium & Extras' subscribers have their ads highlighted.
Subscription plans and payment options
As we have mentioned, Swinging Heaven offers two types of subscription: Premium and Premium & Extras. The Premium subscription has fewer features than the Premium & Extras one. Thus, it is cheaper. The price will vary depending on the period of your subscription. A single month costs 16.95 GBP, but you can save greatly by subscribing for one year for only 56.95 GBP. 
To access all the Swinging Heaven's functions and features, you should purchase a Premium & Extras subscription. You can choose to pay 19.95 GBP per month or 74.95 GBP per year.
Swinging Heaven only accepts credit cards. Unfortunately, there are no alternative payment methods.
Swinging Heaven's setbacks
Aside from the limited amount of payment options, we can list two major setbacks of Swinging Heaven:
No app. Most dating platforms have their own apps these days. More and more people use their computers only for work, leaving all the fun stuff in their smartphones. Unfortunately, Swinging Heaven doesn't have an app either for Android or for iOS, so if you'd like to access the website from your mobile device, you'll have to use a browser.
Few single women profiles. We have noticed few single women on the website. One might guess that single women are looking for a romantic involvement and monogamous commitment more often than for a swinging adventure. But – not to indulge into stereotyping too much, we'll just say that if you want to meet a single lady, you are sure to find better places to look for her than Swinging Heaven.
Overall experience and final verdict
Swinging Heaven is a well-thought-out online dating platform for swingers. The website provides a safe and inviting environment for finding swinging partners, as well as for any other swinging-related activities: finding and organizing parties, discussing any relevant issues, etc.
As for the crowd here, we have found them to be spectacularly polite, nothing like ruthless sexual predators that some media picture them to be. Quite the contrary – the overwhelming majority of people we've talked to at Swinging Heaven were incredibly friendly and responsive but never got too familiar or pushy. For example, we never received any nude photos or videos before having exchanged a respectable amount of messages and explicitly asking for such content. Neither did we come across people who would insist on anything. To be honest, however, the website does have strict anti-abuse policies and a devoted team of moderators. So, we're only talking about the website's community here and not about the subculture as a whole.
That said, the absence of an app alongside with a few smaller disadvantages that we've discussed make us rate Swinging Heaven 4/5.
---
More online Dating Services
---