Pros
All profiles on the website are genuine

Free browse through profiles

There is a chatroom
Cons
There is no a mobile app

All messaging on this website is only available for paying users

The membership is quite expensive
Verdict
We can give CatholicMatch a firm 4.5/5 and recommend it to all people set out to build a loving and lasting relationship based on Christian family values.
---
CatholicMatch – Online Dating for the Faithful and Earnest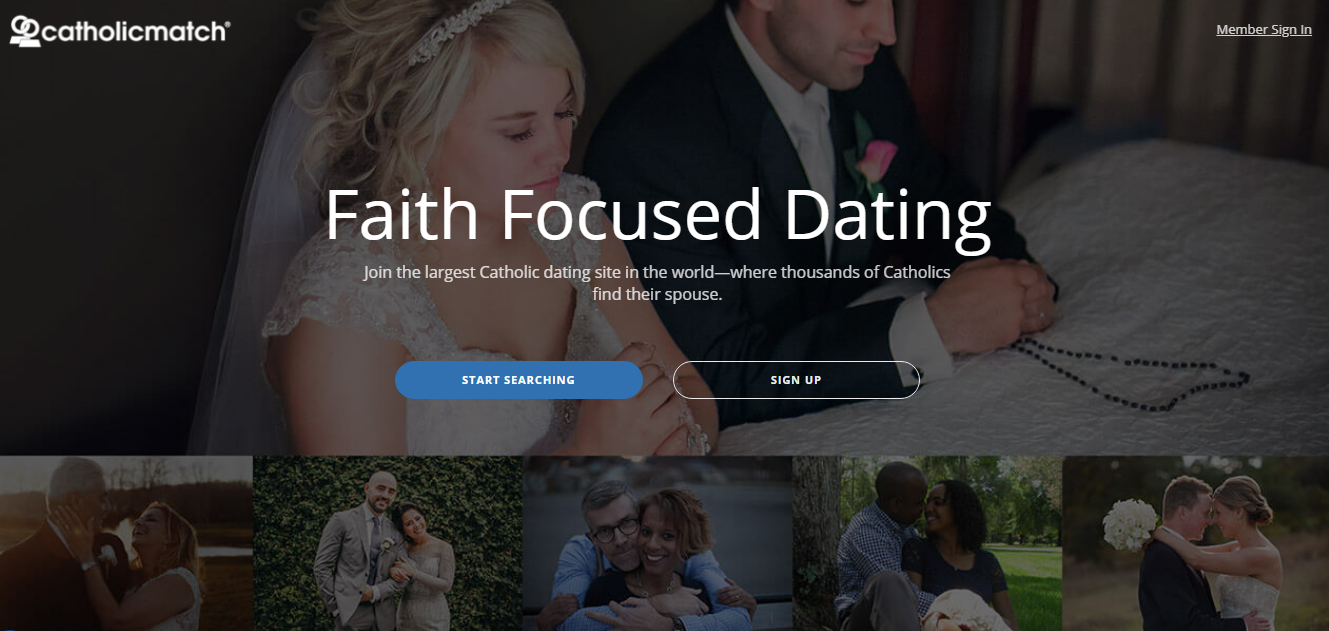 Originally created under the name SaintRaphael.net, CatholicMatch dates as far back as 1999. As one may guess, they have set out on a mission to help Catholic singles willing to build their romantic life centered around God and faith to socialize and connect with more potential matches. Admittedly, like with many other things, faithful Catholic audience was originally reluctant about the very idea of online dating. But – the creators of the service, being good Christians, were more interested in bringing their mission of helping other individuals than in gaining immediate profit. So, they kept their company going by struggling to provide excellent service and collecting success stories.
Today, CatholicMatch has grown into the most well-known and frequently used dating platform in their niche segment, with over 1.5 million active users from all over the world. The Catholic world has become much more progressive than it used to be, and religious-minded people no longer have to limit their search of potential spouses to their parish or hometown. CatholicMatch is here to aid them. Let's see how well they are doing their job.
CatholicMatch at a first glance
CatholicMatch has a pleasant, modern-looking yet laconic design. The only element you see on the front page (that's there for the sole purpose of decoration) is a small picture of Saint Raphael – after all, he's the patron saint of singles, as you may know. All the functions and features are placed logically, and every user will be able to find any necessary button intuitively and effortlessly. There's no need to click through countless tabs to find what you're looking for, and there aren't so many ads to distract you. That is not to say that there are no ads at all, but they all come from faith-related organizations. Hence, they adhere to CatholicMatch's theme and don't distract site users.
There is no app version – neither for iOS, nor for Android. There is, however, a mobile-optimized version of the website, so it's possible to access it through a mobile phone browser. However, it does work somewhat slow, not unexpectedly. So, CatholicMatch's audience is still waiting for the app version.
User experience at CatholicMatch.com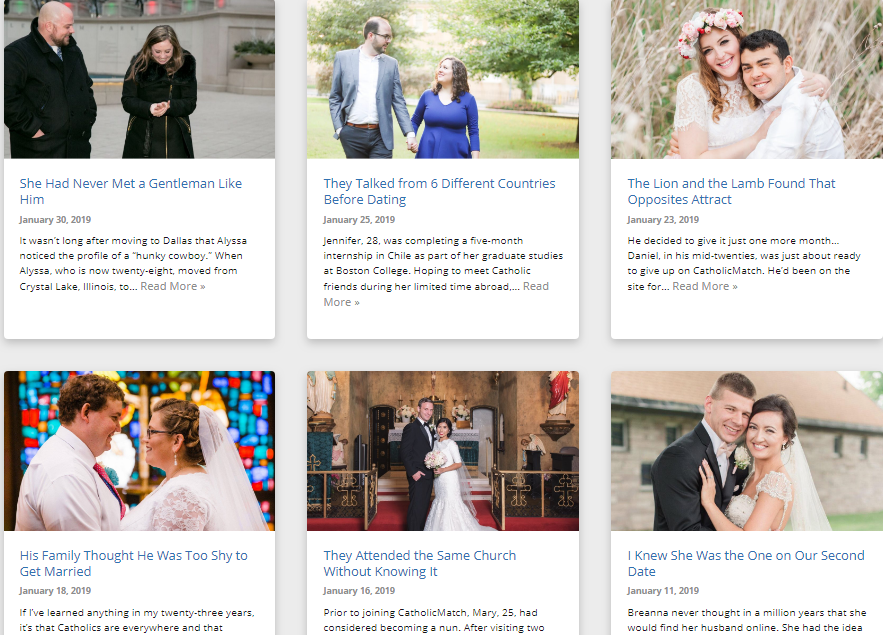 Setting up your profile
As one would expect from a dating platform, creating a profile at CatholicMatch.com is free. The process may take a while, though. CatholicMatch.com specifically targets singles who are aimed at a serious commitment, so you should prove your intentions by carefully answering a series of questions, all of which are mandatory. Aside from the general questions like your age, location, gender, etc., you will also have to provide answers concerning your background (upbringing, education, job, as well as details about how you practice your faith). What makes this process seem even lengthier is the fact that questions pop up one per page – meaning that after each question, you wait for the next one to load. You must also write a personal introduction in 150 characters or more.
You can sign up with your Facebook profile to make this process go slightly faster. It will automatically copy your essential details, and you will be able to snatch some of your photos from there. A questionnaire is still a must, though.
However time-consuming it may be, it is an excellent safety measure against fake profiles. No fake or fraud will go through with such a tedious toil. Aside from that, it saves you from the necessity to think hard about whether you've covered all the relevant issues or there's some critical point that you've missed. Likewise, it contributes to the profile quality: all the essential information will always be there, and you won't have to browse through empty profiles.
The staff thoroughly verifies all user profiles. Upon verification, you get an email with your login details. You can change the password afterward, but your generated username cannot be modified. Usernames consist of your first name and your membership number – for example, Helen-2000505. If you don't get the email, the chances are that your profile was declined by the staff. You can clarify this issue by contacting CatholicMatch's customer support at [email protected].
Interacting with other users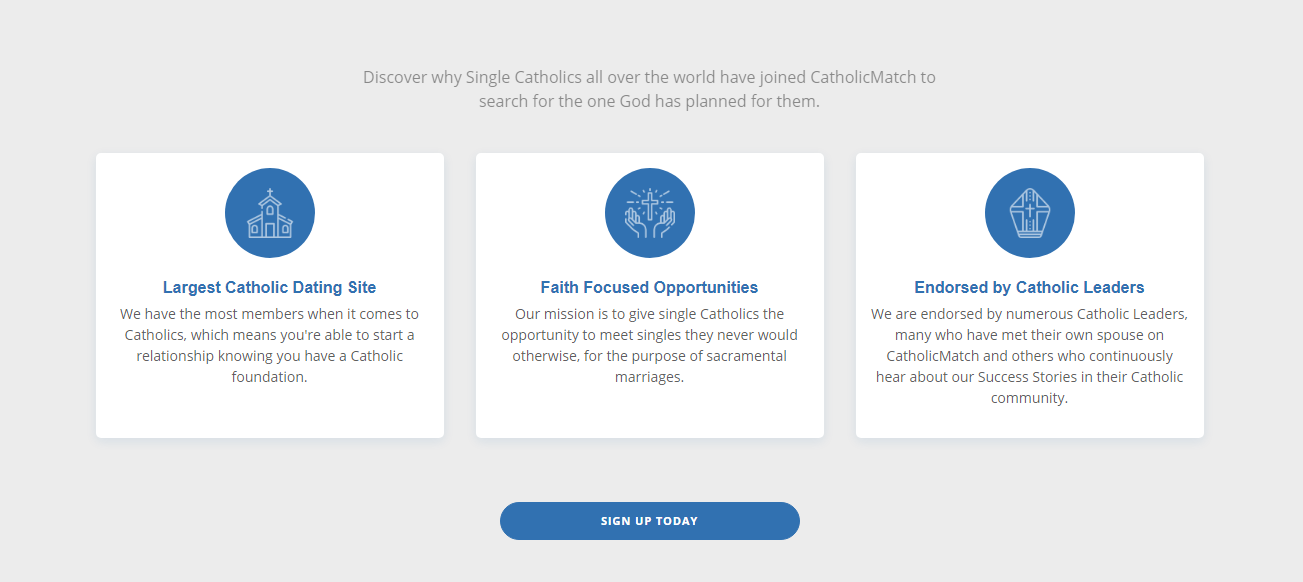 Many of CatholicMatch.com users have admitted to getting disappointed to a various degree upon finding out that all messaging on this website is only available for paying users. It means that you can neither send messages first nor answer to users who wrote you first until you buy a subscription. If someone writes to you, you will get notified, but you won't be able so much as to read the message.
However, you can take all the time you need to browse through member profiles and, possibly, find someone of interest before you become a paying member. You can find profiles by trusting CatholicMatch's automatic matchmaking system or by entering the details of your dream partner into the search filter manually.
After you take your time, browse through some profiles, and make up your mind that this site is indeed what you need, you are welcome to buy a subscription and enjoy all the benefits of fully-fledged membership. These don't only include emails and direct messages to other members. You can also mingle with other users in CatholicMatch's three common chat rooms. But CatholicMatch's true pride is its variety of overwhelmingly active message boards with up to 2,000 new posts daily! In other words, CatholicMatch delivers excellently for the modest price it asks for a subscription.
Another detail worth noting is that CatholicMatch doesn't allow its members to block or blacklist other users. If you bump into someone ill-intended or suspicious (say, someone harasses or tries to scam you), your only option is to share your concerns with the customer support. Write them the suspicious member's username and your reason for concern, and they will investigate the case with all seriousness. CatholicMatch prioritizes profile authenticity on their website, as well as the good intention of people behind those profiles.
A few special features
Being such a serious-minded service, CatholicMatch – to no surprise – is not too big on fun games or other "bells and whistles." There are, however, some features aimed at refining the matchmaking and facilitating the communication:
Temperament. You may have heard the theory that divides people into four temperament types: choleric, melancholic, phlegmatic, and sanguine. While it's not too precise and is rarely ever used by professionals anymore, it is excellent for describing oneself briefly in everyday life. Come to think about it, it's strange that it's not utilized at more dating platforms. Here, you pass a short temperament quiz and have the result displayed on your profile.
Interview questions. You create a poll with up to 20 multiple-choice questions, and the visitors of your profile are welcome to answer them. It is an excellent way to ask some questions that are essential for you from the get-go. It is also an excellent icebreaker, providing for conversational topics before the conversation even begins. When someone answers your interview questions, you get a notification.
Emotigrams. These are your regular emoticons specifically tailored to CatholicMatch's theme. Like emoticons, they are an excellent way to liven up a conversation or substitute words when you struggle to find what to say.
Customer support
The layout of the website is quite simplistic, and pretty much all the issues are covered in the FAQ section. Still, if you must contact the customer support, you can do so via email. There is no hotline or even a live chat to get assistance instantly. However, even though it makes the assistance slower, the support agents are always friendly, willing to help, and – most importantly – utterly professional.
Pricing and other financial policies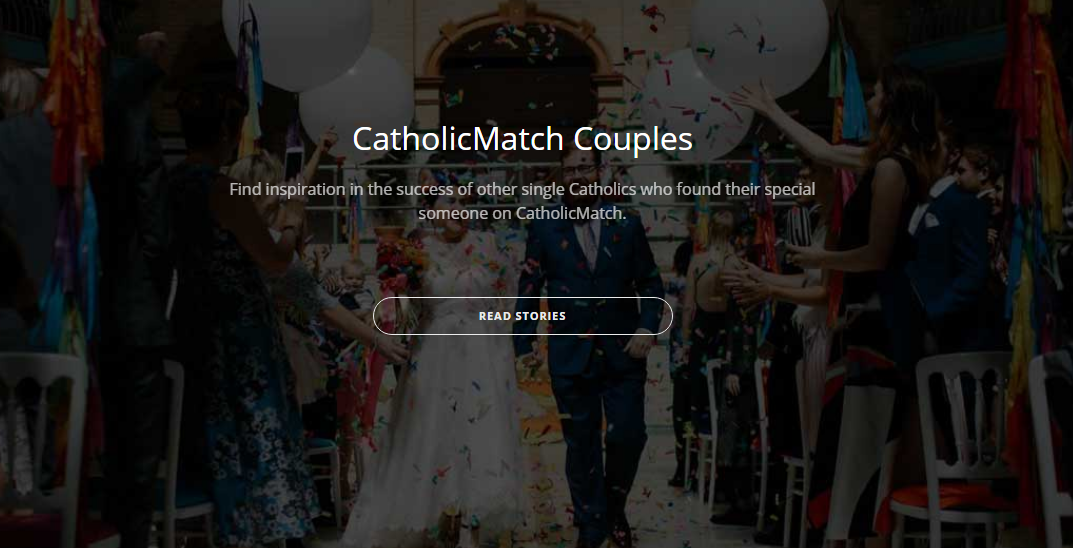 As we have mentioned, there's not too much to enjoy at CatholicMatch.com unless you buy a subscription. The basic price is $29.95 per month. However, like with most dating services, you can save by subscribing for a longer term. For example, a three-month subscription will cost $59.95 ($19.95 per month), and a half-year subscription costs $79.95, equaling only $12.49 per month. Same as pretty much anywhere else, all subscriptions are set to renew automatically by default. To discontinue the automatic renewals, you should go to your settings and switch it off manually. Alternatively, you can contact the customer support and have them do it for you.
CatholicMatch may seem a little bit more pricy than other websites. But, it has some undeniable perks. First of all, unlike any other dating website in our experience, they do have a refund policy. You can get your money back, for example, if you have forgotten to switch off the automatic renewal. The only condition is that you haven't used any of the paid features (i.e., haven't communicated with anybody on the website) through the period of the subscription that you want refunded.
Another downright incredible feature is what they call "Matchmaking Guarantee." In addition to making claims that you will find an ideal life partner on their website, Catholic Match substantiates these claims with a guarantee. If you don't find a potential spouse within six months, then you get another six months of subscription 100% free! The only apparent condition is that you have to have had a six-month subscription plan and failed to find a worthy match during this time, – and then you can have your six-months subscription renewed.
The setback here is that CatholicMatch only accepts major credit (and debit) cards: American Express, Visa, MasterCard, and Discover. Assumingly, it minimizes any chances of fraud, but collaterally, it doesn't allow users to pay anonymously. Apparently, CatholicMatch means that a good Christian shouldn't hide behind anonymous payment methods.
Pros, cons, and final verdict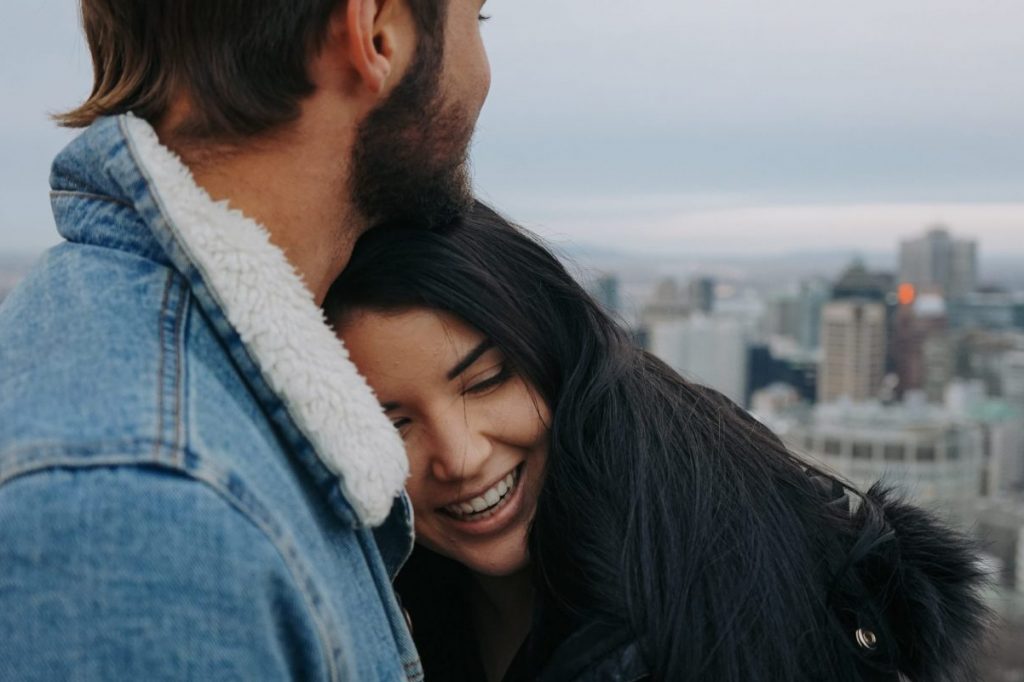 Even being such a long-time and reputable player in the Christian online dating game, CatholicMatch is not without flaws. If we were to name the most critical one, it would be the absence of an app. Today, even the most conservative-minded users value the opportunity to access their favorite dating app during a bus ride or a lunch break. If they can't, they might pick another favorite.
Some argue that email is the most efficient and convenient means of customer support, but this is only from the company's and support agent's point of view. For a customer, it may be more important to talk to a representative instantly or even immediately – in the form of a phone call or, at least, a live chat. Critics must admit, though, that the website functions like clockwork, and the need for support is minimal.
The pricing policy is also not perfect. Aside from being slightly more expensive than its competitors, CatholicMatch offers a quite limited choice of payment methods. One can imagine only one way to limit it even further – to accept only one credit card type. However, these drawbacks pale next to CatholicMatch's advantages: the refund policy and, of course, the Match Guarantee.
But – the biggest advantage of CatholicMatch that makes all its flaws seem minor is, without a doubt, its community of users. Thanks to the thoughtful registration process and the staff's vigilance, all profiles on the website are genuine, and behind these profiles, there is always someone willing to meet their ideal lifetime companion – just like you. There are plenty of active local users online and willing to communicate at any given time, especially if you live in the city. Furthermore, the profiles never miss any essential information which you would otherwise have to ask about, – instead, you can skip the small talk and get straight to the point.
We can give CatholicMatch a firm 4.5/5 and recommend it to all people set out to build a loving and lasting relationship based on Christian family values.
---
More online Dating Services
---