Pros
Many categories to choose from to satisfy any your desire

No money is taken for the registration

Several levels of interaction with models

Thousands of users for every taste

The site is filled with highly erotic, insanely neat and appealing models

App available

Private shows and games
Cons
The price is quite high
Verdict
It is a perfect solution for those who want to indulge their sexuality but who do not want to cheat on their wife or husband and waste their time and efforts in finding a real-life sex partner
---
Review for livejasmin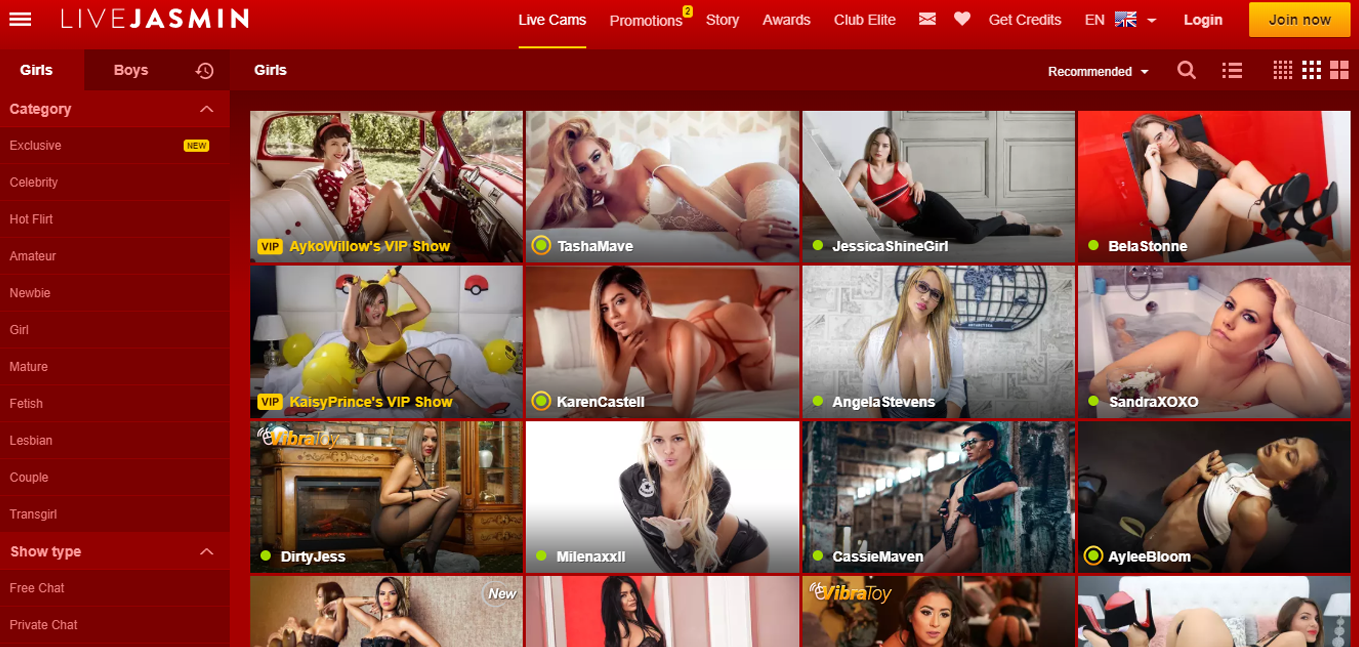 It's hard to tell today when the history of webcams and their 18+ type began. But nowadays, the world is a spectator of erotic webcams, which can deliver hot content to every home on Earth. It's only enough to want it and the access opens for your attention millions of hours of explicit entertainments, which livejasmin.com site offers. 
So, what is livejasmin.com about? In this review for livejasmin, let's have a closer look at its filling (including erotic one), the system of access to chats, information about sex webcam models, and other issues of your interest.
Reviewing the site livejasmin.com in general
The site was founded in 2001 (18 years ago) by a Hungarian e-commerce entrepreneur G. Gattyan, and since then, it rose from a small site through many ranks to an aesthetically perfect internationally-wide site for adults. Here, you will see thousands of webcams and pre-recorded videos, as well as you can interact with models and start personal private shows, during which they will show everything just to you.
Despite the fact that at the very beginning, you see a lot of skin and uncensored private parts, you do not have a feeling of mess or bazaar with precarious people, which jump at you with an indecent offer from every corner. The classy deep red color of the interface is like a recognizable hallmark and it is very beautiful because of the high quality of pictures and streams of each and every webcam. There is nothing trashy or shady – everything is done in bright colors, where everything is seen perfectly. 
When you open the start page, you see tonnes of refined ladies (ladies are shown by default but you can change that) and the now-online cams are at the top. 
Reviewing the functionality of the site
Right from the start, it is expedient to tell that it is preferable to have a powerful PC to enjoy the fabulous world of online webcams – as most of the things you'll see here are live streaming, it is nice to have such a device, which will not lag behind the video. A modern-time smartphone should be perfectly fine as well as the desktop device of 2017th and later years of manufacturing with 4 cores and 16+ Gb of a video card. This should allow you to receive a seamless experience of interaction with this site.
On the start page, you can access two main parts of the site: Boys and Girls. By default, let's talk about girls. On the left, you can filter all available chats by: 
Category
Show type
Price
Willingness to do some specific sex things
Language a model speaks
Her or his age
Ethnicity
Appearance
and Hair.
Below, you see options: 
for a model to log in, 
to join adult affiliate programs, 
to find out what models are currently wanted by the site, 
get to know information about events in the media sphere,
contact the site's administration,
receive online support and see legal information.
Also, in the header and footer, there are options to change the default language of the site to any of 19 available ones (which is extremely good, as it allows to embrace visitors from all over). 
On top, in the header, you can:
View the list of live cams. They change as models go offline and online, and the order is sorted by recommended but you can change that according to your wishes.
Find out the current active promotions, which apply specifically to you.
View the stories of some girls (those who have them).
See what awards the site has received during its long history.
Find out about the club's elite (and watch as you move through the levels of those based on your financial transactions' history).
View the messages you have in an inbox of the site.
View what you have marked as favorites (as you can add girls to the list of favorites).
Authenticate or register to get credits.
Change the type of displaying the list of chats into one of several offered.
In the biggest part of the webpage, you see the list of streams of girls, who are currently online. When someone goes offline, the place of her streaming disappears and gets taken by someone who is currently online. That's an extremely convenient thing to see only those girls, with whom you can interact right at the moment – as this is why you're here, right? 
When you scroll the massive down, three screens appear automatically and only then, you're offered to view more chats with models (to save your Internet connection and optimize the site's bandwidth).
Registration on the site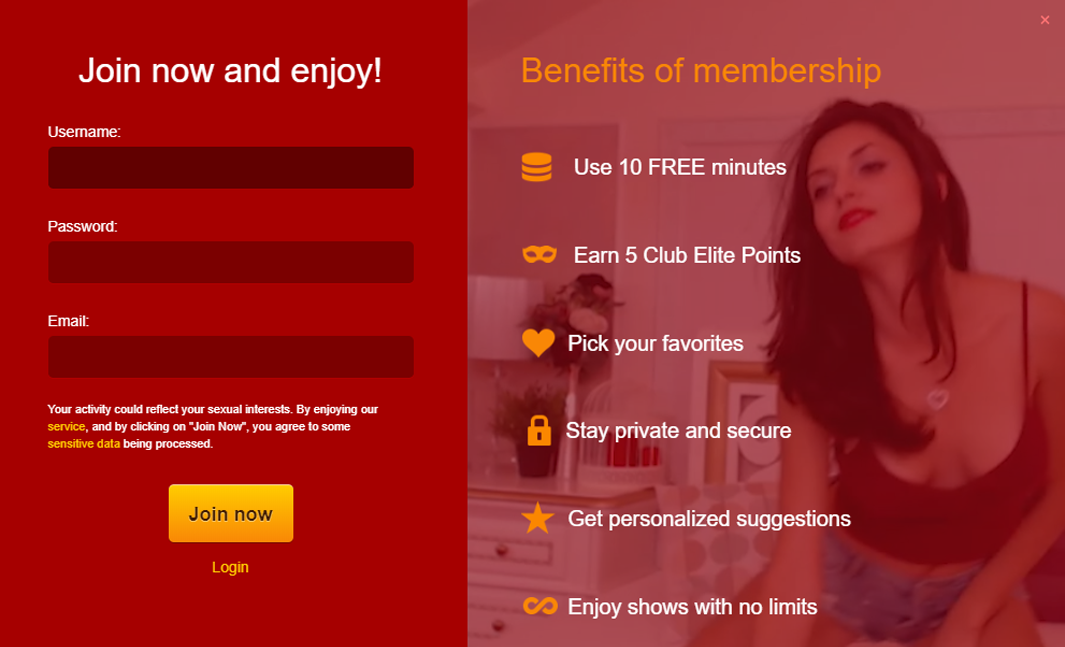 Before you register, you can see what is offered to you specifically and on this day. For instance, entering the Promotions section of the site, you see the offers active right now. They can be various but, let's have a look at their specificity. So, they can be like a one-time offer, which gives you some free credits for the validation of the number of your credit card. This is a great deal for newcomers. 
Another thing is a daily offer – which you can check on the daily basis and select from those to your liking. For instance, it can be the best value to utilize your credits to view the shows, which start only with 0.01 credits. You can check them out right now – to significantly save your money.
Also, in this section, you can browse the promos, which have ended just recently. Thus, you will stay informed of what's going on in the life of your favorite sex webcam chat site. 
In order to register, you have to enter three fields:
Login (should be untaken)
Password (it should better be hard to avoid hackers to get access to your site's account)
And your e-mail, which is required to complete the verification process.
What is happening inside of a webcam as you choose any
The private webcam of every model consists of:
A big video screen where the live stream goes, accessible to everyone. This can be replaced with a looped video, which a model has done and uploaded as her demo (when she goes offline). As a rule, such a demo shows the physical traits of a girl, exposing her in seductive lingerie and in many poses. You can join the broadcast right from the main window. It is also shown, how many free minutes of web broadcast you will receive upon this action. Also, when a model goes offline or online, you are told about it by a pop-up window. When someone's offline, a spectator is offered to view online models, with whom, it is much more alluring to interact live.
Here, you can also view a model's bio, get or refill credits, add her to favorites, surprise a girl with a gift, vote for her, and view the gallery, which includes videos and pictures (some of which are publically available but some are closed and are accessible only upon payment). Also, you can adjust the sound and choose the length/width of the video frame. 
On the right side, there is a shortlist of top models, who are currently online and to whom, you can send a message. You can close this part, however, to stretch the main screen.
It is easy to switch between the paid and free content of a model. By default, the entire content is depicted, which you scroll through. You can immediately refill your credits if you desire to receive access to the premium content – it is super easy.
Above the content, in the left area, you see the model's info, the rates with an average estimation of users, small 'About me' section, and general data like the size of the breast, age, and gender.  
In their private cams, the top girls, as a rule, post a lot of free content to demonstrate selves to visitors, and just to make people aroused. It's a very winning tactic, as we personally believe.
When you join the online streaming, you can become the "King of the Room" – a person, who will ask a girl to do things on camera (and whom she will listen). It is done by sending a girl a gift, the value of which is defined by a girl herself – it can start with 1 credit and go up to 75 credits or even more – more options become available as you register, depending on your desire to have a chat with a girl. What else to add to this piece of  
for livejasmin ? When there is already a king of the room, to become one, you have to beat his stake and send a gift of a bigger value that is currently present. 
But, what's most important, as you enter the webcam of a currently online model, you will have an opportunity to chat with her for real (by typing and she will type you back) and you can invite her to join the private video chat. Using it, you will tell her what to do and she will fulfill it on the camera. Barely, there are any restrictions! Those horny girls are ready to do anything you tell them – based on categories of sex webcam services they do not mind to provide.
How do you contact models and how they work on the site?
Models here on the site receive 80% of the money that they earn. They are getting a payout once per two weeks. You can join the site as a model if you want to improve your financial position and realize yourself as a webcam model.
It is possible to view boys, girls, and trans girls. Other options include all ranges from starting amateurs to professional cam models. The price range differs significantly, from a few cents per minute of watching to over ten dollars for a minute. The price depends greatly on a number of parameters.
When you want any interaction on the site, most of it is paid. You can categorize the interaction based on your preferences.
Vote for models to move them up to the 'Awards' section.
This site is the right place for virtual sex with models. All options of it are available to you, not hidden, uncensored, filled with thousands of young models of different degrees of experience. The biggest option of interaction with models here is through 10-minutes of free watching of their public video stream (so you can understand whether a model is worth your time). But pretty much all other actions are paid – chatting to her and going to a private with you, being a king of the room, giving her presents, and turning on your mic and webcam for her. In addition to live broadcasts, you can see pre-recorded videos but these ones are more like a screensaver when the model is out of live broadcasting. So, you can be sure of the authenticity of each stream that you are watching now – and that it is unique only at this very time. 
There are so many categories to you and it is so easy to choose the one to your liking. If you prefer a boy or girl, porn star or amateur, anal games or alive cumming to the camera – everything is possible in huge diversity, as each category embraces tens or hundreds of people streaming. 
Special features
The special features are as follows:
VibraToy. This is a special device, which can be controlled by a mouse. It is attached to the computer through Bluetooth and can vibrate and rotate. This will cost an extra fee for a minute. In order to see, which model has this feature, there is a special sign in her profile. 
Surprises. You can send a surprise to a model to make her interact with you (the length of time of the interaction corresponds to the cost of the gift). You can send a variety of gifts, costing from 1 credit to 5,000 credits, factually buying some share of the model's time.
Cam2Cam. In this way, you enable two-way interaction with a model (not only you see and hear her from the screen but also she sees and hears you). In addition, you can always interact through a keyboard. In order to access this feature, you should start a private chat first and to make sure that there is enough money on your balance to support the features. The main destination of this special feature is to have cam sex, in privacy.
Private show. This is a private interaction with a model, which allows you to ask a model to do some actions and she will do them. The videos in private shows are more carnal than models usually show on the public. This is an option why they are get paid bigger than for public shows and you can expect her to come any far – much farther than it will ever be possible in the public show.
Games are the same kind of interaction with a model through textual messages through the keyboard but it is more like the two-way thing. Through games, it is possible to have more fun and to get to know a model better.
Mobile app
It is not possible to get the app from the App Store or Google Play. In order to obtain it, you have to download it from the site LiveJasmin.com directly (and, in order to install it, you have to allow this particular installation to run on your mobile phone).
It has the same sleek design that the PC version of the site has and it has the same or maybe even better usability and navigation. 
You can download it for free.
It does not require large disk space. 
It is not usual when the mobile app is not present in App Store and Google Play – as it is where you actually get all apps for your phone and all phones even have the policy to disallow installations from unknown locations. But the thing is that, perhaps, the app was banned from both locations for its explicit sexual content, to which it allows access. 
But it is not accessible from the PC version of the site – you have to visit the site through your mobile device in order to spot it (a tiny link). The blend of ease of functioning and classiness of the site's design will be to the liking of both, younger and older users of this site of erotic pleasure. That's why, in our review for livejasmin we are highlighting the tangled way of obtaining the app – so to make you informed that there is one.
Field test
The feedback of one of the clients of LiveJasmin.com:
'Boy, I did not expect to see any goodness in the webcam site, as I was trying several of them before and I found them having crappy models, inconvenient interface, and a too low ratio of quality compare to price. Everything is completely different from LiveJasmin.com – it is just a new level of interaction with webcam.
I liked many ways of interaction with models – especially several ones through the webcam. There are public streams, private ones, and a private inside of a private (when you can make a model see and hear you, in addition to simple textual chatting). Three levels of ultra-classy and neatly-sleeky satisfaction are guaranteed! Here, I can make a model do things that I'd love her to do – and everything will be an intertwining of eroticism with an amazingly cool picture filled with refinement. This is too different from the dirt of other webcam sites, which are packed with unprofessional low-quality models with shitty bodies.
I can give the site 4.8 stars out of possible 5 – because I deduct 0.2 for the impossibility to find the mobile app (which I see is present on the site reviews). But it was not present in the App Store or Google Play.'
Costs and prices
As you register, you can finally get credits, which will unveil for you a splendid world of online satisfactions with real girls, who's ready to deliver you all grades of visual satisfaction. 
What you can buy upon the registration:
27.99 credits for €31.99 (this package goes with +1.99 free credits)
67.99 for €73.99 (+5.99 free credits)
97.99 for €104.99 (+7.99)
157.99 for €166.99 (+9.99) – this is the most popular option
297.99 for €312.99 (+17.99 credits coming for free)
497.99 for €519.99 (+29.99)
697.99 for €719.99 (+39.99 free credits)
897.99 for €919.99 (+49.99) – this is the best deal based on the ratio of payment and credits obtained.
As you choose the package, you are sent to the payment options' selection, where you indicate:
Your first and last name
Country and ZIP code
Card number, its expiry date, and CVV/CVC code to pay securely online.
You can also tick an option for 'SmartBuy' – which allows you to automatically replenish your account as it completely depletes on the site.
Free services on the site
No money is taken for the registration
It is possible to view the site's broadcasts up to 10 minutes for free (when the live cam of a model is going)
Add models and pages to favorites
View publically available pictures and videos (there are those, which are closed for the public unless they pay for viewing them)
Chat with models as they make broadcasts.  
Fee-based services on the site
If you wanna communicate with a model through video and sound (so she sees you and hears what you are saying to her), then it is time to pay
Start a private show (just for you)
Send a gift (surprise) to a model
Playing games with a model.
Available payment options
You can replenish your balance with one of the methods. These payment methods are currently accessible to you:
Visa
MasterCard
UnionPay
JCB
Discover
PayPal
iDeal
PaySafeCard
Bitcoin
Bank Transfer
WebMoney, Direct Debit, and Wire Transfer (may be inaccessible in some regions of the world).
At this time, you can also contact the support to ask additional questions.
Summary
The coolness of the site is in many facts:
many categories to choose from to satisfy any your desire and carnal inclination
several levels of interaction with models – free and paid ones
the app is not easy to find but it is here and it provides you the same experience as with the PC version of the site, on the go
this is one of the most attractive sites on the market, offering thousands of users for every taste, and with a huge part of them online at any time
it is a perfect solution for those who want to indulge their sexuality but who do not want to cheat on their wife or husband and waste their time and efforts in finding a real-life sex partner
this site is filled with highly erotic, insanely neat and appealing models, every one of which deserves an attention
it is specifically designed for people who are prone to spending tens of hours a week for viewing videos of this content, and therefore, the site navigation is easy and meets all requirements of even the most refined user.
Enjoy your stay in livejasmin.com!
FAQ
Q: Are all cameras live here?
A: Yes, all of them are live. The pre-recorded videos are only present here as a part of the portfolio of a model.
Q: What is Cam2Cam?
A: In the private chat, you can turn your camera and mic on in order to let a model see you too. This is gonna be the two-way interaction, which is the basis for quality virtual sex with any model.
Q: What about the purchase of credits on livejasmin.com?
A: You can select the number of payment methods after you define how many credits you want to obtain. You have to understand that the more you buy, the less is the price of every credit (and there is also a gift of extra free credits attached, increasing in amount with an increased purchase).
Q: Are there any free credits?
A: Yes. For every new member, there is a special offer of an increased number of free credits during the first purchase. Also, every further purchase comes with extra free credits.
Q: It seems like I am the holder of a premium account but my account's accesses are limited. How come?
A: Any account gets limited when you are not buying credits for 30 days and over. To withdraw the applied restrictions, you need to make any purchase.
---
More online Dating Services
---