Pros
Quick and easy registration

The site offers three types of memberships for its paying members

Free mobile app for IOS and Android

Reliable security system

All profiles are verified

Sending and receiving smileys and other gifts are free

Free browse through profiles
Cons
Standard members are not allowed to send messages and e-mails or initiate any type of communication

There no live chat

Outdated design

Does not have match suggestion
Verdict
Upon careful examination we find Polish Hearts to be quite a useful dating service intended to create matches between Poles living in Poland and abroad. Persons of non-Polish descent are also welcomed to join if they're interested in befriending or becoming romantically involved with someone with Polish roots. Most members seem to be interested in long-term relationships, so the site is not suitable for those looking for quick hookups and one-night stands. In total, we would give Polish Hearts a 3.5/5 grade.
---
Polish Hearts: helping Poles find their soul mate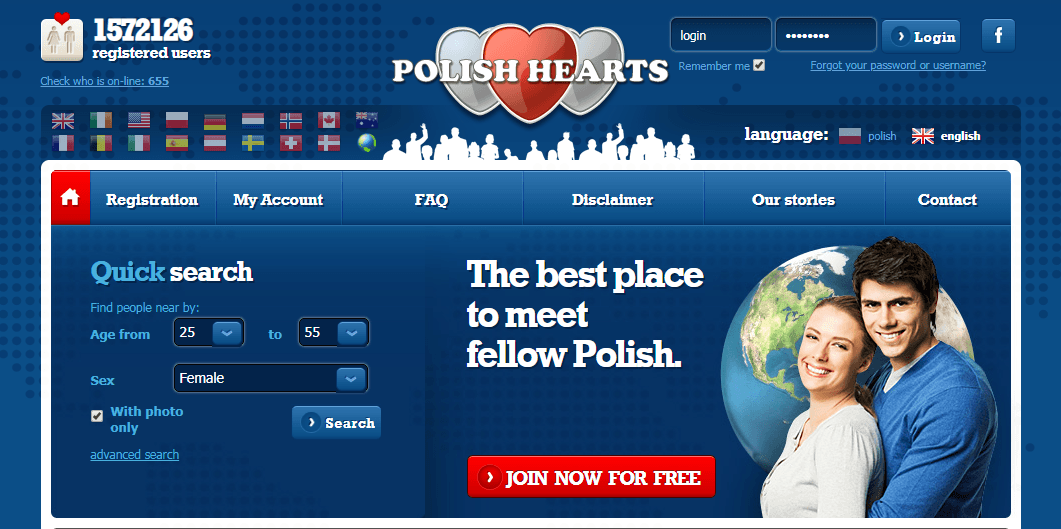 Designed to assist people of Polish descent in finding a suitable partner, Polish Hearts currently has 1.6 million members worldwide. It is a growing community that adds a couple of hundred new members to its ranks every day. Using this dating platform is especially convenient for second and third generation Polish emigrants in the US, UK, or Germany who would like to connect their lives with someone of similar cultural background. Once they start using Polish Hearts, most of them are surprised at how many Poles actually live near them. 
Although the site's niche is specific, it does not exclusively cater to persons of Polish descent. Anyone interested in dating Poles or starting a friendship with them is welcome to join. Being fluent in the Polish language is an asset, but you can also use the site in English or both languages interchangeably. The site's administrators acknowledge the fact those who have Polish parents but were born outside their homeland don't often speak Polish well, simply for the lack of practice. Getting in touch with other Poles in a similar situation can strengthen their national spirit and give them a chance to speak in their mother tongue.
In this article, we'll give you some particulars on Polish Hearts so you can decide if it's what you're looking for in terms of Polish dating. 
Polish Hearts member base: Broad and diverse
Despite being seemingly focused on a single nation, Polish Hearts offers you a chance to meet a diversified population, with a favorable gender ratio (60% male vs. 40% female). The site's users are fairly active, and the number of fake profiles is minimal. This is due to a strict verification procedure that precedes profile activation. Suspicious accounts are immediately rejected or banned from the site shortly after signing up, hence making the site extremely safe to use. The number of members currently online is displayed on the Polish Hearts homepage, and you can filter those living near you by clicking on a flag in the upper-left corner. One can further narrow down the search by entering a specific location. 
Registration procedure: 3 easy steps
Decide if you'd like to join via Facebook or create an independent account by choosing a unique username and password
Enter a valid e-mail address (or use the one linked to your Facebook account) and click on the activation link the site's administrators send you
Complete your profile on Polish Hearts by adding basic information such as your gender, age, and place of residence 
Upon registering your profile will maintain the 'pending' status for a while until it gets approved by the admin team. During this time you will only be able to use the site as a guest which isn't much fun, but the majority of profiles get accepted within a few hours. 
Can I edit my profile afterward?
Yes. The only thing you won't be able to change is your username, so make sure it's something you like. All the other details are subject to alteration by going on your profile homepage, clicking on the 'Edit profile' option, and saving the changes made. All you've changed won't be immediately visible to other users. It goes through the same verification process as your original profile in the registration phase. If you wish to add a photo, you can do so by taking a picture on your webcam or by uploading an image from your computer. In case your account is linked to your Facebook profile, it's possible to use pictures posted on this social network as well. 
Contact-making options on Polish Hearts
Potential members who were expecting to have a free messaging feature on this site will be bitterly disappointed. Standard members are not allowed to send messages and e-mails or initiate any type of communication with the exception of sending smiles, kisses, or other emojis. The only way a free member can exchange messages with someone is by having the other person add them to their VIP list. Being on somebody's VIP list makes it possible for a standard member to send messages without having to pay membership fees. 
Polish Hearts have no live chat options, and they don't perform any type of matchmaking. Both paying and non-paying users have to find their suitable matches manually.
Membership options available on Polish Hearts
The site offers three types of memberships for its paying members:
Premium membership gives one access to unlimited messaging, sending and receiving of gifts, uploading a maximum of 5 photos, and being informed of how many people have viewed their profile. Premium members also get notified when someone adds them to their Friends list.
VIP membership only makes it possible to create a VIP list and add people to it. After including someone in your VIP list, you can communicate with them without restrictions even if they are a standard non-paying member.
Premium + VIP membership gives full access to all of the site's features. It combines the benefits of premium and VIP memberships but is the most expensive membership option on Polish Hearts.
Pricing and methods of payment
The premium or VIP membership costs on Polish Hearts depend on the time period the membership is bought for. Monthly Premium membership on a single-month plan costs 19.99$, with the price going down to just 5$ a month on a 12-month membership plan. Exactly the same applies to the VIP membership price, while the combined Premium and VIP membership costs range from 8.33$ to 36.99$ a month. In comparison with similar sites, Polish Hearts is moderately priced. 
Membership fees can be paid with credit or debit cards, via bank transfers, or by using Skrill. Entering your bank account details is safe since the site uses advanced encryption to protect all money transactions.
The site's design and interesting features
One might argue that Polish Hearts has an overly simplistic interface that is not pleasing to the eye. However, it is very convenient to use as all the functions are clearly visible and easy to access. The site is organized in a way most of its members find logical and user-friendly. Some of its cool features include:
Remembering profiles. This entails creating a 'My friends' list by clicking on the 'Remember this profile' option on the pages of people you like. This function is available for Standard members as well which allows them to save someone's profile for future reference if they're not able to contact them just yet.
'Who remembered me' and 'Who visited me' features. These show Premium members who have added them to their Friends lists and viewed their profile recently.
Creating a VIP list. This option is limited to VIP and Premium+VIP members. People you add to your VIP list can exchange messages with you without limitations even if they are Standard members. 
Blacklisting someone. This involves preventing users whose messages you find offensive from further contacting you. Please, use this option instead of getting into a heated exchange of obscenities which can get you blacklisted or permanently banned from the site.
Sending emojis and virtual gifts. This is a way of expressing your interest in someone or flirting with them online. You can send virtual drinks, kisses, smiley faces, and invitations for virtual car rides. They can serve as useful ice-breakers or communication starters as they make a recipient smile and make them more eager to meet you. 
Suspending and deleting your Polish Hearts profile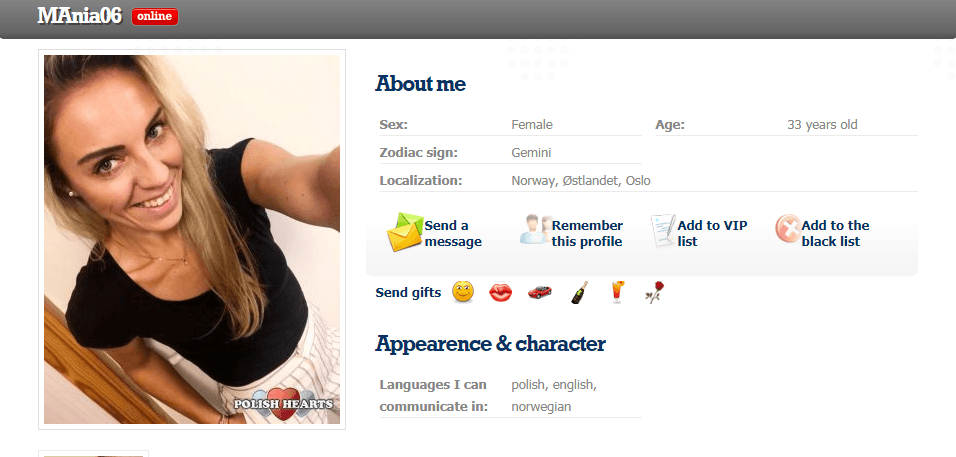 In case you no longer wish to use your profile, you can resort to either of the two options offered by the site. These consist of temporarily suspending your account if you'd like to take a break from using this dating platform, or permanently deleting it. If your profile is in the suspended mode, you won't receive any messages or e-mails until you reactivate it. But if you decide to delete your profile altogether, you'll lose all the messages and friend lists you created. After a profile is deleted, it can never be restored, but a user is free to create another profile using the same e-mail address. 
Using Polish Hearts on the go: The mobile app
Both iOS and Android users can download the Polish Hearts application for free. It features all the same functions as its desktop version but is prone to crashing and not very reliable to use. Once the app's developers resolve these issues, it will become a very convenient tool especially since it only takes up to 3MB of memory space. In the meantime, we recommend sticking to the site's desktop version as its dependability and functionality have been proven through the years.
User's comments
Male user (27): Both my parents are Polish but moved to this country before I was born. I learned to speak Polish from my grandmother who came to stay with us for a while when my sister and I were kids. Afterward, I got pretty much assimilated into the local culture and forgot all about my Polish origins. Lately, I've rediscovered my roots, and I'd love to meet a Polish girl. These were my reasons for joining this site. I'm a Standard member as of now, but I'm considering a Premium membership since I can't really contact anyone without it. All the member profiles I visited so far seem genuine, and I've added a few to my Friends list to message them when I get a subscription. I hope I'll be able to find a suitable match on Polish Hearts. 
Female user (32): As a person of Polish descent living in the US, I've always felt a bit different, as if something important was missing in my life. I now think that what I've been lacking is contact with people with similar roots as mine. Although I consider myself well-integrated in American society, I think that forming a long-term relationship with someone with my own ethnic background would be beneficial. It would certainly cheer-up my 85-year-old grandmother back in Poland. I decided to give Polish Hearts a go. So far I've made contact with two men residing nearby, and I'm planning to meet one of them in person really soon.
General assessment and overall rating of Polish Hearts
Upon careful examination we find Polish Hearts to be quite a useful dating service intended to create matches between Poles living in Poland and abroad. Persons of non-Polish descent are also welcomed to join if they're interested in befriending or becoming romantically involved with someone with Polish roots. Most members seem to be interested in long-term relationships, so the site is not suitable for those looking for quick hookups and one-night stands. 
In total, we would give Polish Hearts a 3.5/5 grade. We commend the simplicity of the registration process and the site's most successful efforts to weed out scammers. The users' testimonies left in the feedback section also speak in its favor and show it as a legitimate dating platform targeting Polish people. However, the complete lack of contact options for Standard members is somewhat disappointing. Also, the mobile app quality is rather poor which leaves considerable room for improvement.
---
More online Dating Services
---