Pros
Adult Friend Finder is a super easy way to find sexual partners who are into the same things as you are.

The site offers a Community page where members can post blogs, start conversations on topics of interest, look for advice and instructional videos, etc.

You can browse profiles even without registration
Cons
There's no Android or iOS app of the site. In this day and age, it hardly seems believable that the site's developers haven't thought to create a mobile app. Most people expect to use the site on their mobile phones but to do that they will have to use the mobile phone browser.

The site asks you to register for one thing or another all too often which can be inconvenient. Things that pop up in your face while you're trying to browse the profile database are annoying and can remind you of malicious software trying to infect your computer.
Verdict
Site for swingers and sexually liberated people
---
Adult Friend Finder: Site for swingers and sexually liberated people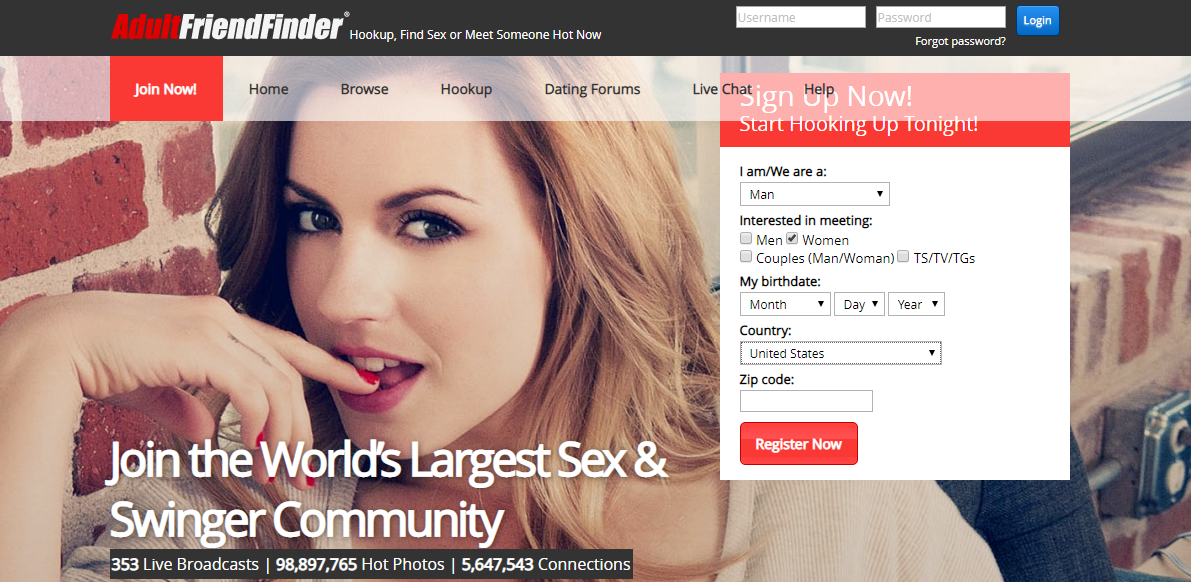 Contrary to what you may have thought from its name, this site is not quite about finding friends. The site for adults is actually more about sex than anything else. It offers an opportunity to find partners for casual sex encounters and either regular or one-time hookups. Adult Friend Finder features lots of unfiltered explicit sex photos so you may think twice before visiting the site from your office computer. Videos with voluptuous females inviting you to join hot sexual action start streaming from their home page. You might want to use your earphones instead of playing the sound out loud on speakers. Making actual friends will probably be hard to accomplish on this site but having fun is guaranteed. 
How it all started
The site was founded in 1996 which makes it one of the oldest and most long-standing sites in this niche. Its user base has been growing steadily, and it has reached a staggering number of 91 million users worldwide. In almost 23 years of its existence, it has acquired multiple awards for providing high-quality and reliable services in a field that's always been plagued by dubious sites and scammers. With an average monthly total of 25 million visits, it's safe to say that the site remains immensely popular. Its users are predominantly US, UK, and Canadian citizens. The information on the user gender ratio is not disclosed, but it's speculated that men outnumber women by a significant margin. Still, the number of female users is large enough to enable the successful functioning of the site. 
The super easy way of registering without having to fill in lengthy questionnaires also attracts people to this platform. All you need is a valid e-mail address, a username, and a password. You are asked to write a few lines about yourself. Everything else is optional. It's useful to provide a photo and give a summary of your sexual preferences (especially if you're looking for something particular). That way you will only be matched with people interested in the same thing.
Some interesting features of Adult Friend Finder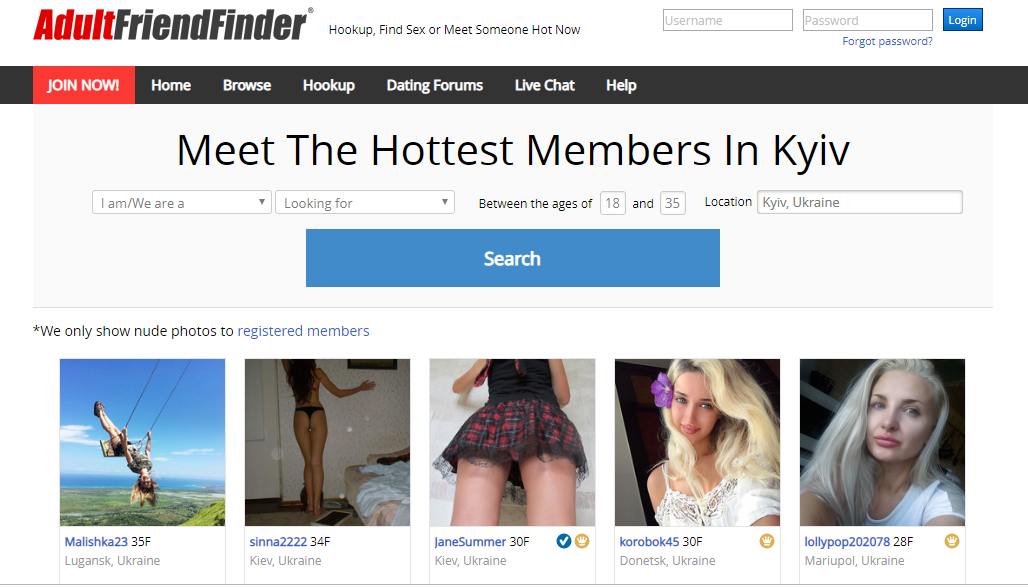 Purity test: a 100 item questionnaire pertaining to your attitude towards sex, past sexual experience, and new things you would like to try in sex
Personality test: in addition to entering information like your cup size (if you're a woman) and some other measurements if you're a man, your personality also matters. The site offers you a chance to personalize your profile with information based on personality test results. However, as this is no ordinary matchmaking service, do not expect them to find you a partner who matches your personality features or political views precisely. They will match you with people who are into the same stuff sex-wise, and that's it. Some of them may later become your long-term partners or real friends, but that's only a spin-off of sexual hookups the site enables
The possibility of flirting: the poking option of the site allows you to let another person know you find them attractive but would like them to make the first step
Watching explicit videos and live streams uploaded by other users
Participating in chat rooms with specific topics 
Joining groups of users with particular interests to find like-minded people
Entering photo competitions launched by the site
Enrolling in courses on sexual techniques and access to instructional 'How to' videos about specific sex fields
Filtering your search by gender, age, location, activity status, length of member status, or relationship status
Not all of these features are free, but you will be informed when using something that requires any payment. Certain videos will appear blurred, and you will only be able to view them after you upgrade to a Gold membership. But don't worry – there's still plenty to see even if you are a free member.
How many matches can I expect to get?
Lots. You will receive messages before you even upload your photo or complete any of the site's tests or questionnaires. Those will probably be less specific than the ones you will be getting after you personalize your account to inform the users of your wishes and preferences. One thing is for sure, though: people use this site to get one thing – sex. One doesn't need to beat around the bush or spend weeks flirting and online dating if they only have sex on their mind. Everyone here is pretty open-minded, no one minds sharing their naked photos with you or talking dirty. If going to a bar expecting to get laid makes you a bit slutty, going on a website where everybody expects the same thing is quite liberating. 
Also, you will be able to find someone to exchange messages and hook up at any time you feel like it. Whatever your work hours might be, it won't be hard to find someone willing to talk or meet up almost instantly. This user-friendly platform makes it extremely easy to find partners with similar sexual interests for online communication, virtual sex, or real-life sexual encounters. No need to feel embarrassed about a sexual fantasy or fetish. The site makes it a point to keep an open mind and embrace people with diversified sex preferences. 'No restrictions apply' and 'everything goes' are the words that probably describe AdultFriendFinder.com best. You might expect this type of site to attract all sorts of weirdos, but that's actually not the case. Sure, users will come across some genuinely disturbing messages from time to time, but most contacts will be with nice, friendly people looking for a bit of fun.
What you get from the paid membership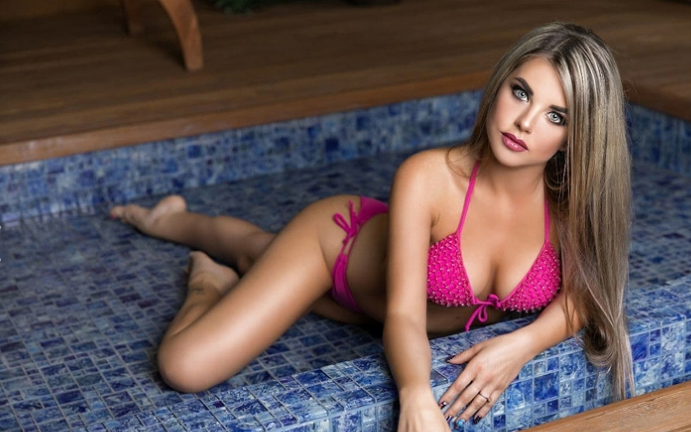 If you are a guy looking for girls, you get to be considered more seriously if you're a paying member. A lot of women think more of a man who's ready to invest some money into hooking up. He gains credibility and girls more likely will contact him. Also, the paid membership makes your profile stand out from the crowd. It's featured high in searches thus becoming more visible to potential partners. The vast majority of users never go past the first page of results, so having your profile shown on the first page is critically important.
Being a paying member a user gets a chance to filter search results according to sexual preferences, orientation, several physical characteristics, race and ethnicity, religious denomination, and even zodiac sign. Gold membership also brings you unlimited messaging and e-mails and gives you access to classified material, such as private photos and videos. If you doubt whether paid membership on Adult Friend Finder (AFF) is worth investing money into, you can always give it a try for a month. You can cancel your Gold membership afterwards if it doesn't live up to your expectations. Of course, as with all memberships, those purchased for extended periods of time are cheaper than short-term ones.
There's another possibility to win access to the sites premium features, and it does not involve spending money. Users can unlock additional content on the site by earning points. You'll be awarded points for being active on the site, uploading photos and videos, answering additional questions, creating blog posts and commenting on other people's posts, voting on articles, etc. Each of these activities carries a predetermined number of points that can later be exchanged for gaining access to content out of free users' reach. On the downside, these activities are time-consuming so one might decide that it's much more convenient to pay for membership rather than to earn it the hard way.
Who benefits from sites like Adult Friend Finder the most?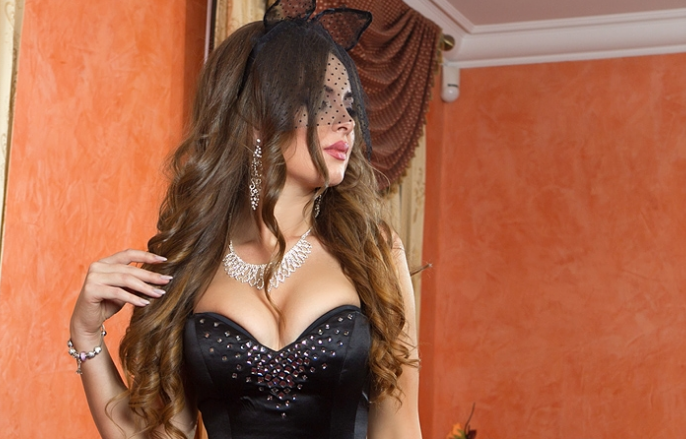 These are people who:
are looking for a quick hook-up with an open-minded person with no long-term expectations
are fresh out of a relationship or marriage and would enjoy hassle-free sex with an understanding partner
are seeking a way to relieve the pressure of everyday stress by engaging in carefree sexual encounters
have specific sexual preferences and find it difficult to find partners in real life. The Adult Friend Finder community welcomes everyone regardless of their sexuality or any form of eccentricity. No need to hide your real self on this platform, or to feel embarrassed about anything.
are looking to widen their sexual perspectives and experiment with new ways of achieving pleasure and satisfaction.
Who should avoid this site?
Although we have already mentioned that the site is open for everyone, not everyone will find it appealing. If you are incredibly conservative, find showing naked body parts embarrassing, and tend to be judgmental towards all who want anything but a traditional male-female relationship – avoid this site. If you shy away from sexual advances made explicitly or feel uncomfortable talking about sex, it is probably not for you either. In case you wish to change that about yourself, spending time on this site can actually be therapeutic.
If one is in search of a friendship, with no sexual connotation, they should look elsewhere. Some of the sexual partners met on this site can turn into good friends, but you shouldn't get your hopes up. Most people using it are not interested in becoming a significant part of your life. They just want fun, so don't expect them to meet your parents or accompany you to a family reunion. 
Summary: a site with more advantages than disadvantages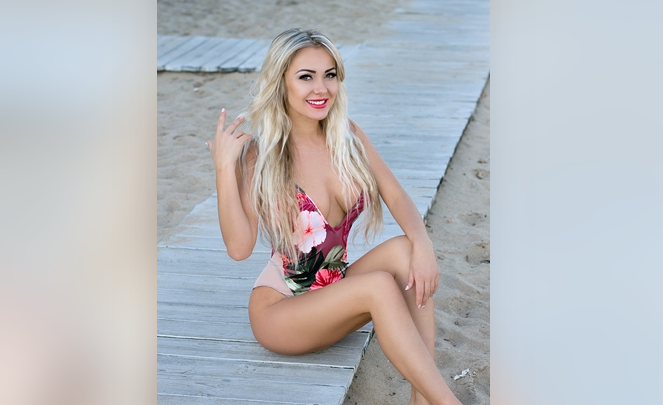 AdultFriendFinder is a super easy way to find sexual partners who are into the same things as you are. You never have to worry about emotions getting in the way or your partner expecting too much from you afterwards. The hook-up rules are quite clear on this, and the encounter never comes with any strings attached. It's a great place not only for individuals but for couples and groups as well. Everyone can find casual relationships both online and in real life. The content one can upload is not restricted, nothing is filtered out or censored.The site offers a Community page where members can post blogs, start conversations on topics of interest, look for advice and instructional videos, etc. The Adult Friend Finder Store provides an opportunity to buy all sorts of sex toys, erotic videos, etc. Uploading credit card information on the site is safe. But beware of fake users asking you for payment or financial information – they are con artists looking to rip you off. Unfortunately, bogus profiles make up a significant percentage of the total Adult Friend Finder profiles. It is something the site is going to have to deal with in the future.  Ultimately, one should be cautious using online dating and hookup services since they attract lots of scammers and dishonest people. All problems aside, sites like Adult Friend Finder still offer a genuine opportunity to find great sexual partners quickly and without any difficulties. This heavily outweighs the possible downsides of using their services.
---
More online Dating Services
---