Pros
3-day Premium membership trial which allows members to see for themselves if the service is worth investing money into

A substantial amount of free features

Complete absence of ads

Possibility to add a video introduction to your profile

Safe mode feature
Cons
Having to pay additional fees for features in the category of "Extras"

Communication options for free members are quite limited. As to female members - they get all premium features totally free

Large number of bogus profiles and scammers on the site

Many inactive profiles with no action taken by the site's operators to remove them

Poor customer service

Complicated procedure of canceling a Premium membership or deleting a profile

There is no an app
Verdict
Overall, we would give this dating service a 3.5/5 grade. We applaud the authors for making an effort to add functions not widely available on similar sites. A variety of unique features is quite appealing
---
GirlsDateForFree: Complimentary Premium Profiles for Women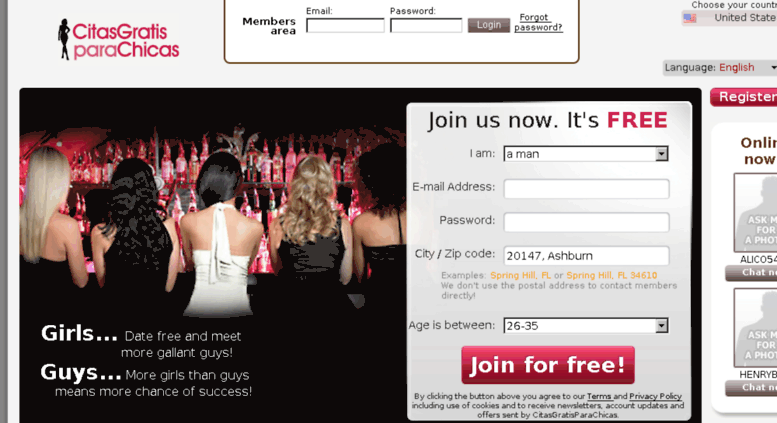 With the purpose of building up their female member pool, GirlsDateForFree came up with an idea to offer all of its premium features to women free of charge. The site focuses on providing their paying male users with plenty of ladies' profiles to choose from. Finding a lady company is almost guaranteed on this dating platform since women have unlimited access to all the site's cool features. Unfortunately, fake profiles are also abundant, so a reasonable amount of caution is necessary when being contacted by suspicious individuals. We'll give you a detailed guide on how you can enjoy all the perks of GirlsDateForFree while simultaneously avoiding becoming a victim of a fraud.
GirlsDateForFree member structure
Despite women being able to join for free, the site still has an overwhelming majority of male users (5:1 gender ratio favoring men). The platform gets most of its traffic from the United States, the United Kingdom, Australia, India, and Bangladesh. There are over 100000 registered members around the world and more than 600 daily visits. Most members seem to be after quick hook-ups while only a small percentage of those who register are interested in starting a long-term relationship.
The sign-up process: simple and straightforward
Although the site doesn't ask you to provide much detail on yourself or your prospective partner in the registration phase, it can still take 10-15 minutes to sign up. This is due to a delay in the arrival of the e-mail with the confirmation link. After you enter your basic details, a waiting game begins until the confirmation e-mail finally arrives. Even then it usually lands in your spam folder so don't forget to look there if more than 10 minutes have elapsed since you submitted a membership request.
Once the e-mail confirmation is out of the way, you will get redirected to the website's homepage and offered a membership plan. If you find this to be premature at this point, you can begin a three-day free trial before deciding to purchase a premium membership. The option to continue as a standard member is also available so you can go back to completing your profile, uploading photos and writing a short paragraph about yourself.
How to make contact with other members
Women and men on premium membership plans have multiple contact opportunities including sending icebreakers, winks, FastFlirts, messages, and e-mails to other users. Standard members can only send up to five icebreakers for free every day, not more than one to a single member. Icebreakers are readily available short, flirty messages that can be used as conversation starters to ease up the awkwardness of the first contact with someone. FastFlirts are just the same, but the text is not pre-written, you have to come up with it yourself.
Instant messaging is much more appealing than sending classical e-mails since the conversation can take place in real time and there's only a short wait until an answer arrives.  Joining chat rooms is another option to meet people. Participating in a group discussion on a topic of interest can get you introduced to multiple individuals some of whom you might find interesting. All you have to do next is to invite them to continue the conversation privately via direct messaging. 
What a profile on GirlsDateForFree looks like
It has a user ID. This is a valuable feature that helps GirlsDateForFree support team locate your profile quicker and resolve any problem you might be experiencing with the site's functionality
It can include a portrayal of yourself written in your own words
It's possible to record a video and show it on your profile. The video can last up to 30 seconds, and everyone can see it. Users need to have an updated version of Adobe Flash Player installed on their computer to record this video. GirlsDateForFree gives detailed stepwise instructions on how to do this. Of course, uploaded videos are subject to verification so you might have to wait anywhere from 24 to 48 hours before it's approved.
A profile picture is visible to all, but you can add up to 20 photos to be seen only by people you approved.
Uploaded photos go through a verification process. Be careful not to add pictures of celebrities, pets, children, nature, and clipart or include contact info with the photograph since all of these will probably get rejected. 
Profiles range from sketchy ones with just a few details to utterly thorough ones giving a comprehensive description of their owners. It's really up to you, and the amount of effort you put into creating a profile but bear in mind that nicely rounded up profiles get more attention.
Features offered to GirlsDateForFree members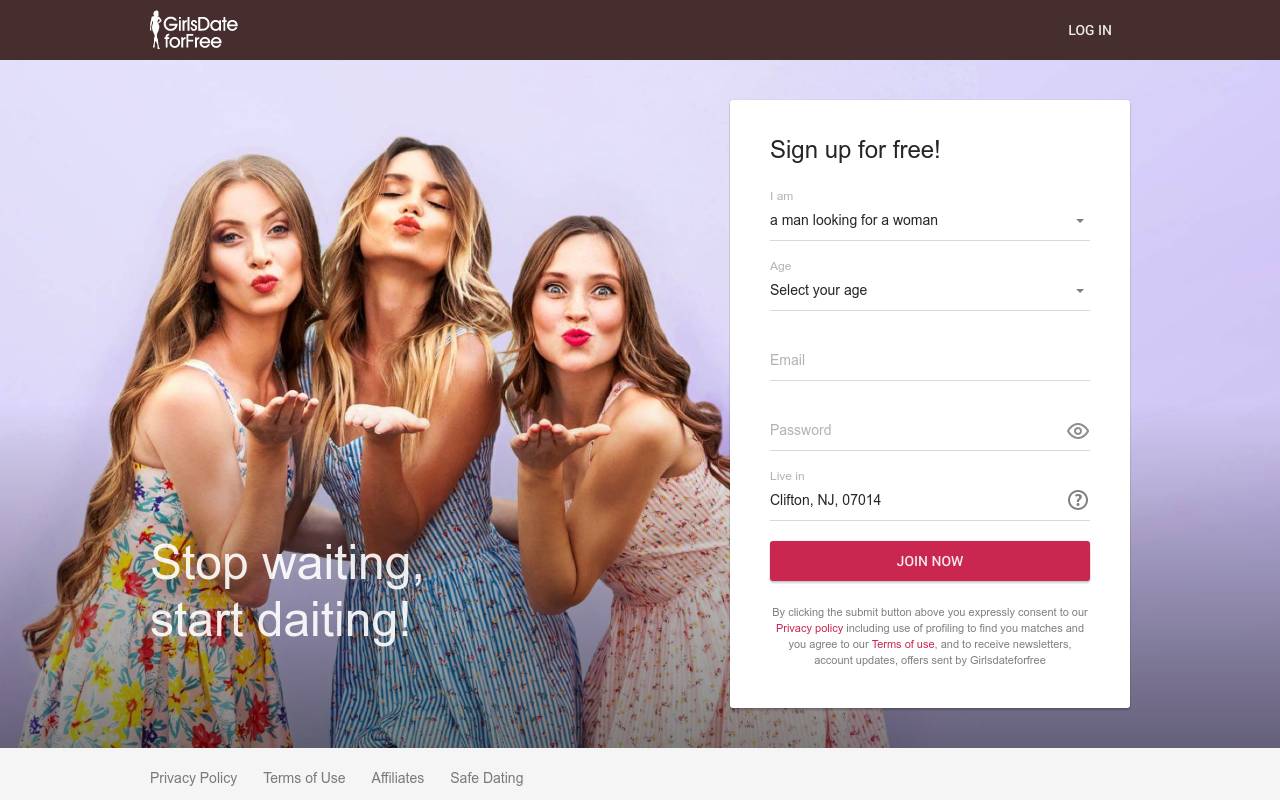 GirlsDateForFree provides the same general features as many other dating sites. These include messaging, sending and receiving e-mails and joining chat rooms to communicate with several users simultaneously. It does, however, have some functions that are not so readily available across the websites in the dating niche. These include:
Icebreakers: pre-written short flirty messages that members can use as conversation initiators
Winks: a small token showing that you like another user
FastFlirts: short messages written in your own words that you send to people whose profiles got displayed in your search results
Text chat: an instant messaging option for communicating with members who are currently online
Alongside these, there are some features that are unique to this dating site:
Meet me today feature: users specify which days of the week they would be available to meet other users in person. It's also possible to indicate that you're available for a last minute meet-up, and this information will show up on your profile
Games and quizzes: divided into six categories (puzzle, mahjong, solitaire, arcade, brain teaser, and games for girls) they provide entertainment at times when none of your friends are available for chat. 
Safe mode feature: for male members only. There are three options of Safe mode to choose from:

Safe mode off: all members, included unverified ones can contact you
Basic Safe mode on: members identified as suspicious will not appear in your search results, nor will they be able to contact you. Suspicious members are those using the site for profit-making purposes. Basically they try to extort money from members by redirecting them to different websites, post illegal ads or ask for bank account details. 
Full Safe mode on (for Premium members only): only trusted members can contact you. 
None of the safe modes will prevent members who previously communicated with you from contacting you again. To stop a particular user from accessing your profile or sending you messages you need to block them manually by using the Block feature. This can be done from their member's profile or directly from your messages folder upon receiving an annoying or offensive text. After blocking someone, you will still be able to see your previous communication with them. If you want to get rid of those messages, you will have to delete them manually. 
Star member feature: only users who completed their profiles, uploaded photos and a video introduction are eligible to compete for being the most active in terms of on-site communication.
Extras: having a customized e-mail background, ability to exchange messages with Standard members with no charge for them, highlighting your profile or giving it VIP treatment, sending premium smileys.  Each of these extra features will cost you additionally. Please refer to the site's billing section for price details.
Membership types and pricing
Standard membership gives you access to basic search tools, lets you check who's online and enter chat rooms; you can send winks and a limited number of icebreakers.
Premium membership allows you to get full access to all GirlsDateForFree features. These include live communication, sending unlimited icebreakers, and using instant messenger in Full Safe mode. Advanced search options also become available. These include searching by any part of a member's profile, identifying new members, seeing who's online now, searching by Screenname or zip code, discovering who's added you to Friends, etc. Premium membership fees fall into the average price category. They range from 23.99 USD a month on a monthly membership plan to 10.99 USD a month when paying for six months upfront. Users can pay with credit or debit card, PayPal, Cheque or via mobile phone.
Subscription renews automatically, but you can stop this at any time. The cancellation process is somewhat long and annoying though. You are asked to reenter your password, confirm that you wish to terminate your subscription, specify the reason for it and then place a call to site's operators at +44-845-5280552. You will remain a Premium member until your paid membership expiry date. If you wish to remove your account altogether, first cancel the membership repeat billing and then follow the procedure for removing your profile from the GirlsDateForFree database. This includes re-entering your password, confirming your wish to remove your account, giving a reason for it and then calling the operator at +44-845-5280552. A lengthy and complicated procedure if you ask us and undoubtedly one of the site's negative sides.
Using GirlsDateForFree on the go: mobile version
After browsing both AppStore and Google Play Store, we were unable to find the GirlsDateForFree mobile app. The only option for mobile devices is the site's mobile version which is somewhat customized for mobile browsing. It offers all the same functions as the desktop version and is free to use. Its design is a bit more compact and organized making it more convenient to use on a smartphone.
Our verdict: interesting site but use with caution
Overall, we would give this dating service a 3.5/5 grade. We applaud the authors for making an effort to add functions not widely available on similar sites. A variety of unique features is quite appealing, and so does a multitude of contact opportunities they offer. Although many of these are paid, the prices are not high and can certainly be worth paying. However, the absence of a genuine mobile app is indeed disappointing, and we would strongly encourage the site's operators to consider creating one. Also, the site seems to attract a considerable number of fake users, probably due to the no-charge for female users policy and poor security checks. Potential members are left to fend for themselves in terms of weeding out imposters and deciding who to trust on this site.
---
More online Dating Services
---
Brides by countries on site