Pros
All profiles are verified

Unique special features like automated winks and messages; safety modes

There is a mobile app

24/7 Customer assistance

There is a trial version of subscription
Cons
It is easy to skip registration so most profiles lack information, but it is still easy to find a match
Verdict
On our scale, BeNaughty deserves a solid 4.5/5. If you are not at a point in your life where you feel like settling down with a lifetime partner and merely want to have fun tonight, it's difficult to imagine a more fitting place to look for that
---
BeNaughty – For Those Willing to Hook Up Here and Now
With all the talks about how online dating facilitates meeting people, we also notice how many online dating platforms genuinely shy away from the image of a place where you can find someone to date right now. They seldom dwell upon the idea of securing you a date instantly. Instead, many of them try their best to pose themselves as services for relationship-minded people looking for lasting commitments or, at least, advertise themselves as something other than a hookup site.
Even blatantly light-hearted services like Tinder tend to play coy and use terms like "find your love" or the like. Likewise, people who merely want to get laid have to play coy and pretend like they are looking for something "more serious." Even in our age, people often find it hard to admit that they are merely looking for some NSA fun between consenting adults. Fortunately, this tendency also creates a niche for platforms like BeNaughty – the ones that specialize in immediate hookups. They clearly understand the difference between wanting to meet a lifetime partner and merely not wanting to spend the night alone, and they specifically cater to those who want the latter.
Many of us have been disappointed at meeting someone genuinely charming online only to find out that they merely wanted to get us in bed. Likewise, many of us had to put in an effort and invent sentences to woo our interest and get them in bed, often having to resort to explicit or suggested promises we never intended to keep. A situation like this leaves the former party feeling used and dirty, the latter party – a guilty jerk, and both parties – sceptical about any romantic endeavors whatsoever. The sensible solution is to divide the two, to have specialized places for each group of people. Luckily, the Internet is bigger than a local bar and easily allows this courtesy. You can go for family-focused commitments to places like eHarmony, and if you merely want to be naughty tonight, you go to BeNaughty.
User experience at BeNaughty
Since its start in 2000, BeNaughty has been posing itself as a place where you can find a hookup literally immediately. You can see traces of this mindset throughout your experience with the website: from the first glance to the sign-up process to your interaction with other members.
Registering and creating a profile
Following the philosophy that we have described, the registration process is quick and straightforward. You only have to provide a few essential details about yourself: email address, age, gender, and location. You will also get prompted to upload a photo of yourself (or take it with a webcam) and specify the rest of your details, but you can skip this step and return to it later. The non-mandatory details don't include essays about yourself or your ideal partner. They are all multiple-choice questions about everything that can matter for a hookup – from eye color and tattoos or piercing to education, religion, and income. Filling out as many of those as you deem appropriate will help you show up in more people's search results.
Note that the "gender" field only has male and female options, even though such a liberated community should welcome gender diversity. Besides, some would like to register as a couple and look for a threeway. Not having such an option is a definite miss on BeNaughty's behalf.
For this kind of dating, appearance is apparently more important than personality traits. As such, BeNaughty takes care that all users only upload genuine photos of themselves. Every photo that you upload will have to be verified by the staff. This provides protection against the use of celebrity photos or duplicate profiles. You can create albums of photos and even videos (up to 30 seconds). One would expect a service like this to allow or even encourage nude photos and videos, but – curiously enough – it doesn't.
Getting verified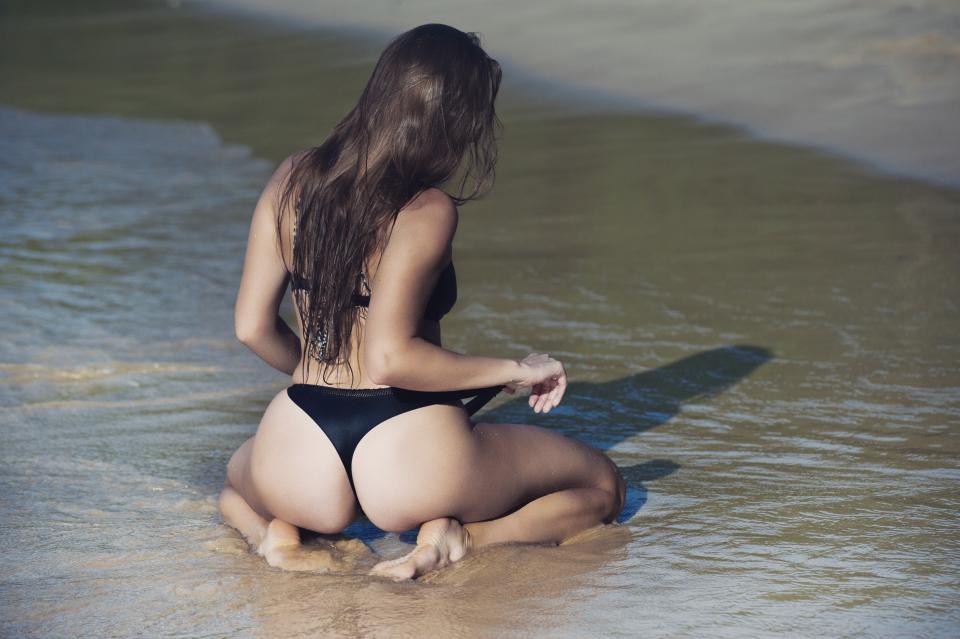 Registering and filling out your profile is enough to look around and get a general idea of what BeNaughty is like. However, before accessing the site's essential functions, you have to get your profile verified – not to confuse with photo verification. Still, this process is also quick and effortless. It's done through a phone call or a text message.
Connecting with other users
Before you buy a subscription, you can take all the time you need (shouldn't be too long) and use all the search filters to look for people you may like, add them to your favorites, wink at them to see if they wink back, and even join the chatroom. You can also message other members for free, but only if you are a woman: gentlemen will have to buy a subscription to use this function. We might guess that BeNaughty assumed that men are more prone to look for quick hookups than women and decided that women need some encouragement. If so, it worked: BeNaughty does indeed have more women than men on the website.
To say that we have noticed a high response rate at BeNaughty.com would be an understatement. One gets bombarded with messages instantly! And they are all straightforward, too. People on this site know what they want, and they know it's not the place to be shy about it.
It's also worth noting that, despite many profiles are not filled out completely, they don't seem fake or otherwise shady. BeNaughty might take credit for it and attribute it to their clockwork security procedures. There is, however, a more logical explanation. It's not a far fetch to suppose that a scammer will not bother with a platform like BeNaughty because the most benefit you can expect from a hookup is the hookup itself. This site is a place for setting up instant dates and not for long conversations with tearjerking stories about how badly someone may need the money. The only thing on which you may have to spend money (aside from the subscription) is the date itself and, maybe, a taxi.
Special features
Despite its decisive lean toward simplicity and straightforwardness, BeNaughty does offer its users a set of unique features. They are only available to paying members and have separate price tags attached to them.
Automated winks and messages. Instead of writing to each user that catches your eye yourself, you can specify the criteria of a person you'd be interested in and have the system send them winks and/or messages (like "Hi, wanna date?") automatically.
Basic safe mode. You will not receive messages from users flagged for suspicious behavior: They will get blocked automatically.
Full safe mode. Only verified members will be able to message you.
Like Gallery. This feature is essentially similar to Tinder: you get shown photos of random users and like or dislike them. If you like them, they will get notified and prompted to return the favor. This allows you to find an instant hookup even faster than through a search filter.
BeNaughty mobile app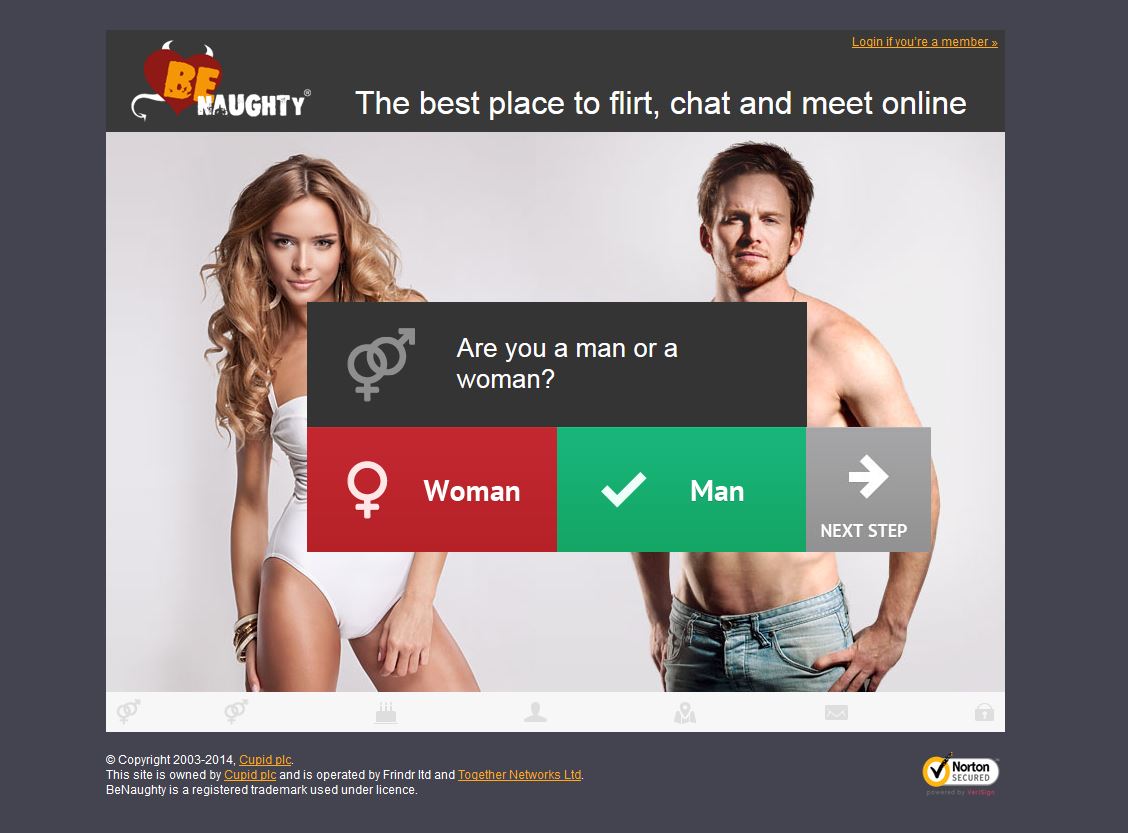 Up until a few months ago, BeNaughty app was only available for Android. The platform, however, addressed this concern, and it's available for iOS as well. The functionality of the app mirrors that of the website without adding or missing anything. Admittedly, it is much more convenient to use the Like Gallery feature on your smartphone. It is somewhat annoying how the app pushes you notifications about literally every activity on your profile (and, by the way, sends you emails about those), but you can tune that in your account settings.
Customer assistance
BeNaughty deserves praise for its customer-friendliness. Not only are they prompt, professional, friendly, and available 24/7, but they are also reachable through all the channels imaginable! You can call ask your question through a submission form on the website, call their hotline, write them an email, or even send them a hand-written letter to their legal address in Malta! The support agents address all issues as promptly as possible.
Prices and fees
BeNaughty has a curious way of informing about their prices. Instead of telling you the price for the whole period of a subscription plan, they write the price per day, which makes it look like pennies: $0.91/day for a one-month subscription, $0.51/day for a three-month subscription, and $0.41/day for a six-month subscription. Of course, you get billed for the whole subscription and not daily, so you'd have to calculate the price yourself or wait for it to show up in your banking history. We've done the math for you: one month with BeNaughty costs $27.30, three months cost $45.90, and six months cost $73.80. These are the average prices for online dating, but they seem much more appealing if you try and count the "bang-per-buck" ratio.
If you hesitate as to whether or not you should buy a subscription, you can buy a short trial period of one day for $0.99. In fact, you will always get two more days as a bonus, so it's the price for three days, which is enough to get an idea of how well BeNaughty suits your needs.
There are also various packages of extra features like "Extra Security," "Chataholic Pack," "Premier Dater," etc. Their contents and prices vary seasonally.
Same as everywhere else, all subscriptions will renew automatically by default. If you don't want to use BeNaughty anymore, you should switch off the automatic renewal in your account settings or contact the customer support.
BeNaughty only accepts credit cards.
Disadvantages and setbacks
While BeNaughty is excellent at serving its purpose of connecting people looking for quick NSA hookups, the platform does have its flaws. Aside from the limited choice of payment methods and other drawbacks that we have already addressed, there are a couple more major concerns that one should be aware of when using the site.
Privacy concern
Privacy policies are always a tedious read, and few people bother even to scan through them. At BeNaughty, however, this document does include a particularly interesting detail: the site's operating company, Together Network Limited, reserves the right to access and use the users' profile information (including photos) at will. In practice, it means that they duplicate your profile at the network's other websites: Flirt, IWantU, UpForIt, and others. It helps them to draw more attention to your profile, and that's part of the reason why every user always gets so many messages. Besides, the user profiles are built in a way that doesn't give the option to share any overly sensitive information. However, if you still don't feel comfortable with the company using your information at its disposal, you may want to consider other platforms.
Plenty of virtual-only daters
While the users at BeNaughty are highly responsive, it often happens that communication doesn't go any further than exchanging photos and videos. Admittedly, some people only look for this kind of flirting, and there's nothing wrong with that. Except – it can be genuinely disappointing to have a conversation stop abruptly after exchanging some pictures. One should remember that this is a site to look for a hookup, not the love of your life. There's no need or reason to get obsessed with one user: if they don't answer you or don't want to meet you, there are a dozen others who will.
Final verdict: Is BeNaughty legit?
On our scale, BeNaughty deserves a solid 4.5/5. If you are not at a point in your life where you feel like settling down with a lifetime partner and merely want to have fun tonight, it's difficult to imagine a more fitting place to look for that. The ease of setting up a profile and the exciting variety of features available at both desktop and app versions make BeNaughty the ultimate place to set up a hot date after only a quick chat.
---
More online Dating Services
---