Pros
Free sign-up process

The website offers a refund if the members are not satisfied with the site within three months

The site is completely free for women

The site has a great customer service to solve any concerns/queries
Cons
Only paid (full) members can send emails and start instant chats

The site has many fake profiles of women who lure men for money
Verdict
The safest dating site
---
Ashley Madison Dating Site Review
If you would love to improve your dating life, but not exactly looking for a commitment, Ashley Madison is definitely one of those platforms that deserve a shot. This site was launched in 2001 and was initially created for people interested in a hookup (or, rather hookups). Today, however, it claims to have a broader range of dating options even though its essence is still the same — absolutely no strings attached, at least at first. Simply put, if you are new to the world of online dating and would like to give it a shot, this may be a nice spot to get started — just to see how it goes and if it's your cup of tea.
Apart from casual attitude to flirting and relationship, users do not seem to have that much in common — they all come from different cultures and occupations. The main common interest, though, is their wish to find an NSA partner for an occasional hookup or an open relationship.
Back in 2015, Ashley Madison had to revise its security policies after a huge scandal when lots of personal info leaked online. Unpleasant as it was, today the site uses more sophisticated protection algorithms and is completely safe and confidential to use. But let's discuss its members, policies, and navigation first.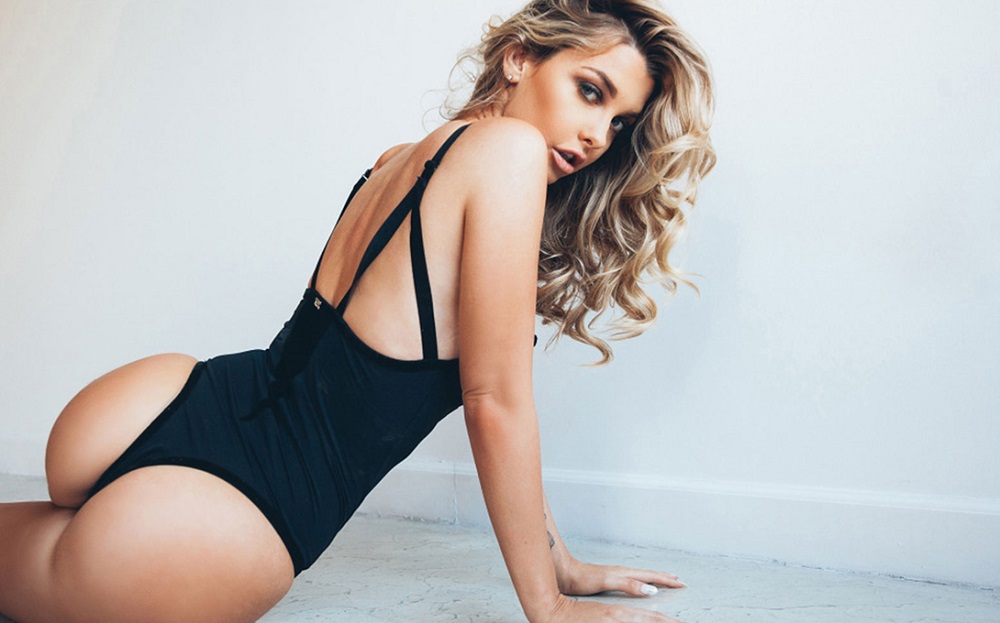 Members and age distribution
Ashley Madison has a very well-balanced male-female ratio that makes your odds of meeting a suitable match significantly higher. The vast majority of users are between 35 and 44 years old, and there are slightly more men in this age segment. However, the difference of 2-3% is not that high, and given the NSA specifics of this platform, it's not that surprising. On the whole, though, men do not really outnumber the ladies on this site.
Getting started with Ashley Madison
Free sign-up process: like most dating sites these days, the registration with Ashley Madison is free of charge and does not take you long.
Little info required to set up a profile: all in all, the sign-up process takes just a few minutes, and you are not supposed to write pages of text to describe yourself and your perfect partner. You just give them the basics: age, height, weight, marital status, etc. Right after that, you're free to browse through other user's profiles to see if you would like to hook up with someone.
Note that you'll need to indicate your email to register with this service, and it's recommended to include an address that does not contain your real name or discloses too much personal information. Ideally, create a new, separate email to use with Ashley Madison — this way, you'll not only protect your personal data but also separate your private dating messages from work and family-related emails.
Finally, you do not necessarily have to indicate your real name when you register. A nickname will do to get started, and, if you find someone you like on this service, you can share such details later.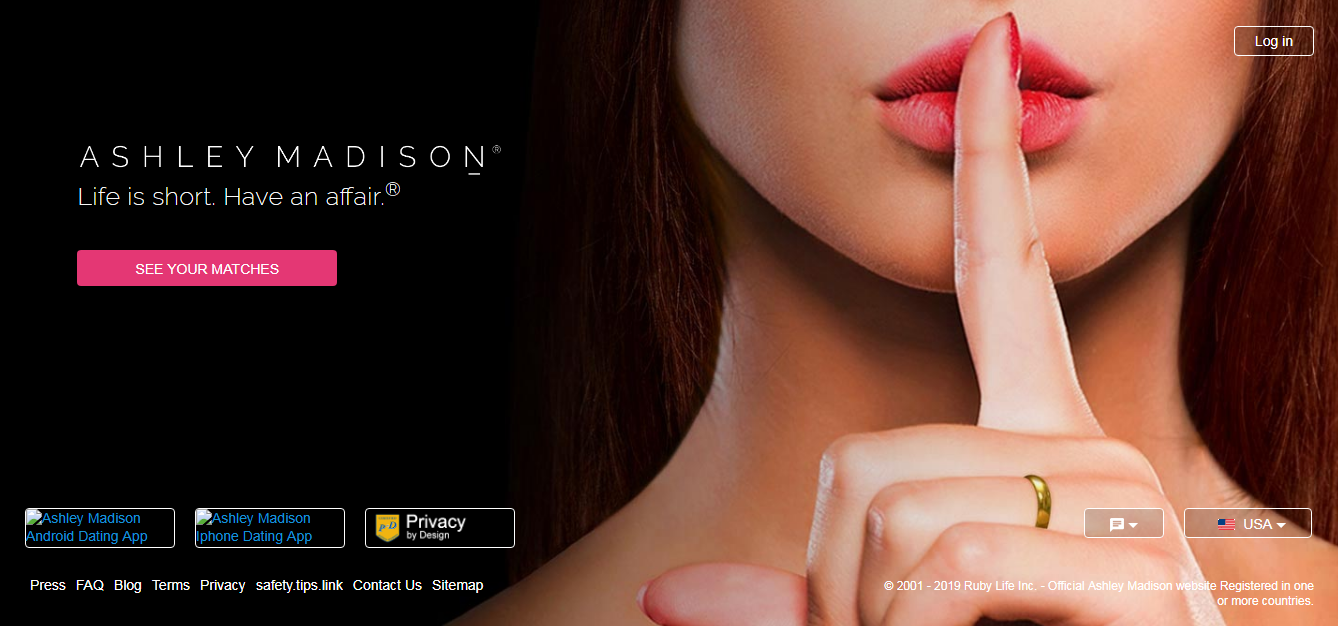 First Notifications
One of the other reasons to have a separate email with Ashley Madison is that you'll get quite a lot of notifications. Once you register, the site will notify you about the most compatible matches in your area (based on your zip code). There is also an option to meet people while travelling (Traveling Man feature we'll discuss below, in the Extra Perks section).
Next, there are emails about the messages you get from other users — you can receive instant notifications as well. From time to time, the site will also inform you about any changes in their services. Of course, you can unsubscribe from those, but we'd recommend reading about any policy updates just to be on the safe side.
Getting in touch with other users
If you do like someone and would like to make contact, a free membership will not suffice. Only paid (full) members can send emails and start instant chats — that is, if you are a man. Women can email and chat all they want without extra charges. Men, however, can send their first message for free — and if the lady they like reacts, they can proceed and buy extra credits to spend them on chats and letters.
Also, men have an additional option of impressing the ladies — gifts. To send or not to send is, of course, up to you.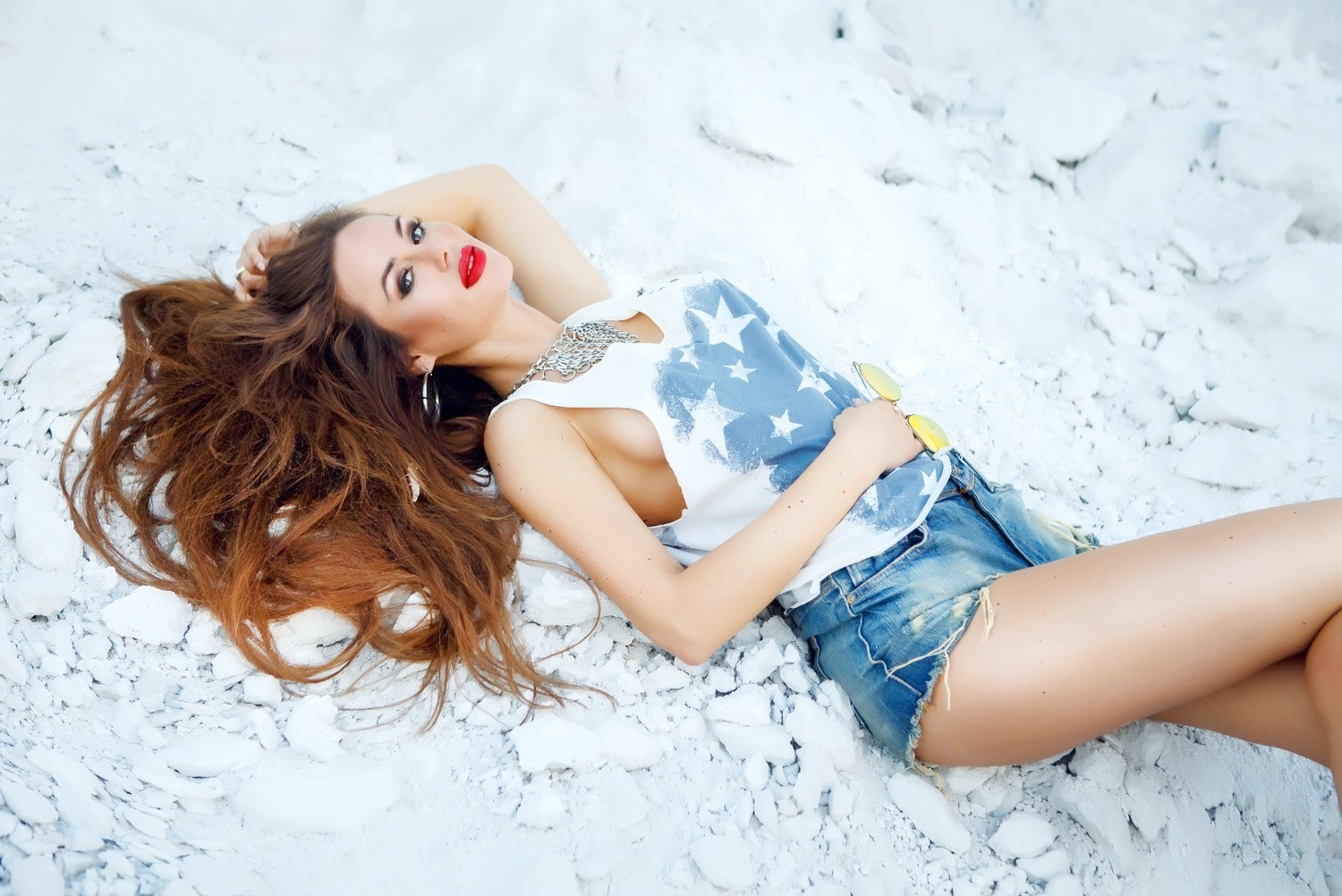 Profiles Quality and Informativeness
Profiles on Ashley Madison are not very informative — as we've mentioned, the site does not ask too many questions when new users register. It is, however, possible to edit and modify profile info after the registration, but judging from what we saw, not too many users bother to.  All in all, you'll have to deal with the same basic info you mentioned during the sign-up process and, of course, a picture. If you do want to find out more about other users, you will actually have to engage in a conversation.
It is, however, possible to take a little bit more respectful approach and let the site guide you through the profile fill-in process. In that case-scenario, you will be asked to give more than just a few lines about yourself, will be given tips on which pictures suit the platform best and will also be asked what you're looking for in a partner. But once again — not too many people bother to indicate this info, and any info about sexual preferences is totally absent on user profiles — which is a bummer, given the casual, NSA focus of the platform.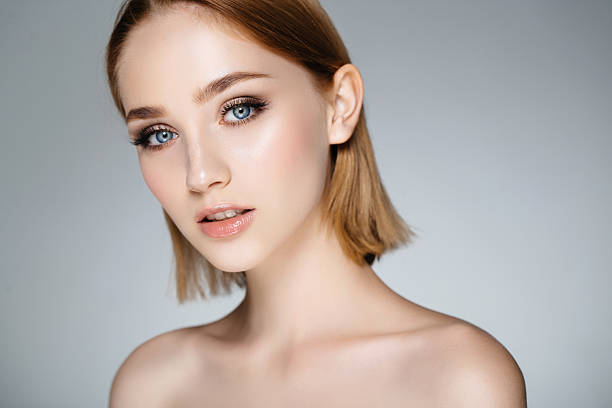 Mobile app
On the upside, Ashley Madison does have an app that runs both on iOS and Android. The icon is 'AM,' which is quite reasonable and does not draw that much attention to itself. The functionality of the mobile app is not that different from site functional, but of course, it allows you to flirt and chat any place and any time.
Also, using a mobile app does not cost you anything extra, but if you become a paid member via the app, the payment is processed by a third party (App Store or Google Store) and, should you choose to cancel your payments and membership, you will also have to do it over mobile. Not that much of an inconvenience, but still —something to bear in mind just in case.
Pricing policy
All in all, Ashley Madison walks the line when it comes to pricing, and we can safely brand their fees as market average. First, you only pay for the services that you're using — letters, chats, etc. To pay for those, you buy credits in advance and then use those to pay for the messages you've sent (once again, the platform is 100% free for women, only men pay to message other users).
The more virtual credits you buy, the less they cost. The minimum purchase is 100 credits, at 0.49 cents each. When you buy 500 credits, the price per credits drops to 0.29$, and a purchase of 1000 credits will cost 240$ or 0.24$ per each credit.
Each message costs a gentleman 5 credits. Note that the price is the same for sending and receiving the messages from ladies — so, you will also pay for opening a message from another user. On the upside, you can also send priority messages at the same cost, and they stay on top of the user's inbox. Also, if another user intimates a conversation with you, you can mark those messages as 'initiated by another user' and keep on reading them for free.
A minimal fee to start a live chat is 30 credits. An hour of chat costs 50 credits. Once the hour passes, you're charged another 30 credits and 20 more by the end of the hour.
If you decide the send virtual gifts to the women you like, their cost ranges from 20 to 50 credits. However, if you are interested in a quick NSA hookup, the feature is really pointless.
You can buy credits with a credit card or PayPal. Another discreet perk is that the card is charged for 'online services' and does not mention Ashley Madison on the bill.
As for the free perks, only registration, viewing profiles and sending winks is free of charge. If you do decide to become a paid member, you'll pay an activation fee of 19$. The cancellation fee, should you need one, costs the same.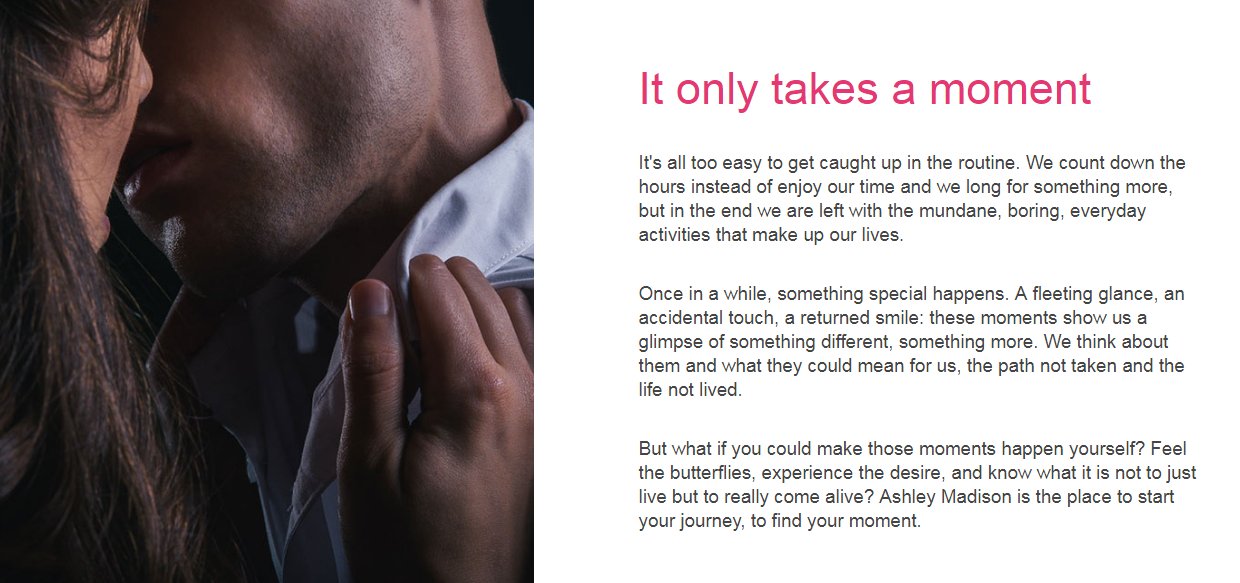 Extra Perks
By default, the pictures you upload are visible to all users, not only paid ones. If you have a problem with that, you can use site feature that allows blurring certain parts of the picture — and this includes not only the background but also yourself. You can 'reveal' the photos to users you trust any moment you like. All in all, this may create certain inconveniences when you browse for other people's profiles, but one thing is certain — it does protect your privacy up until the moment you decide to stop protecting it.
If you would like to boost your profile views (and, consequently, chances of a quick hookup), you can order a priority profile feature. Once you do, your profile will be marked and will stay in top 3 for women in your area.  
If you travel a lot and plan to meet ladies wherever you go, a travelling man feature is for you. This way, you can easily hook up with women in your current city, not just in the town you live in.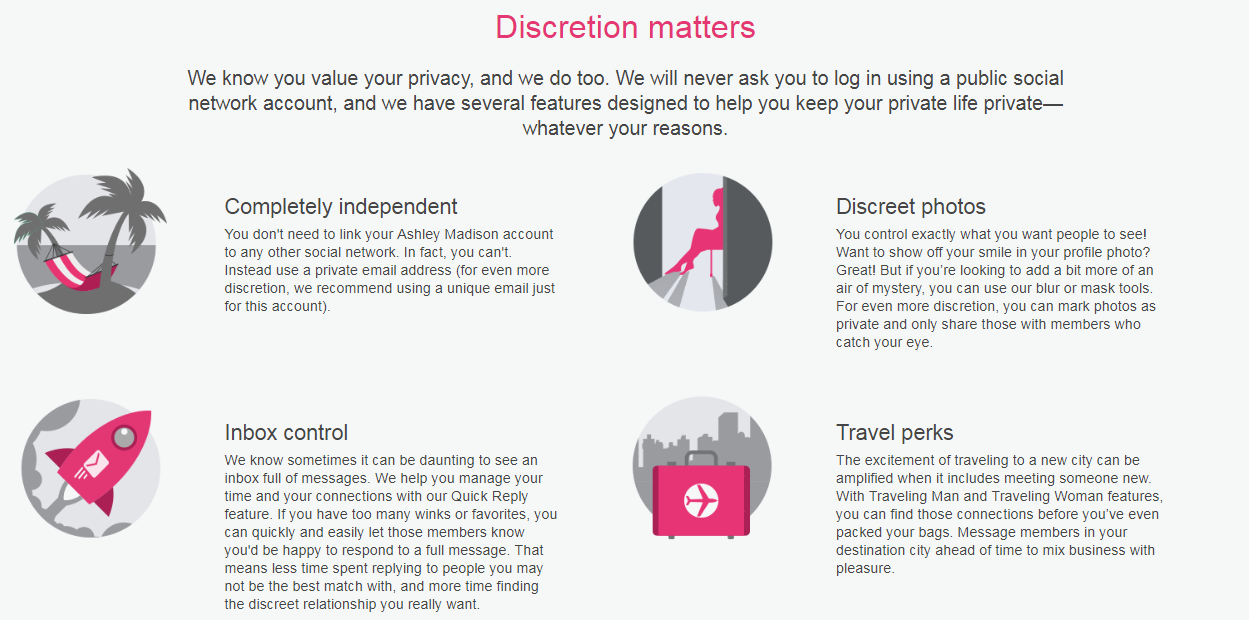 The Takeaway
All in all, Ashley Madison is a nice platform for all users who are not exactly interested in a commitment. It protects your private data, and it does not require you to disclose too much information about yourself. On the downside, you do not see too much info about other users either.
The platform — both desktop and mobile versions — however, are incredibly easy to use and you always get what you pay for. The system where men are charged and women are not may seem unfair at first, but if you think about it — it does make certain sense, especially given that men are allowed more features than women (including priority messages and meeting women in their current area).  
Bottom line, Ashley Madison is not the site for a relationship — it is a platform to have fun, and it does not conceal this simple fact.
---
More online Dating Services
---
Brides by countries on site