Pros
Free&easy registration

Safe Mode

High-quality service

Free users have five messages which can be directed to anybody

Free 3-day trial

There is a mobile version
Cons
Sending unlimited messages isn't free
Verdict
We would recommend UpForIt to everybody who is tired of other general and niche dating sites and to those seeking for a quick hookup. We give it 4.5/5. Get a trial membership and assess it yourself.
---
UpForIt: Whatever you are up to is here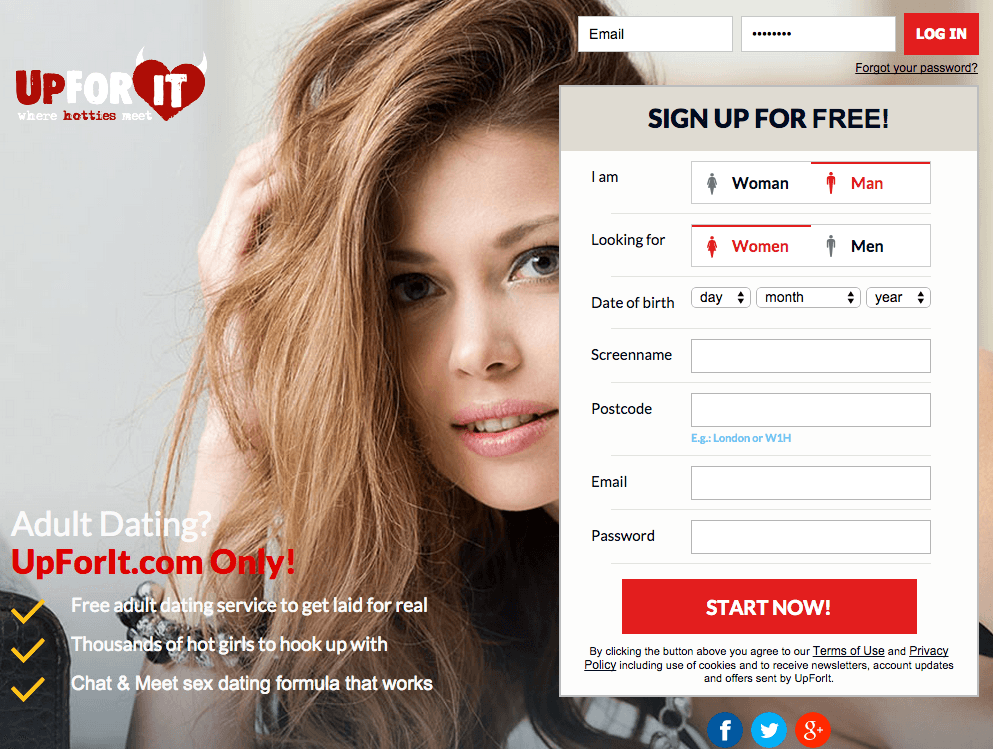 It is extraordinary how diverse people's needs in online dating can be. We all want various things from our relationships and partners, no matter whether we are seeking a long-term commitment or a one-time hookup. While there is a myriad of services that cater to various niches, there is at least one universal dating site that is definitely worth noting. 
UpForIt is a dating platform dedicated to helping people find a match whatever it is based on. This is an adult website, so people are mainly searching for NSA encounters and quick romances with someone who shares their sexual preferences. But a lot of users want to start a serious relationship with the help of UpForIt. Here, we discuss whether this site is good for any of these purposes, who can benefit from it, and if the price-quality ratio is worth trying this service. 
UpForIt Members
The user database of UpForIt is quite extensive. It includes about 1.8 million members from all over the world. A large percentage of both male and female profile owners are very active, and you will find someone who is up to the same thing as you are with no effort. You can use a 'flirtcast' to be introduced to more users at once and have even a wider choice. 
Signing up, building a profile, and overall profile quality 
The only thing you need to join UpForIt is an email address. Once you share it with the site, you get a verification link sent back to you. Upon clicking it, you are redirected to the UpForIt main page and is prompted to start your online dating experience. 
Unlike many other dating platforms, UpForIt doesn't provide its users with an opportunity to sign up by linking their Facebook and Google accounts. Thus, you will have to upload photos to your UpForIt profile right from your device. 
There is a number of questions that can be answered during the registration phase or any other time you feel like it. There are grouped into two tabs: 'Main info' and 'Sexual preferences.' The basics include your height, weight, body type, hair and eye color, attitude towards drinking and smoking, marital status and children, income, sexual orientation, ethnicity, religious and educational background, tattoos and piercing. 
None of these or other fields is obligatory to fill out. That is why many UpForIt profiles are empty or half-empty. On the other hand, you might see what a person looks like by checking out their photos and without reading about their body type. Some of the details might be irrelevant for the type of encounter you are up to, while others are very important. But the latter can be solved easily. If there is an empty field on someone's page, but you are really curious, you can click the 'Ask to add' button. Of course, a profile owner might ignore your request, or it might become a great topic for a discussion. 
All users can upload photos for free. You can also upload a 30-second video to attract more users from the website. This service won't cost you a penny either. The size of the video file shouldn't exceed 100MB. 
You can alter whatever information you want at any time or add any additional details on other user's request or just because you feel it is necessary. 
How to contact other UpForIt users
The lion's share of UpForIt users communicates with conventional messaging. And as is the case with other paid websites, only paying users can send messages to others. But upon joining the site as a free member, you get a valuable present of five free messages from the site. Use them wisely because they might be enough to break the ice with someone you can date. 
Alongside with messages, users are encouraged to send winks. This is quite beneficial for those who have difficulties with starting a conversation or have used all the free messages they had. 
Another form of interaction is match-function game. When playing, you and other users vote for or against a particular profile. It reminds swiping feature on Tinder. 
Security issues addressed by UpForIt team
Communicating with people you know nothing about might be as exciting as it is stressful. Sometimes, you may feel you need some guidance on whom you should and shouldn't trust. The site provides you with this offering a 'Safe Mode' option. It makes the difference between potentially fake and trustworthy profiles clearer. In reality, it only allows you to adjust settings and select types of users you would like to get in touch with. All profiles fall into three subgroups: suspicious, unverified, and verified. But it actually works making your online dating experience less dangerous and more productive. Now, you see that it is essential to verify your profile. Otherwise, you can be excluded from your potential mate's search results and won't be able to contact them whatsoever. 
'Safe Mode' is not the only tool UpForIt management applies to protect its users from scams and various kinds of online stalkers. We have mentioned email verification already. The site also provides users with smart tips on secure dating. There is also a way for you to contribute to the safety of the whole community. Whenever someone bothers you with annoying messages, offensive content, or inappropriate proposals, block them, and they won't get in touch with you anymore. But if you feel that the person behind the profile is somewhat suspicious or it might be a bot, don't hesitate to report them. All the necessary action is going to be taken in no time. 
Memberships and prices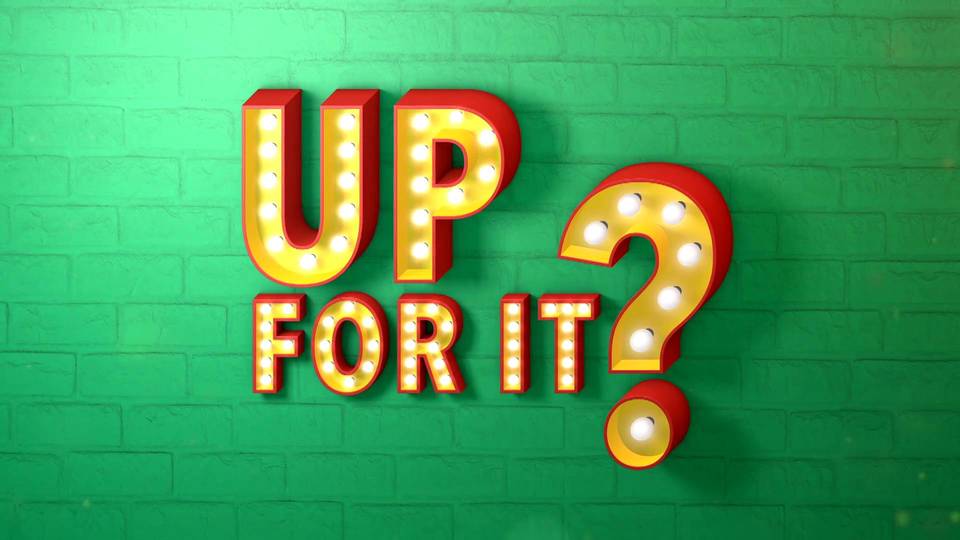 The UpForIt pricing policy is rather simplified. There are no Gold, Platinum, or Diamond memberships. You can be a free or premium user. The site also grants you with a chance to get Premium membership for three days without paying the price for a longer term. This is quite a generous offer given that these three days might suffice to find a partner. If you want to try out all the site's features, this is just a perfect way to do it. 
What does a non-paying member get?
Free UpForIt users are not as limited in communication tools as they might have been on other dating platforms. They get five free messages which can be directed to anybody, and they can send winks with no restrictions. Free users can also add members they like to their Favorites lists and upload photos and videos free of charge. 
The perks of Premium Membership
Still, high-quality services always come at the price. And if you want to get a full unforgettable experience on this platform, you are welcome to subscribe. The subscription can be purchased for the terms of one, three, and six months. The lowest price per month is, naturally, on a six-month membership plan. It makes only 12.30 USD. But mind that you have to pay 73.80 USD for the whole period in advance. You will pay 15.30 USD per month on a three-month membership plan which makes 45.90 USD overall. And if you are not sure you want to stay UpForIt premium member for long, you can purchase a single-month subscription for 27.30 USD. If you are not sure you need any membership plans at all, you can spend 2.97 USD on becoming a trial premium member for three days.
All paying users get the full pack of premium features regardless of the term they want to pay for. As a premium member, you can forget about any limitations in messaging. Besides, your search engine will be no longer basic. You can apply a whole range of criteria to find the one who suits you best. One of the most helpful search filters – location – is now available to you. It might be common and superficial on other dating services, but here, it is a great way to land yourself a quick hookup with the one who is up for it right now. 
How to pay for the services
The only way to perform a payment on the site is with a credit card. The auto-renewal feature can work both for and against you, depending on what you need. Just keep in mind that it is on by default. If you don't want to be a member anymore or wish to switch to another membership plan, don't forget to uncheck it at least 72 hours before your subscription ends. 
Members feedback
Natalie, 26: 'After a harsh breakup, it was hard for me to go back to talking with other people, leave aside dating. I stayed at home Friday nights. I avoided friends who tried to set me up with 'someone nice.' But then it hit me – I just needed something new. Not new sexuality, perhaps. Not a new lifestyle. Something smaller but, at the same time, refreshing. I decided to try a couple of dating sites. What was discouraging about them is that people there knew what they wanted exactly – some were seeking for same-sex partners, others wanted an interracial NSA hookup. I didn't know. 
Then, I found UpForIt, and for the first time, I didn't have to make up my mind before I started messaging others. They just asked 'Are you up for this or that?' And I could reply with a single word. Some of these questions were really intriguing, and I have started messaging these users more often. As a result, I have found a good friend (which I never expected) who has helped me to go through a hard time. And I've made several connections that might go to another level. I'm quite satisfied with UpForIt services and intend to use them further.'
Adam, 34: 'What I love about UpForIt is that they don't push you into any boundaries. Do you want a commitment? Here are people who want it too. Up for one-time sex? Seriously, you can hook up with someone tonight. What to be bi, or gay, or straight? Today or always? This is still the site you need anyway. I personally get a lot of lovely interactions – both online and offline – with the help of this service.
But there is always a but. This is an online dating service, and you can't expect all profiles to be real. I hate when people become so whiny – 'I wanted real love but came across a bot, and now I'm devastated. I will never love again!' Come down to Earth. And use Safe Mode.'
The final word on UpForIt
There are two main ways its users perceive UpForIt. A lot of them think it is only good for finding a no-strings-attached hookup or a fast-burning romance. Others believe that this is the right place to meet people with the same interests and preferences, no matter how deep you want your relationship to be. Some of the latter group are full of hope to meet real love here and, eventually, get married.
But regardless of what they are looking for, all users would agree that the search process on UpForIt is a lot of fun itself. This community guided by skillful management that knows how to make one's day.
The only thing that can spoil the impression is the abundance of profiles that seem suspicious. But you can easily screen them by enabling Safe Mode in your personal settings. 
All said above plus the pricing policy of the site that allows free users to become premium ones – not for long but at a ridiculously low price – brings us to our conclusion. We would recommend UpForIt to everybody who is tired of other general and niche dating sites and to those seeking for a quick hookup. We give it 4.5/5. Get a trial membership and assess it yourself.
---
More online Dating Services
---