Pros
Compatibility system is really awesome

Easy to use
Cons
You can't view photos or message users without a subscription

Limited number of matches and no search options makes the discovery process more lengthy
Verdict
eharmony - A Trusted Online Dating Site for Singles
---
EHarmony: where love goes to marry
What is EHarmony?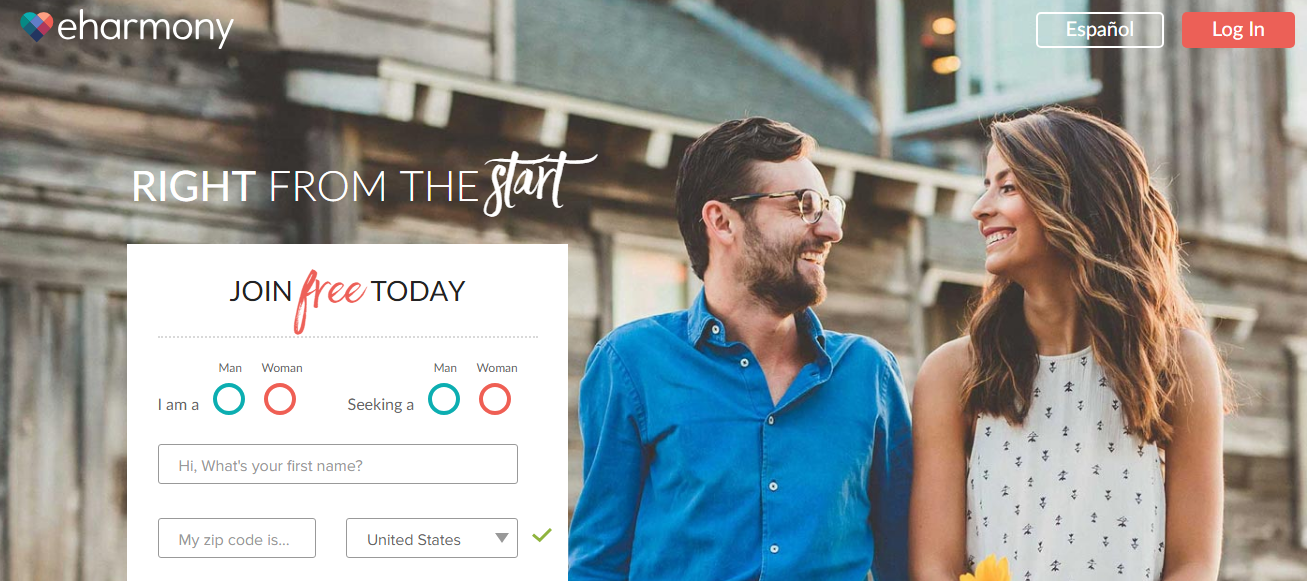 EHarmony is a website that caters to single and lonely men and women who are tired of the same old bait and switch program: one night stands and senseless hookups. Unlike other websites, EHarmony specifically caters to men and women tired of being single and done with going through multiple unsuccessful relationships only to be left with a broken heart and empty dreams.
EHarmony is one of the go-to websites for people looking for a serious relationship. Many users on the website are looking for someone reliable to date with the option of marrying. Many users began their romance on this exact website. If you take a tour through the website before signing up, you'll notice a section titled 'Success Stories' that shares experiences from couples who met on EHarmony and decided to bring their relationship to the next level. 
EHarmony first launched in 2007. In the period between 2007 and 2019, the website claims to have helped thousands of people find their mates, marry, and start a family. The stats insist that an impressive 4% of couples that got married in 2018 met right here on eHarmony. The website has a sophisticated array of features and tools that help users match with their perfect math. Similar to other dating websites such as OkCupid, EHarmony uses an algorithm-based matching system that uses a user's profile to find suitable mates in their town or state, or internationally. The matching system uses a sophisticated survey that helps match users.
Unlike many other websites on the internet, EHarmony has over 1,000,000 users from the United States. Website statistics claim that on average 90,000 members log in weekly to use the services. The service has a website and two apps, Android and iOS so that users can choose their preferred way of communication. Both the apps and the website share similar features so no user will be missing out on any content or features.       
What kind of people can you find on EHarmony?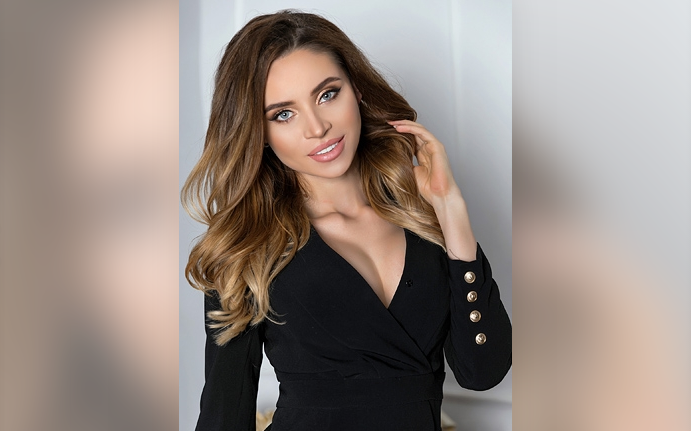 The users on the website and both the iOS and Android app are quite friendly. Since EHarmony caters to singles looking to step into a serious relationship, most people are adult and family-oriented. EHarmony is most definitely a dating site aimed at serious relationships rather than one-off hookups. Those looking for flings can sign up to the service, but their advances might be met with negativity and criticism. 
In an ever-expanding world of digital communication and technology, a serious relationship does not always mean marriage. There are websites out there that can promise you marriage to a sexy single man or woman, but those websites are usually mis-advertising their services. EHarmony does not overpromise and does not lead you along. Most members are indeed looking for a serious relationship. Whether that relationship blossoms into marriage is entirely between you two. It's well-advised that users are always upfront about their wants and expectations. This way they are safe from getting any wrong ideas, and nobody will get hurt.
Subscription plan
eHarmony is quite easy to use and has an excellent user-friendly interface. The website has a free account available for users who do not want to shell out the cash for the upgraded features. The free services include: being able to view matches history, access the Book of You, send pokes and smiles, send and receive emails, and analyses the Book of You feature. These features are all a free user needs to start looking at potential match profiles and managing. Users are not forced to subscribe to find love: it's all given out for free.
The subscription plan expands on the free features. They include: seeing full albums with pictures of your potential matches, see people who have visited your profile, and use SecureCall which lets users communicate on the phone through a secure network.  The subscription plan is available with a monthly fee. The fee ranges from 59, 95 per month to 238.80 for 24 months. Discounts and promotions are available the longer a user subscribes for 24 months. Users can pay with PayPal or a credit card. Subscription is automatically set to bill at the end of each month. A user wishing to discontinue their subscription will need to navigate through the interface manually and switch it off. 
The overall verdict is that eHarmony has a slightly more expensive subscription plan than other dating services but that more than pays for itself with the friendly and open community that it just doesn't matter. There is an old saying, 'You get for what you pay for.' This rings true for eHarmony.  
How to sign up on EHarmony?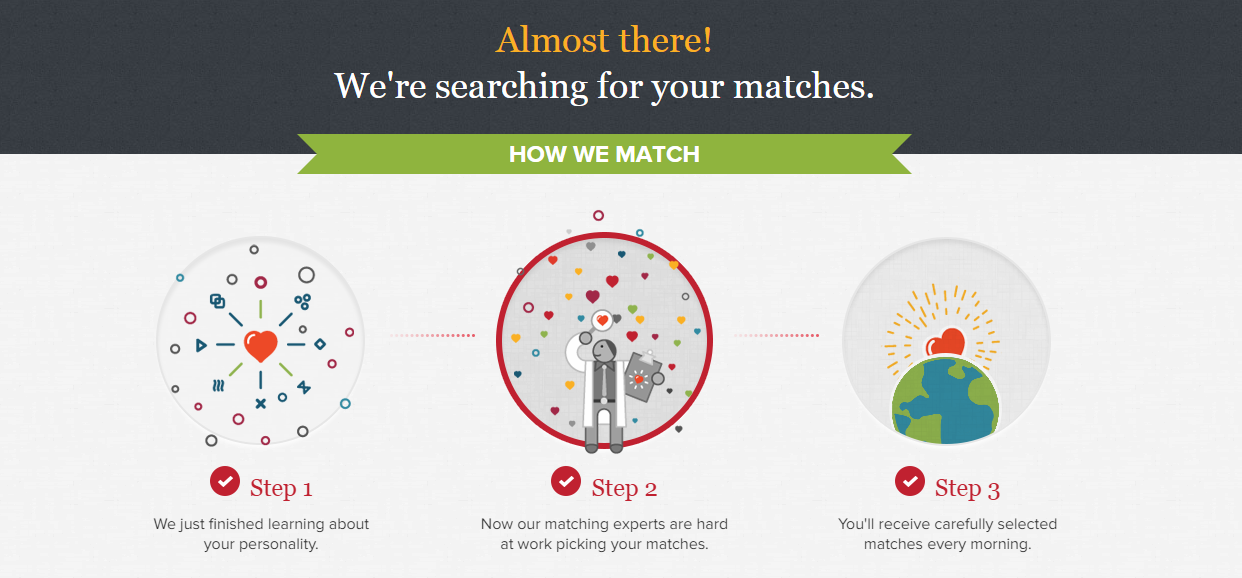 Signing up to eHarmony is very easy. The eHarmony interface and algorithm AI will guide new users through the steps of creating a profile and filling out their data. The steps may take a somewhat long time to complete, but they are necessary to see potential matches. The information that users will be required to input is age, location, marital status, sexual orientation, and living circumstance. After entering the initial information, a personal survey will show up. 
Personal surveys are meant to kickstart the algorithm for good matches to show up. This survey is in the form of questions and words aimed at matching you with other users who have similar answers. There are over 400 questions to answer with new ones added daily. Most questions get written by the eHarmony staff, but there are also user-generated questions. Before each question gets integrated into the database, they are analyzed to avoid offensive or misspelt content. The more questions you answer, the more you increase the quality of the matches you receive. Users can put questions on hold with a bookmark so they can come back to them later.
Questions are rounded out to include hobbies, work, dreams, and interests. EHarmony tries to keep this process fun and engaging, so users don't get bored. A user is not required to answer all the questions right from the start. Similar to other websites, such as OkCupid, users can answer a few questions at the start and come back to them whenever they feel like it. 
Once the profile is set up, users can browse profiles to find the ones they like and engage in communication. Communication on eHarmony is a bit unique. Users take turns asking and answering pre-generated questions that aim at getting them to know each other. There are three rounds of these questions. If users end up liking each other, they can continue to the next stage – email communication. 
Features on EHarmony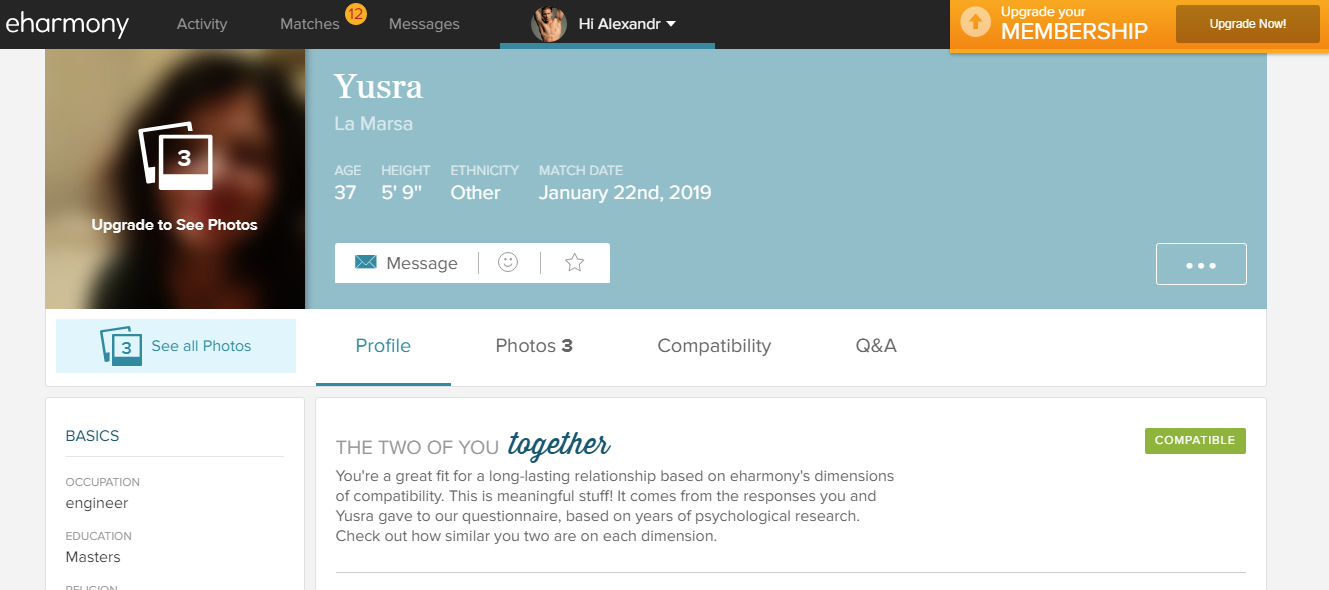 As with any dating service, eHarmony offers some unique and special features that make finding your dream date much more effortless. Some of these features include:
SecureCall
SecureCall is a feature that is only available to paid members. It lets users talk with other users on the phone, without revealing their phone number. This is a unique feature that as far as we know is only offered on eHarmony. The actual phone conversations go through the eHarmony website or app as a proxy. This way neither the caller nor the receiver can find out what your actual phone number is.
Book of You
The Book of You is a feature that analyses a user's profile and their personality survey and gives out a grade based on how complete and how accurate it is. This feature allows users to assess their profiles, see mistakes they have made, and make it more attractive to other users. eHarmony will even show you tips and tricks on how to maximize your potential matches.
Spotlight
Spotlight works the same way as the highlights of the day: users can pay a small fee to appear on the top results of up to 1000 user profiles. This means that every time someone opens their eHarmony profile, they will see other highlighted users in their top 10 or 20 matches. Spotlight fees vary depending on the user profile, but the mean average price is between 2.99 and 4.99. Not much to pay for getting on the top 10 in your future sweetheart's profile.
My Matches Search
This is a feature that lets users browse through old matches on their profiles. It is particularly handy if there is someone you want to contact that you used to chat with in the past. Think of this feature as an address book of sorts that lets you recollect old chats.
My Matches Filtering
This is similar to My Matches Search where users can browse through their profile matches and filter them based on looks, biographies, and other various statistics. This is an especially handy tool to have if you don't know the name of someone but remember a part of their profile.
Is eHarmony safe?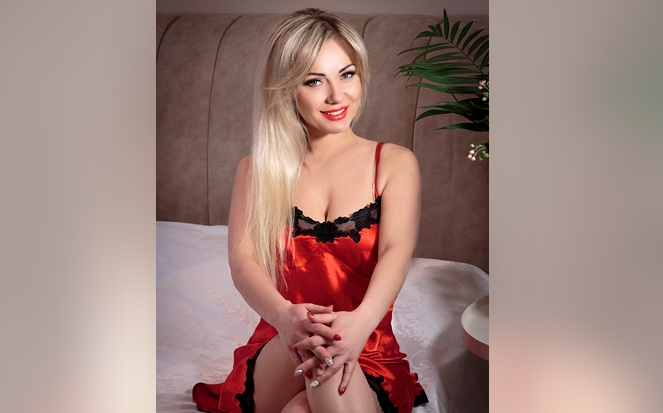 EHarmony has been around since 2017. It is dedicated to user safety, their pleasant experience on the website, and helping users find potential mates. The addition of features such as SecureCall has elevated the website above its competition a great deal enabling users to talk to someone on the phone without either of them revealing your personal information. 
Like all other online dating services, eHarmony has its dangers. Sometimes users do not look the way they say they do or they use fake profile pictures. This is a common thing among internet communication. To avoid any problems, always ask for a few additional photos of the user with who you're chatting. Users should always be wary of what information they disclose in online chats. Never share personal information such as address, phone number, social security number, pins, passwords, or other information that can be used to track you or cause you any harm. 
Overall, eHarmony is an excellent website for finding your next love affair. It's refreshing that it tries to stick to old-school values and long-term dating as opposed to the one-night-stand culture that is widespread today. With so many people who have managed to find love (over 10.000 according to statistics), the service is indeed working. Don't believe us? Try it for yourself. Creating an account is 100% free. You have nothing to lose. If you like the service, you can always subscribe to the premium membership that expands on your already rich variety of features.
---
More online Dating Services
---