Pros
Reply to messages is free

Apply advanced search filters is free

There is a chatroom

Nice mobile app

Low percent of fake and inactive profiles

Safe and easy to use

Verified badge available for everyone
Cons
Communication options are limited for standard users
Verdict
All things considered, DominicanCupid is a great niche site, especially if you are a Caucasian man looking for a Latina or Dominican woman for a potential long-term relationship
---
DominicanCupid Review: Opening Up Latin America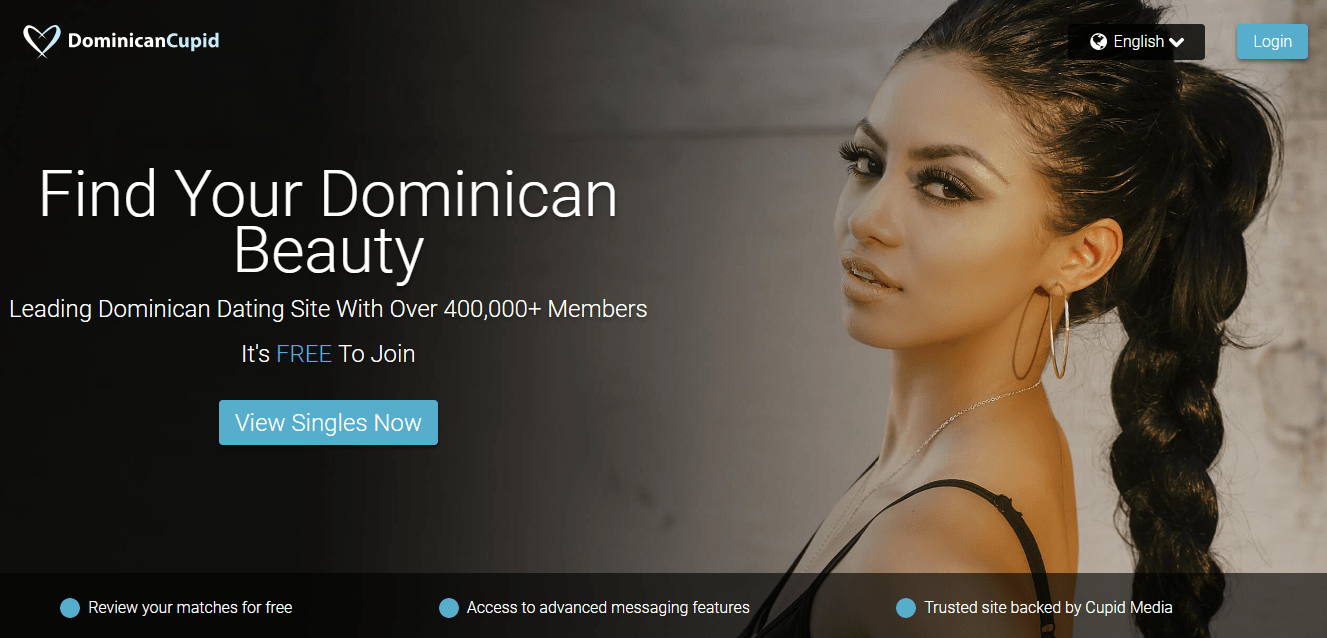 This niche dating site has over 400,000 users across the world with 136,000 or more in the US alone. This platform focuses on people from the Dominican Republic, Venezuela, Puerto Rico, and other Spanish as their first language countries. DominicanCupid was established in 2006 and was created to enable people to match up with possible partners from South America countries.  But what it's like to use the service? Let's find out all the essential DominicanCupid features below.
DominicanCupid Members: Structure and Activity
DominicanCupid website is reasonably active with around 1100 logins every day.  Unlike many platforms with a heavily skewed gender average, this site is 60% male / 40% female split. There are more male premium members than female premium members, though.  Users are from countries across the globe, but the concentration is in North America, Germany, and the Philippines. Women on the site are mostly of Latin background or are Dominicans, while most males are Caucasian. For men who are looking for Latina women, this is an ideal site.
If you are looking for a partner from a Latin background or specifically from the Dominican Republic, this is an excellent site to choose. DominicanCupid is a niche site which is dedicated to helping people match up with singles from Spanish countries for dating and long-term relationships. This platform is not designed as a hookup site as for most people; it starts as a long distance relationship type until they get to know each other well. Many members found their soul mate on this platform after a personal meeting, and DominicanCupid keeps on bringing together more hearts. 
The age range on the site seems to be on the younger side for women with the largest group being between 25 and 36 years old. Men on DominicanCupid are older, predominantly in the 35 to 49 year age group.  Many of them have gold or platinum memberships. Fewer women have paid membership on the site. This seems to suggest that women expect men to make the first move.
Registering with DominicanCupid
The site is monitored to remove accounts that seem suspicious or of low quality. This helps weed out fake profiles, scammers and so forth.  It is quick and easy to sign up, and very little verification is needed at the start. It takes about two minutes to sign up, and you don't have to load a profile photo at the start – although it will help you find a match easier.  You use any email address to register and do not need to verify your mail. You can also join using your Facebook profile. In this case, all the essential fields, like your age and location will be automatically pulled from Facebook. 
But, even if you choose the manual registration option, you still only have to add basic information when you create a profile. You can use the account as long as you have a first name, gender, and age filled in and provide an email and password. It is suggested that you post a profile picture on your page, but this is also not mandatory.  Note though, that if you only put the basics and no profile picture, you may be removed by moderators as a suspicious or poor quality profile after a few hours.
What can you do on the site after registration?
You can view profiles and their pictures
Send hearts
Reply to messages
Add contacts to your favorites list
Find matches (based on your criteria)
Use advanced search filters
Add up to 5 photos on your profile
Join a chatroom
Update your profile picture and information at any time
Making contact (i.e., sending a text message or starting a chat) with someone for the first time requires Premium membership. If someone messages you first, you can respond to them for free. If you want to reach out first, you, once again, have to get a paid membership. A paid subscription does allow you to send as many messages as you like to both free and premium membership members. You can also see who has viewed you or added you to their favorites. Free membership does allow you to send hearts, though; this, in turn, may catch premium member's attention so that they send you a message first. Still, premium membership is recommended if you are serious about chatting to people on the site and hope to find a potential partner. Once two members have communicated, the chatting is unlocked for both, whether free or premium profiles. 
You can earn a verified badge to add to your profile on the site if you go through the verification process.  This is a green badge that clearly indicates 'verified.' This badge does add an element of trustworthiness to any profile. You can get verified by following the process on the site, which basically requires you to send a copy of a valid ID to the DominicanCupid support team.
Extra benefits for premium members 
Premium member symbol on the profile
Able to contact free and premium members 
No ads
Search anonymously
Hide your profile
Rank higher in searches than free members 
Double the profile space
VIP highlighting of your profile
Translation to your language for messages if required
Exclusive search features
Advanced algorithms for matching
Many site users site only have their personal information filled out. They often don't indicate what they are looking for in a partner. This does allow for a larger match profile. The profile itself shows a profile picture on the left with some basic information about the user to the right side. You can load up five pictures, which show in the photo gallery under the quick view section of your profile. You can also Report Abuse or Block User via dedicated buttons in the sidebar, on the left.
DominicanCupid mobile app 

DominicanCupid app is very easy to navigate and has a nice clean design. All the features available on the website are available via the app as well.  The suggestions rarely refresh, though. You can find all necessary features via the collapsible menu and use the four icons in the header menu of the app contact any profiles you want to (if you have a premium subscription, of course).  You can see who has added you to favorites, who has viewed your profile, as well as go to your inbox for reading and sending messages. DominicanCupid app design is so simple and intuitive that you will easily find your way around the app and its essential features. The only evident drawback so far is that your search results do not auto-refresh, so you will always have to do the searches and refresh them manually. 
The mobile site sticks to the same theme colors as the website. The design is clean, and the brand is themed in white and shades of light blue.  The features are accessible on all pages. The contact buttons are easy to find on the member profiles and in the search results. You only have to hover over the profile photo for the options to show up.
DominicanCupid Membership Costs
As we already covered, it next to impossible to communicate with other DominicanCupid users unless you get a paid subscription. This platfrom offers two kinds of memberships – Gold and Platinum. The major difference between these two subscription types is that the Platinum subscription includes translation services. Gold membership, on the other hand, presupposes communication without getting your messages translated. The actual prices are listed below:
Gold membership
1 Month:    USD 29.98/month,    USD 29.98/total
3 Months:    USD 20.00/month,    USD 59.99/total
12 Months:    USD 10.00/month,    USD 119.98/total
Platinum membership
1 Month:    USD 34.99/month,    USD 34.99/total
3 Months:    USD 23.33/month,    USD 69.98/total
12 Months:    USD 12.50/month,    USD 149.99/total
Payment Options
Bank Transfer
PayPal
PaySafe Card
Credit Card
Online Bank Transfer
On the whole, we must admit that DominicanCupid offers above average subscription costs, even though you cannot call it expensive. Besides, the range of available payment options is impressive. 
Special features on DominicanCupid
You can see when someone had visited your profile with a timestamp, so you know when they took a peek. You can also see when another member was last online.  Both features are very useful if you do not want to waste time on inactive profiles.
Premium members can have their messages translated. This allows for easier communication if you are not fluent in the language your potential partner speaks. The latter one is usually Spanish, but remember – only a Platinum subscription presupposes translation services. 
The site offers a lot of benefits to newly registered, free members. One of them is the benefit of looking around DominicanCupid and its user database to find someone who catches your eye.  In some cases, if you send hearts, a user with a premium membership might contact you first, thus opening the communication channel between you two. If you find someone that interests you and want to chat, it may be worth your while to pay for a premium membership, which allows you to chat with anyone you like. If they are basic members, they can chat with you as a premium member if you contact them first.
Takeaway on DominicanCupid
All things considered, DominicanCupid is a great niche site, especially if you are a Caucasian man looking for a Latina or Dominican woman for a potential long-term relationship. Men may, however, find that they have to contact the more shy ladies first to start up a conversation. Besides, few ladies on DominicanCupid have premium memberships, so you will have to get a subscription to reach out to them.
The profiles on DominicanCupid are generally quite active and fairly detailed.  Fill in your profile information to help you with your matches and make sure to include a clear profile picture. DominicanCupid is easy to use and navigate, both via a desktop browser and over an app. It is easy to contact people and there are a number of options to show your interest. 
It's true that DominicanCupid does not offer a lot of special features, but on the whole, this platform is totally usable even without the trendy stuff. Besides, site translation feature for Platinum members is truly priceless.
DominicanCupid is cheaper than many similar platforms, even though one can find more affordable options than this platform. Also, note that you can always save money by getting a longer subscription – the longer your membership term membership, the less you pay on a per-month basis.  Given that long-term relationships take more time to build, the investment should be well worth it. 
As for DominicanCupid design and navigation, it is easy to use, and it does not require a massive time investment to set up a profile. You can search via an advanced algorithm to help you find a potential match that is close to what you are looking for. For someone looking to match up with a South American, this is one of the neater sites with fewer poor quality profiles and scammers. But, of course, keep Internet security in mind and do not disclose any of your personal information – pretty much as you would do on any other dating or social site.
---
More online Dating Services
---