Pros
Big amount of interaction means

All essential features are free

Awesome design

Mobile app

It's a cheap platform
Cons
Age conflict: it's obvious that 13 and 19 are different age groups, with different goals and interests, even though they both technically qualify as "teens"

Amount of fake profiles and suspicious members is troubling

Profiles aren't verified

A lot of members post topics that are age-inappropriate for the site
Verdict
People worldwide have already branded MyLOL as a "playground for pedophiles". So, we recommend avoiding this site — no matter how many interactive features and free communication means it offers
---
MyLOL Review: a Teen Network or a Parent's Nightmare?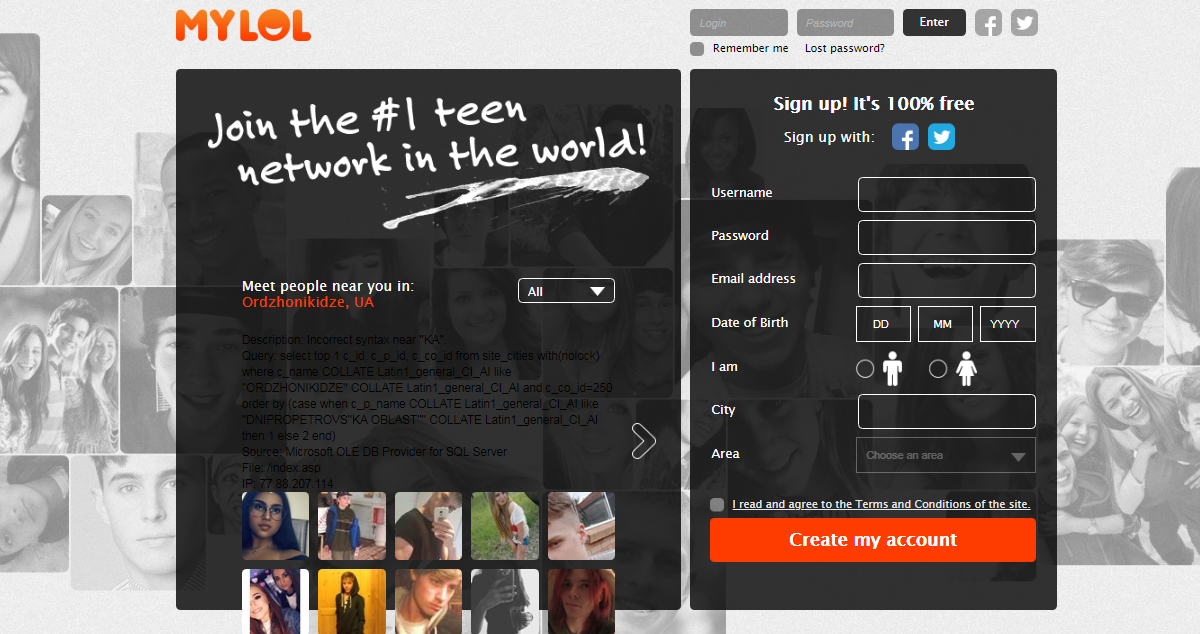 MyLOL is one of those platforms that targets teenagers. It is not a dating site in the classic sense, but rather a dating-related platform that helps teens make new friends, chat, and, eventually, meet each other. All in all, this is more of a social network for teenagers to make new connections and find new peers, even though the platform advertises itself as a dating service.
On the whole, MyLOL has a couple of features that teens find exciting. However, certain services are accessible only to paying members, and most teens are not exactly payment-capable. Besides, the site advertises as a 100% free service, and — in all honesty — no one loves hidden costs. 
Then again, the site does little to verify user age and identity, even though it should be reserved for teens only. Finally, the number of fake accounts is overwhelming. So, what is MyLOL really about? Is it one of those sites your teens should use to widen their horizons or should you have it parent-controlled to shield an unsuspecting child from fraud and pervs? Let's find out below.
Registering with MyLOL
Technically, only 13-19-year-olds can join, but since the site does nothing to verify user identities, it's hard to draw any conclusions about the actual member structure. If we take the stats to be true, most users come from the major English-speaking countries: US, UK, Canada, and Australia. But, as we've already mentioned, the number of fake accounts is astonishing — plenty of accounts feature pics from photo sharing sites and barely have any profile descriptions. 
The sign-up process, however, is simple. You can use Facebook or Twitter to login or register manually, with a valid email. This is probably the only thing MyLOL does verify. But, once again, the authenticity of these profiles remains questionable, to say the least. So, it's not surprising that MyLOL is already involved a bunch of pedophilia-related scandals. 
Profile Contents on MyLOL
Profiles on MyLOL have very basic information — most of them include nothing but user age and location. There is, however, a dedicated 'about me' section, but most of the time, it remains blank — filling it out is not obligatory, so few users bother to. Those who don't generally use it to post their nicks on other social media sites. 
What MyLOL is big on are photos. There are plenty of photo albums that feature loads of pictures —often, of provocative nature. The folders are visible to all users, and it's possible to react to all pictures one sees. 'Cute,' 'Hot,' 'Wow,' and 'OMG' reactions are available. Profiles with most votes and reactions are featured in the "Popular Members" tab.
Verifying a profile is not obligatory, which results in thousands of fake accounts. There are a couple of other perks, designed specifically for the teen audience. Namely, it's possible to send someone a paid subscription as a gift. The question remains, though, — who would bother to do so? Premium members make use of the same functions as free users, with a minor difference — paying accounts can see other members' online status. 
Finding & chatting with other users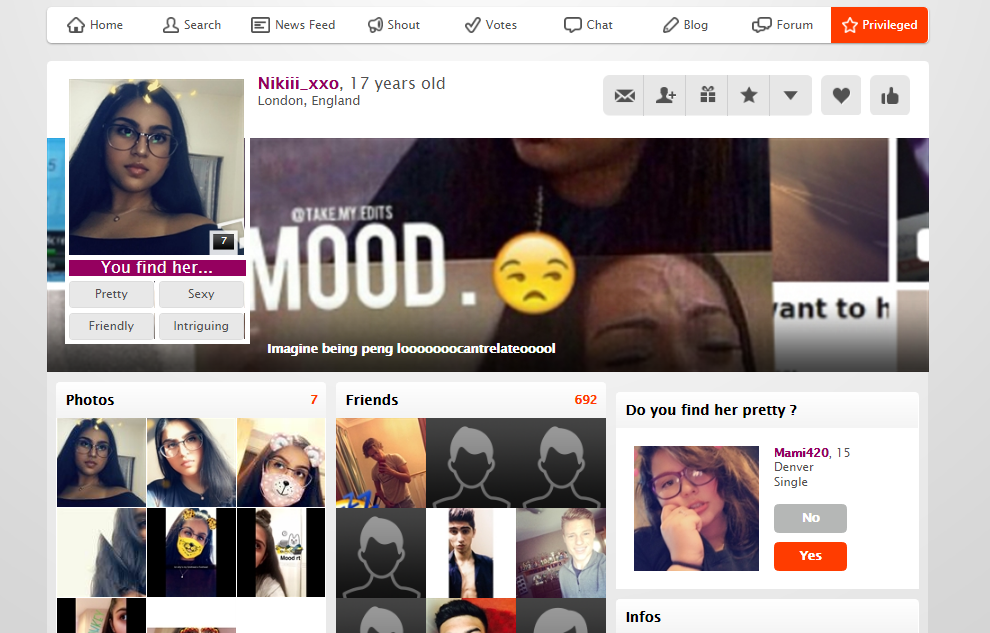 MyLOL has a pretty advanced search system, allowing users to define plenty of search parameters, keywords included. MyLOL did ban some of the age-inappropriate key phrases, but the policy didn't do much good. Most users keep searching and tagging pics as 'noods' instead of banned 'nudes,' successfully ignoring any restrictions. 
Anyone can start a chat with another person. Only accounts that have chat function blocked remain inaccessible, but there are few of those. Still, there is a catch: to get in touch with other members via the site version, one is required to upload a photo. In theory, all images are screened by site moderators; in practice, however, plenty of obviously fake photos still leak in, so we have to assume nobody checks those photos. When using MyLOL app, it's possible to contact other users even without a photo upload. 
Apart from chats that support all major media types, including pictures, gifs, and videos, users can participate in forum threads. Most topics, however, are alarmingly age-inappropriate. 
MyLOL functionality and design 
MyLOL design and functionality carefully target its main audience. Both mobile and desktop versions are sleek and easy to use, so it's no wonder plenty of teens find it trendy and fun. As for functionality, MyLOL takes into account the basic fact that teenagers cannot spare much money for premium memberships, which is why most of the essential features are available for free. The major difference between paying and non-paying accounts is that premium members can see who's online — the rest of the functionality remains pretty much the same. 
As for the differences between desktop and mobile functionality, they are also minimal. App users can contact other members even without a profile pic. The app is free and available both on Google Store and iTunes.
Special services from MyLOL
The platform does offer a couple of perks to its young audience, such as:
Votes — a chance to vote on other users' account. Profiles with most votes are featured in the popular members' section of the service. 
Shout — post profile updates visible to all other users. For that, a user needs an approved photo (but as we already covered, all pictures get automatically accepted). 
Chatroom — not exactly a unique feature, but the major difference with MyLOL is that chats are available both to free and premium members. 
Forum threads — acts as a group chatroom. The most popular threads and messages are highlighted for easier access. 
Blogs — any MyLOL user can have a blog page for anyone to visit. Consequently, it's possible to read through other users' blog posts.
Photo approval — a feature that clearly does not work. Admins state they screen the pictures, but even obviously fake photos leak in, and so do the nude pics. 
Suspicious keyword detection — another feature that does not work. In theory, moderators should sift through the messages, banning age-inappropriate topics. In practice, plenty of forum threads remain alarmingly age-inappropriate, and users invent new keywords to post revealing pictures. 
MyLOL fees and prices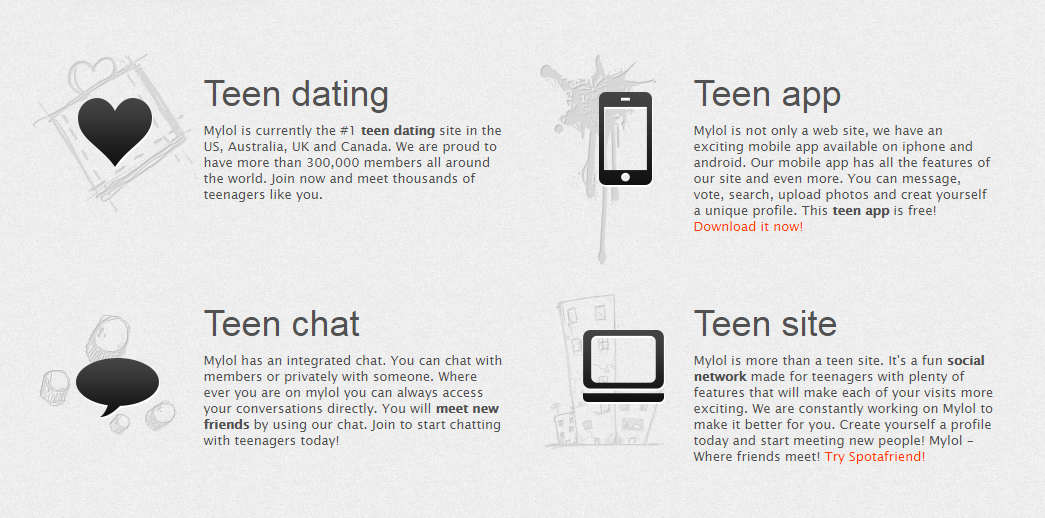 Compared to most dating apps, MyLOL is a cheap platform — even for premium paying members. The minimum premium subscription is one week and $3.95. When you subscribe for a full month, you pay $9.95; three months — $20.85 or $6.95/month; six months — $29.70 or $4.95/month. 
One can pay with a credit card or a PayPal account. Taxes, depending on user location, are also applicable. There is a way to deactivate taxes with a promo code, though — promo codes are available on the website and MyLOL social media accounts. Subscriptions auto-renew, but it's easy to cancel them in the Payment tab. 
Still, it is possible to use the app even without a subscription. Free users can create and edit their profiles, browse through the entire user database, post status updates, reach out to other members in a chat room and participate in forum threads. 
Paid services include:
Who views your profile info 
Message receipts 
Priority placement in search results 
Notifications about users who want to meet you
Besides, MyLOL offers users a chance to score some virtual credits that can, later on, be spent on fee-based services. All it takes is some activity on the platform, in particular:
Vote on user photos: 5 credits per each photo, limited to 5 votes a day
Find a match (mutual likes): 5 credits per match, limited to 5 matches a day
Reply to a quiz: 5 credits per reply, limited to 5 quizzes a day
Daily login: 5 credits 
Reply to a message: 10 credits 
Add a new photo every day: 15 credits 
Share the site with friends: 50 credits 
Tweet the site: 50 credits 
Like the site: 50 credits 
As you can see, daily activity on MyLOL gives users a chance to get a lot of virtual coins. And here's what you can spend them on:
Be featured in the header menu of the site and gain X100-times more visibility than other members (100 credits)
Get a boost in search results (200 credits)
Become the 'first member voted' to show up first in the voting section (150 credits)
Become the 'first member matched' and appear among first accounts in the matching section (150 credits)
Become a premium member for two weeks and enjoy all fee-based perks (1000 credits)
Summary and conclusion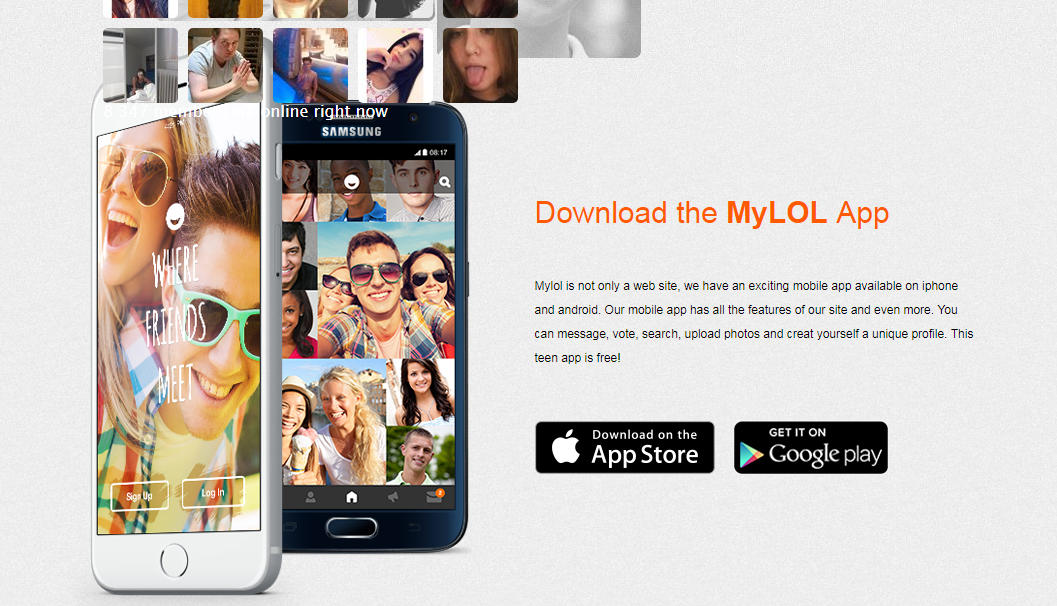 It's clear that MyLOL management should take Internet security more seriously and work harder on making the content more age-appropriate. Even though the idea of creating a teen social network for communication was a good one, something obviously went wrong in the process. As of today, no one is certain who's behind MyLOL profiles, and the site has already been involved in plenty of scandals related to pedophilia. It is, of course, understandable that a site full of teens eventually draws pervs in. So, it's getting even more vital to take more security measures — which MyLOL clearly doesn't bother to do.
Today, even teen members are creating threads discussing their negative experience with the site, and petitions to ban the platform appear on a daily basis. Plus, the whole teen dating experience is a troubling concern, even for teens. A lot of legal-aged teens have expressed their concerns about flirting with minors. When 18-19 people join, they expect to meet someone of their own age, not receive 'wanna meet up' messages from 13-15-year-olds. Such concerns have also been extensively reported by site users. 
On the whole, MyLOL experience is very alarming. It's true that the app has a sleek design and a lot of interactive features that make communication available for free. It's also true that the idea behind creating a service was refreshing. However, the amount of fake profiles is troubling, and the age gap issue remains unsolved. After all, it's obvious that 13 and 19 are different age groups, with different goals and interests, even though they both technically qualify as 'teen.'
So, our conclusion would be to avoid the site — no matter how many interactive features and free communication means it offers. People worldwide have already branded MyLOL as a 'playground for pedophiles,' and even though we appreciate the idea of creating a social network for teens, we have to admit that social conclusion, in this particular case, is true-to-life and reasonable. It would be safer for the teens to keep hanging around on social media— while it is possible to come across fake profiles anywhere, at the very least, Facebook and Twitter are not overflowing with those.
---
More online Dating Services
---