Pros
Site Security

Special Features

There is a chatroom

There is a mobile app

Detailed profiles

All photos go through verification
Cons
Sending messages only for paying users

Expensive subscription
Verdict
SingleMuslim dating site is quite expensive, but all its features work flawlessly, so if you're looking for a Muslim soulmate, SingleMuslim is one of the best sites in this niche
---
SingleMuslim Review: All You Need to Know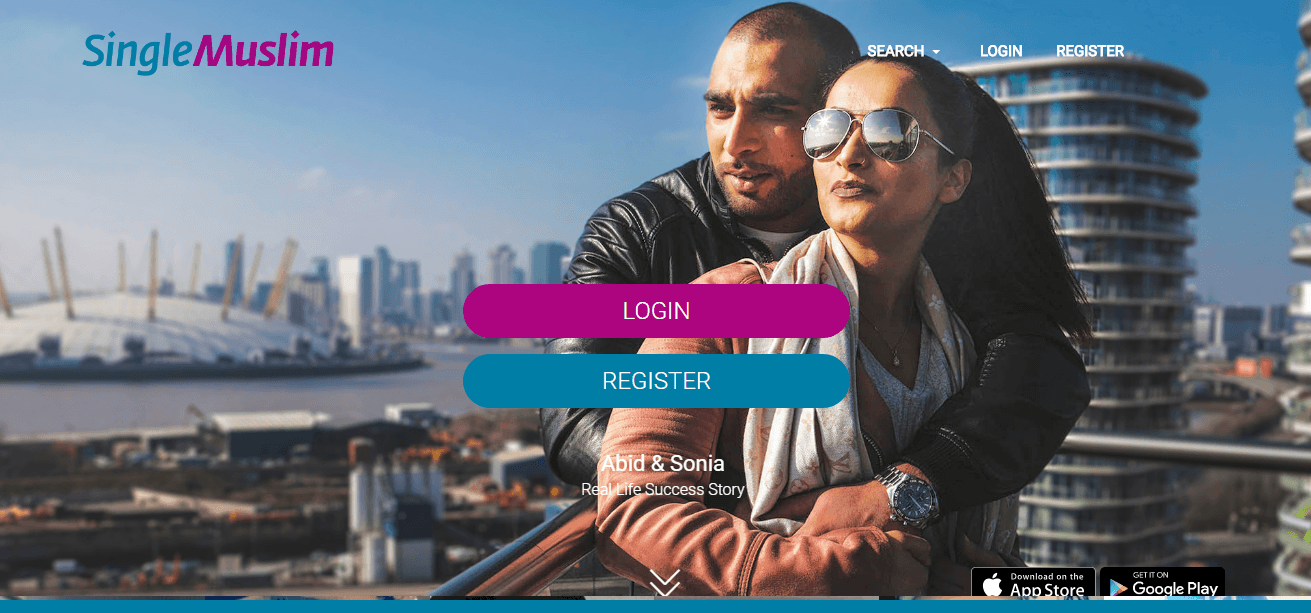 SingleMuslim is a niche dating site that caters specifically for single Muslims looking for other Muslims for dating and long-term relationships. This site is culturally sensitive towards Islam. It is well known that family members often get involved when it comes to finding love or a life partner in Muslim culture. SingleMuslim allows for friends and family to create profiles to assist in finding matches for singles that are close to them. It also claims to have brought together over 10,000 couples, culminating in marriage, to date. SingleMuslim has more than 2.5 million members across the globe and receives over 40,000 unique visitors daily.  This makes it the site of choice for single Muslims looking to find love. The site is appealing to younger users and has many options available to help you find the perfect match.
Member stats and activity on SingleMuslim 
270,500 members come from the USA alone, even though you will find users from all over the globe on SingleMuslim. Membership is free for female members, and it features most of the benefits of a premium subscription. The site is very secure and provides a safe environment for its members. This platform is owned and operated by Muslim people to cater specifically to the Muslim religion and culture.
SingleMuslim gains around 111,000 new members per month, on average. The membership is a bit heavy on the masculine side with only 35% of its users being female. Interestingly, almost all of men on SingleMuslim are looking for a young spouse, while women are looking for older husbands. Around three-quarters of men prefer their potential spouses to be within five years of their own age; 14% up to 10 years. SingleMuslim claims to average around two successful partnerships per day.
Registration and sign up
The registration process only takes around 5 to 10 minutes for the basics to be filled in. There is a personality test that is mandatory for this process.  Personal information required is quite extensive and includes religious preferences, habits and more. This also helps with the matching process. You cannot use a Facebook profile to register on this site.  
The site auto-generates a password for you.  You can change the auto-generated password (under  "Change Password" in your account settings) once your profile is active. Photos can be uploaded but will only be displayed once the site staff has reviewed them one by one. You can change your username when your profile is active by going to the settings and clicking on the "Change Username" link there. A new username would also require admin approval before becoming active. This can take up to 24 hours.
What contact options are available?
There are not a lot of means to contact people on the site with a free account, which is a little surprising for a platform with such a large membership base. As a free member, you can browse public photo galleries, like member profiles and not much else. Sending messages requires a Gold membership. You can run a search but cannot view your matches without a membership. To see who has liked you, you also need a paid subscription. If you like other free profiles, neither of you can see the likes, so it is a little pointless. 
This site does not give many options to free users. Obtaining any actual benefit from SingleMuslim requires a paid Gold membership. Membership also allows you to save settings for various searches that you do, allowing you to use the same settings in the future. You will receive email notifications when new members join that match your saved searches. You can turn this feature off under the settings tab if you're interested in this feature or simply do not want to receive too many notifications to your email.
Quality of profiles
You can create a profile for friends and family members but ensure you enter their details if you do so, for matching purposes.  Every member can upload up to a maximum of 12 pictures in their photo gallery. You can share access to your private pictures with others by swapping access or allowing them to view your private photos on request. You can also request to view other members' private pictures. Set the pictures in your Gallery to private if you want to be able to share them only with specific members on the site and not with everyone who views your profile. Requests to view private photos has to be approved by you before the person asking can see these pictures.
Profiles on SingleMuslim have a rating between 0 and 5, and it is based on how complete a particular account is. A complete profile gets a higher rating and, consequently, a boost in search and matching results. The more complete an account is, the higher the rating. Profiles and profile amendments require approval from site admins before they are available to be viewed. SingleMuslim profiles are quite detailed and can be changed and updated as necessary. Profile pictures are available for viewing to both free and paying members. Try and enter as much info as possible as 5-star rated profiles gain a lot more views and attention than lower ranked profiles. The sections that allow you to fill in information in your own words need at least 75 characters or more. 
SingleMuslim does request that members do not make any racist or culturally insensitive statements since the minority of site users come from different ethnic backgrounds and religions.
When you create a profile for someone else to help them find a spouse, you need to include their information into the profile to get matches for that person. This will also display their information to potential spouses on the site. You can upload pictures of the person, including profile and private pictures. The profile and the pictures take a few hours to be approved by the admins before they go live. While your profile is awaiting approval, you'll see a "Pending Approval" status. 
SingleMuslim has a strict screening process for the profiles that are activated on the website. Admins may remove any accounts that seem suspicious or unauthentic. If you come across a profile you think may be fake or a scammer, you can also report it to the site for further investigation.  You can also block profiles that you have communicated with if you do not wish them to contact you in the future.
SingleMuslim warns against giving random strangers money over the Internet. Report profiles that ask you to send them money, especially through sites like Moneygram which makes money untraceable. Transactions of this kind are not recommended, and SingleMuslim requests that they are informed of profiles that are making financial requests from its members.
SingleMuslim Mobile App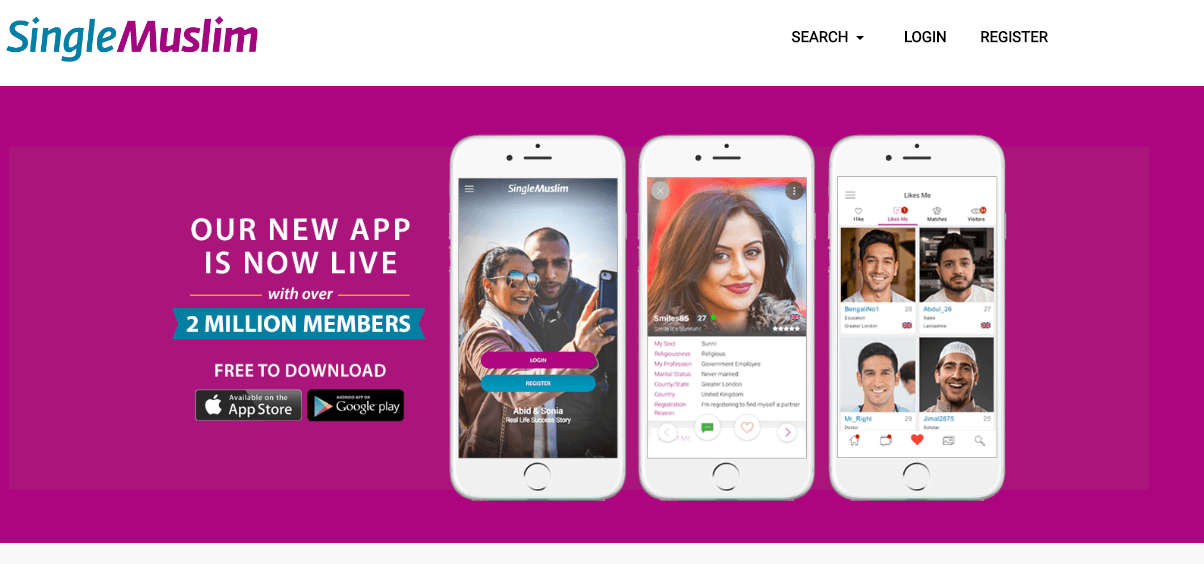 SingleMuslim mobile app helps you find your life partner whenever you have some free time during the day. The design of this app is good, it is easy to navigate and very convenient. The app works on Android and iOS and does not take up much space on your mobile device.  This works great for people that are not on PCs or laptops that often and still want to try and match up with someone on this site. SingleMuslim app allows you to do the same things that are available on its desktop version, i.e., update your profile, upload photos, check your inbox and other notifications and so on. This makes matchmaking convenient and easy to access whenever you want to.
Website design
SingleMuslim website is designed to appeal to young, creative people while still remaining tasteful and discreet. The buttons are arranged well, and the whole site is very informative and neatly organized. We would say that this platform is easy to navigate, even for users who lack computer skills. The colors are bright and vibrant and aesthetically pleasing. The brand colors are strong without being overwhelming. SingleMuslim works well in attracting their target market, that is, Muslims that fall into the category of millennials and younger.
The messaging system
While searching or browsing the website, you get notifications when you have received a new message or if you have unread messages. On the Control Panel, you will see a summary of these messages. The 'My Messages' page will give a summary of the conversations that you've already had.
Subscription and costs
SingleMuslim offers free sign up which basically allows for browsing other members' profiles on this site. You can also like other profiles, but unless the other person is a paying member, they will not see it. A paid subscription allows you to see who has viewed your profile and who has liked your profile. You can do searches and save your favorite searches. You can see members' profiles and send them messages. Gold members can receive and reply to messages from all other site users. You can also see when someone has read your message. You can receive email alerts when new members join the site.  Priority gold member support is available to you when you purchase a subscription as well. 
This is not the cheapest of subscription sites, but it does have a lot to offer and is priced moderately for a niche dating site. Payments are made via bank transfer, credit card payment, cash deposit, cheque or online bank transfer. The actual costs are shown below:
1 month: $49
3 months: $33/month, $99 total
12 months: $15/month, $180 total
Complimentary service offered to women on this site offers many of the same benefits as a premium membership except one: women cannot view matches or see who has liked their profile. To obtain access to these benefits, female members would also need to subscribe. Subscriptions are renewed automatically unless cancellation is done 28 days before the next renewal date.
Special Features
Couples that found their love match on SingleMuslim and subsequently got married are offered two free tickets to the Holy City of Mecca to do Umrah. Such a couple would be required to shoot a video interview with the marketing team. The tickets can be used at the couple's convenience.
Site Security
SingleMuslim has up-to-date technology to keep its clients' personal information confidential.  This platform spends a lot of time monitoring their user database to remove profiles that send out spam or potentially malicious links to other members. Site owners are also dedicated to developing new processes to help remove and identify malicious or fake accounts.
---
More online Dating Services
---
Brides by countries on site