Pros
Advanced compatibility algorithm

Impressive success rate

Nice mobile app

Profiles are very detailed

You have one free message to each match

Safety
Cons
Sending and reading messages only for premium users

Contacting only through matches

You can't see other profiles' pictures being a non-paying member

Be2 is not a cheap dating service
Verdict
It is indeed one of the few dating sites where people find a great match in less than three months
---
Be2 Review: matches based on psychological tests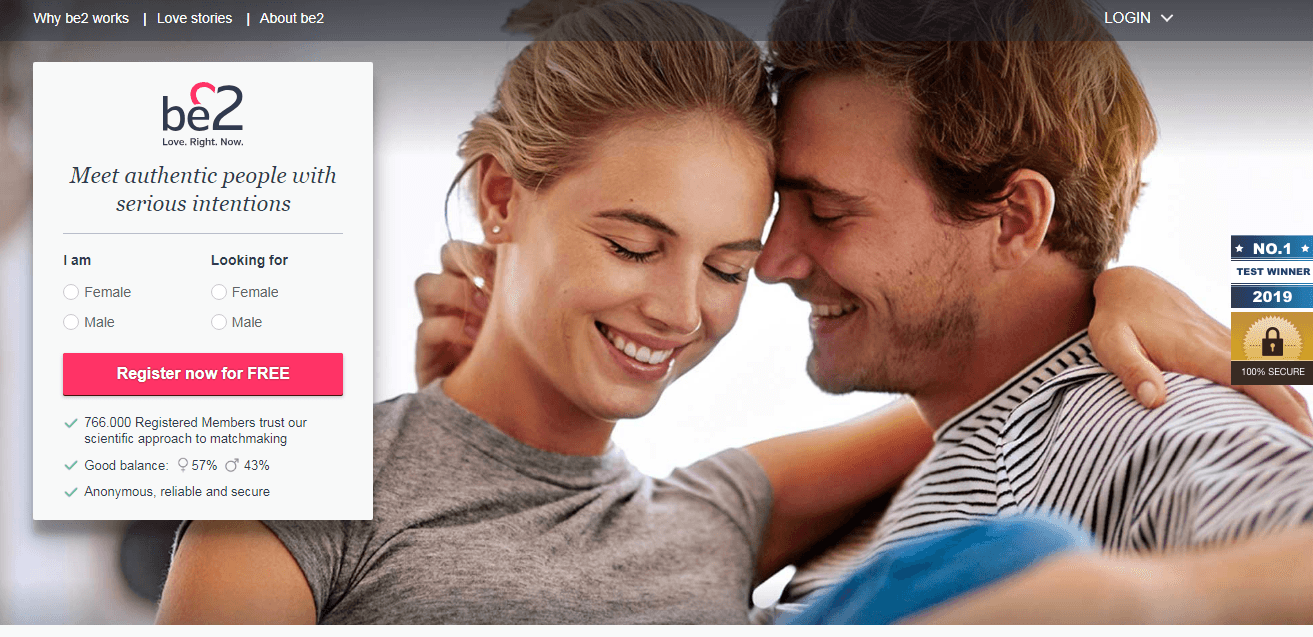 Be2 is one of the few dating sites that take a scientific approach towards matters of the heart. The service is based on a psychological evaluation of your personality and, consequently, your compatibility with other site users. Be2 match-making algorithm is based not only on psychological testing but also on sociological and anthropological criteria, which is supposed to ensure the best matches for anyone who's serious enough to use the service. 
Be2 was launched in 2008 and is currently available in 39 countries around the globe.  Upon registering, users fill out a questionnaire and are provided with their own psychological description, as well as the description of their potential match. But what does it have to offer aside from that? Let's discuss all the essential features, as well as the match-making algorithm, below. 
Member structure & activity 
Be2 attracts almost 150 thousand new users every month; however, most of them do not stay long with the service — this platform is one of the few dating services that boasts an impressive 40% success rate; meaning that 40% of its new users cancel their subscriptions in the first three months of using the service because they find a great match. 
Be2 has a slightly skewed male/female ratio, with 57% of men and 43% of women using this platform. The site has around 200 thousand new logins every day, and almost 800 thousand of its users come from the US. As for the age, the platform welcomes any demographics; however, the majority of active users tend to be between 18 and 45 years old. 
Next, after completing a personality test, Be2 will provide you a list of matches. The latter ones are refreshed quite often; the downside is that many of these matched profiles are either incomplete or inactive. The upside, though, is that most active members do not think long to drop their potential match a line, so new users will have no problem starting a conversation with a potential partner. 
Creating a profile 
Since you will have to fill in a personality test, the registration takes longer than usual. At the same time, test questions are thoroughly analyzed, so the answers will not take that long — you should be able to do away with the registration phase in approximately five minutes. Once you finish the test, you will already see some potential matches for you — even before filling in your profile. Note, however, that you cannot retake this test later, so make sure to get your answers straight for the first time. 
Men are also advised to upload a picture right away because only 3% of Be2 female users react to profiles without pictures. Photos will have to be verified by Be2 admins, but this does not take long as a rule. 
Finally, users are asked the same questions as on most other dating apps: lifestyle, habits, goals, interests, etc. 
Contacting other site users
Reaching out to other Be2 members requires a paid membership, as only paying members can send and read messages from other users. Besides, you are only shown matches based on the result of your compatibility test — there is no other way to look for Be2 users. You can, of course, make use of the search algorithms and apply filters of your choosing, but still — the system will only show you accounts compatible with the results of your psychological test. On the one hand, such a system does have an upside — you are only interacting with people who match you. On the other one, it all depends on how much trust you put in Math and Be2 psychological insight. 
Each matched profile you'll see will have a number below a profile pic. This number is, essentially, your compatibility score — the higher it is, the higher the chances of a great match are. If you click on the compatibility number, you'll be redirected to the user profile where you can see more details about this person. 
Even though limitless communication is reserved for premium members, it is still possible to make use of one free message per match. It may come in handy to see if the person you are being matched with reciprocates, but to get the conversation going, you two will need to have a premium membership nevertheless. 
Your list of potential matches is updated every day, but the actual number of new profiles on this list will depend not only on your compatibility score but also on how many suitable matches register anew. So, you'll only see a couple of new matches a day. 
How good are profiles on Be2?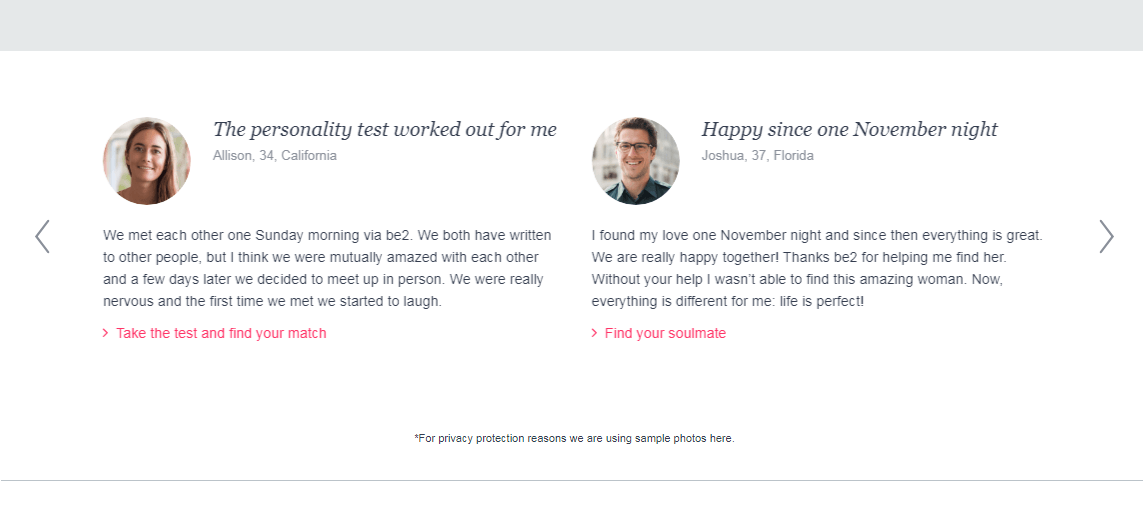 Given that all users have to complete a test to get matching results, we must say that most profiles are pretty detailed — all users can see their own in-depth evaluation as well as the compatibility analysis with their potential matches. Besides, users can add other information about themselves — interests, hobbies, etc. However, plenty of Be2 members tend to skip this part, even though filling in their profiles completely results in better matches. 
Also, while people are strongly encouraged to upload photos, not all of the Be2 users follow this advice. In this case, you will only see a generic pic from the Internet. Also, note that you will not be able to browse through users' photo galleries without a paying membership. 
Website and app design 
Be2 website is not only sleek and professional looking but also has minimal distractions. Unlike most flashy dating sites that seem to draw more attention to the graphics, Be2 is clean and neat, which allows users to focus on other people's profiles, not on finding their way around the website's rich functional. It is true that Be2 website is simple to use — mostly because it does not have any unnecessary features. So, using the website will most likely be an enjoyable experience, even though some younger users will probably find it unusually 'empty.' But once again, the focus is on finding a match, not on the website's interactivity.
As for the app version of Be2, it is available both on Google Play and iTunes and currently has almost half a million downloads. Downloading the app is free of charge, but to communicate with the other site members, one will still need to get a premium subscription. Otherwise, you will not be able to enjoy limitless communication or even view other people's profiles. 
How much does it cost to the service?
Be2 is not a cheap dating service — the site management claims to have invested a lot of money into their sophisticated psychological tests and match-making algorithms. Plus, as we already mentioned, it boasts an impressive success rate — 40% of users find their perfect match in less than three months, so  in comparison to most other dating apps, where people tend to spend way more time (and, consequently, more money on subscription costs), we should admit that Be2's pricing policy is upper-moderate. 
Here are the actual subscription costs:
3 months: $43.33/month, $129.99/total
6 months: $30/month, $179.99/total
12 months: $25/month, $299.99/total
As you can see, Be2 also does not offer a monthly subscription — the minimum payment period is three months of using the service. While it's true that almost half of the newly joined users manage to find a great match during this time, it is also quite unusual that the company would not offer its clients a bit more flexibility when it comes to choosing a subscription span; especially, given that you cannot do much a with a free account and Be2 does not offer any trial period. 
To recap, here's what a new member can do for free:
Create a profile 
Upload a photo 
Take a personality test 
See one's test result and the description of one's perfect partner 
Get matches from Be2
Send one free message per match 
Receive one free message per match 
Paying users can do the following:
View other people's profiles, photos included
Send and receive unlimited messages from other users
See who views their profiles 
See photos shared exclusively with them 
Create a favorites list 
As for the available payment options, clients can make a transfer through their credit or debits cards; or simply pay with their PayPal accounts. Note, however, that all subscriptions renew automatically, and if you want to cancel the next payment, make sure to terminate your subscription 24 hours before the current plan expires. But, there is a catch: if you've been matched with someone already, the cancellation period is two weeks instead of one day. On the bright side, if you've been provided with ten matches and failed to establish a connection with at least one of these people, Be2 will extend your subscription for free. 
Special features from Be2
As you probably noticed already, Be2 is not too big on interactive features most other dating apps are so proud of. The major focus of this service is on compatibility criteria and few distractions when it comes to communicating with your potential matches. However, this service still offers a couple of extra perks, designed to make your dating experience more rewarding. 
Just Ask 
This feature is a great ice-breaker for people who feel awkward when starting a new conversation, as well as for people who are still unsure whether they should start a conversation at all. Just Ask allows users to choose from a list of pre-texted questions and relax, waiting for a reply. The number of questions you can ask an ice-breaker is unlimited, so ask as many as you like to get the conversation going. 
Be2 Index
This one is essentially your matching index with other users — the most significant perk Be2 can boast. The analysis is based not only on your psychological test but also on any additional information you choose to include in your profile, as well as on your account activity. The algorithm analyses your personality based on such criteria as rationality vs. emotionality, observation vs. feeling, distance vs. attachment, and tradition vs. innovation. 
Based on the result, Be2 analyses your compatibility with other site users, offering both of you a compatibility score. This is how all of your matches are catered for. You can also read a more detailed overview of the results under "More details about matching" tab. 
Takeaway on Be2
Be2 is not the only dating platform that curates matches based on the results of a compatibility test. However, it is indeed one of the few dating sites where people find a great match in less than three months. So, Be2's above average subscription costs become perfectly justified if you think of the success rate this site features. If you are seriously committed to finding a life partner, this platform is definitely worth checking out. Even if you are unsure whether you should settle down any time soon, we still suggest you register and take Be2 personality test to find out more about your perfect partner — the latter is free of charge, and insight like this will always come in handy.
---
More online Dating Services
---
Brides by countries on site