Pros
Free&Easy registration

Free browse through profiles

3 Month Free Trial

Simple to use

There is a mobile app

Live and video chat
Cons
The database is small

Messaging is only for paying users
Verdict
This is not a bad local platform; however, in comparison to international dating sites (including niche websites owned by Cupid), this platform does not have too much to offer, but it gives a free 3-month trial, so it definitely deserves a shot
---
IranianSinglesConnection Review: Breaking Barriers for the Locals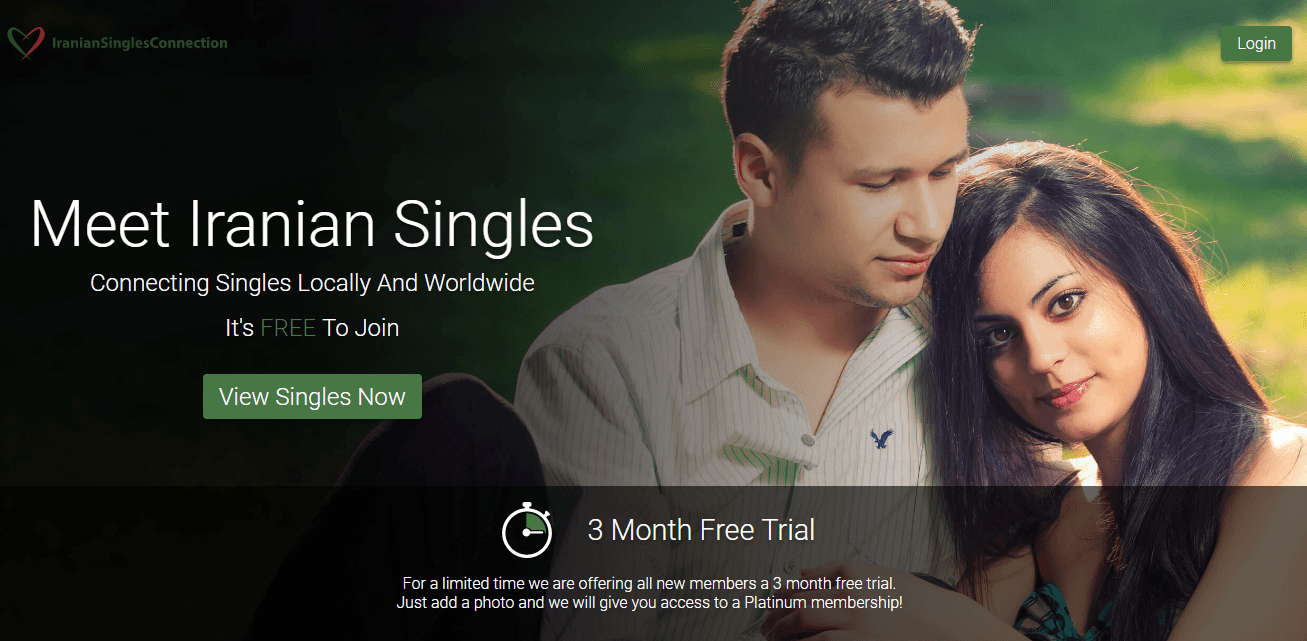 IranianSinglesConnection is one of the niche dating websites owned by Cupid Media Network. As the name suggests, this particular product caters to the Iranian singles' romantic needs, and similar to most other niche websites owned by this premier dating network, it provides an excellently designed product, acting both as a dating platform and a community site. 
However, there is a 'but.' Despite many of the other Cupid's sites, IranianSinglesConnection somewhat lacks in numbers and popularity. One of the possible reasons for this is that the Muslim community still frowns upon on the idea of online dating — or, finding a partner from a different culture, in general. And, even though the site enjoys certain popularity in Iran and does attract a fair share of gentlemen from the West, it would be hard to call IranianSinglesConnections an international dating platform. 
It can, however, be a great fit for Iranian singles (as the name kindly suggests) or people planning a trip to Iran. If any of these is your case, read on — we'll tell you exactly what features IranianSinglesConnection offers, how much does it cost to use the service, and what can you expect in the long run. 
Website users: cultural insight and activity stats
The first thing you need to understand as a foreigner planning a trip to Iran and willing to make at least some kind of connection to locals is that IranianSinglesConnections is a totally legal platform. It does not break any legal barriers, and when it comes to cultural ones — this is exactly what the site is here for. It offers Iranian singles a chance to connect, regardless of the social, family, and gender restrictions of the country. Essentially, this is a safe haven for everyone who wants to meet new people and make new friends outside of one's immediate environment. 
Next, IranianSinglesConnections favors local users or at least people who plan a trip to the country. Unlike most international dating sites, IranianSinglesConnections does not have a huge user database — as of today, the platform has around five thousand active profiles. So, chatting for the sake of chatting is not the case of IranianSinglesConnections — here, young people get together online to actually meet onsite. 
Finally, IranianSinglesConnections is more favorable for women, as men significantly outnumber the ladies here. Once again, this can be explained by the Iranian cultural norms, where women still enjoy a lesser degree of social liberty than men. At the same time, gentlemen are encouraged to take this skewed gender ratio as a challenge and compete for the ladies' attention — if you are up for the game, of course. 
Registering with IranianSinglesConnections
As usual with Cupid  Network's dating sites, the sign-up process with IranianSinglesConnections is 100% free and does not take long. The first option, which is also the quickest, is to simply login with your Facebook account. This saves you a couple of minutes, as you will not have to fill in your age, gender, or upload any photos — all of those will be automatically pulled from Facebook. 
If however, you choose a manual registration option, it still will not take long. You are required to provide your email (activation link will be sent in seconds), give your first name, tick your gender, choose your age from a drop-down list and think of a secure password for your future IranianSinglesConnections account. Once you verify your account via an activation link, you can upload pictures and include additional information about yourself. 
Search and match-making algorithms
IranianSinglesConnections is true to Cupid Network's tradition of providing extensive search algorithms. Most of the search and match-making suggestions are free of charge; however, some of the advanced search filters are reserved for paying accounts. 
Standard search filters include age, location, relationship preferences, gender and if the user has any photos. Extended search algorithms presuppose more specific parameters, from appearance (including eye and hair color, complexion, weight, etc.) to annual income and hobbies. With advanced search algorithms, you can also specify if the person has/wants kids, is willing to relocate, etc. Nationality, religious beliefs, occupation, and hobbies are also a part of the advanced search filters. 
In addition to standard and advanced search filters, there are Cupid Tags — special labels people place on their profiles. Those act like keywords and rank in search results as well. So, if you can think of a few keywords that describe you best — highlight them in your profile and other members will be able to find you by these tags. 
Profile Quality on IranianSinglesConnections

IranianSinglesConnections profiles vary a lot — some of them are very detailed, while others have only a few lines about the user. We've also noticed a couple of blank profiles without pictures, as well as accounts that seem obviously generated. Yet, judging by the numbers only, we would assume that this platform does not have a lot of spam accounts; user database on IranianSinglesConnections is not that vast, which does not leave scammers a lot of room for imagination. Still, as with any other online dating platform, we suggest you keep a clear head and report any suspicious activity to site admins. In addition, there is an option of blocking a user.
One thing that makes IranianSinglesConnections special are video profiles. Anyone can upload a brief video description (maximum size 100MB), which will boost one's profile in search results and get it more views and visits. On the downside, not too many members bother to make video recordings. 
Contact options on IranianSinglesConnections
Once again, the platform remains true to Cupid Network's terms and policies when it comes to contacting other users. Messaging remains a paying feature, so if you're really keen on communicating with Iranian singles, you'll need to get one of the IranianSinglesConnections' paying subscriptions (two options, Gold and Platinum, are available — we'll discuss them in more detail below). 
All a free user can do is send winks to other members and hope they reciprocate. A premium member will be able to reply to your wink with an instant message; however, if you hit a free account, another wink is all you get in return. Reading a message from a premium member also requires a paid membership. You will get a notification that someone has contacted you, but to see what it's really about, you'll have to go premium yourself. 
Apart from an instant messenger, IranianSinglesConnections users can make use of live and video chats that support web calls. Obviously, if they get that paying membership. 
IranianSinglesConnections design and functionality 
IranianSinglesConnections website is incredibly simple to use. As you've probably already noticed, the platform does not offer too much in terms of interactivity. On the one hand, such an approach may seem boring for younger demographics. On the other one, though, it makes site navigation simple and intuitive — even for users who are not exactly tech-savvy. All tabs with essential profile info are thoroughly organized and are easy to find. Contact and notification buttons are also in place. 
Green shades dominate on IranianSinglesConnections, which appeals to its main Muslim demographics, creating a sense of comfort and belonging. Contrasted with black and white colors, IranianSinglesConnections theme is perfectly balanced and does not cause any distractions. 
The only minus so far is that IranianSinglesConnections does not have a mobile app. On the other hand, if you think that the platform does not have too many users in the first place, developing a separate app would lead to more expenses, which would, in turn, make site subscriptions more expensive (and we must say that IranianSinglesConnections is one of the most affordable Cupid products so far). 
So, the absence of an app becomes justified if you think of it — especially since the website is optimized for the mobile and does not compromise on any of the essential functions. Only some pages seem to load a little longer — otherwise, a mobile browser version is perfectly usable. 
Membership types and costs 
As we've already covered, free users can create a profile and make use of standard search filters to look around and see if someone catches their eye. They can also express interest in another user by sending a wink, but that's as long as it goes. To actually communicate with other site members, one is expected to get one of the IranianSinglesConnections' premium subscriptions — Gold or Platinum. 
Gold membership allows users to upload up to 5 photos, add a personality description, and — most importantly — contact other members, both free or paid. Gold membership plan presupposes including your contact info in instant messages and emails, which gives other users a chance to reach out to you. In addition, Gold accounts rank higher in search results. So, as you can see, this is a basic account plan that allows some liberty of communication but, still, does not give access to all of the site's features and functionality.
Platinum membership, on the other hand, does allow to access all perks IranianSinglesConnections can offer. Platinum members can do way more than text — they are entitled to use chat rooms, make live calls (with or without video), read and receive all messages from other users, record their own video descriptions and feature those on their profiles, double their profile space to include even more personal information, and so on. 
In addition, platinum accounts can make use of translation services to reach out to users who may live across the seas. Available translation options include Arabic, Italian, German, French, and Dutch. And, of course, platinum profiles are shown even higher than Gold and Standard members in search and matching results. 
Subscriptions vary in length — one can choose either one-month, three-month, six-month, or an annual membership plan. As it is always the case, the longer you subscribe for, the less you pay on a monthly basis.
Gold membership costs
1 month: $24.98
3 months:  $16.66/month, $49.99/total
6 months:  $12.50/month, $74.98/total
12 months:  $8.33/month, $99.98/total
Platinum membership costs 
1 month: $29.98
3 months:  $20.00/month, $59.99/total
6 months:  $16.66/month, $99.98/total
12 months:  $10.00/month, $119.98/total
One can pay with all major credit and debit cards. In addition, IranianSinglesConnections regally introduces special offers and discounts. At the time of writing (March 2019) the admins offered a 100% free three-month trial. So, make sure you double check for any special offers should you choose to join IranianSinglesConnections community. 
Takeaway on IranianSinglesConnections
Now, the question remains: should you choose to join IranianSinglesConnections community? All in all, we must admit that this is not a bad local platform; however, in comparison to international dating sites (including niche websites owned by Cupid), this platform does not have too much to offer. Numbers alone make IranianSinglesConnections a more or less OK shot for local dating and meet-ups; however, the database is too small for a truly international audience. Unless you are planning a trip to Iran in the nearest future, you will unlikely make too much of your dating experience with IranianSinglesConnections.
---
More online Dating Services
---