Pros
Quick&easy registration

Easy to use

Free browse through profiles

Free reply on messages and free flirts

Great support service
Cons
No mobile app

Messages are available only for paying members
Verdict
It is one of the most popular interracial dating websites in the United States with real success stories. So if you are interested in this interracial theme - you should definitely try it.
---
Why should people choose AfroRomance.com?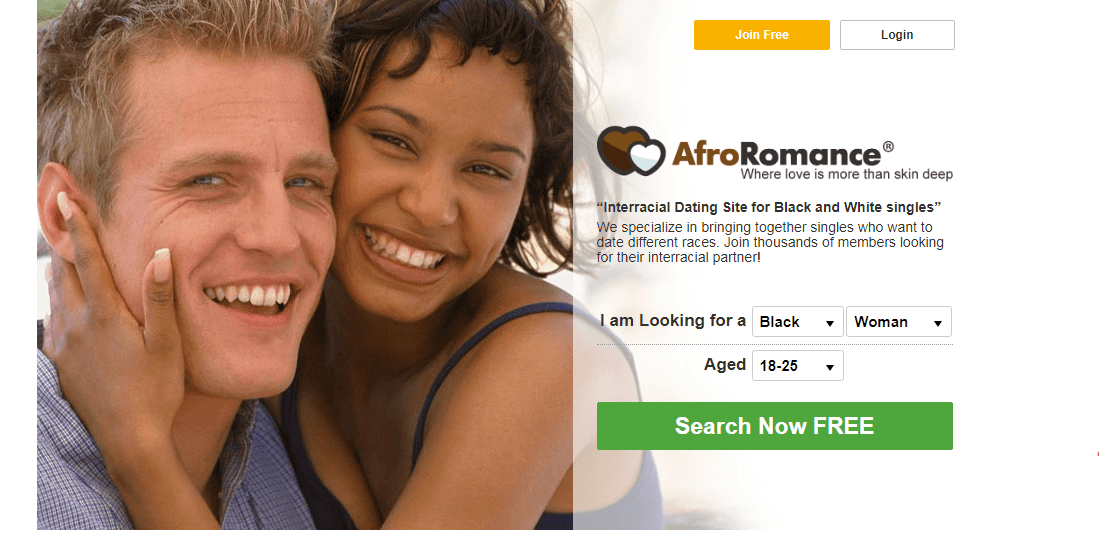 With the development of technology and the internet culture, it has become increasingly more comfortable for singles to meet their true mates. AfroRomance.com is an online dating website that caters to African Americans living in the United States and black-white pairings. African Americans can create profiles and meet with other black or potentially white singles located in their area or anywhere in the United States. The idea behind this website is to promote cultural diversity and give those seeking alternative partners a chance to mingle and meet. In a world where social, cultural, and ethnic differences are slowly disappearing, and people are becoming more understanding and more supportive, it is of vital importance to have a place where single black and white people can connect.
The opening page of the website summarizes the company's thought on racial diversity: 'Race doesn't matter when looking for love.' It is a beautiful sentiment that has driven a lot of attention towards the online dating platform. AfroRomance.com has over forty thousand concurring members with the mean average being 10-12 thousand per week. Interracial dating has always been a complicated matter, not just in the United States but all over the world. Afroromance.com makes a genuine effort to circumvent these issues and emphasize the value of understanding and connecting people from different places, cultures, and backgrounds. The goal is to see beyond racial stereotypes and understand the genuine beauty of the person behind the profile. 
AfroRomance.com is not the only interracial dating option for people looking to meet and talk with white or black users. Regular websites such as OkCupid, Tinder, and Match.com include users from different ethnicities and backgrounds. However, AfroRomance.com focuses mainly on the black and white relationship. The emphasis is clear that the website's goal is to build a safe platform for black and white relationships to blossom. The racial dynamic of dating can make some people anxious or unlikely to seek out a romantic relationship with a man or a woman of a different color. Users on AfroRomance.com know precisely what brings them here, so the tension is loosened to a large extent. Users who chat on AfroRomance.com know why they are there and what kind of people they might encounter, so the potential awkwardness and misunderstanding is pretty much absent. 
Membership and Subscription plans and costs
Similar to other dating platforms, AfroRomance.com has a free basic account and a choice of pay-per-month subscription plans. The free basic account comes along with all features needed for users to create an account, search for users in their area, and send messages. Basic users are limited to a handful of messages per day that get refreshed every 24 hours. Also, free basic members cannot see when another user super likes or sends them a poke/flirt. While the free membership plan is enough for users to meet and chat with others, it is a bit limited in all that it can do. 
Paid memberships are available in three sections; per month, per 3 months, and per 6 months. Depending on the subscription plan that users opt for they may receive discounts, promotional codes, and additional features. The per month option costs $19.95 and upgrades an already registered basic profile. 
The membership is set to auto-renew every month on the date that it was purchased, so users might want to check in their setting and make sure they are willing to be billed every month. The 3-month membership is an upfront fee that upgrades a basic profile to premium for three months. Users will need to pay $39.50 upfront. The subscription is set to auto-renew every three months on the date that it was purchased. This type of subscription is a bit cheaper than the per month alternative as it comes with either a 5% or a 10% discount, depending on the user. 
The last option users have to upgrade is the 6-month subscription plan. It costs $69.95 and will upgrade a basic profile to premium for six months. The subscription is also set to auto-renew in another six months from the date that it was purchased. This alternative might seem pricy, but if you plan on sticking around on the website, it makes perfect sense to benefit from the 10% discount for bulk ordering.
By upgrading to a premium account, users can take advantage of additional features and tools that were locked in their free membership profiles. Some of these features include: unlimited messaging, unlimited profile browsing, being able to see visitors and people who send you pokes/flirts, and being able to boost your profile and reach additional users. It is most definitely worth checking out.
Members and what to expect from the user base
Unlike other websites that feature an extensive profile creation process that includes tests, questionnaires, and exams, Afroromance.com has a relatively simple process. The default profile emphasizes the member's identity by including their profile picture with a small excerpt of about 20-30 words in the search engine. Users are prompted to be original and fun and write something that shows off their identity. This system gives a better sense of which people might be genuinely interesting and which are just there for sport.
User profiles consist of photos, self-description section, what the user is looking for, what their hobbies and profession are, and a few other general questions. Users can choose to set it all up upon account creation or come back at a later date to fill it out. When browsing AfroRomance.com, you'll notice a lot of different profiles. Some people opt for full descriptions that mention their likes and dislikes and serves as more of an autobiography than a dating profile. Others choose to be more sparing with details and only include the most important things such as favorite food, favorite movies, and so on. Depending on the profile you choose you might see a different and unique thing, so exploration is advised. 
AfroRomance.com encourages users to connect with their Facebook or Instagram accounts to import available pictures from their profiles. This is a remarkably handy feature that saves time on taking new photos and potentially choosing a not-so-pretty photo of you as representation. When users first log into their profile, they receive a tip that photos are an essential part of dating profiles. AfroRomance.com tries to emphasize the importance of a personal touch – never use fake photos or try to misrepresent yourself. 
Special features and promotions

As with many online dating services, the site offers an extensive toolkit of features and tools that can enhance a user profile and help them navigate the website. Users don't need to have to advantage of these tools, but it is recommended that they make themselves familiar with what they can do and how to use them. Some of these features include:
Free members can send up to 10-15 messages per day. Once users exhaust their quota, they will not be able to send any more messages. Users will also not be able to respond to messages sent from other users. The unlimited messages feature is unlocked once a user upgrades their account. It doesn't matter which upgrade the user chooses (1-, 2, or 3 months), every subscription option will unlock unlimited messaging. While it might seem weird for a dating service to limit the number of messages their users can send, it is considered a standard practice that is employed universally among dating apps and websites. This is a way to stimulate users to upgrade to membership plans and support the company.
Free members can use search options with limited filters. Free users can only see a limited number of available matches in their vicinity. When users upgrade to one of the three premium options, no matter which one, they will have that feature unlocked. Unlimited user browsing lets premium users see all available matches in a given location as well as those located in other towns or states in the United States.
Free members cannot send flirts or pokes. They can still receive them, but they will not be able to see the profile from which they were sent. To unlock that feature users need to upgrade to one of the paid memberships. Flirts/pokes are an excellent way of attracting someone's attention without sending a message. It is the perfect tool for some users who are a bit more shy than others. Statically speaking, users who send both pokes/flirts and messages are 30% more likely to receive a response. 
Similar to other apps such as OkCupid, and Tinder, users can 'ghost' other users. This lets you check a potential match's profile without alerting them of your presence. Think of it as walking on a beach without leaving footprints. Browsing invisible lets you scope out the terrain and make an educated guess whether that user matches your criteria. This feature is only available to those members who upgrade to one of the paid memberships, no matter which one. 
Profile boosting is another handy tool that increases the number of matches that a user receives per day. By boosting your profile, you make sure that it appears in the top 5% of all search results. This way you can seriously increase the amount of traffic you receive in a given day and thus increase the chances of meeting your prince(ss) charming. Users receive a free boost for upgrading their profile to a 1-month subscription plan. They also receive two free boosts as a gift for upgrading their profile to a 2-month subscription. Similarly, users receive three boosts for upgrading their account to a 3-month subscription 
Security and Staying safe online
As with any online platform, it is important to exercise common sense when interacting with people. Never share personal details such as phone numbers, credit card information, passwords, or other sensitive information. Sharing such details can put your life, your financial state, and your family at risk. Due to the anonymity of the internet, one never knows who is sitting on the other side of the virtual screen. Be safe and be smart.
---
More online Dating Services
---
Brides by countries on site