Pros
100% free

Registration takes only 2 mins

Many interesting and unique features

There is a mobile app

There is a chat room
Cons
It's easy to create fake profiles on Oasis Active, so there're many fake profiles
Verdict
The absence of membership fees sometimes attracts ill-intended people, as well as people who are bored and are looking for chat partners instead of relationships. So, finding a really good match on Oasis Active may take a bit longer than on a fee-based dating service. On the upside, you're not spending a single cent, so you may give it a try and see how it goes.
---
Oasis Active Review: What's in the Platform?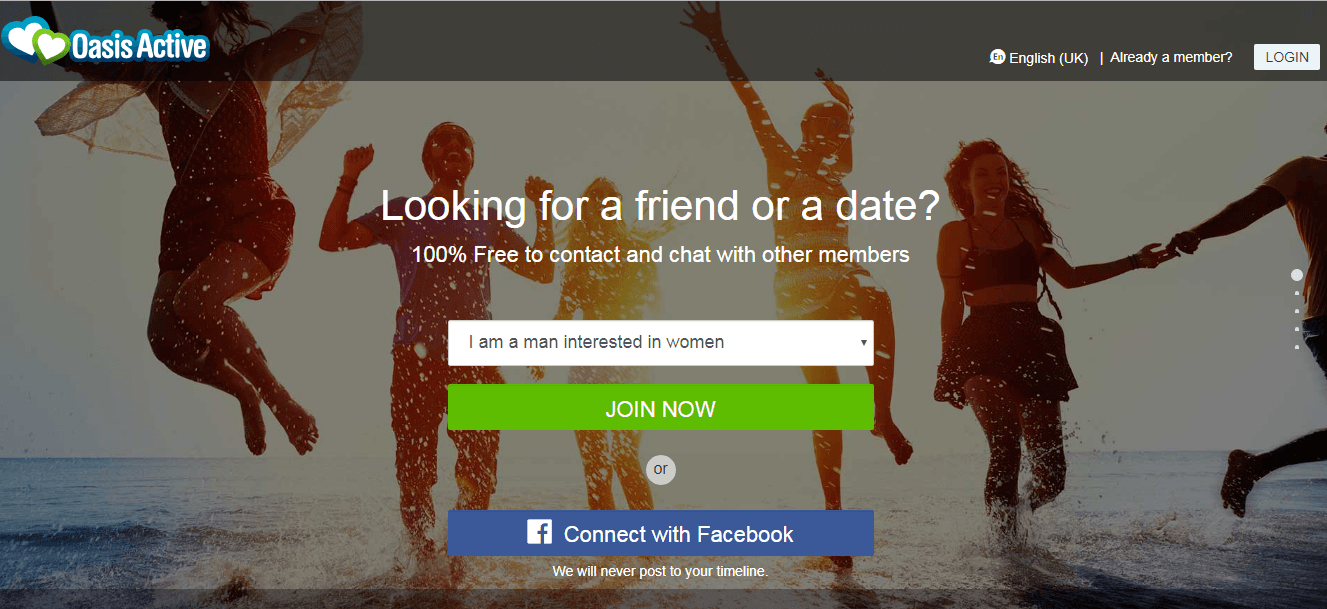 Oasis Active is one of the few dating sites that provide totally free communication and match-making experience. This Australian platform is based in Sydney, even though anyone around the globe is welcome to join. Currently, the site enjoys quite a few active users from Australia and the United States. The platform is owned by 3H Group Pty Ltd. and caters to younger demographics, looking for relationships, casual communication, and friendship.
Oasis Active Members
Like most other dating sites, Oasis Active cannot boost a 50/50 male-female ratio. Here, however, the disproportion inclines towards men — with 65% of male users opposed to just 35% of female members — which is quite unusual for an average dating platform, where women always seem to have the bigger numbers. Still, apart from this gender disproportion, Oasis Active remains a mainstream, one may even say — predictable, dating site. 
The platform attracts young adults, with 75% of its users being between 18 and 35 years old. Only 30% of the site users are over 35 years old, and when it comes to 45+ demographics, it becomes pretty challenging for them to find a suitable match on this particular platform. 
Even though the site started as a dating platform, it is now possible to find practically anyone on this service — from romantic dates to penpals from across the seas. Once again, the fact that communication on Oasis Active is 100% free, makes it possible for the site users to take the matter in their own hands and look for whatever communication they are hoping to find here — this explains a slight shift from a dating app to a friendly networking service. 
Even though the platform is Australia-based, almost half a million users come from the US. Oasis Active estimates its US visits at 6,000 per month. As for the daily logins, it currently has around 200 users signing in every other day. On the whole, many other sites can boast higher numbers, but it is still easy to find someone to chat with on Oasis Active and, maybe even, find a good romantic match.
How to sign up Oasis Active
On average, the registration at Oasis Active takes about two minutes. The sign-up page has a very simple form that requires very basic info about new users: gender, romantic preference, date of birth, and location. And, of course, one will have to think of preferred username and password — but that's all it takes to start using Oasis Active.
As for the profile pic upload, you can import photos from your computer or use your Facebook page — anything goes. All in all, site management makes sure anyone can join quickly and without too much hassle. 
Contacting other Oasis Active users
As already mentioned, communication on Oasis Active is 100% free, which is a huge relief in comparison to most dating platforms that charge users for every message or line of chat. Speaking of chats, Oasis Active does have a chat room and an option of sending text messages to other users. Obviously, reading messages from other users is also free of charge. 
Looking for your potential match is, once again, free; however, we must admit that search filters on this platform are pretty basic. You can set the same search criteria as you mentioned during the registration — age, location, gender, romantic preferences. Besides, you get site-generated matches from Oasis Active, but frankly speaking, the results seem pretty random. 
If you are getting a bit too many messages and it seems that these people do not match your romantic criteria, there are two ways to go about it. The first and the most obvious one would be to actually update your search settings and make your preferences clear in your profile. You can do it in the "My Seeking Criteria" tab in your account. The second one would be to restrict people who do not match your seeking criteria from contacting you. This seems more effective, but in practice, you risk missing a good match (unless you are very careful and detailed with the seeking criteria you specify). 
If you cannot contact someone, it probably means you do not meet this person's matching preferences. If you cannot like someone's else profile, it usually means that this person has already seen yours and disliked it. Apart from these, there are no restrictions on communicating with other Oasis Active users. There is also an option of reporting offensive users and the site management will take a better look at this issue. 
How good are user profiles at Oasis Active?
Oasis Active offers a lot of fields for its users to fill in. However, all the fields are optional, so plenty of user profiles remain incomplete. Those that are filled out properly, however, are very detailed. Members can browse all the Oasis Active user database, read through other people's profiles and view their photos. The latter ones are in open access unless the user chooses to make a particular picture(s) private. 
As for profile authenticity, it's easy to create fake profiles on Oasis Active, but it's not that easy to estimate how many fake profiles the site has. One does not need to verify user identity on Oasis Active, which leaves some room for the potential fraud. On the other hand, so does Facebook and plenty of other social media and networking sites. 
Plus, given that using the Oasis Active is 100% free and considering its young demographics, it's very unlikely that Internet scammers have too much room for imagination here. However, users are still encouraged to keep a clear head and keep their personal and financial data to themselves — just like on any other online platform. 
Absolutely all profile fields can be filled in and modified at any point of using Oasis Active, so should you want to add more info about yourself or update some of your personal details, it will not be a problem on this site. 
Website and app design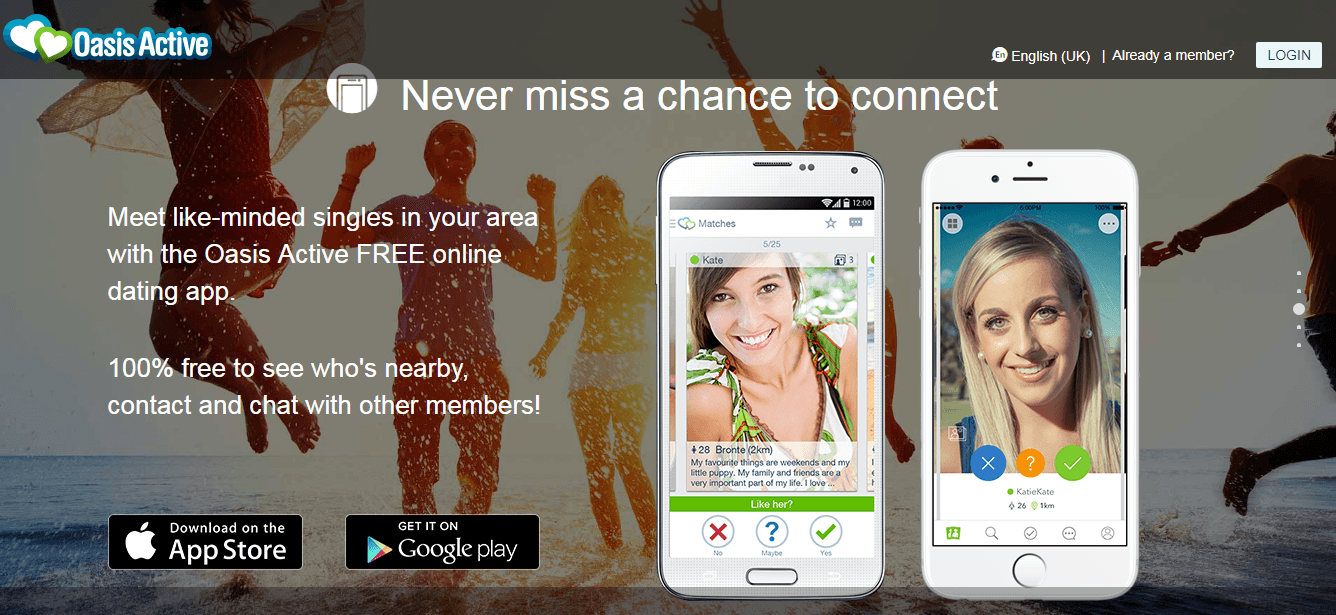 Oasis Active does not feature a colorful design, which sometimes may seem off-putting for a younger audience. On the upside, all of the essential features are in place and are totally accessible through a drop-down menu. So, what this service may lack in colors, it does make up for in functionality of ease of navigation. The pages are carefully organized and load quickly, so none of the Oasis Active members should have any problem with using this service. 
As for the app version, it features the same simplistic design and functionality and does not bring anything new to the desktop version. However, it does not compromise on any of the desktop functions either, which is already a win. The app is available for free — just like the rest of Oasis Active services. 
Special Perks from Oasis Active 
While the communication on Oasis Active is free and it is totally possible to use the platform without paying a single cent, it does offer a couple of off-the-menu perks that make site experience more rewarding. 
My Maybes
Most dating sites have adopted an approach introduced by Tinder — you either swipe left or right, thus liking or disliking someone else's profile. This, in turn, means that you should come to a decision about someone else's account straight away, and if you dislike a person too rashly, you will not be matched again. Oasis Active takes a slower and a bit safer approach to this: instead of just liking or disliking an account, you can also put it in your Maybes list. So, if you cannot decide right now, you can come back to this person later. 
Who likes me?
Aren't you curious to know who's already liked your profile? Oasis Active can satisfy your curiosity with a full list of accounts who viewed your profile and showed interest in meeting you in person. So, if you want to interact only with users who are already interested in you, thus saving both time and effort, you can always check out this list and see if you like anyone. 
Shoutouts
This feature allows you to cast a wide net while looking for potential matches. It allows you to choose from several pre-generated messages, customize one and send it out to 1000 site users who match your romantic criteria. On the whole, this sounds a bit spammy but does seem to bring results — for some extra cash. 
Free Vs. Paid Membership on Oasis Active
As we've already mentioned more than once, it is possible to use Oasis Active and enjoy limitless communication with other site users for free. Free members can create and edit their accounts, upload photos, search for matches, initiate chats and send text messages to any users they like. They can even choose profile themes and create private photo galleries, so Oasis Active is one of those few dating apps that are 100% useable without a premium membership.
However, paying an additional fee for using the platform results in receiving additional perks. Those, first of all, include Shoutouts — generated messages that are sent out to a thousand of your potential matches. Also, a premium version comes without ads. 
We must say, however, that ads on Oasis Active aren't too annoying — most of the time they remain unobtrusive and do not interfere with one's user experience. So, paying money for blocking all ads only becomes justified if you are a determined ad-hater. Or, maybe if you want to reward Oasis Active owners for a great job on their product. Otherwise, you can suffice with a free version.
Should you choose to pay, you'll have a chance to do so via a credit/debit card or a PayPal account. Currently, the platform does not offer any other payment options. 
User feedback and reception 
Most Oasis Active users give the platform 4 out of 5 stars, which is quite high if you think of it. Plus, many people share success stories and say that they have found serious, long-term relation on this site. Then again, there are people who are completely unsatisfied with the service and claim that all accounts are fake. As it always happens, the truth is somewhere in between — while there is a chance of coming across a fake or a fraudulent profile, it is also possible to keep a clear head, know what you're after, and — eventually — succeed in whatever it is you're looking for. 
Takeaway on Oasis Active 
Bottom line, Oasis Active is worth trying if you are a young adult from Australia or the United States. However, the absence of membership fees sometimes attracts ill-intended people, as well as people who are bored and are looking for chat partners instead of relationships. So, finding a really good match on Oasis Active may take a bit longer than on a fee-based dating service. On the upside, you're not spending a single cent, so you may give it a try and see how it goes.
---
More online Dating Services
---