Pros
Free and easy registration

Standard users can reply to paying users

There is an app version

Video chat

Most profiles are very detailed

Membership price is reasonable

3 Month Free Trial
Cons
Standard members are very limited in contact options
Verdict
Overall, we would give ChristianCupid an average 3/5 grade. Standard members have minimal contact options and have to cope with numerous ads. Premium membership fees are not that expensive, and if a member opts to upgrade, they will get access to all of the site's features. Feedback left by satisfied customers sounds really positive, so we are happy to recommend ChristianCupid for all those looking for religion-centered dating.
---
ChristianCupid: A reliable religion-centered matchmaking service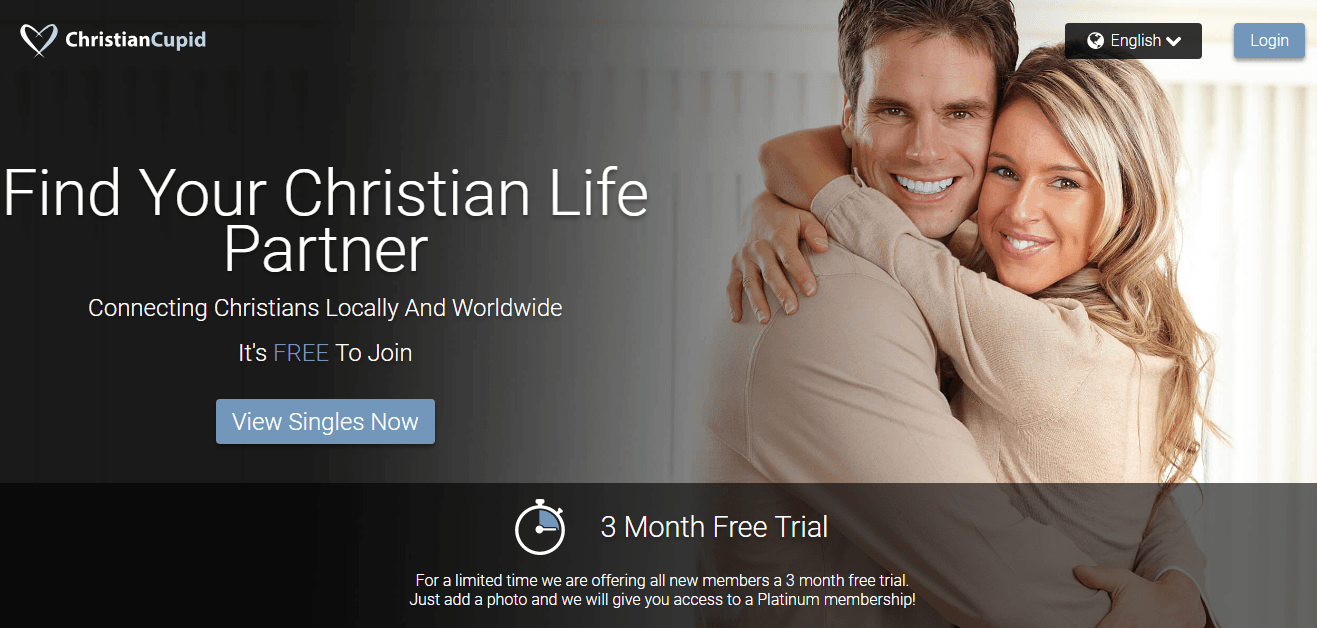 ChristianCupid is one of more than 30 dating sites owned and operated by Cupid Media. It targets specifically at the population of Christian singles. The site helps devout Christians find like-minded people for companionship, romantic relationships, and even marriage. 
This service provides a chance for people in whose lives religion plays a significant role to meet those who are on the same page with them. Not having to explain one's convictions to a partner takes the stress out of a relationship and makes it possible to have someone supportive by your side. People who sign up for this service can find not only dates but also an understanding person to share their problems with, someone who'll offer spiritual guidance when needed. 
Basic info on ChristianCupid
Religion-centered dating platform
Provides mediation in building friendships, pen pal connections, and romantic relationships based on faith
It's not restricted to a particular country – it welcomes members from all over the world which accounts for membership diversity
It has a rather small member pool compared to similar dating sites – only 60,000 members have registered internationally; 25% of those come from the USA
1,000 people are active each day on this platform.
Signing up for ChristianCupid
When you click on the site's login page, you'll be invited to become their member and find your Christian life partner. To start this journey, provide an e-mail address and password, or log in using your Facebook account. It basically boils down to deciding whether you are prepared to put in a bit more time and effort to create an independent profile on ChristianCupid or not. If you opt to use your Facebook profile and photos, you gain almost immediate access to ChristianCupid. But you also create a link between these two sites. Although the site promotes its security features, a leak of information from one site to another certainly remains a danger. 
Registration via e-mail is not that time-consuming either. Only a few details are mandatory in the opening phase, while all the rest can be added later. The site asks you for your name, gender, age, and location. Upon filling in the required fields, you are all set to start looking for a perfect Christian match.
Please, note that you will find an option to keep you signed in within the ChristianCupid login window. Remember to tick the box next to it if you'd like to prevent your sessions from timing out. Automatic sign-off after a 20-minute inactivity period is a built-in safety feature that you can disable by ticking the 'Keep me signed in.' 
How to establish contact with other Christian singles
While viewing a member's profile on ChristianCupid, you will be able to see their age, gender, location, and what they're seeking. This info is located right next to the profile picture. A little further to the right you have the option to block this user, add him/her to Favorites, or to send them Interest. If you have purchased a Premium membership already, you can type in a personal message and send it to them immediately. Alternatively, you can click on the 'More info' or 'View profile' tabs to get additional information on a user you find intriguing. 
As is the case with most other dating websites, only a limited number of contact opportunities are available to Standard members. They include sending interests and adding profiles to their Favorites list but do not allow initiating contact. Once a paying member expresses interest in them and sends them a message, they will be able to reply and continue communicating with him/her. Premium members can also send and receive in-site e-mails, use live chat and instant messenger. Platinum members can have their messages translated into another language if necessary.
Information featured in ChristianCupid profiles
Profiles on ChristianCupid are lengthy and informative but only if users bother to fill in all the fields of the questionnaire. Before going into more detail, profile visitors get a quick view of the basic facts on the profile owner: education, occupation, whether they drink or smoke, and if they have children. A green dot marks each field in which this person matches your criteria and in which you match theirs. That way, you can quickly assess if someone is right for you. If so, you can continue reading the rest of the profile, and if not you can easily move on to the next one in your search results. 
Other information is divided into four sections, each pertaining to something specific: physical appearance, lifestyle, background, and a paragraph written in the user's own words. The latter section gives you a chance to go beyond the boundaries set by any survey and to describe your personality the way you want people to see you. Make it short and effective, though. Most people aren't patient enough to read long essays. And besides, sometimes a single sentence can convey more information than a whole page of text. 
If you're not that good with words, you can make it up by adding pictures that show you doing the things you enjoy. An outdoors person can post a picture of them hiking in the nature accompanied by a dog. A skilled carpenter can add a photo of themselves carving a piece of wood, and so on. Pictures with religious themes are particularly welcomed. Standard members can add up to five photos while this number is even higher for those with Premium memberships.
Profiles include details about your spiritual beliefs and the level of participation in church activities. They also give information on someone's marital status. Somehow, being married does not prevent a user from searching for matches on this site.
ChristianCupid mobile app: For Android users only

The app is available for free download on Google Play Store. It's a portable version of the site, which has all the important functionalities of its desktop counterpart. It enables members to stay in touch wherever they go. As for its design, it follows the straightforward organization of the website with every feature being easily accessible and simple to use. 
No mobile app has been developed for iOS users so far.
Searching for matches on ChristianCupid
ChristianCupid allows its members to enter a set of search filters that will guide the site's automated search system in finding well-matched profiles. You can alter these filters or add new ones at any time to get different results. The results are shown as 'Instant matches' and 'Recommended matches.' There's also an opportunity to search through the site's database manually and to perform custom searches using specific criteria. These criteria can even be saved in case you later want to run them again. 
Membership options, prices, and billing
Standard membership
Absolutely free
Allows to create a profile and upload five pictures
Allows to show interest
Includes basic matchmaking tools
Enables one to block users and report abuse
Gold membership
From 8.33 USD a month on a 12-month membership plan
Allows one to send unlimited messages to all users
Provides real-time communication with the use of live chat and instant messaging
Allows one to disable ads and have an undistracted browsing experience
Platinum membership
From 10 USD a month on a 12-month membership plan
Places one's profile near the top of the search results
Allows one to highlight their profiles
Enables one to browse the ChristianCupid database in incognito mode
Uses advanced matchmaking tools and search options
Allows one to translate the messages into their languages
Fees are payable via direct bank transfer, credit or debit card, PayPal, personal check, etc. Subscriptions are subject to auto-renewal. Users who wish to end their Premium membership should cancel the automatic membership renewal in the billing section of their ChristianCupid account. 
Features that make ChristianCupid stand out from similar sites
Cupid Tags: typical of all Cupid Media dating sites. Contain words that describe a member's personality or things he/she values most.
Providing detailed info on religion: level of commitment to faith, level of church engagement, possibility to enter a specific denomination of the Christian faith, or even a different faith. 
Message filter: allows users to specify whose messages they would like to receive. It prevents them from getting flooded with unwanted texts from people they don't find interesting. 
'Who's online' feature: shows members who are currently using the site. When contacting them, you can expect to get an immediate answer.
Sending flowers and flirts: ways of expressing interest and affection online.
Advice on safe online dating: tips on using online dating services and helpful information on how to avoid risk while looking for a partner online.
Detailed and informative FAQs: although not accessible from ChristianCupid homepage, it covers most questions any member could have while using this site. Additionally, if you face any problems with the site's functionality, you may fill out an online contact form send it to the Support team.
Member feedback: Real life stories 
Accountant (34): I was raised in a patriarchal Christian family, taught to be honest and hardworking and not to expect life to do me any favors. However, I've had what I believe to be more than my fair share of hardship lately and found my faith to be fading. I had difficulties in believing that God had a plan for all of us when I was left on my own in my moment of need. Luckily, a friend suggested I try ChristianCupid. I didn't expect anything from the site and was actually about to leave it for good when I met Annie. She is such an amazing woman who managed to restore my faith and make it stronger than ever before. We are communicating online for now, but I'm planning to take a few days off work to visit her in her hometown. I hope there's chemistry between us!
Taxi driver (42): I am grateful to ChristianCupid for making it possible for me to meet Isabelle! I had lost hope of ever finding the right woman for me. Now I'm ready to suspend my membership for a while (hopefully forever) and give our relationship a chance to develop in real life. Fortunately, she lives nearby so we can see each other almost every day. Once more, thank you ChristianCupid, and God bless!
ChristianCupid: General assessment and overall rating 
Apart from being a typical Cupid Media dating site, offering all standard features, ChristianCupid adds a religious component to online dating. Primarily catering to Christian singles it accepts persons of different faiths as well. Its member pool is international, multiethnic, and multicultural. However, the small user database accounts for the relatively short match lists produced by the site's matchmaking software. The site not only offers a chance to find a suitable date but also to get spiritual guidance and advice in times of need. Relationships supported include friendships, platonic relationships, and romantic involvement (both short-term and long-term). Online dating on this website frequently ends in marriage. 
Overall, we would give ChristianCupid an average 3/5 grade. The common deficiencies of online dating sites are present here as well. Standard members have minimal contact options and have to cope with numerous ads ruining their browsing experience. Then again, Premium membership fees are not that expensive, and if a member opts to upgrade, they will get access to all of the site's features. The mobile app's design is pretty basic, and it's only available for Android users, which leaves considerable room for improvement. Feedback left by satisfied customers sounds really positive, so we are happy to recommend ChristianCupid for all those looking for religion-centered dating.
---
More online Dating Services
---