Pros
There is a great app version for both Android and iOS

It has a blog and a message board

Multiple profiles feature

Big variety of communication methods

All profiles are verified

Easy to use

Free members can reply to messages, chat requests, and send smiles

Huge database

There is a free 7-day trial
Cons
You need to be a paying member to initiate conversation with other members
Verdict
We must admit that LavaLife has been the most enjoyable dating service in our experience. They do have many exciting features, the users are numerous, authentic, and responsive, the mobile app is quick and convenient. We can name just a few drawbacks. These are minor matters. In all confidence, we can award LavaLife with an excellent rating of 5/5.
---
LavaLife.com – The Dating Service for Literally Everybody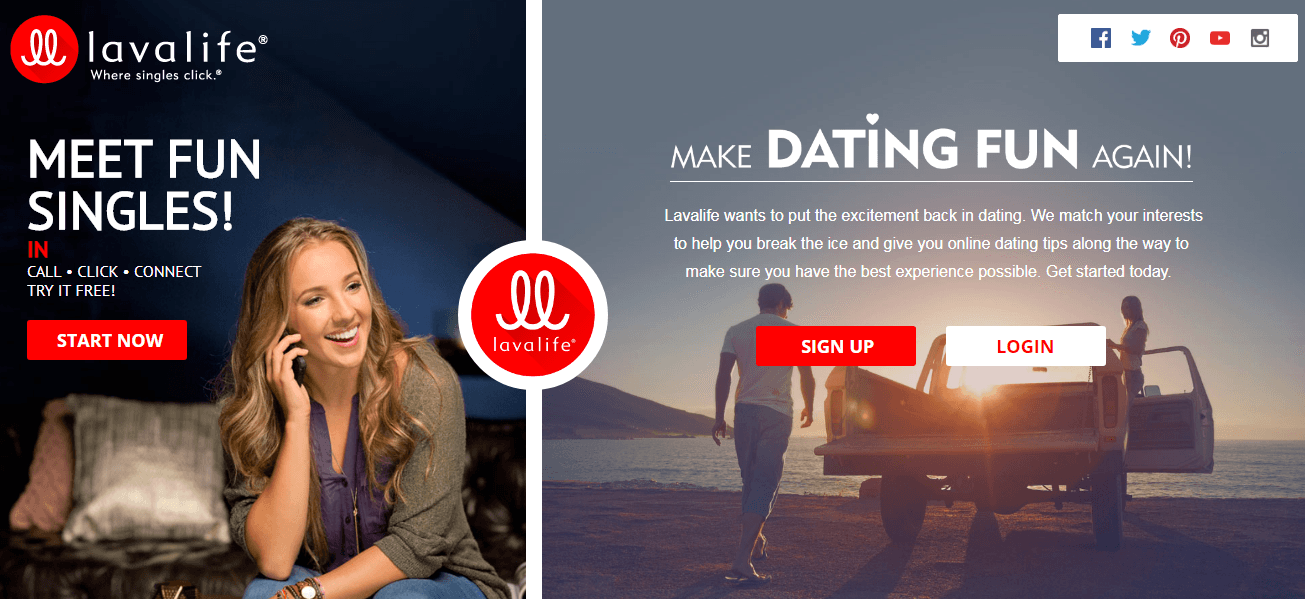 A brief glance at the variety of online dating sites today shows that there are general dating platforms and those catering to a specific niche. The latter can aim at people looking for NSA hookups or lesbian women, for example. Such a situation seems legit: whatever you may be looking for, go to a particular website and look for it there. There is, however, one little issue: People are rarely 100% sure about what they want. And when they are, it can often be flexible and subject to change. With that in mind, wouldn't it be nice to have one place where one could find all sorts of connections? General dating websites and social media may seem like a solution, but they offer little to no tools to connect like-minded people for dating purposes.
A website called LavaLife took several decisive extra miles in this direction. Established in 2001, it aims at facilitating all sorts of romantic connections: from serious relationships with the perspective of marriage to mere one-night NSA fun for the sake of trying out something new. All these options work both for straight and gay people.
Website structure and first impression
LavaLife is the most popular among users from the USA and Canada. It boasts over 1.7 million active users exchanging over 700,000 messages every day. This means that you are sure not to sit there alone at any given time: there will always be someone to chat with! The service comes in three language versions: aside from English, it can be French or Spanish. The website itself is divided into three sections: Relationships, Casual Dating, and Intimate Encounters, – all available for straight, bi, and gay people. As you can see, LavaLife does indeed provide the opportunity to find any sort of romantic connection for anyone at any given time.
Signing up and creating a profile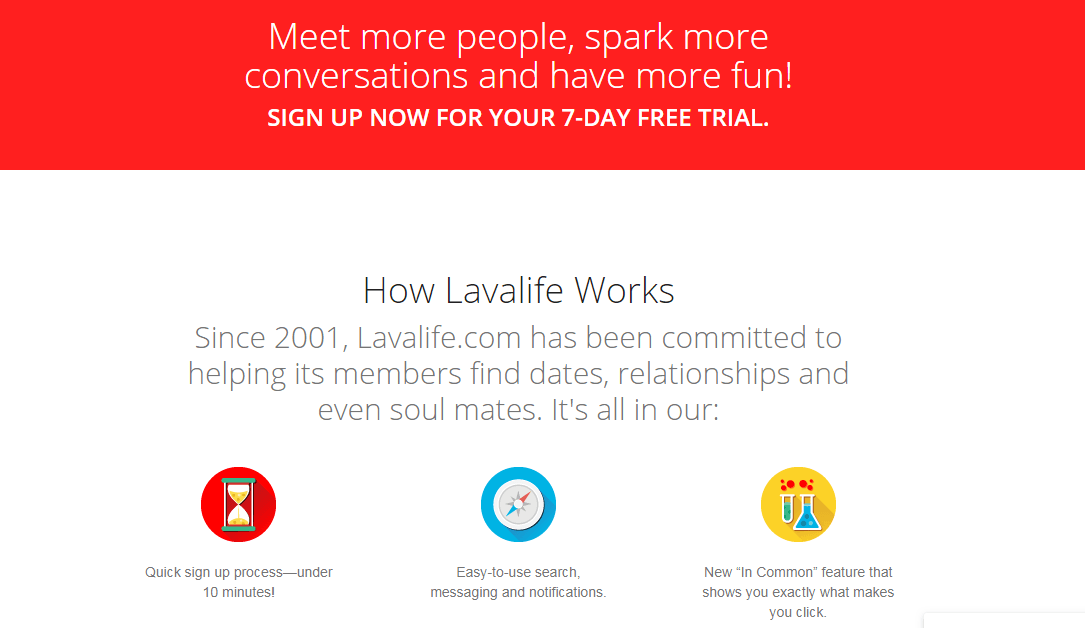 When signing up, provide your email address. Alternatively, like in many other places, you can sign up with your Facebook account. But it won't make the process any faster. In this case, LavaLife will still pick your email address from your Facebook account and send you a verification link. Click it and have your account validated. This link is only valid for no longer than 24 hours. But when it expires, the email address you have provided will remain in LavaLife database. It means that you won't be able to use this email address with LavaLife anymore. If you have failed to verify it for some reason and still want to register with LavaLife, you will have to use a different address.
Upon having verified your email, you will have to pick a unique, eye-catching username and a password. Interestingly, LavaLife has a requirement that a password has to consist of no more and no less than eight characters. Сharacters you can use in your password are not restricted. 
Then, as a first-time basic user, you will have to pick one of the three sections of the website in which you'd like to create your profile: Relationships, Casual Dating, or Intimate Encounters. You will have to answer different questions about yourself depending on the section you choose. For any section, you will have to specify your age, gender, location, and sexual preference. Then, the specific questions will focus on the encounters you have admitted to looking for. For example, if you create your profile in the Relationships section, the questions will center on your lifestyle, your expectations from a relationship, as well as your annual income, your attitude toward children, etc. The Casual dating section will have questions about your general pastime preferences, interesting conversation topics, etc. And the Intimate Encounters will include questions about what turns you on, what you'd like to try out, what setting you prefer, etc. Notably, in this latter section, a user can create a profile as a couple.
Basic users must always pick only one section for starters. Later on, however, when you upgrade your account, you will be able to create profiles in other sections as well and manage them to your liking. No profile information (including photos) will have to cross over between those profiles. Those will always be three completely different profiles, even though administered by one user.
You can upload ten photos to each of your profiles. One of them will have to be your profile pic – this one will always be public. You might set other ones as private and only show them to other users upon request.
Even though there is an option to sign up with a Facebook profile, users still have to create their profiles at LavaLife from scratch. This makes the process slightly, but not critically, longer than on other platforms. It shouldn't take you more than 10 minutes – sure, it's longer comparing to the conventional 3-5 minutes at other dating websites but still counts as prompt.
Communication options and special features
LavaLife offers a variety of communication methods most of which are only available for paying members. Basic text messaging is semi-free: Non-paying users can receive and answer messages, but only paying subscribers can start a conversation. As a free user, you can try to attract another person's attention by liking their profile and hope that they are a paying subscriber who can write to you first. And, of course, that they are indeed interested. But, as we have mentioned, only paying users can enjoy LavaLife's communication options to their fullest.
Given the overwhelming amount of members at LavaLife, it can be irritating to get bombarded by messages. To confront this, LavaLife gives its paying members the opportunity to turn off the instant messaging function. This way only the users from your hotlist (similar to friends list on social media) will be able to message you.
LavaLife's additional features of interest include:
Multiple profiles
As we have mentioned, LavaLife's paying subscribers are welcome to use all three of the website's sections at their discretion. Your profiles at different sections will be entirely autonomous and will not intertwine. Depending on your mood tonight, you can look for the start of a serious relationship, a casual date, or a sexual adventure. You can track your activity at each of your profiles, but nobody else will have access to this data or be able to see how the profiles are connected. Of course, other users might find out about it if they themselves use several profiles for different purposes and are equally 'guilty.' You won't be held responsible for any of those activities as long as you don't harass anybody. It doesn't matter how often you log on to either of your profiles. They will stay active anyway. 
Private photo galleries
As we have mentioned, your profile photo at LavaLife will always be visible to all users. As for other photos, you can hide them by marking them as 'backstage.' This way they will only be visible to selected users. LavaLife, however, chooses not to employ the complicated request-access procedures such as attaching a password to a private photo gallery or even 'request access' and 'grant access' buttons. Instead, LavaLife assumes that two members who like each other's profiles grant each other access to their Backstage galleries. So, one has to be aware that by liking someone's profile you grant them access to your private gallery as soon as they like your profile back. Another restriction here is that only paying members can view other members' private photos. So, the mutual likes won't grant access to those photos to non-paying members.
LavaLife Phone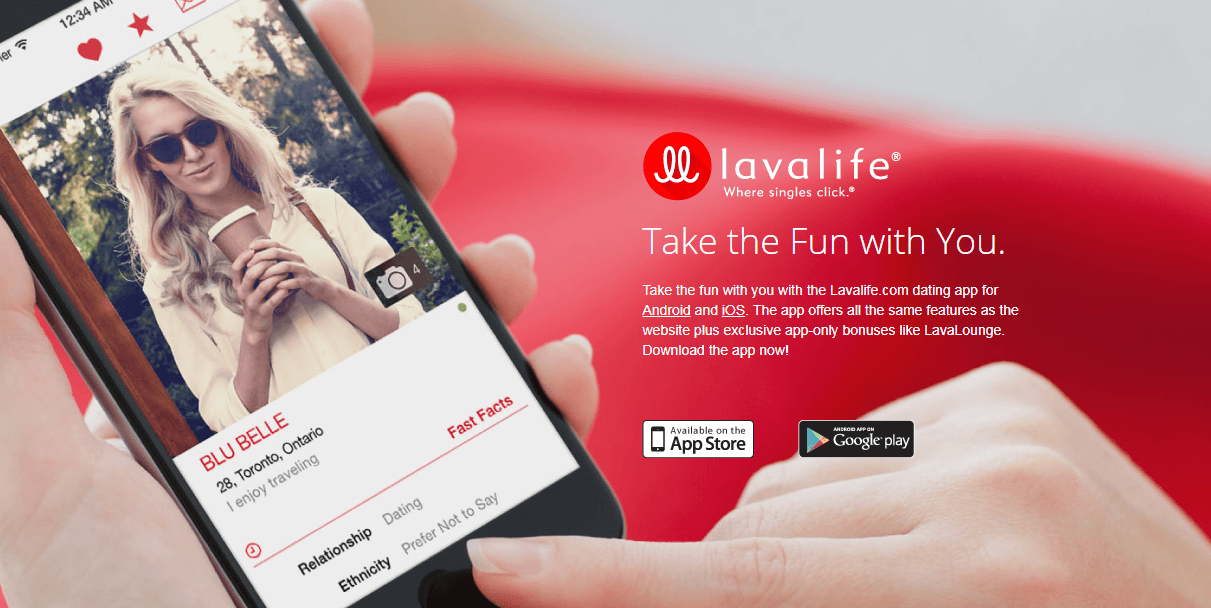 Want to hear the voice of a potential date on the other end? LavaLife has such an option for you. You click the phone icon on the other person's profile, enter your phone number, and wait for the other person to enter theirs. Then, LavaLife establishes a phone call. Admittedly, it does seem unnecessarily more complicated than a regular phone call, but many users are reasonably cautious about online dating platforms and the people they meet there. With LavaLife Phone, you only share your phone number with the system and not with the other person. The two will have a phone conversation without seeing each other numbers. As such, this feature is particularly handy for those who consider their phone number private information which they are not ready to share with random encounters.
Message board and blog
Like many other dating websites, LavaLife has a blog. There is a crucial difference, however. It seems like most services have it merely for the sake of having it. Maybe they assume that a blog is just a cool thing to have or maybe they start it for search engine optimization purposes, – either way, they barely ever provide any meaningful information there. LavaLife, on the other hand, has a team of devoted writers who constantly contribute exciting articles for the blog – from curious and inspiring success stories to dating tips for the most various situations. The site also encourages members to contribute to the blog by submitting questions or topics of interest.
LavaLife also has a message board covering a variety of dating-related topics. It could serve as a viable alternative for non-paying users to communicate, but it's only available for paying subscribers. On the whole, message boards are not as much of a big thing as they used to be. It looks like this is a rudimentary feature that has remained from the early 2000s when LavaLife was founded – some souvenir or exhibit to remind us of how old and well-established the platform is. Concerning actual communication and interaction, the message board is pretty much dead.
Desktop version VS App
As expected, LavaLife has an app version. It is called Lavalife2go and is available for both Android and iOS. The layout looks more simplistic comparing to the desktop version, but no essential functions are lacking. The only feature that's absent in the app is the opportunity to view, join, and post at message boards.
There is, however, a fun feature that's only available at LavaLife app. It's called LavaLounge and requires access to your device's location. It is essentially a radar that displays singles in your area and your distance to them. You are also welcome to specify a different location to meet singles from a place where you plan to go or specify your location as 'anywhere' if it doesn't matter to you at the moment. 
Prices and other payment issues
The subscription prices at LavaLife are just a tad below average. A subscription for one month costs $19.99, but it gets cheaper if you subscribe for three or six months. If you do, one month will cost you $16.66 and $15.00 which makes $49.99 and $89.99 for the whole period respectively.
Another pleasant little detail is that you get to choose whether to switch the automatic renewal on or off the moment you order your subscription. The automatic renewal is not pre-assumed or hidden, and you won't get billed by surprise. The service does, however, encourage users to have auto-renewal on. This way each renewal will cost $5 less than purchasing a new subscription for the same period.
LavaLife only accepts major credit cards, and there are no alternative payment options.
Final word on LavaLife
We must admit that LavaLife has been the most enjoyable dating service in our experience. They do have many exciting features, but not to the point where a user gets distracted. The users are numerous, authentic, and responsive. The mobile app is quick and convenient. We can name just a few drawbacks. These are minor matters, like the lack of activity on message boards and the limited choice of payment methods.  In all confidence, we can award LavaLife with an excellent rating of 5/5.
---
More online Dating Services
---
Brides by countries on site