Pros
100% FREE Online Dating Service for Singles

All profiles are thoroughly checked

There are blogs, forums, articles, poetry, tests, quizzes, games and many other things like these

Advanced search options

There is a mobile app
Cons
There is no live chat
Verdict
100% FREE Online Dating Service for Singles
---
Connecting Singles: More than dating online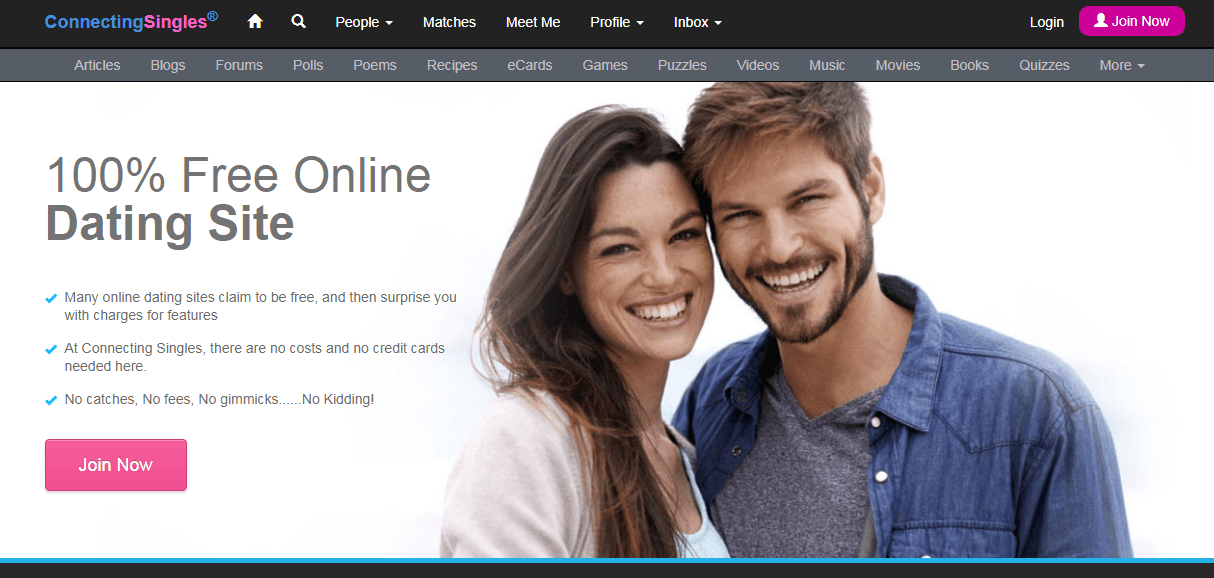 Dating services are among the most popular websites nowadays. There is a wide range of options for everybody. Whatever you want from a relationship can be found online. The only thing such sites have in common is that they all charge their clients for various features – partly or in full. Or do they? 
Connecting Singles is one of the few platforms in this segment that offer matchmaking services entirely for free. Although it is quite cool, some people who have never been to the site find it alarming? Why, indeed? Might it be a scam of some sort?
Another peculiar fact is that Connecting Singles is not just about bringing people together based on their desires and images of a perfect match they have in mind. It is a multifunctional communication platform with diversified corners – for gamers, poets, music lovers, etc. This arises more inspiration among some users, while others are not sure whether it's possible to find the right partner when there are so many distractions. So, this service is, for want of a better word, controversial. It might be a brilliant opportunity or a massive disappointment.
We're going to estimate the advantages and disadvantages Connecting Singles has and find out if it's worth your time.
Connecting Singles members
Connecting Singles has 50,000 users with 10,000 of them active every week. They are predominantly from the US and fall into all age groups – from 18 to 55+ years old. Although, the number of women in their thirties and men in their forties prevails.
60% of the site's members are female. Overall, women flirt more actively than men on the website. Meanwhile, men are more active at Connecting Singles' numerous forums. So, you can find a partner of either gender with no effort. You should merely know where to search for him or her. 
Initially, the website attracts potential users who want to find a match for free. But upon joining the community, users get more engaged in other features the site has to offer. People genuinely enjoy forums and various games. It doesn't mean that they forget why they came here in the first place, but you can hardly count on meeting the right person if you ignore the fun not related directly to flirting and hooking up.
All newcomers fill out their profiles and are recommended to upload photos. The more info you provide, the better. It will allow someone special to single you out of numerous users active every day. You can search for an interesting person who is currently online yourself by checking out the list of online users.
How to sign up
Starting a profile on Connecting Singles goes as follows:
logging in with a Facebook account,
or standard email registration.
Either of them takes you a few moments. At this stage, you enter some general information – your country, city, birthday, and gender. But you will still wait a bit before you can become a full member of Connecting Singles community. The review of your profile may take up to 24 hours. Use this time to fill out all the additional fields which other users will see. You will have to tell about your job and answer some more questions in a few sentences. These answers should be 50 characters long, at least. There are certain restrictions on what you can't disclose in these fields. The following information mustn't be there:
your real full name,
contact information, such as your phone number, address, email, etc. 
ages and names of your children, if any.
How to contact other users successfully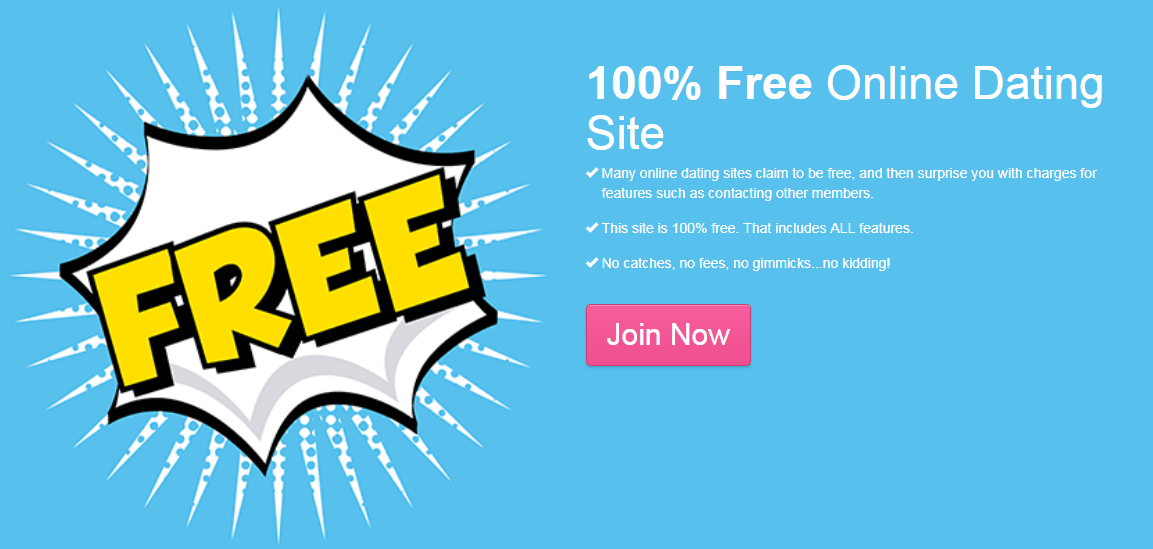 Traditionally, people communicate on dating websites by messaging. This feature is, of course, present on Connecting Singles and is free, like all the other services provided by the site. But there are some details to know. You can't send or get messages during the 24-hour review of your profile that we have already mentioned. Admittedly, most users agree to this rule as they understand that profiles need to get checked that way. Who knows what kind of an ill-intended person might want to join a free website. So, such precautions won't harm anyone willing to spend quality time on Connecting Singles. 
But even when you can message others, it won't make a significant difference. Say, you find a person you like in 'Matches' and want to contact them via the messaging system. In the majority of cases, you will have to wait for a reply because, statistically, members are preoccupied with other communication tools most of the time. So, this way to get in touch with a compatible match is less effective than going to a forum, discussing interesting topics, and finding people you are interested in there. By the way, there are no live chat rooms on Connecting Singles. But you can like other users' profiles once you sign up. This may help you start building your network on the service in the first 24 hours after creating your account. But later on, likes are not that useful either.
Contacting users individually
Here are some exciting ways to contact particular users on Connecting Singles:
You can search for people you might like by using tags that describe their views, values, hobbies, etc. It is also beneficial to tag your profile to let others find you.
Everyone can learn who has viewed their profile. Go to the corresponding section and see who has checked you out. And all the way around, if you visit someone's page, this person might contact you eventually, once they see you on that list. 
The website offers its users to rate each other's photos. This activity is much more efficient and exciting than liking profiles.
There is a list of people celebrating their birthdays this week. In case you like any of them, you might congratulate them with an eCard or flowers. Choose flowers in the Flower Shop and attach a ready-to-go greeting or something in your own words. You can send eCards and flowers on any other occasion, too.
How to reach a lot of users simultaneously
Though intimate online communication is enjoyable, Connecting Singles users find it more advantageous to socialize with many people at once and then make some choice of a partner. The site offers an outstanding range of options to do it:
All users are welcome to join forums offering a great time spent talking to a lot of people on any thought-provoking or fun topic.
You can start a blog on Connecting Singles. Although the site's primary mission is bringing lonely hearts together, blog writers are not in any way restricted in the subject they'd like to discuss.
Polls resemble a shortened version of a forum where people can click any answer with no need to explain their choice. Vote in others' polls and invent your questions. Again, the choice of topics is not limited.
Once you have met people you have a lot in common with on the website, you can create groups for further interaction. 
Articles is another type of creative writing you can try here. Writing, reading, and commenting on those is genuinely entertaining.
The poetry section is, of course, all about sensitivity, feelings, and emotions. You can get tons of inspiration here or practice your skills. Moreover, you can deeply impress your future soulmate with your works.
Those who don't feel like writing or reading today can pass some time by playing exciting games with other users. 
Tests and quizzes are a perfect alternative both to games and creative activities.
Discuss music, movies, and books that have had a particular impact on your life. 
To share their interests without describing them in detail, users create Top 10 lists which are the quickest way to learn about what a person is keen on. 
Connecting Singles tries to cover all aspects of online communication. Reading users' blogs, poetry, and comments is fun. But you have a chance to actually see these people if they upload videos to their homepage. Should you add your videos, you'll attract more audience to your profile.
Apparently, arranging a real meeting with a prospective match is one of the main goals for everybody who signs up with a dating service. Connecting Singles give you even more. You can schedule a real-life event and invite anybody you want.
Blocking undesired messages
Connecting Singles has a rather strict policy regulating what one can and cannot post in any section of the website. Upon violating any of the rules, you might get permanently banned from the service, so can any other user.
If you have faced abuse, bigotry, impatience, or apparent scam, report this immediately, and this person will not bother you anymore. Whenever you view someone's profile, you can see a 'Report Abuse' button. Don't hesitate to hit it if needed. You can also block users from your contacts by clicking on the 'Block' button next to a message or an eCard. This won't prevent these people from viewing your profile or sending one more like, but they won't write to you for sure. 
To sum this part up, Connecting Singles is in no way about conventional communication tools, like messaging, mutual likes, matchmaking algorithms, winks, etc. Be prepared to play exciting games the site offers, join numerous corners based on mutual interest, and become a part of lively discussions on various topics – from popular music to people's worldviews, philosophy, and values. These things work excellently on Connecting Singles. Moreover, it is a perfect way to find a partner to spend a great time with both online and in real life.
Membership and prices
The only thing one must do to become a full member of Connecting Singles is to provide all the valid information required and wait for approximately 24 hours before the profile gets validated. That's it. Then you get full access to all the site's features and are granted to contact everyone.
Connecting Singles is not a type of site that claims to be free but persistently tries to trick you into some membership plans or in-app purchases. You won't pay anything to use it.
The final word on Connecting Singles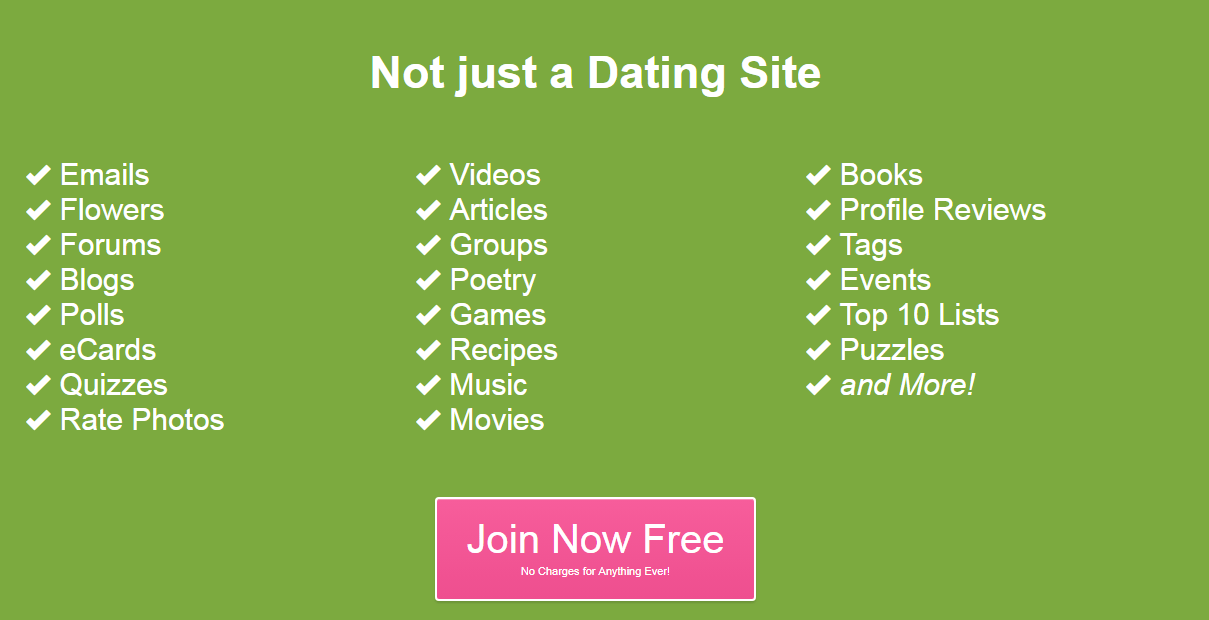 The site's professional team has made a lot to ensure secure communication for all its members. Given that the site is 100% free, it is downright astonishing. All profiles get thoroughly checked, and any violation of the site's rules can lead to total banning. Besides, you can contribute to mutual safety yourself by reporting any user whose behavior is offensive or dangerous to the community. In this respect, we give Connecting Singles a thumbs up. 
The site's interface is convenient. It lets anyone find what they want intuitively. And the content is genuinely inspiring. Blogs, forums, poetry, videos, polls – all these make it all a splendid pastime. 
However, the concerns about many distractions from actual online dating are partly justified. Indeed, many people forget about seeking encounters altogether when they get engaged in all these games, groups, and discussions. On the other hand, this makes their interaction more mindful and exciting. It guarantees that should you find a partner, your relationship will be based on mutual interests and values, and not just sexual tension or the fact that you live nearby.
So, potential users have to decide for themselves whether they want a quick hookup that often leads to nothing but a one-night stand or a deep and meaningful relationship built on the spiritual bound. One can find happiness on different dating platforms. Connecting Singles makes the process of search less straightforward but, at the same time, the results might be more substantial.
---
More online Dating Services
---