Pros
The site works flawlessly

Exceptional Customer Service

There is an app available for both iOS and Android devices

The site is international

Safety
Cons
All features, except registration, are paid

The membership price is high

All features are paid except registration

There are no unique features here
Verdict
All in all, we can rate SilverSingles a firm and respectable 4.5/5.
---
SilverSingles – Online Dating for the Young at Heart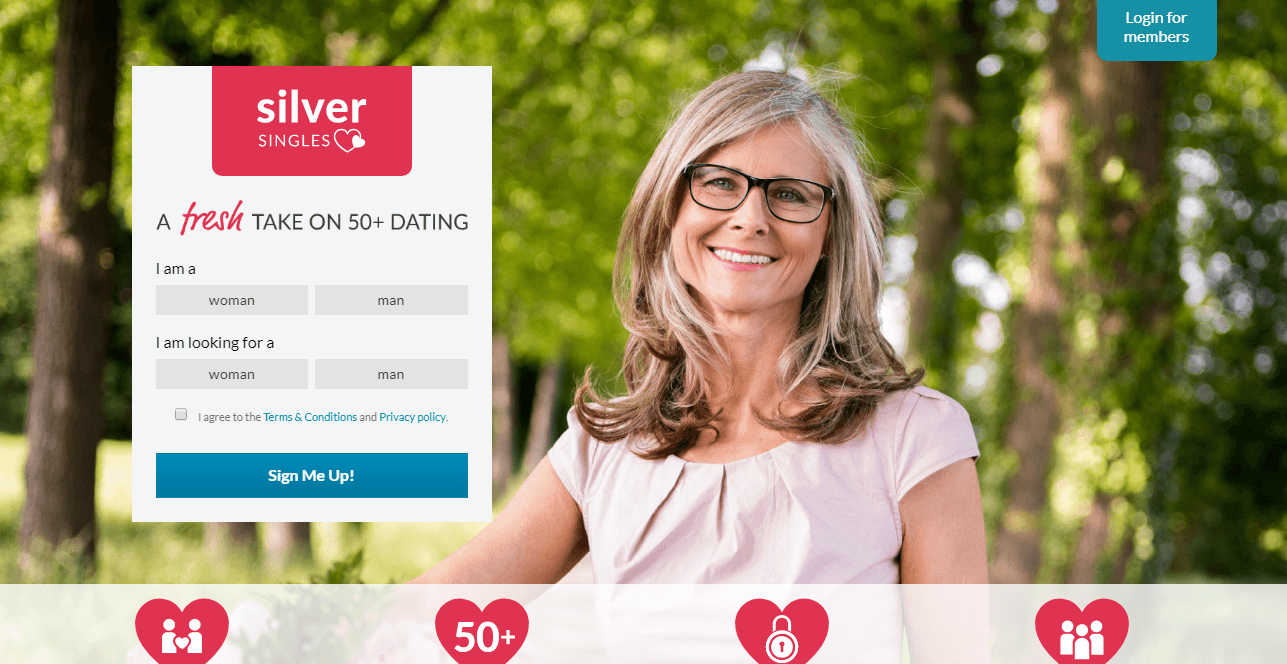 There are many reasons why having a lifetime partner is better than walking the path of your life alone. People begin to feel it especially well as they approach their golden years. When one is young and full of energy, it's relatively easy and even tempting to concentrate on building a brilliant career or leading an adventurous life. But as you approach a particular age, being not able to share your triumphs or falls and overall loneliness inevitably begin to eat you out from the inside. Soon enough, you understand that the only way to fill this void is to find that special one to share your entire life with, and this rule knows no race, gender, or sexuality: It applies to all people in the same way.
With the advancement of the Internet and the rise of online dating services – both general and niche, – there's no reason why older people shouldn't enjoy the benefits of online dating. Realizing this growing demand, People Media launched PrimeSingles.net back in 2002. This company operates an entire constellation of dating services, and it would be an unforgivable miss on their side to overlook this niche. Since the Internet has been around for quite a while now, a growing number of people who have more or less grown up with the Internet are entering their golden years. In other words, the opinion that the Internet in general and online dating, in particular, is only for the young because older people are reluctant or even afraid of it, is no longer valid. Moreover, if they are still single, it most probably means that they have been concentrating on building a successful career this whole time. This, in turn, means that most of these people have proper skills to use such services and can afford to spend on them more.
Understandably, PrimeSingles became one of People Media's top priority projects. It received excessive attention from the managers, which led to several rebrandings and reincarnations of the service. It 2011, it finally stabilized under the name SilverSingles. Let's see what they've come up with.
First look and layout
SilverSingles tries its best to be the most comfortable for senior users but without patronizing or looking down upon them. The website prefers calm white and midnight blue colors but also uses crimson to emphasize some things. Realizing that older audiences often have compromised eyesight, the website chooses larger font sizes compared to others on the net. The variety of features the site offers is enough to confuse some users, but at SilverSingles, all functions and features are perfectly organized, and the navigation here is arguably the easiest we have ever come across. We can say that the website's designers and developers did an excellent job.
Signing up and setting up a profile
First of all, we must note that signing up with SilverSingles is indeed a lengthy process compared to other dating services. Other websites only require users to enter some essential information – such as your age, gender, preferences, location, distance, etc., and even some of those are sometimes optional. SilverSingles is much more thorough than that. Not only are all those details mandatory, but users additionally have to pass an extensive personality test of over 100 multiple-choice questions where one has to agree or disagree with a statement with five possible stages of approval or disapproval. As if that wasn't enough, there are seven more questions that you answer in essay form. And – we repeat – all questions are mandatory to answer right now, during the registration. That's why the whole process takes about 30 minutes. But – we must reassure you that it's by no means tedious. Quite the contrary: all questions are easy yet thought-provoking and revealing.
Moreover, it contributes to the outstanding profile quality at SilverSingles. Evidently, you don't find empty or half-empty profiles here, even though they only show a user's answer to the essay questions and not to the multiple choice ones. All profiles are quite informative and revealing, which is refreshing. We should add that you can revisit and modify your answers to any question at any time.
Upon completing this extensive questionnaire, you get prompted to upload some photos. Only at this point, users get an opportunity to connect their Facebook account to SilverSingles and snatch their photos from FB. A profile can have one to 24 photos. When done with photos, you get redirected to the billing page where you can pick your subscription plan, but there's no need to do it right away: You can skip this page and try out the website before you decide to buy a subscription. 
Notably, the excellent profile quality at SilverSingles is not only due to all the questions being mandatory. This website also has a devoted and well-equipped verification team who use various sophisticated tools and algorithms to check profile authenticity. In addition, they have a routine of checking profiles manually. Hence, it's best to answer the questions responsibly and not put words in boxes randomly.
As for gender and sexual diversity, SilverSingles only has two gender options: male and female. But it does welcome gay members and doesn't assume that you like the opposite gender. Instead, you can specify your sexuality as straight, gay, or lesbian.
Search options and matchmaking
Interestingly, SilverSingles doesn't have a search option as such. Instead, the website's matchmaking algorithm uses the members' answers of multiple-choice questions to handle them accurate automatic matches. That's why it's imperative to answer those questions carefully and sincerely. On the one hand, it's disappointing to see a dating service that thinks it knows better who matches you. But on the other hand, this test has proved to be quite efficient in multiple spheres of life (for example, in HR-related activities), so it's quite reliable. Besides, it saves daters from the risk of rushing into decisions: after all, SilverSingles aims at helping people build meaningful relationships as opposed to fast-burning romantic flings. Also, you can adjust your matches by such characteristics as age, ethnicity, proximity, etc.
The website promises to supply no less than 3-7 matches daily. In our experience, we got eight or even more every day, but it's still not much if you think about it. Moreover, the system often gave us repeated matches the next day or the day after, narrowing down a user's choice even further. It might be because the system's accuracy is more precise than it needs to be or because the user base is not too numerous in general. Regardless, it's quite disappointing. If you want to see more matches, we would recommend you go back to your multiple choice questions and see how you can answer them differently without compromising your honesty.
Interaction options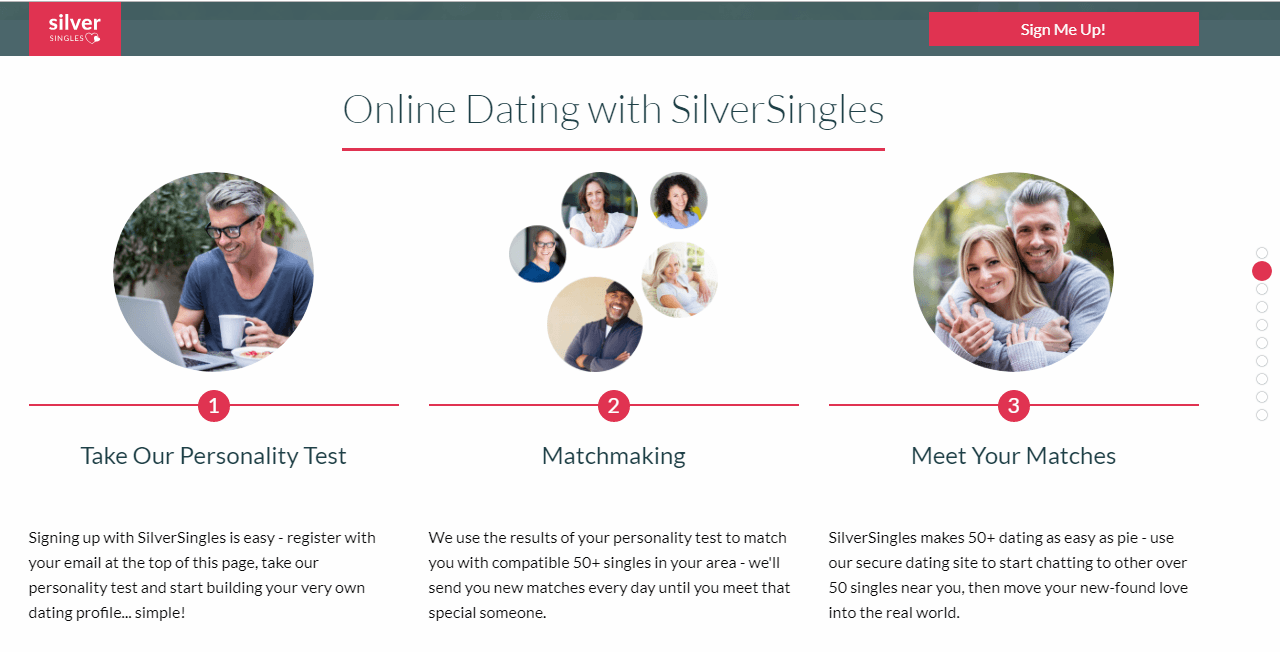 SilverSingles offers a variety of communication options, but there are no unique features here. People can exchange messages or smiles – when they want to be perfectly informal or have trouble thinking of an original pickup line. They can attach photos to their messages and request photo messages when a profile itself has no photos. They can post comments under the whole profile or any particular picture. Also, there's an option to get notified when the other user reads your message, but you can switch it off if you find it annoying. As you see, there's just the essential set: no voice calls, video calls, etc.
SilverSingles App
Quite expectedly, SilverSingles has an app available for both iOS and Android devices. It shares the style of the desktop version: the same color palette, the same enlarged fonts, only looks more laconic. Don't let that fool you: it doesn't miss out on any of the functions of the desktop version, except one. You can't register through the app. The app is only for the existing users who have a valid subscription.
Free VS Paid version
Not only the SilverSingles app is hidden behind a paywall, but so are almost all of the platform's features. All you can do as a free user is to register, get automatic matches, and read other people's profiles. That's right: you will only see the text from their profile, but the photo will show up blurred. If you like a profile just based on what you read without seeing any photos, you can send them a smile. But it hardly deserves mentioning because it's entirely pointless. Messaging is a premium feature at SilverSingles, so even if you do pick the other user's interest, you won't be able to see what they write to you, let alone messaging them back.
Only paid users have access to the essential online dating features of SilverSingles. This includes sending, receiving, and answering messages (possibly, with photos), getting notified when your contact reads your message, viewing all photos of all profiles, and commenting on profiles and pictures. And, of course, paying subscribers can do it all on their mobile devices through SilverSingles app.
Subscription plans and other payment details
As you can see, there's hardly anything one can do with SilverSingles without having to pay for it. Admittedly, a service that runs as flawlessly as this one is fully entitled to ask money for their spectacular quality of performance. The reason why they can achieve such quality must be their respectable budget that comes from their notably high prices. SilverSingles is indeed a premium site compared to other online dating platforms.
Another remarkable detail here is that the set of features you get will be slightly different depending on the term for which you are purchasing your subscription:
Premium Light (for three months). This subscription plan costs $113.85 which equals $37.96 per month. Here you can see the photos of your matches and write to these people.
Premium Classic (for six months). This subscription costs $131.70 or $21.95/month. In addition to Premium Light features, here you can see who viewed your profile. Apparently, the only reason why they viewed your profile is that the system has decided that you match them. In practice, it means that you can write both to the people from your brief match list and to those who viewed you, which feasibly enlarges your circle of communication at SilverSingles.
Premium Comfort (for one year). It costs $239.40 for the whole year which equals only $19.95 per month. It has all the same features as Premium Classic but saves you some money.
SIlverSingles accepts all major credit and debit cards, as well as PayPal.
Our final word on SilverSingles
To us, it seems like the SilverSingles prices are slightly off-putting. However, we must acknowledge that people who devoted their lives to careers and remain single in their golden years may beg to differ and be willing to spend such money on quality services. Fortunately, SilverSingles revenue is invested in its development thoughtfully, and the site does provide quality service. The design is eye-pleasing, the navigation is 100% intuitive, and all the functions run flawlessly. But it would be nice to look around a little more before deciding to buy a subscription: to see a limited amount of photos, to send a limited amount of messages per day, etc. All in all, we can rate SilverSingles a firm and respectable 4.5/5.
---
More online Dating Services
---