Pros
It's absolutely free

The site's availability in many languages

The site is simple to use and easy to navigate
Cons
Overwhelming quantity of ads

There is no a mobile app

Not many features for communication

Outdated design

There are lots of reported scammers and fakes
---
FDating: plain and simple free online dating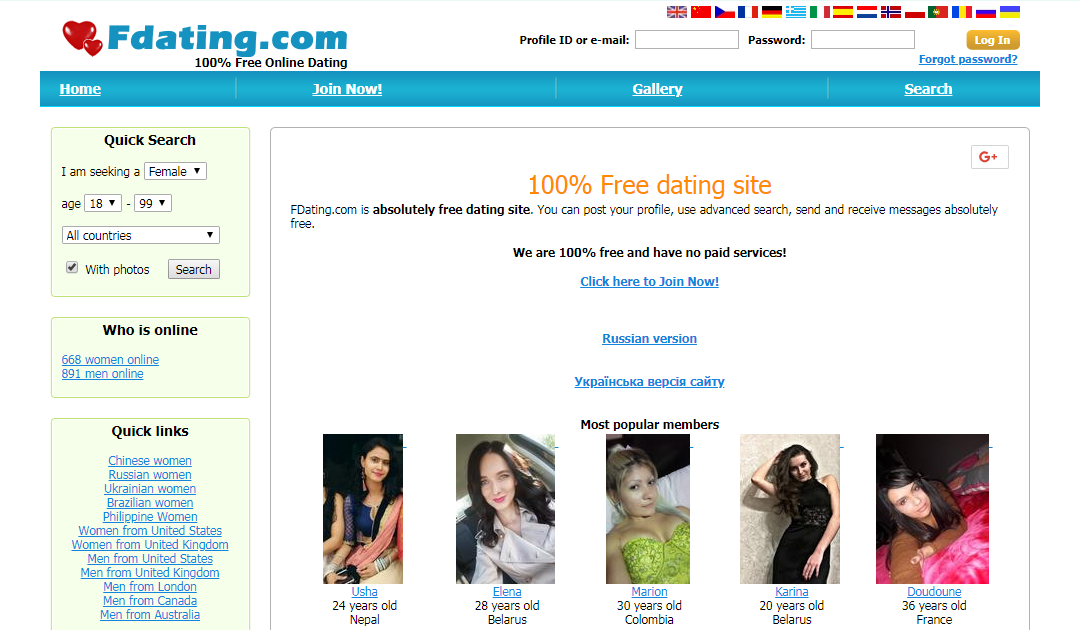 As a 100% free dating platform, FDating could offer lots of benefits for its prospective members, but is that what happens? We invite you to find out whether the site lives up to its users' expectations or is it just a waste of time. 
FDating has been around since 2009, but the site does not disclose the identity of its founders or the location of its headquarters. The information on the number of registered members is also unavailable. What we do know is that you can log into their service from all around the world and that everything they provide is free of charge. We assume that the "F" in its title stands for free although this is another thing operators of this site did not bother to explain. Male to female ratio is unknown, but it seems that most of the site's female members come from Russia, Ukraine, Morocco, and the Philippines. Although great looking, a significant number of these women seem to be gold-diggers looking to marry abroad and relocate to a Western country. 
With so many unknowns, this website appears a bit shady, and as a potential user, you would be right to question its legitimacy. However, there are some things that could attract you despite your reluctance to deal with sites of doubtful reputation. What appeals to most people is that the site doesn't charge you for anything. You can create a profile, upload as many photos as you like and exchange unlimited messages with other members. But is it worth your while? And is there any guarantee that the person on the other end is who they say they are? We'll come to that little later. 
First things first – how to become a member of FDating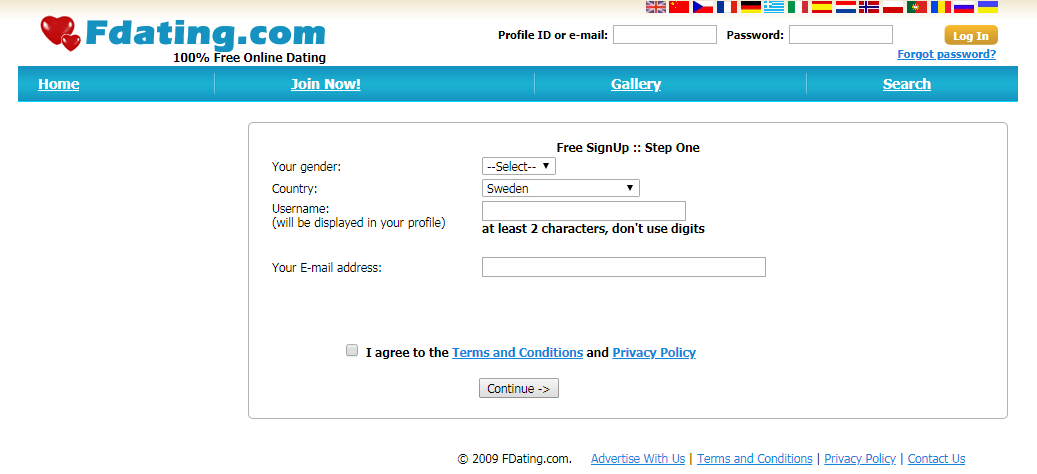 After clicking on the Sign in option on FDating, you will be asked to fill a three-part questionnaire. The first part contains your basic personal info including gender, country of origin, valid e-mail address and a username of your choosing. The site has a set of rules that apply to the selection of usernames, specifically that it should be at least two characters long and that it contains no digits. 
After agreeing with the terms of service and reading the warning against sending money to people you meet online you can move on to the next section. It requires you to enter some basic facts on your physical appearance, personality, plans and aspirations, interests and preferred leisure time activities. This allows your fellow users to get to know you and create at least some picture of your personality. After writing about yourself, you are asked to provide information on your potential partner. This includes entering the basic criteria your future companion should fulfill to be considered a good match. Note that the platform does not provide a matchmaking service. You are free to browse their database in search for that special someone who would be ideally suited to you. 
You are not asked to provide any contact information. On the contrary, adding an e-mail address or phone number to your profile is strictly prohibited. Using profanities and being vulgar is also forbidden and can get you banned from using this site. 
In the third part of the registration process, FDating sends you an e-mail with your login details and a link to complete your registration. You should receive this e-mail within 30 minutes after uploading your personal information in the previous step. If you haven't received an e-mail in the designated time, it was most likely blocked by the provider since some of them refuse to accept mail from this site. If this happens, try using a different e-mail address. 
When you receive your confirmation e-mail all that is left to do is to click on the link sent to you, log in using your username and password, – and you're all set. Your dating experience at FDating can begin. We recommend you save the verification e-mail for future reference in case you later forget your login details, or come back to the site after a prolonged period of inactivity.
You can add an unlimited number of photographs to your profile, but the other members will only get to see them after the site's moderators approve them. The types of photos that get rejected by the site include those of naked bodies, those showing company logos, photos where your face can't be seen, and group photos. It's also not acceptable to show your e-mail or phone number on the picture. 
The authenticity of user profiles on FDating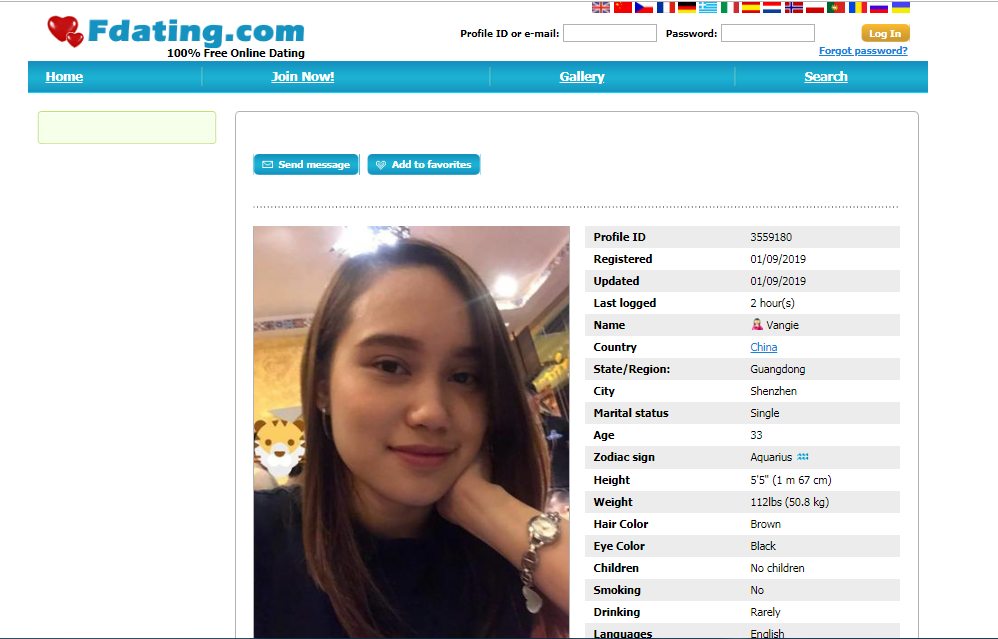 To be quite honest, this is an aspect of FDating that could use some improving. The biggest problem is that the site doesn't do much to prevent scammers from creating fake profiles and defrauding innocent people. It's not even mandatory to fill out all the questions in the registration form. Even if you leave half of it blank you will still be able to set up a profile and start using the site. Once a user uploads his photos and gives his/her personal information, those become publicly accessible. That said, most profiles are not that detailed anyway, as they only contain the user's age and country of origin. 
Upon scrutiny, we've managed to find just a handful of completed profiles that included a comprehensive description of someone's personality and expectation they have from a potential partner. This leads us to believe that an extensive percentage of profiles on FDating are not genuine. The site itself warns its users against fraud. Additionally, it offers some security features such as blacklisting a person or filing a report of abusive communication. The latter can easily be done by clicking on the "Abuse" option on an individual's profile. All of these security measures fall desperately short in trying to prevent scams, so it's up to the user to be extra careful and beware of con artists. Anyone asking you for money should raise a red flag as sending money or disclosing your bank information is something you should never do when meeting someone online.  
Along with the options to add someone to blacklist and to report abuse, other functions available on a person's profile include messaging and adding to favorites. The site counts the visits that each profile receives and displays this information for everyone to see. This indicates the particular member's popularity on this platform. 
Options for contacting other users on FDating
Each member can contact all other members, and no one is off limits. The only way to initiate contact is to send a message. There is no possibility of video calling, instant messaging, e-mailing, etc. A simple text message is all you can send. And that would indeed do the trick if you were sure to receive an answer right away. Unfortunately, members are not that active on this dating platform. That means you can spend hours waiting for a reply not knowing if the other person is busy doing something else or not interested in you. 
Some people may create profiles for a bit of fun and later forget all about them. No use texting them if they're never logged into their accounts. The site does nothing about idle accounts, nor does it mark someone's profile as inactive when they fail to log in for a long time. Here's some friendly advice though – try to make your messages meaningful. Don't just write "Hello" and wait for a reply. A simple greeting does not convey a message to the other person, and it certainly doesn't inspire them to write back. 
Basic and advanced search options: how to use them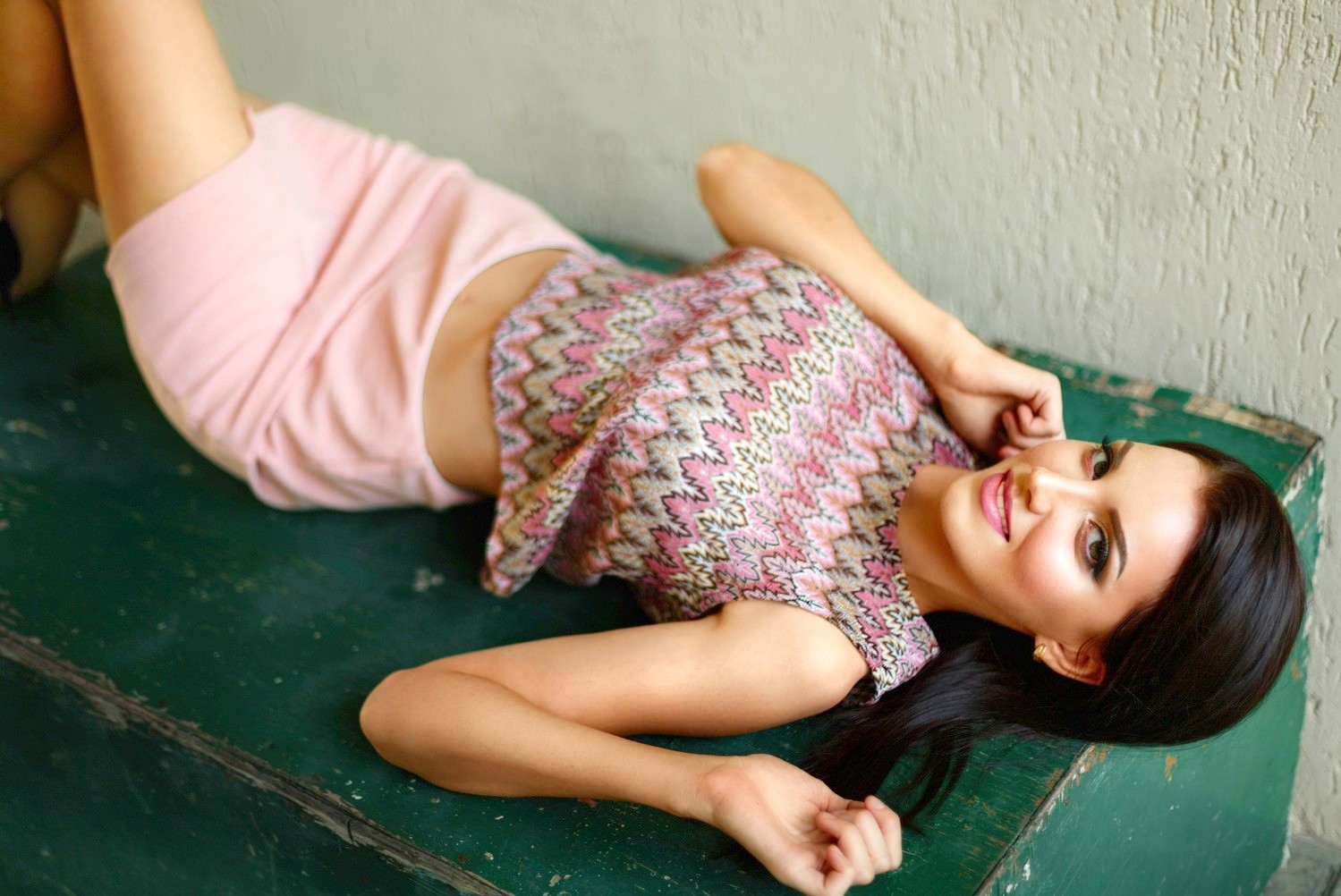 From the drop-menu of the "Gallery" feature, you can filter users by age, gender, country, religion, and physical traits. If you prefer using more advanced search criteria, you can find those within the "Search" tab. It's also possible to filter the messages you receive by using some of the abovementioned criteria. Additionally, you can choose to communicate only with users who have a photo available. 
How does this site stand out from similar dating services
It doesn't really. Apart from being completely free, it has no benefits over other platforms offering dating or matchmaking services. A profile viewing counter is a cool feature, and so is the possibility to add someone to favorites to make their profile easily accessible in the future. 
The site's availability in several languages is another positive thing, with the flags of countries whose languages are featured displayed in the top right corner of the site's homepage. FDating provides information on the number of persons currently using the site. It also alerts you of other people's birthdays and gives a list of newly registered users.
Downsides and limitations 
Plain design and no exciting features to attract users' attention. Tough for those who get bored easily but easy to navigate even for people who are not that tech savvy
Sometimes it takes ages to load a profile and view it, especially if it contains more than one photograph
Not many options for communication
Advertisements ruin the dating experience and serve as a distraction that prevents a user to focus on the profile he/she is viewing
The site uses dull colors and isn't aesthetically pleasing. The presence of only two colors, white and blue, makes it boring and unattractive to use. The only things that stand out regarding color are flags and profile photos
Mobile app is non-existent
Customers' reviews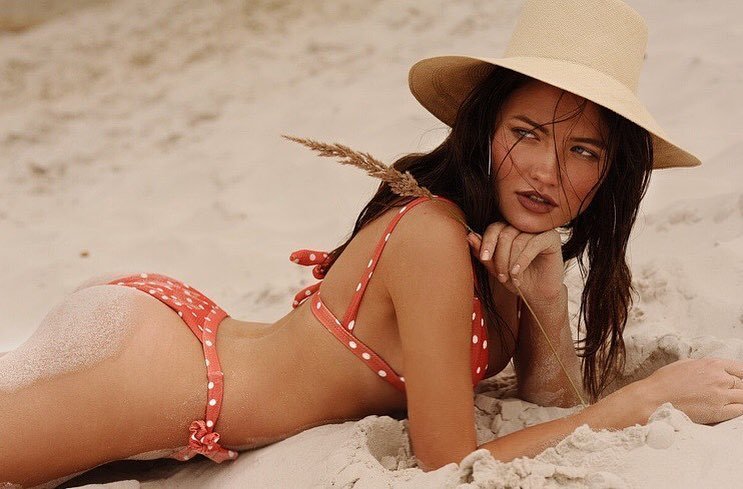 Salesman (31): "I've been using this site for a couple of weeks. So far it's been a mixture of positive and negative experiences. I've had my share of disappointment when quite a few girls I texted never replied to my messages. It left me wondering whether there was something wrong with me or if they're just generally unresponsive. There's no way to tell if a user is still active or not. I've succeeded in establishing contact with a couple of ladies though, but the communication doesn't seem to last. Even though they seem quite interested one day, they completely ignore me the next. So I haven't managed to find anyone special on this site yet. Using it can be frustrating at times, but since the service is free, I'm prepared to give it another shot."
FDating: General impression and overall rating 
FDating is one of the few sites in the dating niche that's 100% free. Most other sites advertise their free features, but members end up paying costly fees if they wish to use more sophisticated search tools or even merely to reply to messages. All of this will cost you nothing on this site, at least not financially. It will most definitely cost you time to sift through dozens of half-empty profiles in search for someone interesting. After that, you'll send them a message, and a waiting game begins. It can be hours or even days before someone replies.
Furthermore, some of the younger users may be bummed by FDating's plain design, but older members and those with humble computer skills will likely appreciate it. Easy to navigate and without complex matchmaking options, it's best suited for those who like things to be simple and straightforward. The overwhelming quantity of ads running all around the site complicates browsing significantly though and can be an annoyance. However, advertising is often the only source of income for free services, so users can either put up with it or choose a paid service with no ads. A large number of bogus profiles and members' unresponsiveness account for the overall grade not exceeding a modest 2/5.
---
More online Dating Services
---
Brides by countries on site