Pros
Quick&Easy registration

Free browse through profiles

There is a chatroom

There is an app

Messaging with paying members is free

Premium fees are moderately priced

Pofiles are quite detailed
Cons
Most features are paid or limited

The daily number of visits is small
Verdict
The site totally deserves a respectful 4.0/5 grade, and we can with all honestly advise you to try it at least as a free member
---
HongKongCupid: Find your Asian match easily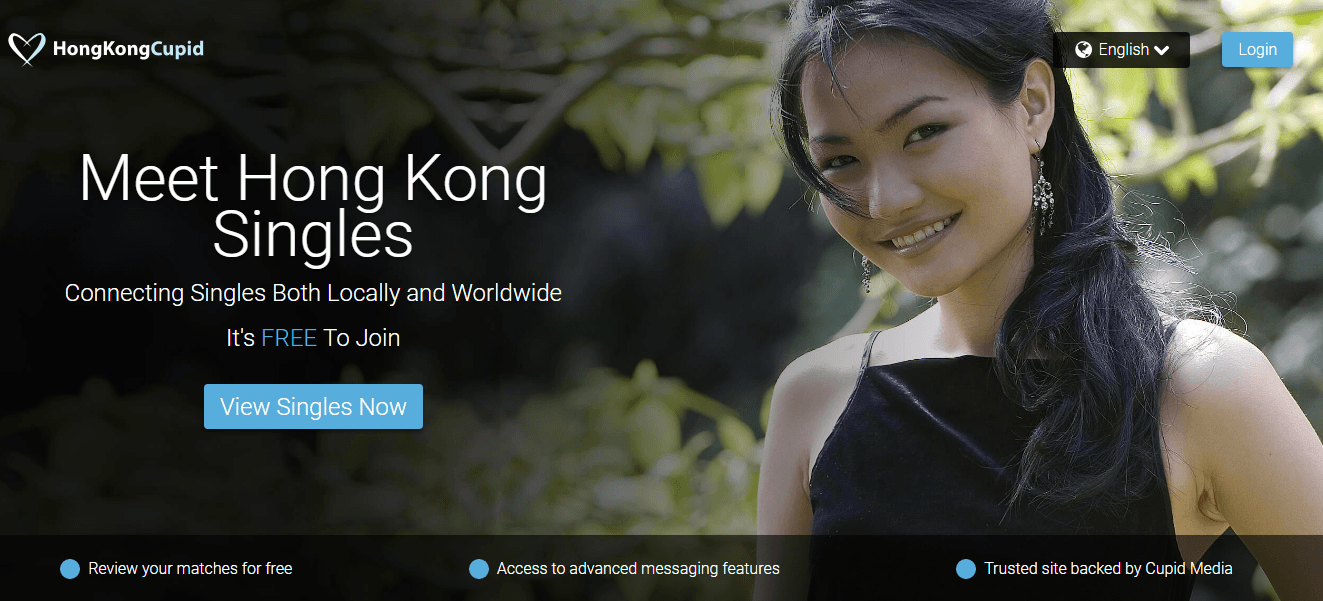 Asian women have always fascinated men from all around the globe. While you may meet a lady of Asian descent in your area, building a relationship with her requires you two to be on the same page, and it doesn't happen to everybody. Indeed, it is hard to fall in love from first sight these days, especially if you are searching for something special. But there is definitely a way out. The Internet has provided us with all the necessary tools to find love, regardless of our partner's geographic location. 
But how to choose a site? If you want to meet an Asian girl to connect your life with, you are better to search on a niche website. It has to be reliable and effective. And not super expensive, probably, because this can take some time. 
Here, we'll take a look at one of the sites for Asian dating – HongKongCupid. Owned by Cupid Media, this service shares the functionality of other group's websites but is specifically targeted at men in search of beauties from Hong Kong. Let's jump right in and discover how you can benefit from using it. 
HongKongCupid members
The member activity at HongKongCupid is quite low bringing it only 40 members who are online at any given moment. The daily number of visits hardly makes 300. Actually, there are less than 100,000 HongKongCupid users worldwide. The good thing is that almost half of them is from Hong Kong which allows westerners to have some choice of a partner. The second half of users mainly comes from the US, Western Europe, and Australia. 
Another advantage is a favorable gender ratio – 60% of the overall membership are women. The fact that they outnumber men (but not critically) makes it possible for everyone to find a match. If your perfect partner is not on the website yet, they might be one of 7,500 new users that join every month. 
How to contact other HongKongCupid users
To enjoy communicating at HongKongCupid, you should take into account the most important thing – paying and non-paying members can access a different scope of communication tools. This is the case with all Cupid websites, so there is no point in arguing whether it is fair or not at HongKongCupid in particular. But we must warn you that if you want to get the most of this service, you will need a subscription. 
So, all that free users can do to grab someone's attention is to send their interest. If they succeed and a paying member finds them attractive, the latter can initiate a conversation, and everything can keep going without a problem. But sending interests to other free members is a waste of time because they can't either see it or start chatting first. Paying members should consider that too, and they should wait for a free user contact them first.
Remember that the overwhelming majority of the female population on the site are free users, so you really need to buy a membership to get in touch with them. Once you do so, don't forget to check your lists of interests and likes because one of the senders might be your number one, and she is waiting for your reply. 
Searching for matches is not the same for free and paying users either. If you upgrade your account, you can access the smart algorithms and a wider range of filters to increase your chances of meeting the one you really like. 
Any user can be searched by Cupid Tags. This is a common feature for all Cupid Media websites. A tag like this contains whatever keyword a user chooses to describe him or her the best way. 
As your network at HongKongCupid grows, you may notice that not all the users who message you are nice and friendly people. Some are just needy and annoying, while others might get really offensive and rude. No matter what their reasons are, you don't need to explain why you don't want to stay in contact with them anymore. Just block them once and forever and forget they have tried to reach out to you. Additionally, if you think that someone has ill intentions and might be dangerous for you and other users, report them to the site's moderators. This is a great contribution to the safety of the whole online dating community.
Building a profile
Most profiles on HongKongCupid are quite detailed. But actually, it depends on a profile owner because no information is mandatory to provide. Photos are optional too. 
However, it is a well-known fact that the more explicit the data you provide is, the more chances you have to get matched. Start with uploading photos. Mind that they will be visible to all users, but only after they get verified by the team. 
Then, you can describe yourself. A lot of us feel confused when we have to talk about our appearance, especially if there is a photo. Some honestly don't understand why they should do it – Can't others see them clearly in the picture? Well, this is not done for someone to read, but it is used as search filters. If you want to pop up in other users' search results, don't ignore this section. 
After that, you can picture your lifestyle, hobbies, and interests. Some of these questions can be answered in an essay form. Don't forget about Cupid Tags that make you even more searchable.
Each profile can be verified to acquire a green badge leaving no doubt about the authenticity of its user. Both premium and free members pay more attention to verified profiles. Everyone wants to stay on the safe side, you know. Verification is quite easy and only requires you to send a copy of your ID to the site's moderators. 
The desktop version and the mobile app 

Using HongKongCupid services is easy both on your computer and on the go. The desktop version is simplistic letting anybody use it intuitively, regardless of their technical skills level. The design of both versions is finished in the shades of blue. Font choices make all the text and action buttons clearly visible. 
The app is effortless to navigate as well. This version appears to be more compact than its desktop counterpart which makes it perfect to use on any mobile device. The HongKongCupid application can be downloaded both from Google Play and App Store, and it is absolutely free. You can access all the site's functionality via the app. Plus, you can adjust notification settings not to miss anything interesting going on. 
Membership and prices
As mentioned above, paying users can access much more features at HongKongCupid than those without a subscription. 
Once you subscribe, you are in no way limited in sending, receiving, and reading messages. You can start a conversation with whoever you like, and even if they are a free user, they can write back to you. Besides, you can communicate in the live chat which is far more exciting than simple messaging. 
It would be easier for you to search for people who really meet all of your requirements, as paying members can use advanced search filters. Plus, they are matched up with others by means of search algorithms that free users have no access to. 
If you are worried that your special someone is going to skip your profile in their search results, you can make it more noticeable by highlighting it. On the other hand, if you want to stay aside for some time and just look around, use the website in the anonymous mode. That way, you will be able to view others' profiles, but they are not going to see yours. 
To share more information and make your profile more appealing to the one you are searching for, double its space by using the corresponding paid feature. On top of it, whenever you get a message in the language you don't speak, it may be automatically translated by the system. This feature is very convenient when it comes to international dating, so don't hesitate to use it. Automatic translation at HongKongCupid has two major advantages. First, it is of better quality than common online translators can offer. Plus, as you might know, other platforms hire real people to provide such a service. At HongKongCupid, no third party is involved in a conversation which makes it intimate but just as easygoing. 
The prices at HongKongCupid are more than pleasing. The memberships are grouped into the Gold and Platinum ones. Each type can be purchased for three terms: one, three, or twelve months. Longer terms always allow you to save a lot of money.
Gold membership fees are 24.98 USD for a single month, 49.99 USD for three months (or 16.66 USD per month), and 99.98 USD for a year (or only 8.33 USD per month). Platinum fees are a little bit higher: 29.98 USD on a one-month plan, 59.99 USD on a three-month plan (20.00 USD per month), and 119.98 USD for a year (that is 10.00 USD per month). All memberships are purchased with an upfront payment for the whole period. 
There is a wide choice of payment options you can choose: a credit card, direct debit, bank transfer, check, or PayPal. When your subscription expires, you will be automatically billed for the next equal period. To terminate your membership or change a subscription term, don't forget to cancel the auto-renewal to discontinue all charges.
Final word on HongKongCupid 
This website clearly stands out among various similar sites for providing top-quality online dating services. While other niche websites might be less upscale, HongKongCupid has no such problem, being a part of the major Cupid Media Group that constantly invests in all its services. 
As is the case with most paid websites, you should subscribe to enjoy using HongKongCupid with no limitations. The prices, however, don't scare users off and the majority of the male population choose to become paying members. On the other hand, women are mainly Standard subscribers. It might not be a downside at all. Being a free member doesn't prevent anybody at HongKongCupid from communicating in general, as long as they come across a paying user. 
Another arguable shortcoming of HongKongCupid is the daily number of active users. But you never know if it is going to become an obstacle for quality communication. Maybe, the woman of your dreams will be waiting for you online just as you sign up. Plus, the level of activity only matters until you find some people to chat with on a regular basis. When members come across those they are interested in, they arrange a specific time to meet online every day. 
Overall, taking into consideration all the downsides, we would still recommend this service to men who are looking for an Asian woman to start a long-term relationship with. Casual hookups are also among some users' goals, but this one is less popular than finding a commitment and getting married. 
The site totally deserves a respectful 4.0/5 grade, and we can with all honestly advise you to try it at least as a free member.
---
More online Dating Services
---