Pros
Free registration and browse through profiles

Chat with premium members can be free, if a premium member initiates a chat

Mobile app

It's absolutely free for women

Very few fake profiles

You can view who visited your profile for free
Cons
Pricing policy is a bit higher than average

Member suggestions rarely refresh
Verdict
EastMeetEast deserves a shot — numbers alone are quite impressive, giving all relationship-minded Asians a chance to find their true love
---
EastMeetEast Review: Where Asians Find Love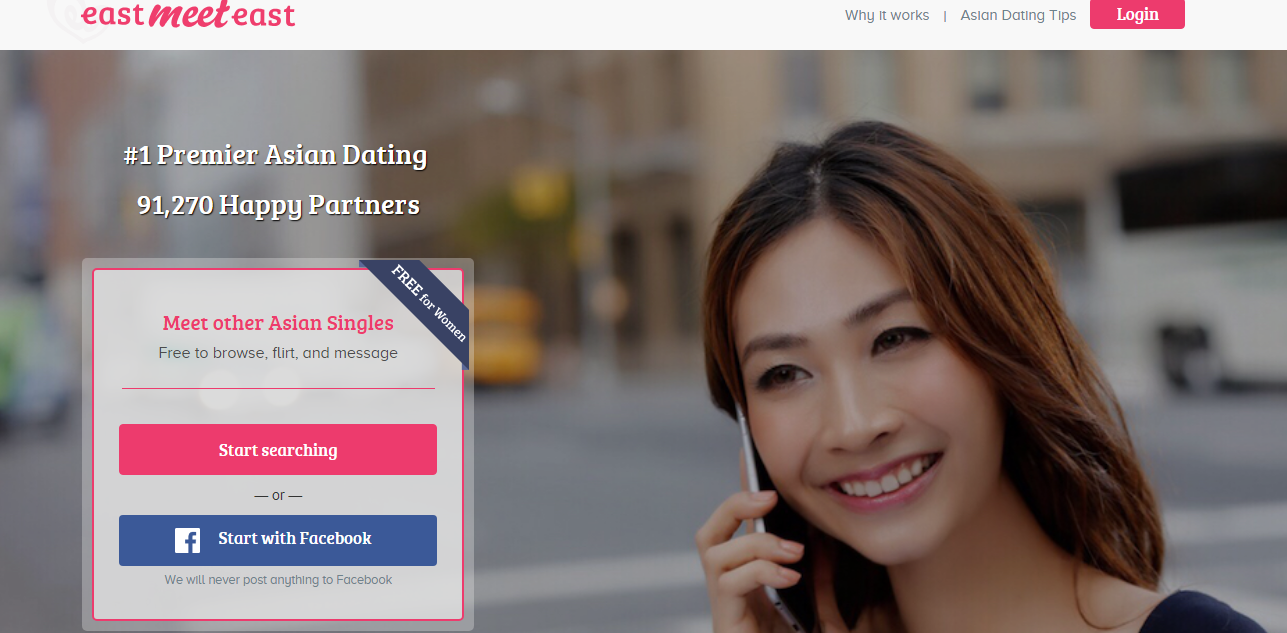 EastMeetEast is a dating platform that caters to Asian demographics. Women are mostly located in Asia, while most male users are men of Asian descent but living in the West. All features on the site are 100% free for women, while men have to pay to use this platform. The administration explains this issue by the fact that Asian women are wanted more; however, we would have to disagree and state that most men not only want to but also can afford to pay — after all, most paying users are adult men living in the cities and enjoying higher than average income (which is not always the case with women on this platform). 
EastMeetEast was launched in 2013 and since then gained over 700, 000 users, most of which reside in the US. The site features thousands of success stories and happy clients' testimonials, having successfully matched around 70,000 couples. This stat is quite impressive, but like any other dating site out there, EastMeetEast has its positive and negative aspects. Let's discuss them below.
EastMeetEast users: who they are?
the leading platforms for all English-speaking Asians, even though the ladies do not always come from the West.  Most users are 18-34 years old, and they register to build a lasting relationship, not to hook up. Some, however, are looking to meet people and make new friends, which is also an option on EastMeetEast. 
Women outnumber men by approximately 20% on this website. The site has plenty of active users, accounting for 1, 500 unique logins every day. So, no matter if you are looking for love or a good friend, the odds of finding it with EastMeetEast are quite impressive. 
Getting started with EastMeetEast

Creating a profile with EastMeetEast is simple — new members can use their Facebook details to log in or sign up the old-fashioned way. If you choose to create an account manually, be prepared to validate your email. Apart from that, you'll need to include some basic details, such as:

Your gender
The gender of the person you're looking for 
Your ethnicity
Location
Preferred username and password 
After that, you upload a photo (feel free use your Facebook pic or skip this part) and verify your email. That's all it takes to create an account with EastMeetEast. And, as you already guessed, the site welcomes not only heterosexual matches but also gay ones. Also, while EastMeetEast targets Asians, anyone, regardless of ethnicity, can join. 
How to get in touch with other users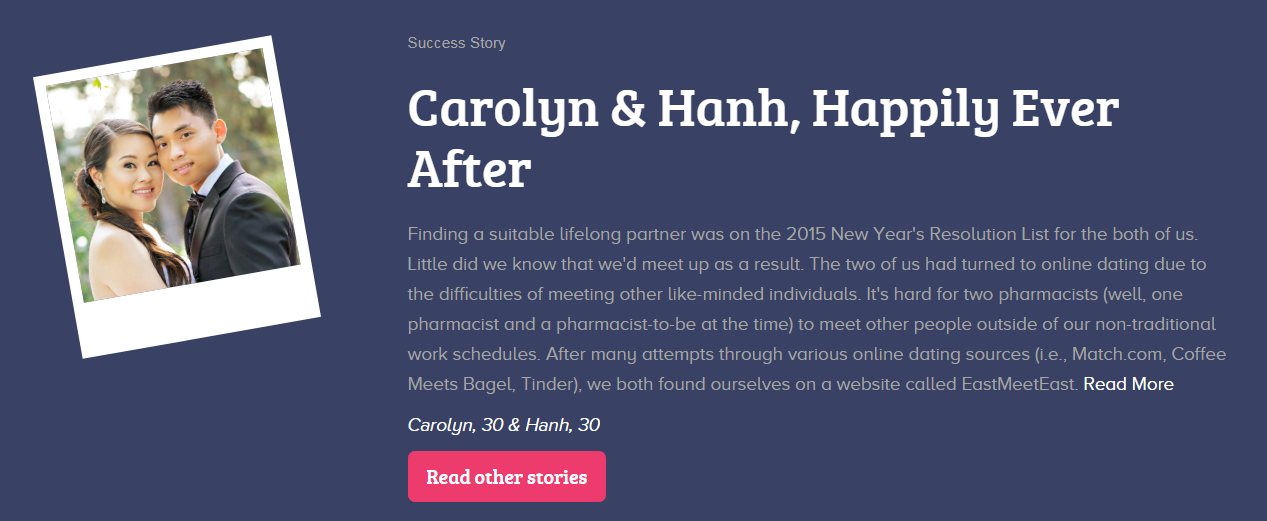 As already mentioned, women do not pay for any of the website's features. Men, however, are expected to get a premium membership to enjoy unlimited communication with the ladies. There are two ways to top up an EastMeetEast account — get a full membership or purchase a set of coins to use them on communication. When a woman sends a message to a man, only a preview of the email is available — to read it all or to send a reply requires either of the above payment means. 
Searching for other members, however, is free of charge, so new male users can take some time to look around. The search system is pretty advance and allows any user to define a wide range of parameters they're interested in — from location and appearance to educational background and hobbies. All profiles will be displayed in a grid, and it's possible to see either a quick summary of the account or to click on the user and see detailed profile info. Also, EastMeetEast profiles show user response rate, which comes handy when trying to filter off inactive profiles. 
In addition, EastMeetEast users can send smiles to each other — for free. Free users can also see who viewed their profile and get a list of potential matches. The latter ones, however, barely refresh, so match-making algorithm does leave some room for improvement. 
How good are EastMeetEast profiles?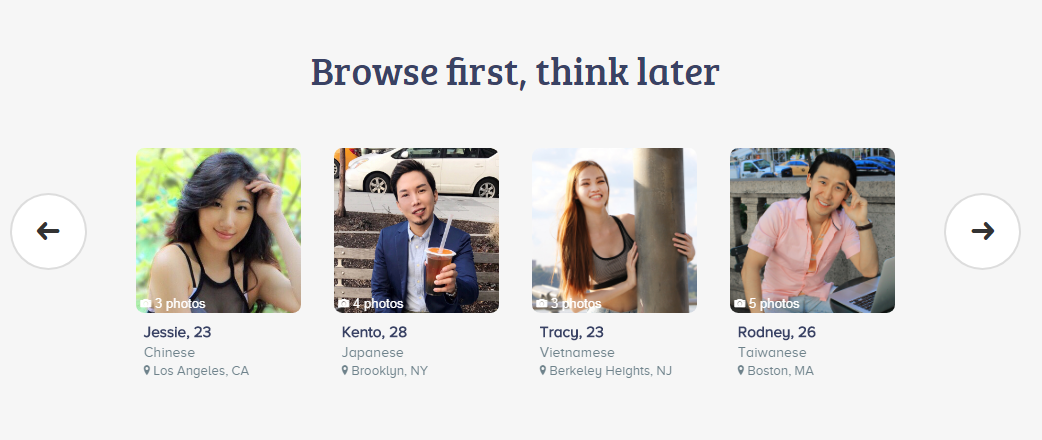 Even though it is possible to include quite a lot of info on EastMeetEast profiles, not too many users bother to. It looks like most site members just use their basic Facebook details. Plus, there is an option of linking your Instagram account and upload pics from there. Note, however, that all pictures are reviewed by site admins, so it takes a bit of time before your photos become visible to other site members (usually, within a day, often sooner).
Also, even though a new user has a chance to skip picture upload during the registration, it is still necessary to upload a relevant photo within 24 hours of registering with the service. Unless you upload a pic and have it approved by moderators, you will not be able to see other users' photos. 
As for profile informativeness, EastMeetEast offers its users several fields they can fill in or edit any time they want. Those are:
About — a text paragraph that often remains blank because it calls for some free-writing experience
Personal Details — another text paragraph that calls for lifestyle and cultural background description 
Instagram — a selected photo album with Insta pics (usually, users have this one linked)
Interests — any hobbies a user feels like mentioning 
Sports — sports played, past or present. This section also remains blank most of the time.
Also, next to every user, there is a percentage tab that shows profile completeness. If a profile remains incomplete, it sits on the bottom of search results. Still, even if a user completes a profile, we must say that the detail level is too low to get adequate insight into a person's mind. Profiles without pictures remain invisible to other users. 
Website design and EastMeetEast mobile app
EastMeetEast features a clean and easily comprehensive design. The main colors are unobtrusive blue and gray, even though some major tabs are highlighted in green and pink. All essential functions are carefully organized in the header menu and go as follows:
Search 
Messages 
Smiles 
Visitors 
Subscribe 
Profile 
Account settings
As already mentioned, search results are displayed in a grid. Other tab's content will depend on your profile activity. So, if you do not have any smiles or visitors, you will suggestions on how to get those instead of the actual results. The advice, however, is pretty generic and goes down to completing your profile. 
EastMeetEast app has a very similar, neat and unobtrusive design. Not only does the app feature the same functionality as the website, but actually improves on it. Unlike the desktop version, EastMeetEast mobile app has instant chat members can make use of on the go. Apart from an instant chat, app users can enjoy live streaming and one-on-one match recommendations. Member profiles and messages are available in a collapsible menu. The app, however, is available for iOS devices only and is a bit bulky. 
What does it cost to use EastMeetEast?
As we already covered, ladies can enjoy all the site functional for free. Men, however, cannot do much with the service unless they subscribe for a premium membership. A free male user can only:

Register 
Search for other users
Send smiles to other users
Chat with premium members if a premium member initiates a chat 
See who viewed their profile.
All in all, this is more than most dating apps offer, but still not that much to really enjoy communication with other singles. 
Premium members can enjoy unlimited communication and even read message receipts to see when their email reaches the person they're contacting. The price of this luxury depends on how long users subscribe for. 
One month of using the service comes at $34.99; 
Three months — $22.99/month, $68.97 total
Six months — $17.99/month,  $107.94 total
Twelve months — $11.99/month,  $143.88 total
On the whole, such pricing policy is a bit higher than average in the dating world, but definitely not the most expensive one. As for the available payment options, EastMeetEast accepts credit cards only. 
All subscriptions renew automatically, so keep an eye on that if you want to stop using the website. Besides, a NY tax comes on top off every subscription fee, so the actual price you pay will differ from the numbers above. 
Another payment option we've already mentioned is a virtual coin. These coins may prove useful for new users who are not yet sure whether they want to stick around. Coins are sold in batches of 1, 800 ($4.99 total). However, even 1,800 virtual credits will not get you much, as sending one message costs 100 coins. The upside is that all new users get 1000 coins as a gift, so there is still a way to start a chat with someone who catches your eye. 
Special perks from EastMeetEast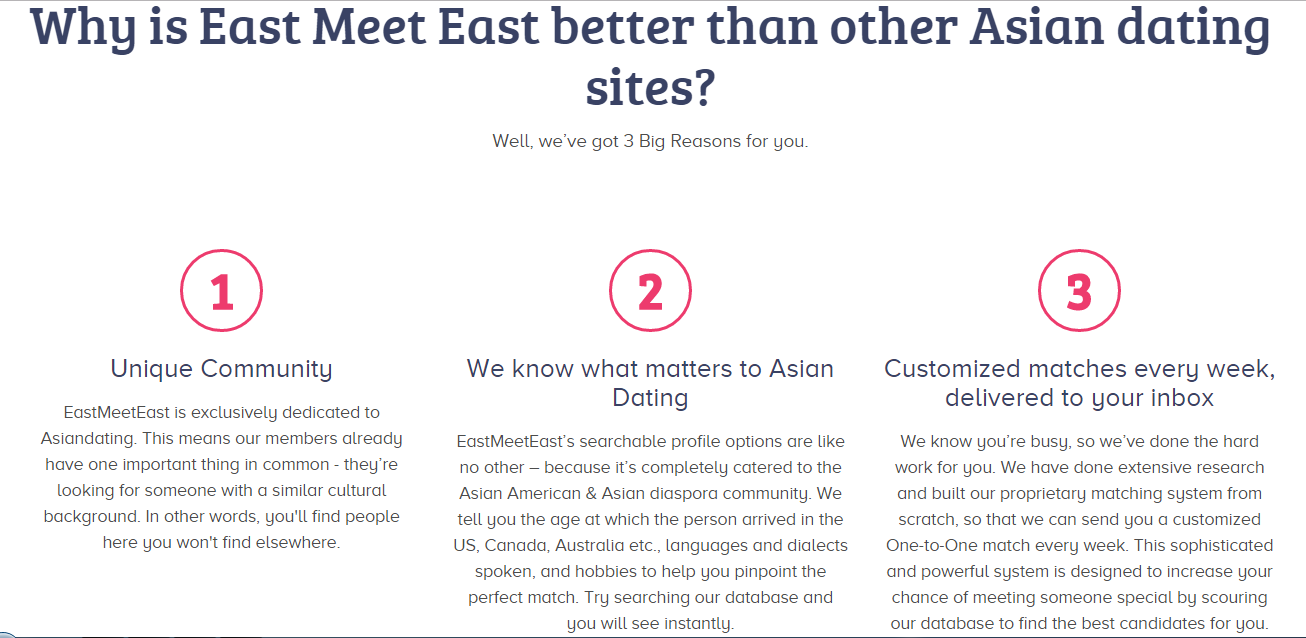 EastMeetEast is not very creative when it comes to extra services and those little features that make the overall user experience more rewarding. The site sticks to the essentials, like searching and contacting other members. The only two features that are generally off the menu are

Views and Smiles — even a free user can see other members who viewed their profile. Plus, exchanging smiles is also free.
Dating tips — those are essentially blog articles from relationship advisors. Such updates are created for people who find it challenging dating online (or dating, in general). 
Security and Privacy on EastMeetEast
EastMeetEast is legitimate dating platform that takes user privacy and internet security very seriously.  You can find all the relevant conditions under their Privacy Policy and Terms of Usage sections. However, the most essential info goes down to not sharing your data with the third parties and doing everything in their power to shield you from Internet fraud.
As for the fraud, you can always report abusive users to the customer support. For that, make use of the "report user" tab under their profile. Any suspicious activity (like asking for money, etc.) can also be reported. Also, feel free to block this account — such an option is also available.
Final verdict on EastMeetEast
On the whole, EastMeetEast deserves a shot — numbers alone are quite impressive, giving all relationship-minded Asians a chance to find their true love. On the other hand, though, the site does not offer anything truly exclusive — except for the demographics, which, if you think of it, is not that exclusive either. Plus, the membership fees are quite high, and the number of extra perks and features is minimal. Finally, free services for the ladies imply that some of the ladies in question may not be as serious in their intentions, compared to men who have to pay to enjoy communication on the platform. So, our rating would be "satisfactory" at best.
---
More online Dating Services
---
Brides by countries on site