Pros
There is a mobile app

Standard members can answer messages sent by Premium members

Free to send friend requests

Profile and photo verification

Advanced search options

Over 600,000 worldwide users
Cons
Limited features for standard members

The price of membership is a little higher compared to other dating sites
Verdict
Overall, this site merits a solid 3/5 grade. The authors' attempt to make it easier for military personnel to find suitable partners is certainly admirable. Military Cupid unites service members and civilians who respect them deeply and are willing to adapt their lifestyle.
---
Military Cupid: Dating those who serve the country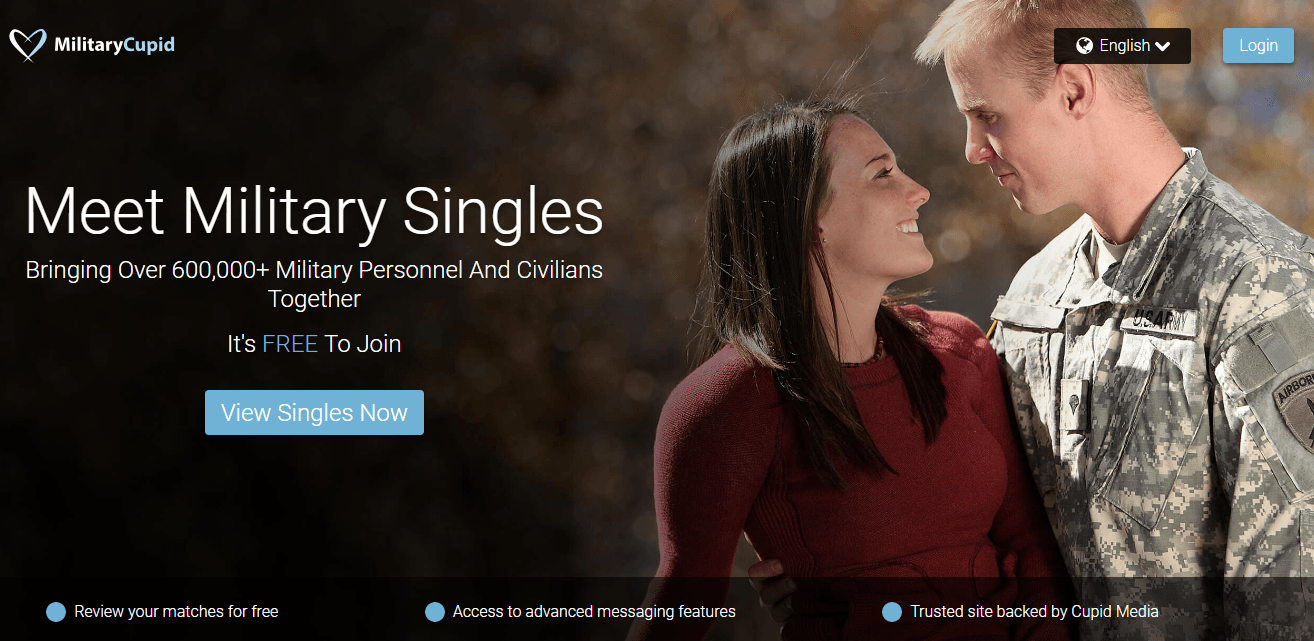 Military Cupid, founded in Australia in 1999, now works as one of the 30+ dating sites operated by Cupid Media. It caters primarily, but not exclusively to military personnel. With more than 600,000 registered users, it offers members of the army forces a chance to find their special one to share the whole life with. While other dating sites might not be suited for soldiers and officers, on Military Cupid there's no risk that their matches will lose interest after learning what they do. For many civilians dating someone who serves their country is a matter of great pride. This site's mission is to bring together people in active military duty and civilians who admire them and would be interested in starting a relationship with them. 
How military personnel can benefit from a dating site
Being deployed six months of a year or more makes it hard to start a romantic relationship and keep it going when you're miles apart. Finding someone who understands what it means to be in the armed forces and who's willing to adjust to a military lifestyle is not always easy. It's even harder to go overseas and fight a war without a beloved one waiting for you back home. Deploying and leaving a sweetheart at home strengthens your will to survive and makes you cherish those precious moments when you're able to contact them. And only a special person can accept the long months of being apart. They have to be confident enough of their love for you and independent enough to make it on their own while you're away. Obviously, you won't come across such a person in your local bar. Joining a site where everyone's on the same page makes it easier to find a perfect match for both parties.  
Members: gender, ethnicity, religion and sexual orientation
Military Cupid welcomes persons of both genders, all ethnic and cultural backgrounds and religious affiliations, and any sexual preferences. However, most members appear to be white and straight. Women outnumber men 2:1. All kinds of relationships are supported, but the majority of users wish to form long-term romantic relationships. Quick hookups, friendships, and pen pal contacts are just as easily arranged. 
The site gets over 15,000 new members a month, and more than 600 are active on any given day. All age groups are represented; everyone has to be over 18 to register, but those in the 25-45 age range are the most prevalent. Along with American users, who form 75% of the site's membership, Military Cupid also has members from Canada, Australia, and the rest of the world. 
Registering as a new user on Military Cupid
Signing up via e-mail or Facebook only takes a few minutes. You are not asked to fill in lengthy questionnaires in the registration phase. But feel free to add more personal info later on. If you opt to sign up using your Facebook account, Military Cupid will retrieve your basic information from it as well as your photos. In case you are not comfortable with sharing these with a dating site, we recommend you register using a valid e-mail address, perhaps one freshly created for dating purposes.      
One of the great things about Military Cupid is being user-friendly and suited even for those with no previous experience in using matchmaking services. The site provides simple instructions to guide new members through its various features, allowing them to familiarize themselves with everything and get comfortable with online dating.   
Immediately after initial registration, you're offered matches based on the few details you put in. In order to get connected with those perfectly suited to you, we encourage you to complete your profile with information pertaining to all important areas of life. The site provides questions divided into three categories. Answering them gives a pretty accurate picture of you as a person and what you're looking for in a partner.
The categories include:
Basic information: your name, gender, age, city, region, country, and the gender of the one you seek.
Details about your appearance, lifestyle, and background: anything from eye color to education, desire to have children, zodiac sign, and religion. Specifying your military branch is also possible.
Details about your prospective partner: age, appearance, lifestyle habits, and cultural background.
Members can add a paragraph describing themselves in their own words, put an attention-grabbing heading over it, and emphasize what they expect from the person they date. 
All new profiles and updates made to existing profiles go through a verification process to ensure they are in agreement with the Terms of Service on this site. It usually takes 24 to 48 hours for a profile or its update to be approved and visible to other users. Additionally, members can choose to upload a photo ID in order to get a 'verified profile' icon next to their name. It makes their intentions look more serious and assures others that they are not scammers of any sort.  
How to make contact with someone you like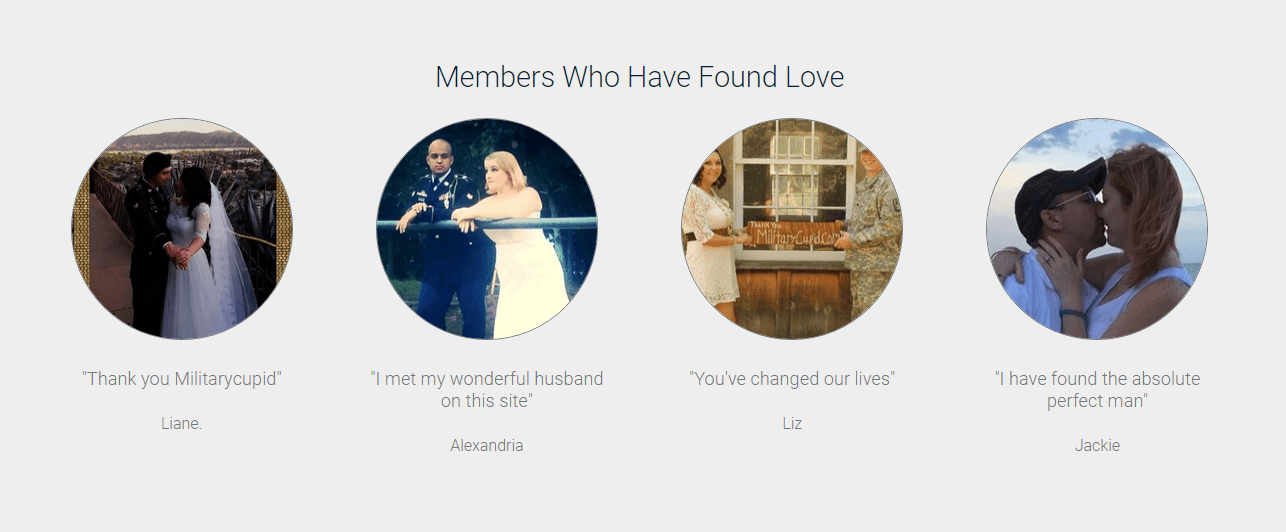 Military Cupid offers several communication options, only a few of which are available to Standard members. Adding someone to the Favorites list and sending interest is free for everyone, unlike sending messages requiring you to be a Gold member at least. Standard members can answer messages sent by Premium members, but no communication between two Standard members is enabled.
Show your interest in someone by clicking on the heart symbol by their name. Clicking on the check symbol adds a person to your list of Favorites. Other members get notified when someone is interested in them, so they can send interest back if they want to. It's an alternative to flirting or winking offered by other dating services. 
Cool features of Military Cupid that make them stand out
Message filter: you can specify who you'd like to receive messages from and no one else will be allowed to contact you. Texts sent by other users will be stored in your Filtered folder and kept for two months during which you'll be able to access them at will.
Cupid Tags: a possibility to add keywords that can make your profile turn up in searches whenever a particular tag is entered as a search filter. This is a common feature for all Cupid Media dating sites.  
Searching by military branch: a unique feature that's highly relevant to the site's target audience and not available on any other matchmaking services. 
Public and private photo galleries: users get a chance to decide which images they will show to everyone and which will remain private to be viewed by those specially authorized. The latter can be somewhat more intimate and 'hidden' from the eyes of the general Military Cupid population. Picture formats that are accepted include .jpg, .bmp, and .gif. Photos cannot exceed 10 MB in size. 
Becoming a Premium member: costs and benefits
Military Cupid offers two kinds of fee-based memberships: Gold and Platinum. The first includes unlimited messaging on top of the free features available to Standard members. The second combines the perks of the Gold membership with live chat, additional search features, and the option to remain invisible while browsing Military Cupid profiles. In search results, Gold members are displayed above Standard ones, while Platinum members get their profiles highlighted and shown near the top of the search output. They can use the services of a translator, view video profiles of other users, and send video mail.  
Military Cupid membership fees fall into the moderately expensive category. The cost of Premium memberships depends on the period it's purchased for. Those paid on a monthly basis are the most expensive. Gold membership prices range from 10 USD to 29.98 USD a month, while Platinum costs slightly are higher – from 12.50 USD to 34.99 USD a month. The site honors most major credit and debit cards. The fees can also be paid via Bank Transfer and Pay Pal. The membership renews automatically to make sure users do not lose access to Premium features simply because they failed to keep track of their membership expiry date. The auto-renewal option can be switched off at any time from in the 'Billing subsection' tab of the Settings menu. 
The site's design and mobile app

Military Cupid website design is quite basic making it extremely easy to navigate. All the site's functions are clearly visible and displayed in legible fonts on a white background. There are no irritating ads popping up in your face while you are browsing through dating profiles. The simple graphics load quickly, and one doesn't need a powerful computer to use Military Cupid without problems. 
The mobile app is downloadable for free and designed with a user-friendly interface similar to the one of the desktop version. Its features are clearly organized and provide an enjoyable experience of using Military Cupid on the go. 
Member feedback section
Complaints concerning Military Cupid's usability and technical issues
Too little is made available to Standard users. They are not allowed into chat rooms, cannot use instant messaging and real-time communication, nor can they add interests and hobbies to make their profiles more detailed. 
Military Cupid times out after 20 minutes of inactivity. Users are forced to reenter their login info if they had been away from their computer for a while. Being inconvenient in most cases, this is still a security feature that protects members from unauthorized parties accessing their profiles. 
Dating experiences shared by members
Female user (35): Personally, I'm not in the military, but I've always admired men in uniform. This site has allowed me to meet several of them and start communicating online. It has been a valuable experience. I hope to take it a step further and find a romantic partner on Military Cupid.
Male user (41): I have recently got divorced, and a fellow marine suggested I register on Military Cupid to try and land a date. I gave it a try. And after running into a few Nigerian scammers and brushing them off, I managed to find a nice girl interested in dating a serviceman. She lives nearby, so we have arranged to meet in person and check if there's chemistry between us. I'm not intended to get my hopes up, but we'll see where it takes us. 
Military Cupid: assessment and rating
Overall, this site merits a solid 3/5 grade. The authors' attempt to make it easier for military personnel to find suitable partners is certainly admirable. These are brave men and women who constantly put their own lives on the line to make sure our freedom and way of life are kept safe. They definitely deserve to meet someone special. For those who are to be deployed overseas for long, dating can be a bit challenging. Military Cupid unites service members and civilians who respect them deeply and are willing to adapt their lifestyle. That said, the website could improve in terms of design which would make it more modern and pleasing to the eye. Furthermore, the lack of communication options for Standard members is also unfortunate. We find that at least a limited number of messages should be made available to non-paying members.  
Since Military Cupid prides itself as being focused on people serving in the military, they should think about adding extra features designed especially for this population. Currently, only the option to search by service branch can be considered audience-specific.
---
More online Dating Services
---