Pros
Easy to use

Free browse through profiles

Messaging is available for free users

There is a mobile app

Many communication means (recording messages, making live audio or video calls)

Active profiles are quite detailes

Cupid Tags

3 Month Free Trial
Cons
Messaging limitations

Mobile app isn't compatible with IOS

Many inactive profiles
Verdict
We described BlackCupid quite detail, but the decision to try it or not is only up to you. Still, we recommend you to give this site a shot at least because it offers 3 Month Free Trial - you lose nothing
---
BlackCupid: For Black People and Their Admirers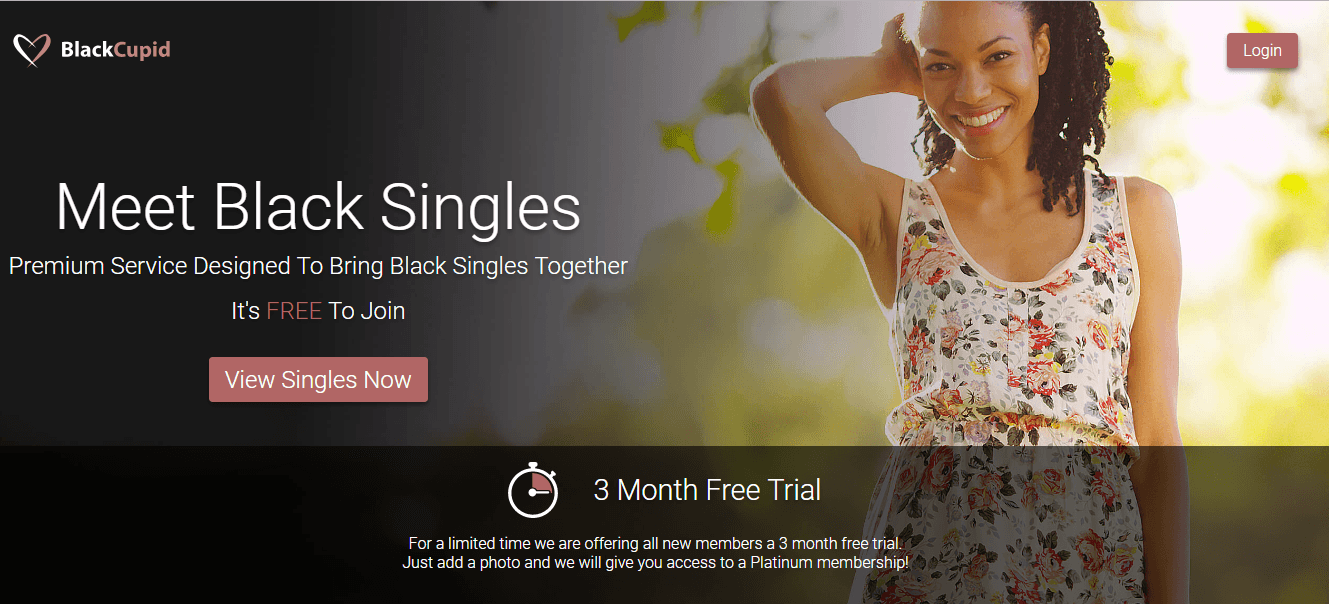 BlackCupid is a part of the extensive set of niche dating websites owned and operated by Cupid Media. Its mission is to connect black (not exclusively African American) men and women, as well as the admirers of black beauty. It was started in 2008 and has attracted over 30 million users from all over the world.
Today, BlackCupid is available both as a website and as a mobile app. The service welcomes people from different ethnic backgrounds who are willing to meet black people. It doesn't restrict you about the goal of your meeting either: you can find a hot date or a lasting relationship or anything in between. However, the service only caters to heterosexual daters. 
Setting up a profile and getting started
The sign-up process at BlackCupid is identical to other Cupid Media websites. It's a brief process where you have to indicate your email address, name, age, and location. Since the site caters to a heterosexual audience exclusively, you don't have to indicate your sexual preference. Instead, the system will by default assume that you prefer the opposite gender.
You can create a profile even faster by signing up with your Facebook account. This way, all these details will be synced from there. Moreover, if you have ever signed up with any of Cupid Media's numerous websites, BlackCupid welcomes you to use your login credentials from there. Those are the three ways to get started with your personal profile on this platform.
Once you have a profile, you should fill it out. You will see a variety of questions none of which are mandatory. Their extensive variety allows one only to choose those about which they feel comfortable. The questions vary between the most general and the most specific ones: from describing your personality and your expectations to asking about your ideal romantic date, your own body, and sense of style. Some of these are multiple choice, and others are to be answered in free form. 
Some questions are quite amusing. For example, one went like this: 'How adaptative are you to having a partner from a different culture to your own?' Yes, adaptative. And the more time one spends on BlackCupid, the more they get used to peculiar language choices. There are also questions that only the boldest daters would answer. For example, there's one about the most attractive thing about you, or which you would choose between butt, biceps, personality, wallet, and some other options. We remind you that, fortunately, answering none of those is obligatory, and users are free to choose which of them to reply and which to leave blank.
Naturally, you'll have to upload a photo or two. Most dating websites allow for extended photo galleries, but for some reason, BlackCupid users are only allowed to have up to five. When you upload photos, and they don't show up at your profile immediately, it's no reason to panic. All uploaded photos have to undergo manual verification by the staff. If your photo looks authentic and decent, it will appear on your profile within ten minutes. In rare instances, verification may take longer.
In addition, there's also an optional verification procedure. You can hit the Verify button on your profile and get a link where you can upload a picture of yourself holding your valid ID next to your face. You don't have to look good in the picture because it won't be posted anywhere. It's only used for verification purposes and gets deleted afterward. As a result, you'll get a 'Verified' badge added to your BlackCupid profile, increasing its credibility.
The notification bar may be irritating at times because it will notify you about every smallest activity with your account. It can get really annoying, so we suggest you adjust the notifications in your account settings. For example, you can set it to get notified only when someone writes you a message.
Profile quality
Since none of the profile questions are necessary to answer, we suspected that there would be an overwhelming amount of empty and non-representative profiles. That would definitely worsen user experience. We must say, however, that most of the profiles have photos and are filled out to a various extent. Moreover, they look quite genuine. The people on photos don't look like top models (although many of them are quite attractive!) And the profile texts don't look like they were written by pro writers: some are lengthier than others, and some misspell words or have other minor errors, etc.
The only drawback concerning profile quality at BlackCupid is that many of them are inactive. We have stumbled upon numerous profiles where the person hasn't shown up for several months! These people might have got disappointed and decided to look elsewhere or found their one and only and abandoned the profile. But regardless of their reasons, BlackCupid team needs to do something about those profiles. For example, they could stop them from showing up in the search and matchmaking outcomes.
There is another unique Cupid feature available to the users of BlackCupid as well as other group's websites. It is incredibly convenient and deserves mentioning here. The system analyzes the information from user profiles and concludes how well a couple may match up. It means that whenever you look at another user's profile, you will see a badge telling you how much this person matches you based on the information from your and their profiles.
Speaking of the profile display, you can adjust that, too. Go to your settings and set up which characteristics of another person you want to see at the top when you look at their profile. For example, if a person's body type, political views, or their religion are crucial details for you, you can adjust to see this information about a person first whenever you open their profile page.
Finding mates and getting in touch: Free VS Paid Version
Aside from the regular search where you can look for people by various characteristics (age, eye color, location, etc.), BlackCupid offers two more options to find your potential matches. First, you can seek people out by 'Cupid Tags.' If you have ever been to any Cupid Media website, you know what that is. Those are some informative hashtags, like #sports, #christian, etc. Unfortunately, this kind of search doesn't sort profiles based on their proximity to you so that you will get search results from all over the world.
We have mentioned that BlackCupid employs algorithms to calculate how well users match. If you don't feel like searching for your potential matches yourself, you can rely on these algorithms instead. BlackCupid will generate automatic matches for you. You will receive up to ten of those daily. Unfortunately, they will often show up repeatedly. Moreover, these algorithms also show you automatic matches from any spot of the world, regardless of the proximity.
All of these three search methods are available to all users even without a paid subscription.
Messaging options
BlackCupid has a rather complicated policy regulating messaging between different types of users. As a standard user, you can start a conversation with other free users. However, free users can't answer each other's messages. Free users can receive and answer messages from premium members, but can't write to them first. As you see, this system might be somewhat confusing, but it does leave an opportunity for communication without having to buy a subscription. But – whenever free users try to do something they are not allowed to, they get redirected to a page with subscription offers.
So, not to feel limited in their messaging options, users will have to purchase a subscription. BlackCupid offers two types of subscription: Gold and Platinum. The Gold subscription allows you to exchange text messages with other users without limits. Platinum subscription goes beyond that and allows you to chat using audio or even video. This involves both recording messages and making live audio or video calls through BlackCupid. Also, paying subscribers have their profiles show up on top of other members' search results.
Special features
Admittedly, BlackCupid can't boast an overwhelming variety of exciting special features. But – those available on the site are indeed quite practical:
Translation. Have messages automatically translated from and to English! The quality of translation is quite satisfying, way better than Google Translate, for example. That must be the reason why it's a premium feature only available to Platinum subscribers.
Show interest. This is yet another instance of funny language choices at BlackCupid. What they mean by it is that what other dating services call 'winks' or 'flirts.' Those are pre-written messages or e-cards that you can send to users when you don't know how to start a conversation. Notably, free users can send those to premium ones. This opens a window: a free user cannot write to a premium one first, but 'showing interest' is possible. If the premium user likes you, they can write to you, and you can engage in a conversation while remaining a standard user.
Extended lists. Most dating platforms offer users to add each other to their Favorites lists (even if those are called differently), and this is nothing special. BlackCupid allows you to create custom sub-lists and group your favorites the way you want.
App. Official BlackCupid app allows you to have access to the website on the go without missing out on any of your favorite features. Sadly, it's only available on the Google Play (i.e., only for Android devices). Apple users will have to use the mobile version of the website, which is also well-optimized. 
Subscription plans and other payment details
One cannot but notice that BlackCupid's subscription plans are relatively cheap compared to some Cupid Media websites in particular and online dating market in general. Gold subscription costs $14.99 per month, and Platinum subscription costs $19.99 per month. There is a possibility, however, to get Platinum for only $10 a month if you pay for an entire year in advance – $120.
Another pleasant surprise here is that the automatic subscription renewal is by default off. This means that you won't get billed automatically if you no longer wish to use BlackCupid but forgot to unsubscribe. Of course, if you want to keep using their services and don't want to miss your subscription's expiration date, you can switch the automatic renewal on in your account settings.
Customer support
BlackCupid does have a phone line for customers, but it's an Australian phone number. Moreover, they don't specify their working hours. So, if you don't live in Australia and want to contact them with an issue that's not so critical as to warrant an international phone call, your only option is to leave a ticket through the submission form on the website. They always respond within a few hours. Admittedly, their responses do look generic and pre-written, but, honestly speaking, most of the inquiries are typical, so it's acceptable.
Summarizing pros and cons: Final verdict
BlackCupid is one of the myriad online dating services catering to heterosexual black people but not excluding the admirers of black beauty from other ethnic backgrounds. Cupid Media tries hard to make this platform stand out in this variety, and their effort is by no means fruitless, too. They offer some exciting features, such as video calls and translation services, which are exceptional for this niche.
However, some undeniable fallbacks could be fixed quite effortlessly, but they are still there, though. We are talking about the confusing system of messaging limitations, the absence of an iOS application, and, most importantly, the overabundance of inactive profiles that just stay there to distract users, and nothing gets done about them. In our opinion, this latter disadvantage is the most critical and doesn't allow us to grade BlackCupid higher than 3/5.
---
More online Dating Services
---