Pros
Quick&simple&free registration

Safety

Option of sending winks to other users is free

Your photos can be blurred

There is a good mobile app

If you buy an annual subscription at once, then the membership price is quite low, even in comparison with classic dating sites
Cons
Most features, even essential, are paid

Reading messages is a paid feature too

Database is not very large
Verdict
If you are looking for a discreet affair, this is a good place to start
---
Victoria Milan Review: Where Extramarital Affairs Start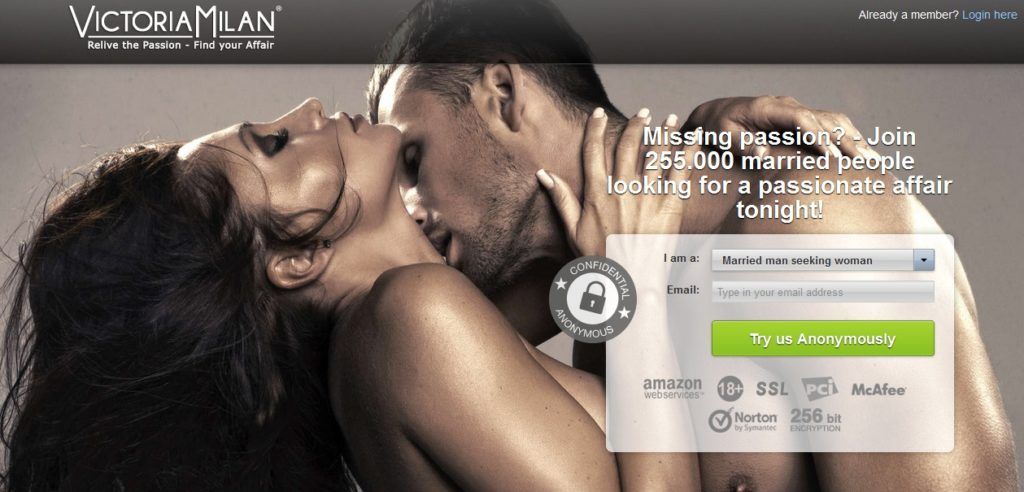 Victoria Milan is probably one of the few dating platforms that do not beat around the bush and allow users to start extramarital affairs on their website. Given that most married people tend to lie about their relationship status on an average dating site, Victoria Milan has offered its users a chance of actually being honest. As of today, this is one of the largest platforms for casual hookups, regardless of one's marital or relationship status. 
Victoria Milan ensures a totally safe and anonymous user experience to all of its members. Today, the platform has approximately six million active users, and, as one may guess, not all of them are single. Some are married, engaged, or otherwise attached, and the only thing they have in common is that desire to relive the 'butterflies in the stomach' feeling with someone other than their current match.
Signing up Victoria Milan 
Registering with this platform is not only quick but also incredibly simple. New users do not even have to fill in fields with essential information — most of the suggestions about one's personality, intentions, and interests are shown in a drop-down menu, where users can click on what describes them best. The whole sign-up form consists of six simple screens that take about a couple of minutes to fill out.
After that, new users should verify their email address. This is the only thing that needs verification while the rest of the data, like location and phone number, are left unverified. This, once again, shows how serious Victoria Milan is about its users' privacy and anonymity. 
Profile informativeness on Victoria Milan 
Given the specifics of registration screens on Victoria Milan, it's no wonder that all profiles follow the same format. On the upside, though, most of them are still pretty detailed, including a lot of info about the person's turn-ons and goals on this service. But, once again, particular profile completeness always depends on the user behind it. All information on Victoria Milan profiles can be edited at any point of using the platform.
Next thing you'll notice when using the platform is that plenty of profile pics are partially blurred. Victoria Milan does this to protect their user identity, which is reasonable given the delicate specifics of the platform. On the other hand, it does create some inconvenience for a hookup site, so this anonymity medal comes with a reverse side. 
All users on Victoria Milan can see other members' online status, so it's easy to start a chat with someone currently available. Besides, you can see other users' popularity level on the platform. 
How to get in touch with other users
It's possible to search for other users based on many criteria; however, to actually reach to them with a message, one is expected to pay. Truth be told, you cannot do much with your Victoria Milan account unless you pay. Free users can take a good look around, browse for other user profiles, and see who views their own accounts or adds them to their favorites list. Free users can also send winks to other members and add their accounts to favorites, but that's pretty much it — sending and even reading messages is reserved for the site's premium members. 
As for the blurred photos we mentioned above, one will need an owner's permission to access and view them. Once again, this usually requires some time, so you'll probably need to pay, chat with the person for a while and only then hope this user allows you to see what they actually look like. This, of course, is a bit of a bummer for a casual, NSA hookup service, even though Victoria Milan does a great job at keeping user identity a secret. 
Special features from Victoria Milan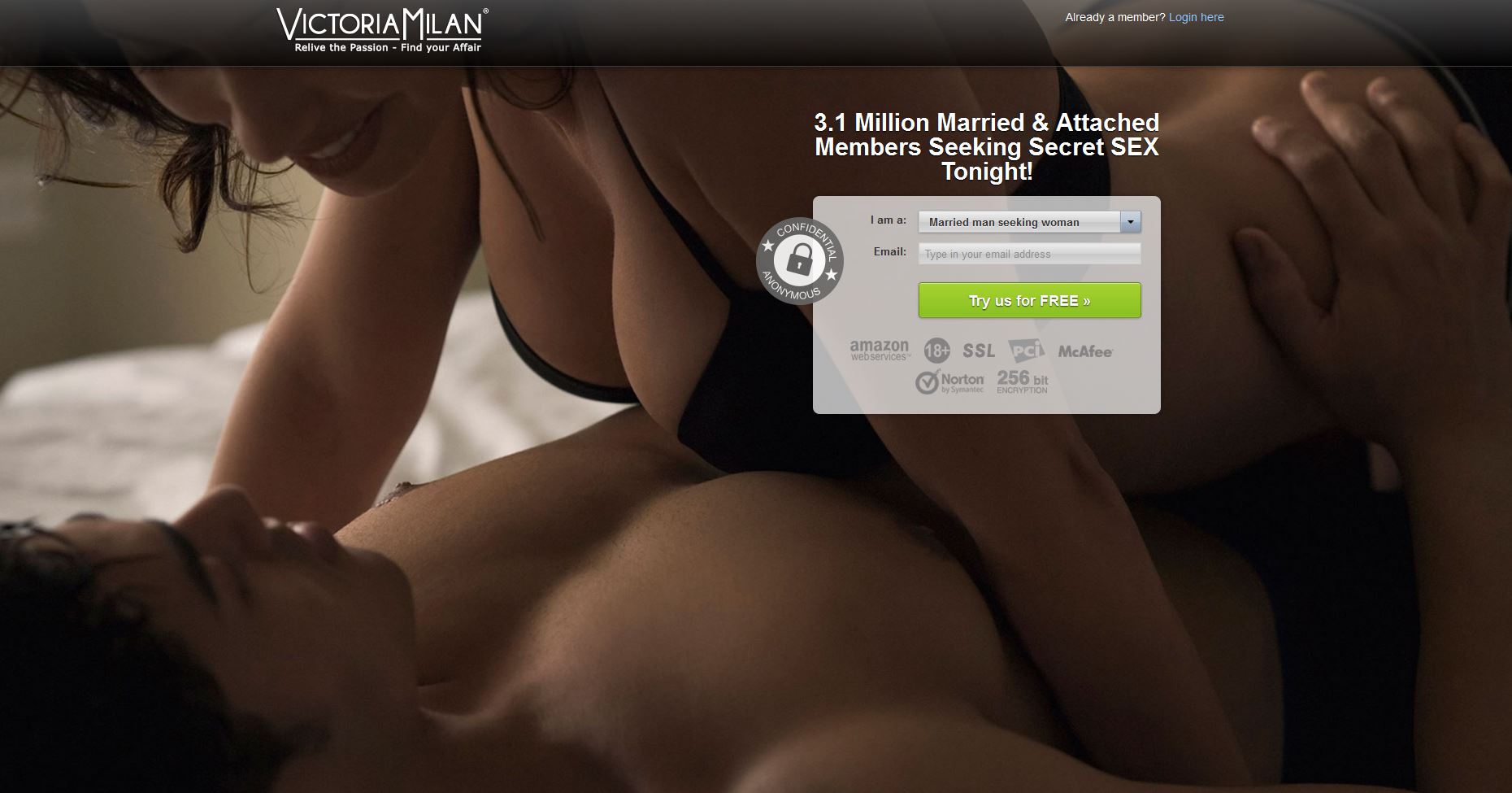 Victoria Milan is a simplistic platform that is easy and intuitive to navigate — that's for the upside; the downside is that it does not offer any truly unique features. Perhaps, one of the few perks that stand out is a Panic Button that redirects you to a random site in a blink of an eye. Most of the time, this little red button in the bottom of a page redirects you to YouTube; however, other random options are also possible. To be honest, the feature is not new — plenty of hookup sites offer the same 'escape mode,' but it's still nice of Victoria Milan to have one. 
Among other features Victoria Milan boasts is the Anonymity Blur we already mentioned above. It does make site experience safer, but, on the other hand, complicates the hookup process a bit. After all, why would someone want to spend time and money talking to a person if you do not even know what this person looks like? Of course, some people may claim that when looking for love appearances are irrelevant; but let's not forget that Victoria Milan focuses on NSA hookups, not long-term relationships.
Finally, there is an option of sending winks to other users — for free. This, once again, is old news.  Plus, differently from most dating apps out there, Victoria Milan does not offer free users the courtesy of reading messages. So, even if a wink does get you the attention of a paying member, and this paying member sends you a message, you won't be able to read it until you get a premium membership. So, the whole sending winks feature becomes quite useless in practice.
Victoria Milan app
Victoria Milan app is available for free download both for Apple and Android users and features the same essential functions as the desktop version. Plus, it allows users to search for members who are currently online. This, however, is the only small improvement to the browser version of the platform. Besides, some pages and functions seem to load longer than on the website. The design, however, is quite pleasant and simplistic; it's easy to navigate, and its theme is consistent with the website version of Victoria Milan.
Membership costs on Victoria Milan
As already mentioned, you cannot do much with a free profile on Victoria Milan. 
Free users can:
Create a profile 
Make use of the search algorithms 
Look at the other users' profiles 
Send winks to other members 
Add accounts to their favorites lists 
See who visits their profile 
Paying members can:

Send and receive/read messages 
Send virtual gifts 
See who adds their profile to favorites 
See who's sent them gifts
Purchase extra credits to spend on gifts
Premium membership costs vary depending on how long you subscribe for. The logic here is quite similar to most dating apps and platforms — the more you subscribe for, the less you pay. Surprisingly, though, there is no one-month subscription: at Victoria Milan, you are supposed to subscribe for at least three months, which costs $59.97 total or $19.99 a month. When subscribing for six months, the cost of the service for each month drops to $14.99 or $89.94 total. An annual subscription will cost $119.88, or $9.99 /month. 
The payment options, however, are quite limited. Users can only pay with their credit/debit cards. 
User feedback and reception 
User reception for Victoria Milan has been quite ambiguous. Some members report dozens of fake profiles, while others are raving about how easy it is to find hookups with this service. All in all, one can agree that a website which does little to verify user identity leaves plenty of room for the potential scam. On the other hand, though, when a quick NSA hookup is one's only purpose, it gets pretty complicated to scam a person out of one's money. 
When we tested Victoria Milan, we did get plenty of generic messages right away. However, we also got messages from interested users, so it's impossible to conclude that all accounts are fake. Besides, there is an option of verifying one's account through Facebook. However, given the nature of this service, it's no wonder that few users make use of this opportunity. So, we'd tend to agree that some profile may be fake, while others are 100% authentic —just like on any other dating site. In other words, users are to exercise reasonable caution and to keep a clear head when chatting with other Victoria Milan members. 
Safety and security 
Apart from the fact that few profiles are verified, Victoria Milan takes Internet security pretty seriously. This platform encrypts all messages and ensures a hundred percent anonymous user experience. Besides, users are free to blur their photos to make sure no one familiar comes across their Victoria Milan account, which — once again — comes pretty handy for married people looking to start an affair or to find a one-time hookup partner(s). 
Deactivating your account 
Should you choose to stop using the platform, go to account settings and scroll down until you see 'deactivate your profile.' Provide the reason for deactivating (the site will offer common reasons in a drop-down menu). Note, though, that Victoria Milan keeps on storing user data on its totally safe and protected servers, so there is absolutely no way to erase your account history completely. On the upside, re-activating your profile is quick and simple — you can come back to using the website any time you want.
Summary and conclusion on Victoria Milan
If you are looking for a discreet affair, this is a good place to start — especially, if you consider that neither site management, nor its users care about your relationships status. On the other hand, Victoria Milan user database is not that large and pretty scattered, so your pool of options may be a tad limited. 
Next, Victoria Milan advertises itself as a platform for extra-marital affairs; however, not all of its users are married or otherwise involved. For single uncommitted people, Victoria Milan is definitely not the best option, as its focus on user anonymity takes too much time and effort for people who really have nothing to hide. So, if you're single and unattached, you can find plenty of other casual hookup sites that do not blur user photos and can get you dates tonight. For married people, however, it may be worth a shot. 
Finally, the site leaves zero communication options for non-paying members and does not even offer a monthly subscription — so, should you choose to pay for Victoria Milan's services, you'll have to pay for three months at least. The fees are inexpensive, but it's still unreasonable to ask users to commit to three months of using the platform. Besides, Victoria Milan is not big on features to pay for — basically, you pay for a chance to communicate, nothing else.
---
More online Dating Services
---