Pros
Fast and simple registration

Free browse through profiles

Compared to other dating sites InterracialPeopleMeet is inexpensive

There is 'Message Ideas' feature
Cons
Small user database

There is no option of real-time communication via text or video

Bad gender ratio (only 12% are women)
Verdict
InterracialPeopleMeet is a useful site for all those looking for an inexpensive interracial dating service. Overall it merits a 3/5 grade
---
InterracialPeopleMeet: dating beyond racial boundaries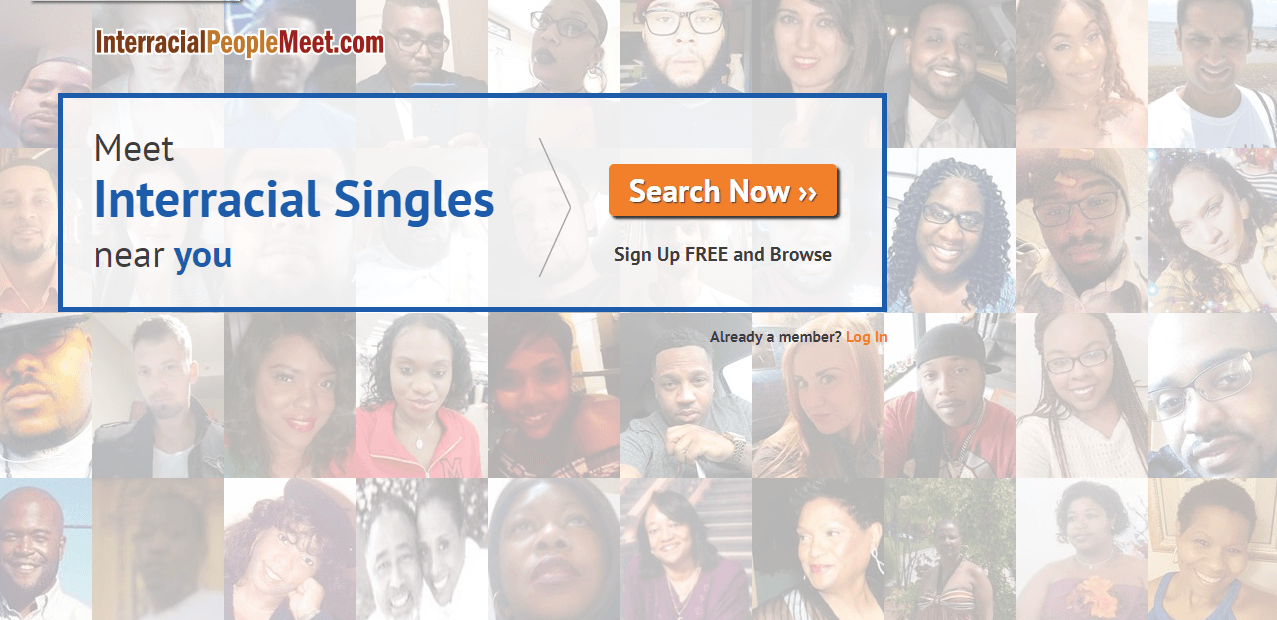 The number of people who wish to choose their partner outside their race is on the rise. Interracial relationships have become quite common, with 12% of Americans marrying outside their race in 2013 according to the survey. InterracialPeopleMeet is a dating site catering to singles who prefer mingling with and dating people of different racial background than their own. 
Operated by People Media, the site welcomes persons from all walks of life and thrives on diversity. Its membership represents an assemblage of different cultures and ethnicities. While all couples have a history of their own since each of the partners comes from a specific family and upbringing. But there are no cultural obstacles that can stand in the way of true feelings. These people' love for one another is so strong and can truly be applauded for their commitment and devotion. Do you think you can become one of them? Give InterracialPeopleMeet a try!
Basic facts on InterracialPeopleMeet
They bring people of diverse racial backgrounds together and facilitate creating interracial relationships of all kinds
All potential members must be 18+ to join
People from all races (Black, White, Asian, Latino, and people of mixed ethnicities) are welcomed to sign up
Membership is currently restricted to US and Canadian residents
There are much more males than females among members (88 % vs. 12%)
The site gets over 3,000 new members every month
Registration process: fast and simple
Becoming a registered member of InterracialPeopleMeet will take up to five minutes of your time. You only have to type in your name, and all the rest can be chosen from drop menus that appear one after another. You are to select a gender, zip code, the place where you grew up, body type, hair and eye color, ethnicity, smoking habits, occupation, and education. Next, indicate what gender you're looking for and what type of relationship you're interested in. You can also seek for same-race or same-sex relationships on the website. 
To complete the registration one should upload a profile photo. Before a photograph is added and approved by the InterracialPeopleMeet team, a new member's profile is not visible to other users. If after 24-48 hours you still don't see the photo you uploaded, it has probably been rejected due to inappropriate content or copyright issues. Using celebrity photos is not acceptable nor is posting nude or pornographic pictures or those with personal information written over them. Only images of less than 5 MB in size are accepted, and they have to be in PNG, JPG, BMP, or GIF format.  
Possibilities of establishing contact on InterracialPeopleMeet
Contact options are quite limited for Standard members, and even Premium members are not offered a multitude of communication possibilities that usually exist on dating platforms. Free members can send flirts, save other members to their Favorites list, and like their photos. To gain access to messaging one must upgrade to a Premium membership. There is no video chat or instant messenger. 
Member profiles on InterracialPeopleMeet
A typical profile page on this dating platform is neat and nicely organized. The photo is featured in the upper left corner, while basic personal info is given on the right-hand side. It includes name, location, gender, height, and the exact time when a member was last active. The two tabs displayed below these personal details prompt users viewing their profile to send them a message or a flirt. Underneath, one can find some more specific personal data including marital status, zodiac sign, number of children, smoking habits, and body type under the tab titled 'About.' You can access additional photos by clicking on the 'Photos' tab.
Although members are encouraged to fill in all the fields of the profile in the registration phase, not all of them choose to do so. There are plenty of incomplete profiles, and those will typically receive fewer reactions than those with all details entered. InterracialPeopleMeet offers its members an opportunity to write four questions to be featured on their homepages. These typically concern some areas of life a user finds important, and all those viewing the profile will be asked to answer them. This serves as a great communication starter and allows the profile owner to see if people visiting their profile are a good match or not. 
Search options available for Standard and Premium users
Free members have access to a search based on general search parameters such as age, gender, location, online status, and ethnicity. They can save a profile they found appealing but getting in touch with the profile's owner requires a membership upgrade. It's reasonable to assume that those you save might be eager to get in touch with you, but are unable to do so if they are Standard members. Premium users can search using advanced filters, including 'Who's liked my photo' and 'Who's added me to Favorites.' 
Overview of InterracialPeopleMeet most important features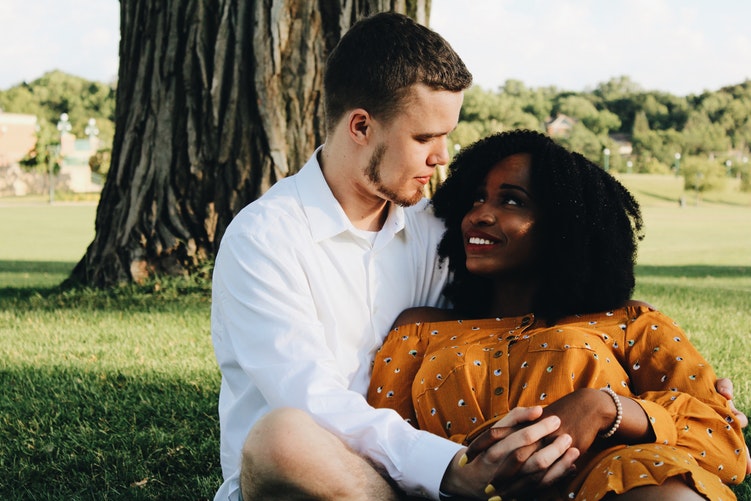 Design characteristics of the site
InterracialPeopleMeet has a neat and user-friendly interface making it easy for everyone to get the hang of it. Everything is nicely organized and immediately visible without making one look endlessly for a feature they are interested in. The pages load quickly and without errors. However, there is a considerable amount of advertising on the site. Also, free members frequently get windows popping up and offering them a special deal for upgrading to Gold membership.  
So far, no mobile app has been developed to accompany the site's desktop version which is a serious shortcoming of this dating service.
Security issues on InterracialPeopleMeet
Reporting abusive members. This can be done by clicking on the 'Report a Concern' button on a particular user's profile. You can report annoying people for being disrespectful or disregarding your lack of interest in them. Basically, any violation of Terms of Use is subject to being reported. Please, check them on the site's homepage to see if what you're experiencing is indeed a violation of terms.
Automatic log-off after a 15-minute inactivity period. The site makes sure that unauthorized persons do not access your account when you leave your computer unattended and logs you out automatically after 15 minutes. It would make no difference if your inactivity were due to your answering a phone, grabbing something to eat, or taking a shower. You'll still need to sign in again. This might seem to be an inconvenience, but it's actually a safety measure.
The 'Safety tips' feature located at the bottom of the site's homepage. It includes recommendations on how to safeguard your privacy while using an online dating platform, as well as information on how to avoid falling victim to scammers. Learning how to avoid fraud and protect one's privacy is crucial when you're dealing with persons you know very little about.
Availability of customer support
The Customer service does exist on InterracialPeopleMeet, although no 'Contact us' tab can be seen on the site's homepage. It is listed in the drop menu of the Help section thus making it a bit harder to spot and easy to overlook. This function is also limited by the absence of the phone contact option. Users who need any help using the site can only type in their question into the appropriate field of the Customer support section and wait for an answer. This can take time and is irritating to members expecting their issues to be dealt with promptly.
Features specific to this dating platform
Message ideas: four prewritten questions presented to profile visitors to answer. Each member writes their own questions to cover the things he/she values the most in a partner. They are a great way to start a conversation and let the visitor gain an insight into the things a profile owner deems crucial for a relationship.
Echo: a signal given to two users when both of them mutually show interest in each other. 
Connect me: a feature offering a chance to communicate with another member on the phone without posting your personal phone number online. You can speak anonymously using a phone number provided to you by InterracialPeopleMeet after you click on the 'Connect me' button on someone's profile.  
Events: InterracialPeopleMeet offers its users a chance to participate in social meetings held locally. They are a fun way for people of racially diverse origins to mingle and meet other users of the website.  
Lists:
My Favorites: by clicking on the 'like' button on someone's profile, you add them to your Favorites list. Premium members have the option of viewing who has faved them.
My Flirts: sending flirts is an option available to all members regardless of their membership status. The 'My flirts' list shows people who flirted with you. 
Membership plans and pricing
InterracialPeopleMeet only offers a single Premium membership – Gold. It is available on 1-month, 3-months, and 6-months membership plans, and the fees vary accordingly. They range from 13.99 USD/month on a single month's membership to 6.49 USD/month when membership is paid upfront for a period of six months. There's an additional processing fee in the amount of 3.99 USD that is only charged with your first subscription. All subsequent subscription fees are automatically charged until you turn off the 'Subscription renewal' button on your InterracialPeopleMeet personal account page. 
Payment can be performed with all major credit and debit cards, PayPal, money orders, and personal checks. In case of mail-in payments, please, allow up to 10 days for processing. The site's operators will notify you by e-mail when your check is cleared for subscription fee payment. 
Compared to other dating sites InterracialPeopleMeet is inexpensive.
General assessment and overall rating
InterracialPeopleMeet is a useful site for all those looking for an inexpensive interracial dating service. Overall it merits a 3/5 grade. It offers basic tools provided by most dating platforms but falls desperately short of reaching the top-notch interracial matchmaking sites in terms of contact options and special features. Even their paying members do not have the option of real-time communication via text or video, nor can they upload or view other people's video introductions. InterracialPeopleMeet does not have a serious Fraud prevention team nor do they perform an in-depth check of new profiles. As a consequence fraudulent profiles can exist on this platform along with the authentic ones.
On the upside, as a service dedicated to facilitating dating for people of different racial backgrounds, InterracialPeopleMeet takes our society a step further in overcoming racial barriers. It promotes the idea of getting to know the person for who they really are. Until quite recently this was a strong societal taboo, and people still remember how hard it was to marry outside their race. One can argue that we've come a long way since interracial marriage was against the law, but in reality, racism is still present in many communities, particularly smaller ones. Interracial dating is in many ways progressive and promotes liberal values that can lead to a better world. If you agree with this argument, we encourage you to give InterracialPeopleMeet a chance. Who knows – you might just find your soulmate on this website!
---
More online Dating Services
---
Brides by countries on site