Pros
Easy to use

There are three types of accounts: a free one and two paid ones. So you have a choice whom you want to be

There is a mobile app which runs on Android and iOS

Safety

Profile photos are visible to everyone for free

Optimized matching through "Cupid Tags"

Chatroom

Live information about the number of people online

Site is available in many languages
Cons
You can communicate with all members, send and receive messages only on fee base

The pricing policy is a bit above average, however if you by longer subscription plan it will be lower

No matter how complete your profile is, it doesn't mean that others will be the same
Verdict
It's worth giving ThaiCupid a shot if you are particularly interested in Thai ladies. If however, you are looking for an Asian match, not exclusively a Thai one, there are plenty of other dating platforms that have a lesser gap in male/female user ratio and offer more perks on top of that. ThaiCupid is a solid, totally satisfactory and legal dating platform. However, it does not have anything truly special.
---
ThaiCupid Review: Find Your Exotic Match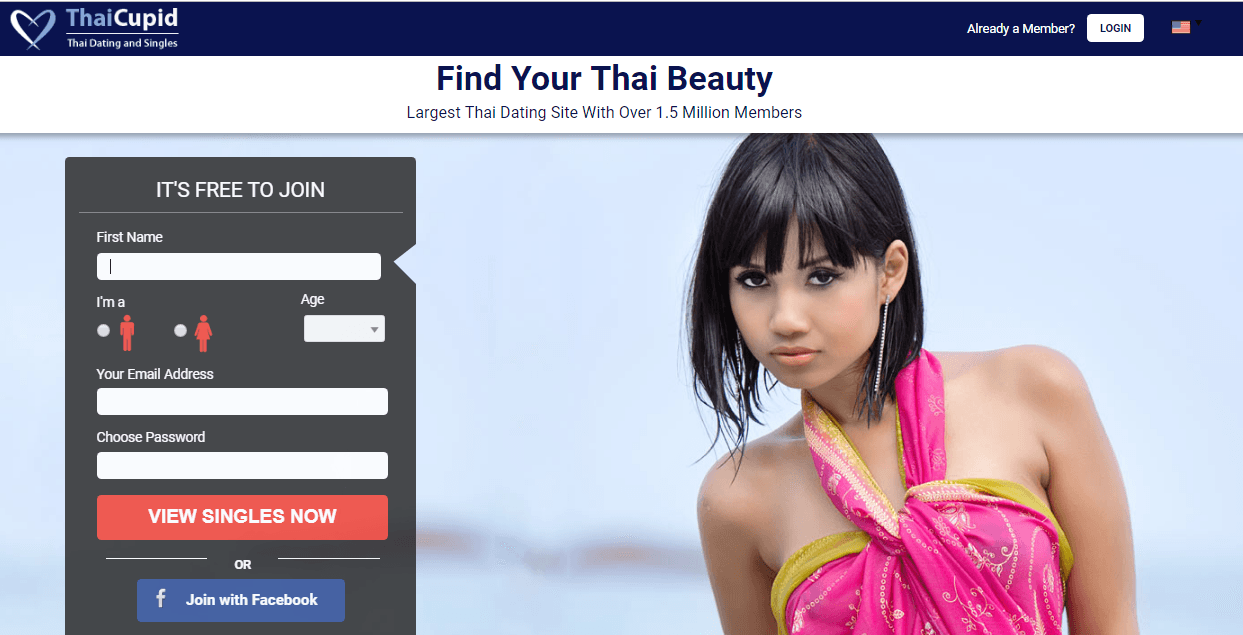 ThaiCupid, one of Cupid Media's niche dating sites, mostly by cultural criteria, seems to be the ultimate choice when it comes to having a taste of the magical and exotic culture of Thailand, by letting you meet its singles. With over 1.5 million registered members, the website, which comes with an app, claims to be the leader in Thai dating and promises not to let distance get in the way of love. Whether your future partner is in the neighbourhood coffee shop, or across mountains and oceans, ThaiCupid is ready to match you and help you start your very own fairytale. Do you want to know more about how it does that? Look no further; we brought you all the details you need about profiles, memberships, prices and anything else you might think of.
Member structure and activity stats
As expected, you have your very own personal profile, to build with your best pictures
A choice range of over 1.5 million registered members
85% male members & 15% female
Most members come from the United States, Thailand, Germany, France, and the United Kingdom
3000 users online every day
Members are active, so hopefully, you can worry less about someone ghosting you
As a strong competitor for the title of number one dating website in the Thai matchmaking world, ThaiCupid boasts on its 1.5 million registered accounts and 3000 users logging in per day. There is quite a large imbalance when it comes to the distribution of genders, with 85% of its members being male and only 15% female. Most people visiting the website come from the United States, Thailand, Germany, France, and the United Kingdom, so basically, all over. One might believe that most matches here are between Thai women and foreign men. Ladies looking for men of their dreams have odds in their favor, no matter where they come from. Guys will have a more difficult time on this platform, but one can see this as a chance to prove oneself.
Signing up
Fast registration, your profile is just one minute away
You can log in with Facebook or your email
The email doesn't need to be verified
You need to be at least 18 years old
Profiles can be deleted for unknown reasons
ThaiCupid makes it easy for you to sign up. If you want to make it really quick, you can choose the option of registering through Facebook, which will allow the website to take your info directly from there and get you ready in a blink of an eye. However, if you want to keep Facebook all for yourself, you can choose to register with your email; you won't have to go through any verification. You just add some basic stuff about your age and gender, set a password and you are ready to go find your soulmate.
One of the disadvantages of ThaiCupid is that some accounts get deactivated for no apparent reason. 80% of the accounts we used for research and testing have been shut down, and we couldn't get them back, even though it didn't seem like we broke any rules. After seeking more information on this issue, we found out that many other users had their accounts removed without any sort of explanation. One girl even had her account deactivated after she had paid for a premium membership, so it doesn't just happen to the ones not willing to invest money into the service.
Lack of interaction with other members doesn't seem to be the reason, as we still got to keep some of our most inactive accounts. Even though proper security measures for their website might be a positive point, ThaiCupid doesn't really seem to care about suspicious, inappropriate or fake accounts. This is the only reason why site admins would not ask users for any proof or identity, not even an email verification. 
Making Contact with Other Users
Instant Messenger
Optimized matching through "Cupid Tags"
Chatroom
Live information about the number of people online
Free to show interest in profiles
Use is limited for those with free accounts
There are several means to reach out and interact with other site users, but all of them are extremely limited for Standard (i.e., free) Members. You don't even get to use Instant Messenger or the chatroom as freely as you'd like to. Premium members are the ones who can text anybody, no matter the membership plan the recipient has chosen.
Besides, Gold and Platinum members can benefit from better match-making and search algorithms. When the platform runs the matching process for paying members, they set paid accounts higher up for success in finding people that measure up to their ideal checklists. In practice, you will have access to some advanced search filters and have a chance to fill in more search criteria than free members.
One might say that it's worth giving that money away for getting unlimited access to those 1.5 million available singles. Especially if you are only looking through that small 15% of the website, you might actually want to increase your odds in making your way through to the desired, special one.
Profile Quality on ThaiCupid
Profile photos are visible to everyone for free
Having a good profile picture brings more boys/girls to the yard
A lot of personal information is needed to complete the profile
Your chances of success are 30% higher if your profile is complete
Users can edit and change profile info
It's possible to verify a profile
No matter how complete your profile is, it doesn't mean that others will be the same
Security might seem quite tight on this website, huh? Well, it's mostly understandable. They ask for money to provide their services, so they are expected to offer a safe space to meet someone who is as single and ready to mingle as the one searching. That means that people should be able to have fun without being afraid they might run into a fake profile. Besides, one wants to be protected from users with less than legal intentions.
When you put yourself out there as much as possible, you give an impression of being trustworthy, and that counts on any dating website. Furthermore, putting some work into providing your personal details might prevent site admins from deleting your profile. We don't know for sure, but it's better to be safe than sorry.
Most of all, the more things you mention about yourself, the higher your chances of finding matches who are actually interested in what you are bringing to the table or the future relationship. They might include one of your hobbies in their search filter, who knows? Simply put, it could take a few minutes to write down everything about your job, education, favorite food, and other things, but it might be worth a few high-quality matches.
ThaiCupid App

Runs on Android and iOS
Free download on Google Play and App Store
It seems more convenient to use than website browsing
Easy to use
The design could be considered outdated
Nowadays, we want an app for everything, and it's no different when it comes to our dating lives. Cupid Media has thought about the happiness of the public and provided an app for its baby, ThaiCupid, available for Android and iOS, free on Google Store and App Store.
Why use the app? Because you might not always have your computer or laptop at hand, while your smartphone is always in your pocket or your purse. You have access to your profile and your matches, you can edit your pictures or your hobbies and even set up actual dates, instead of getting bored during the bus ride on the way home from work.
One thing that you might not be a fan of is the actual design of this little app. Compared to the flashy, colorful and advanced design of other famous dating apps, free or not, this one can seem rather boring. On the bright side, at least it's very simple to use.
Website Design and Usability
Cupid Media has a standard for all the dating websites under its care, one that ThaiCupid doesn't fail to raise up to with its design. Just like the app, the website is not really fancy or eye-catching. For some users, especially the ones who are not too tech-savvy, ThaiCupid website is going to be a relief. For those with higher expectations for web design and its evolution in the 21st century, it could get a bit boring, or at least become a reminder of the little video games we had played in our childhood.
Special Features of the Service
Cupid Tags: or something you could call keywords. Easy to use, Cupid Tags are words that describe you best, that you want people to know about you, and that you can add to your profile so that it is suggested to others when they search for those tags.
Block List: the place where you throw those naughty people who have upset or offended you and from whom you never want to hear again.
Verify Accounts: you can upload a form of ID on the website or attach a copy of it in an email that you send to team@ThaiCupid.com in order to make your account even more credible.
Instant Messenger: the place where you can chat with others, via text or camera. Those who have Premium accounts, Gold or Platinum, can use it to talk to anyone, whereas those with free accounts do not have the same advantage.
ThaiCupid Costs & Memberships
There are three types of accounts: a free one and two paid ones.  For the standard, free account, you only have access to basic search filters; also, you can express interest in another profile, but you can only communicate with members who pay.
With a fee-based service, you have a few extra perks:
You can communicate with all members, send and receive messages
You can use the live chat messenger
You don't need to see ads
You can hide your profile and browse anonymously
You can double the space you get for your profile
You can rank above others and get VIP profile highlighting
You can enjoy the advantage of a better matching algorithm and advanced search filters
You can get translation services (on the Platinum account)
Platinum membership costs 
1 month: 39.99 USD/month
3 months: 26.66 USD/month, 79.98 USD total
12 months: 13.33 USD/month, 159.96 USD total
Gold membership costs 
1 month: 34.99 USD/month
3 months: 23.33 USD/month, 69.99 USD total
12 months: 11.67 USD/month, 140.04 USD total
Such a pricing policy is a bit above average when you subscribe for a month. However, longer subscriptions fall under 'average' fees in the dating world. The only difference between Gold and Platinum accounts in that the latter one offers you translation services; and, this little perk may come in handy when a language barrier becomes an issue. 
ThaiCupid offers quite a lot of payment options, including credit cards, bank transfers, PayPal and even Paysafecards. Note, however, that all subscriptions auto-renew by default, so if you want to stop using the service, make sure to do so before your card is automatically billed.
Final Verdict on ThaiCupid

All in all, we can say that it's worth giving ThaiCupid a shot if you are particularly interested in Thai ladies. If however, you are looking for an Asian match, not exclusively a Thai one, there are plenty of other dating platforms that have a lesser gap in male/female user ratio and offer more perks on top of that. ThaiCupid is a solid, totally satisfactory and legal dating platform. However, it does not bring anything truly special to the table.
---
More online Dating Services
---