Pros
Free registration

Has hundreds of real success stories & reviews published on its website

Strict verification requirements

Users are either very attractive or successful

Mobile app
Cons
Sending messages is only for premium members

Membership is really expensive (but this site is for rich people, so why not)

No video chat
Verdict
About 2 decades MillionaireMatch is an active and reliable dating site
---
MillionaireMatch: dating site for wealthy and attractive singles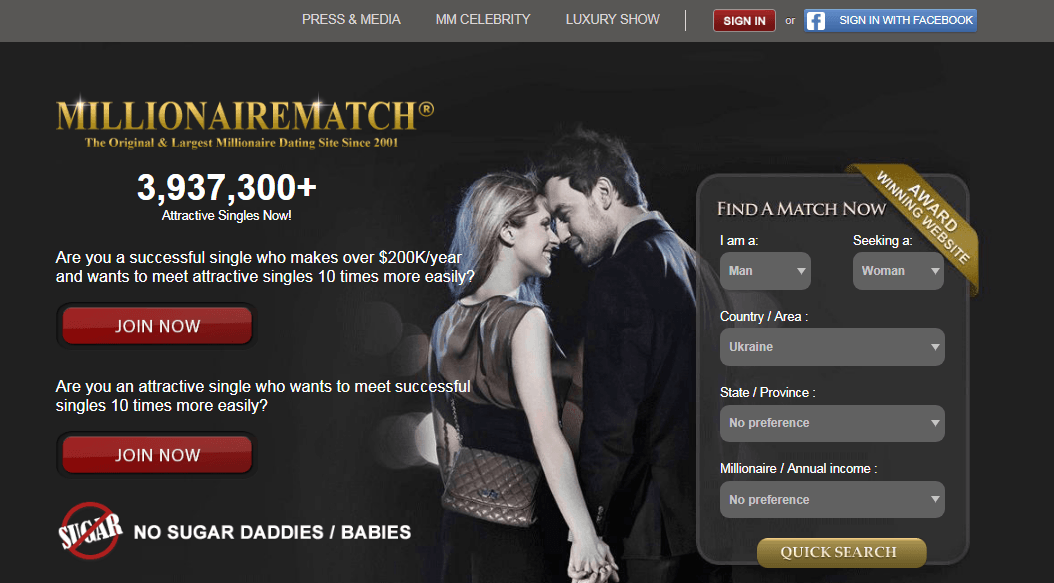 MillionaireMatch is a reliable and reputable service designed to specifically target a population with earnings over $150000 a year or net worth over $1 million. The site has been in business for two decades. Now, it has nearly 4 million users worldwide, and 2.6 million in the US alone. Apart from the United States, the site's members mainly come from the United Kingdom, Canada, Germany, and Japan. 
To meet the requirements of an audience with exquisite taste, the site's moderators must stay on top of their game at all times. This includes introducing new features regularly, keeping the site pleasing to the eye, and protecting its members from scammers. Recently, there have been some complaints about fake profiles that somehow flew under the radar and whose owners managed to swindle genuine members out of their money. Low member activity is also frequently criticized. We'll discuss all of these issues and many more throughout this article.
Meet the members of MillionaireMatch
A person can fulfill either of the two criteria imposed by this website to qualify as a member: being rich or extremely attractive. High-end lawyers, doctors, large company CEOs, along with celebrities from the world of entertainment are among those who have registered on MillionaireMatch. Members of both genders are equally represented which is a rare occurrence on dating platforms. Gold members and the holders of Certified Millionaire badges are predominantly male. These members must provide proof of their millionaire status by uploading bank statements and other required documents. Once certified, millionaires get diamond logos by their names which appear in all searches and on their profile home pages. 
Registration process on MillionaireMatch
Initial sign-up procedure is quick and simple. It takes up to ten minutes to enter basic personal information, upload a profile picture, and write two short paragraphs describing yourself and your prospective partner. You're required to write at least 50 characters in each paragraph, while the maximum length is not limited. Then, the profile enters the verification phase, and the member status remains pending until everything you stated gets checked and approved. This is usually done within 24 hours, sometimes much faster.
There's a possibility to sign-up via Facebook and use photos you already have on your social page. Though filling-in the mandatory fields of an entry form doesn't take long, it only provides sketchy information on who you really are. We strongly encourage you to add more personal details later to elaborate on the basic info provided initially.
Beside the possibility to certify one's millionaire status, one can also have their photos, education, or occupation verified. It requires adding a valid ID, sending a copy of a diploma, or uploading company documents testifying to someone's employment status. Going through all this trouble gives your profile more credibility and makes it more appealing to other users.
Creating a unique profile
MillionaireMatch lets you sign up with just a few basic facts about yourself. But you can also upload a short essay or a video introduction to make your profile stand out. Additionally, you can write attention-grabbing headlines that point to the things you value the most in life or that describe your personality the best. Posting comments on various forum topics, writing something about your favorite travel destinations or describing things you're passionate about can go a long way. Photos presenting your most enjoyed pastimes can appeal to those who happen to share the same interests or appreciate the same leisure time activities.
Features available on MillionaireMatch
Basic features accessible to all members include:
Sending up to 50 winks daily
Replying to messages and using an online chat
Conducting a basic search
Creating a private photo album
Uploading up to 26 pictures
Writing blog posts and participating in forum discussions
Posting comments on blogs, photographs, and forums
Premium services offered to Gold members include:
Sending an unlimited number of messages
Initiating online chat
Checking who's online
Receiving feedback when your e-mails are read
Having your profile highlighted and featured in the top search results
Using advanced search options, including search by height, age, annual revenue, astrological sign, or any keywords chosen by the user
Participating in a high-end fashion show
Knowing who asked for your photo, winked at you, who's interested in you, and who's your potentially compatible match
Having a personal account manager, and many more.
Premium membership: cost and payment options
MillionaireMatch offers a single premium kind of membership – the Gold one. Compared to other dating sites, their prices are higher which is understandable since they target a population with substantial wealth. Monthly fees range from 70 USD on a single-month membership plan to 40 USD a month when you pay for six months in advance. The single-month membership is auto-renewable, but you can cancel this option at any point. If MillionaireMatch decides to remove your account from their database for any reason, you're entitled to reimbursement of membership fees you didn't use. 
Users can deactivate their accounts temporarily if they do not wish to use them for some time being by clicking 'Hold account' in the Privacy settings menu. This will only work for standard accounts though. Gold members would have to cancel their membership altogether to make their account non-active. 
Another way to earn access to premium features without paying a fee is through bonus Gold membership. It is available to those who contribute significantly to the site's functioning, by reporting scammers, suggesting improvements, or recommending cooperation with related sites.
What makes MillionaireMatch stand out from other dating sites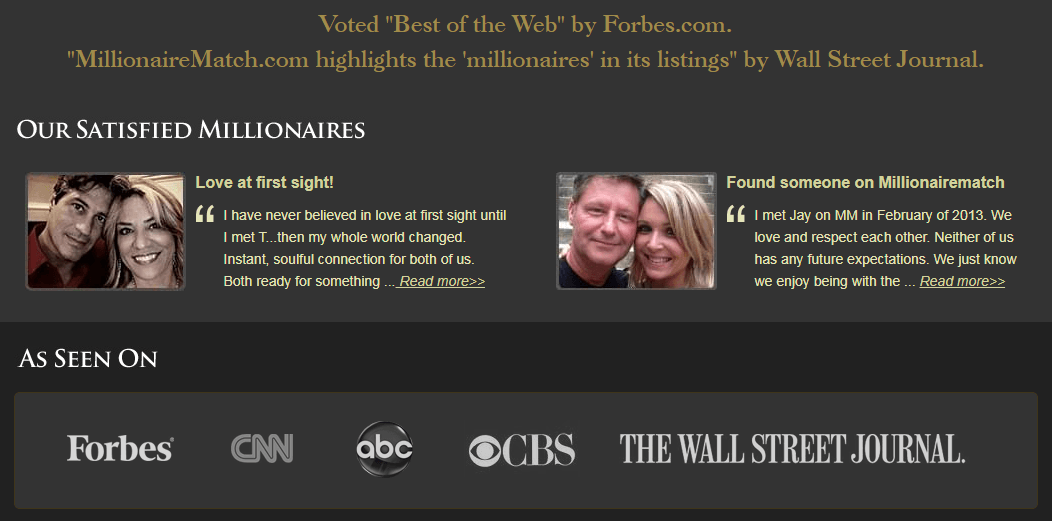 First of all – the audience it caters to. All dating sites have a whole host of gold-diggers and those looking for a sugar daddy in their profile databases. Websites usually make no effort to check a person's financial situation before allowing them to register as a user. Consequently, many members who genuinely wish to find a romantic partner get approached by scammers and solicited for money. This creates a sickening online dating experience and makes people want to give up their search for a perfect match altogether. MillionaireMatch only lets people register if their income is above a certain threshold, or if they are extremely good-looking. 
It still leaves some room for fraud but not nearly as much as other dating sites are dealing with. However, some users of MillionaireMatch have testified to the fact that several prospects they communicated with turned out to be scammers. The con-artists bypassed the site's location check and turned out to be from Nigeria, and not the US as declared. These were some isolated cases, of course. To put an end on the ongoing discussion of online dating safety, we would say that a user always has to be on the lookout for scams. No matter how thorough the websites are in their member verification process, they can never weed out all the imposters. So, be cautious. But it doesn't mean that there aren't honest love-seeking people out there. You just have to be patient and spend some time browsing through profiles and reading them carefully before you decide to trust someone.
The complete absence of advertising is another point of the site. Nothing is popping up in your face while you are trying to concentrate on someone's profile.
Additional features MillionaireMatch offer
The 'Let's meet' feature was introduced in 2013 in an effort to intensify interaction between members. It is also accessible from the mobile app, and it entails being presented with two photos of members close to your location and having the option of only liking one. If the one you liked likes you back, you can set up a meeting. If neither of them is particularly appealing to you, just swipe left or right to be shown the next pair.
Excellent blogs and forums are something that also makes MillionaireMatch stand out from the myriad of similar dating services. Users can post their first date ideas to a special feed for other members to see and respond to. 
Displaying one's luxuries is also enabled. Within a feature labeled 'Members Luxuries' users can upload photos of the most recent items of luxury they purchased. 
Ladies can apply for a True Selfie Verification, which entails uploading a self-portrait showing their faces without any makeup on. Being able to see someone's natural looks is definitely desirable in this era of fake beauty and digitally edited photographs.
Symbols used on MillionaireMatch
The heart symbol appears when you place someone to your favorites list
The crown symbol specifies that someone is a Gold member
The diamond symbol is an indication of a member being a Certified Millionaire
MillionaireMatch mobile app
The site's moderators have developed a mobile application for iOS and Android that can be downloaded for free from Google Play and App store. Even though it offers the same features as its desktop version, it has proven to be unreliable, filled with glitches, and prone to crashing. It's even incompatible with some Android versions, and several of the site's functions do not work when used from the app. Refreshing your search results is an impossible mission, as is saving people to your Favorites list. It is not advantageous to such an exclusive dating service as MillionaireMatch to have such a low-quality, so the team is constantly working on its improvement. 
General assessment and overall rating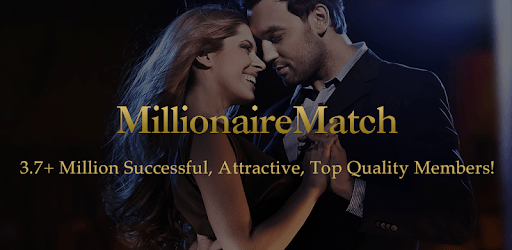 In total, we would give this dating website a solid 3.5/5 grade, except for the mobile app which still needs considerable improvements to match the quality of other features. As a matchmaking tool for the rich, successful, and beautiful, the site admits that it is extremely difficult for this population segment to find a suitable partner. In fact, the successful and the attractive are often victims of people with dishonest intentions aiming to take advantage of someone more fortunate than themselves. Finding someone just as accomplished in life as you are is no easy task. 
There are always bitter people who will envy you or resent your success. A dating site that screens for scammers and deletes all undesirable profiles may be the solution to this problem. However, using it comes with dangers as well. Be careful listing and uploading photos of your luxury belongings, as well as advertising your annual earnings and making your tax returns and bank statements known to the site's moderators. Although MillionaireMatch has done a lot to protect their clients' security, some common sense precautions still need to be taken by members themselves. In other words, do your best not to give thieves a roadmap to your treasures and invite them to rob you.
Still, the site's reputation clearly works for it. It has been featured on CBS, ABC, and CNN and in major papers like the Wall Street Journal. This gives MillionaireMatch legitimacy and attracts more and more members. It can be seen as an exclusive club all people want to join, but not everyone is accepted. Being acknowledged as successful and attractive enough to get access is one of the major reason for so many prosperous singles to apply for membership.
---
More online Dating Services
---