Pros
Simple few minutes registration

It's free to take a look at anyone's profile and all their photos

Free members can reply to any message and write to users of Gold or Platinum memberships

There is a video chat and instand messanger

It has a mobile app

There are verification badges

Preference-based matching
Cons
Mobile app doesn't automatically refresh suggestions

Communication options are limited for standard users
Verdict
The legit and reliable dating website since 2000
---
AsianDating Review: Is It Worth It?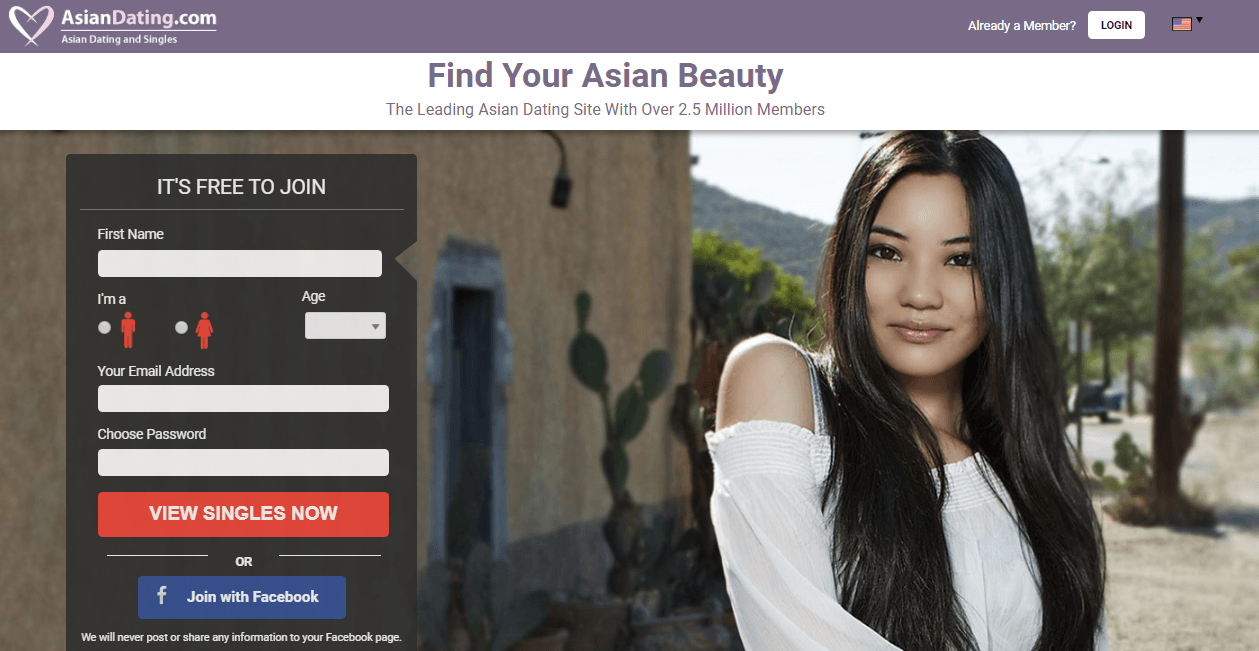 AsianDating is one of Cupid Media's 30+ nationality or ethnicity-based dating websites, and one of the most popular platforms in the Asian niche of this industry. Founded in 2000, the website has become the largest online platform for dating Asian singles, with over 2.5 million members. If people still use it, it must be working, right? The service is available in a few different languages and has active members from all over the world; most of them are coming from the United States, Europe, Japan, China, Vietnam, Thailand, and the Philippines.
Member Structure at AsianDating
You have your own profile, to fill out as you wish
2.5 million users worldwide, 220,000 from the United States
1,600 people log in daily
60% of the members are women, and 40% are men
Most men are Caucasian, while most women are Asian
Most paying users are men
You can report abuse when you suspect that a profile is fake
Statistics show some major differences between AsianDating's users when it comes to their gender and age. The proportion of women is slightly larger compared to that of men, 60% and 40% respectively; besides, it seems that women come mostly from the 25-34 and 35-44 age groups, while most men are in the 45-54 age group, followed by the 35-44 one. Ethnicity-wise, most men seem to be Caucasian, while women come from a variety of Asian backgrounds, like China, Japan, Indonesia, and Thailand.
With our test accounts, we had an opportunity to chat with some of the premium members, who turned out to be mostly men. Women don't seem as willing to pay for their memberships. The majority of AsianDating are those of free members and, if you are one as well, you won't be able to contact them. If you get one of the premium accounts (Gold or Platinum), you will be able to text anyone you like, and the free members will be able to reply to you.
Signing Up AsianDating
Is simple and takes a few minutes
Registration is free
You can use your Facebook account to register
You may skip profile photo upload for later
If you want a verified user badge, you need to go through a strict process
When you first register, you need to provide your first name, age, gender, email address and set a password. Simple and quick, no big deal, even free so far. After the account is ready with this written information, you can choose a profile picture. You can also skip it for later, but the developers of the app say that the picture increases your odds of getting noticed by approximately ten times.  AsianDating admins will, of course, review your picture before letting other members on the website see it. Following their decision, your photo will either appear on your profile, or they will inform you if you are breaking the rules or not being decent.
Making Contact with Other Users
The website lets you set preferences for your matches
Search filters can be used, and you save them your search settings
You can show interest in someone for free
You can add those who catch your eye to a favorite list
Free members cannot talk to each other; they can only text premium users
You can join website chatroom
It's free to reply to any message
Major difficulties appear when you have seen the most interesting and beautiful person on the website, you want to send them a message, but you have a free account and… they do, too. You can always send them your interest, hearts, likes, even add them to your special list of favorite profiles, but unless one of you brings out the money, you won't be able to talk.
As a free user, you can only contact those who belong to the premium category. Unfortunately, they don't have a badge to state their superior status, so you can only go into trial and error mode. You send a message to the one who touched your heart and hope it delivers. If not, the love letter will be stuck in the inbox until one of you decides to upgrade.
Profile Quality on AsianDating
It's free to take a look at anyone's profile and all their photos
Profiles are usually detailed, with plenty of information about the person
Admins need to approve all photos that you want to upload
You can get a verification badge after you upload your ID
Tons of information can be added to an AsianDating profile; the only thing you need is patience to put yours there and to read through the details other users have provided. Other than that, the platform makes things simple, as it shows you what fields you already went through by putting green ticks near those and red X's near the ones you still need to fill in (if you wish).
You get three profile tabs to form your personal mini leaflet. The first two just involve ticking your choices out of the ones provided. One tab is about your appearance, background, values, and lifestyle, while the other is about your interests and hobbies. The third tab lets you write a whole paragraph about yourself and what you expect in your ideal match.
Last but not least, you can influence the types of profiles the website suggests to you by ticking the qualities of your perfect match in, you guessed it, the match tab. Also, Cupid Tags can be added to your profile, keywords that describe you and will help others find you.
AsianDating App

Free to download on Google Play, no iOS version
Easy to use, with a scroll-down system that lets you see suggested profiles
It doesn't automatically refresh suggestions
You get notifications for likes and messages
When it comes to the differences in types of memberships, the rules are the same for desktop and mobile versions: messaging is not possible between free users, and the only thing they can do is send interests to each other until one of them pays.
There are some disadvantages to this app, namely – there is no AppStore version, only an Android one. Next, profiles are shown in a simple display which can be scrolled through, but suggestions do not automatically refresh, even after you have already interacted with some of these people.
Website Design and Usability
AsianDating design is quite simple and straightforward to use, even for those who are new to it or simply don't do very well with finding things on an Internet page. Everything is organized by tabs, and you can easily find all the buttons that let you interact with other members by showing interest, sending messages or reporting them for being offensive or dishonest. Editing your profile or changing your type of membership is also simple and intuitive. The options for setting up your search or matching filters are also uncomplicated.
AsianDating Costs and Prices
Free for everyone:
Basic matching
Checking out other singles' profiles and sending interests
Texting users of Gold or Platinum memberships
Things you can have only if you take it out your wallet:
Texting and receiving messages from anyone your heart desires
Using instant messenger for live chatting
The possibility of ranking above others and getting VIP status for your profile
Special search filters and matching algorithms
Double space for all the info and pictures you want to show others in your profile
Hiding your online status and profile to browse anonymously
Translation services for your messages
Browsing without ads
AsianDating has two types of premium memberships: Gold and Platinum. The difference is that the Platinum one has more advanced search features and the possibility of using translation services. Be careful, as your payments will automatically renew unless you deactivate this feature.
Actual costs can be seen below:
Gold Membership
1 month: $29.98/month
3 months: $20/month, $60 total
12 months: $10/months, $120 total
Platinum Membership
1 month: $34.99/month
3 months: $23.33/month, $69.99 total
12 months: $12.50/month, $150 total
Special Features from AsianDating
Free members only have access to one special feature, which allows them to see who and when visited their profiles. They can also see when someone was last active.
Message Translation is offered for Platinum members and is used to automatically translate messages to and from the person you are currently texting.
FAQs
Membership
Is AsianDating free to join?
Yes, joining is completely free.
How do I create an account on AsianDating?
You simply need to go to the home page of their website, click on "Join Now" and start creating your account.
Can I join AsianDating even if I am not Asian?
Of course, it welcomes people from all over the world and already has a lot of European and American members.
How can I temporarily deactivate my profile?
You need to check the settings on your account and choose to suspend it.
How do I cancel my premium membership?
It can be done from your account settings.
Usability
How does the matching algorithm work on AsianDating?
The website suggests matches that fit the description you have built in your partner preference.
Under the profile picture of the person you want to text, you will find a little envelope. Click on it and chat away.
Does AsianDating have a video chat option?
No, only texting is available.
How do I block an offensive user?
You need to go to their profile and click on "Block user."
What do I do if someone is trying to scam me?
It is best to report the user and contact customer service.
Will my account be active even if I stop using it?
It will be deactivated temporarily if you don't use it for six consecutive months and are a free member. If you pay for the account, it will stay active.
Does AsianDating have an app?
Yes, but it is available only for Android.
Security
Yes, it has verified badges on all its web pages.
What are the security features of AsianDating?
The website gives you the possibility to report any suspicious account activities and operated according to internal laws.
Does the website do account validation or background checks?
They don't go through a thorough check of every profile, but admins need to approve every photo that shows on their website. Furthermore, it offers the possibility to validate a profile with a photo ID, which raises said profile's credibility.
---
More online Dating Services
---
Brides by countries on site