Pros
A sophisticated matchmaking tool that generates 3-7 new matches a day

Free essential services and reasonable pricing for a premium membership with discount prices for 6 and 12-month memberships

All profiles are scrupulously verified, so fraud level is below the minimum
Cons
The registration process is time-consuming, and some of the questions can seem a bit odd and off-putting

Number of free services is minimal

No searchoption
Verdict
The highest Success Rate "Thousands of singles find love through our dating sites each month"
---
Elite Singles: premium dating service for educated professionals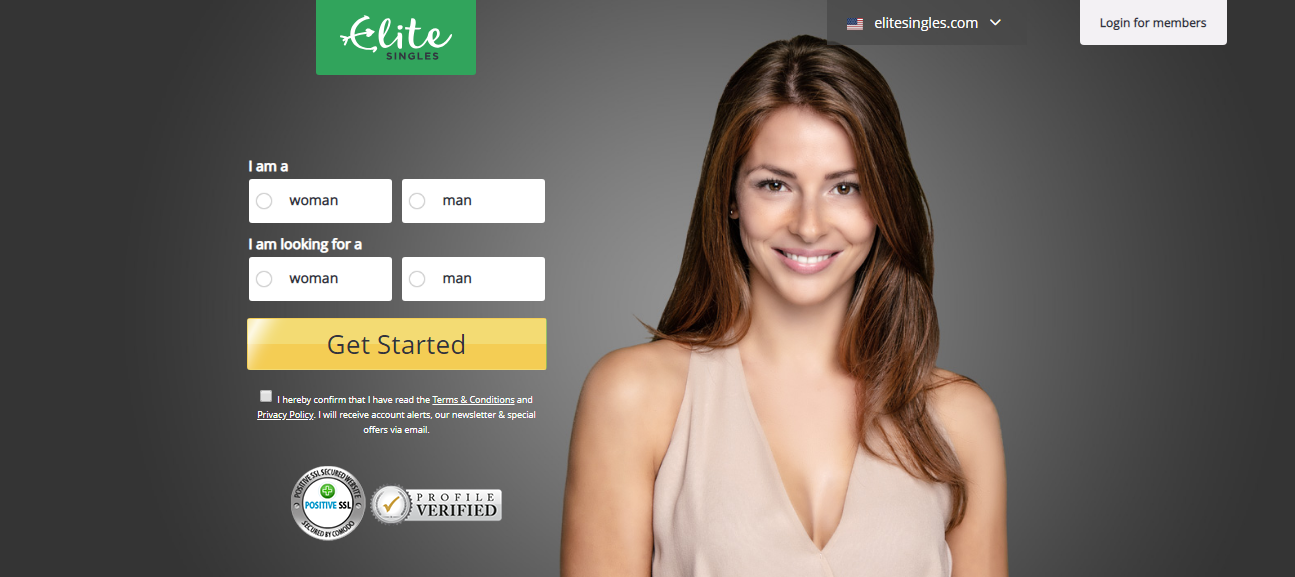 In the realm of today's dynamic dating market, EliteSingles.com is a site trying to accommodate the needs of a growing population of mature professionals in search of genuine relationships. It's best suited for busy people with not enough time on their hands to browse through endless profiles looking for a match. Users of Elite Singles fill out lengthy personality tests and give all sorts of additional information to allow the site to find persons compatible with them. Everyone can expect to get 3-7 matches a day. Once you receive your daily matches, you can read their profiles carefully and decide which ones you'd like to contact. There are multiple options for communicating with another user including messaging, sending emojis and adding them to your list of favorites for future reference.
The following features make this service stand out from similar platforms within the dating niche:
Detailed personality assessment based on the Big Five personality traits. The traits include conscientiousness, extraversion, agreeableness, openness to experience and neuroticism. A conscientious individual is described as organized and dependable, has self-discipline and high regard for duty. The opposite pole is a person who's highly flexible and spontaneous but lacks reliability. An extraverted person is sociable, energetic and thrill-seeking while an introverted individual tends to be reserved and anxious in social circumstances. Agreeableness pertains to a person's capacity for compassion and cooperation. Openness to experience opposes those who are inventive and curious to those pragmatic and cautious. Neuroticism is a proneness to psychological stress. Low neuroticism indicates an emotionally stable person, less prone to emotional outbursts, better able to control their impulses. 
Profiles undergo a thorough verification process to weed out con-artists and scammers. Elite Singles uses the latest technology available for detecting fraud and manually verifies all the profiles to prevent any fake accounts. 
A sophisticated matchmaking tool that generates 3-7 new matches a day
A blog featuring useful advice and assistance for dating
Free essential services and reasonable pricing for a premium membership with discount prices for 6 and 12-month memberships
The site is not suited for a younger crowd, so millennials should look elsewhere for dating services
A large percentage of college graduates among members. The site advertises that 80% of its users have a university degree.
Getting started: creating a profile on Elite Singles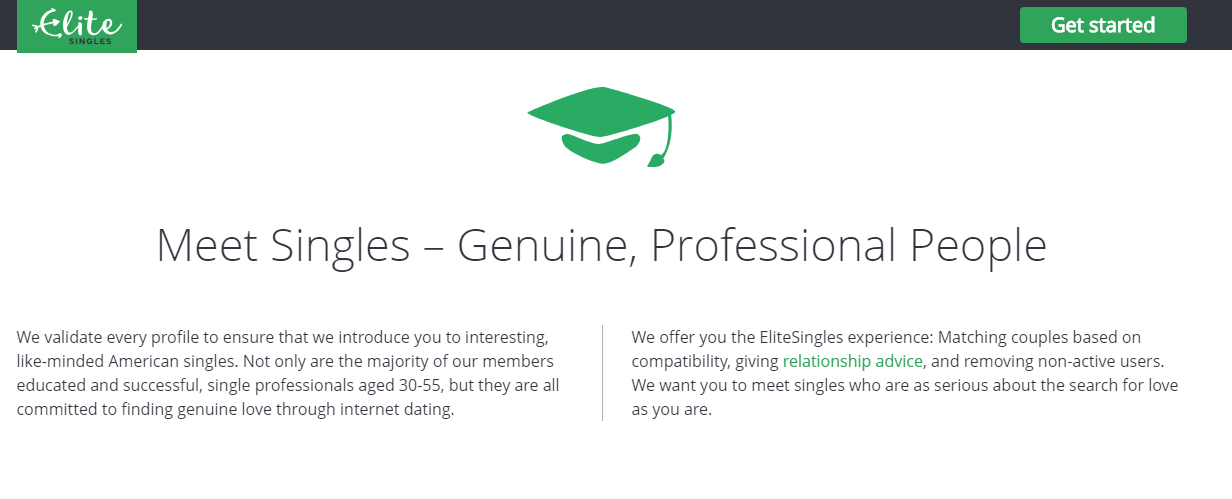 The registration process is time-consuming, and some of the questions can seem a bit odd and off-putting. First of all, potential users need to fill out a personality questionnaire, which takes 30-45 minutes to complete. Unless you are familiar with the theory of psychological testing, some of the questions may appear repetitive or downright awkward. However, they are all there for a reason. Answering them requires some insight into one's psychological processes as well as an ability to judge one's physical appearance. For an insecure person, this is bound to provoke apprehension and anxiety. One might argue that adding a couple of pictures to your profile would make a detailed description redundant, but the creators of this site seem to think differently. Being able to own up to your bad traits as well as the good ones is something people you get matched with could appreciate better. You should not sell yourself short though – always emphasize your best features and don't be afraid to do yourself justice. If you're an honest, hardworking person, who's already achieved quite a lot in life, saying this does not constitute bragging. 
One of the cool things about doing an online personality test on this site is that you get an analysis of your answers and a comprehensive description of your character. Your functioning in different areas of life gets investigated, which can be surprisingly revealing even to yourself. Most people are not even aware of some of their traits until someone else points them out.
You are only allowed to take the personality test once, and there's no chance to go back and modify your answers once you have submitted them. However, you can highlight some of your personality features by answering some additional questions – your answers will appear in your profile and thus be visible to other users. 
Finally, add some photos to finish creating your profile. The site allows you to upload up to 24 photos and offers to add a link to your Facebook profile in case you'd like to use some of the photos from your Facebook albums. 
Options to find a match on Elite Singles
There are three principal ways to find a kindred spirit on this site:
Matches: A daily recommendation of 3-7 people compatible with you concerning personality. The site gives you a compatibility score and a precise description of the features you share. You can add more filters such as height, weight, location, etc. to refine your search. That way they will only show you matches who meet your additional criteria.
Visitors: This feature is about letting you know who's viewed your profile. What you get out of it is getting informed about your profile having attracted attention from someone, which can give you an incentive to text them or make the first move. Knowing that many people stop by to check your profile tells you that there's something genuinely cool about you, which can be a real confidence booster. 
"Have you met…": This is a feature that generates a pool of potential matches who fail to meet your criteria to the teeth but are still pretty good candidates for you to consider. Why would one want to waste one's attention on someone a bit shorter, or older, or less educated than one's predetermined requirements stated? Well, it's just like in real-life dating – when a man who prefers blonds falls for a brunette or a woman who likes slim guys starts dating a chubby.  Happiness is not something that depends on preset criteria, so thinking outside the box can sometimes bring unexpected bliss. 
5 Questions: You can exchange answers to questions EliteSingles' moderators defined as crucial to matchmaking. They are pretty standard and give you an insight into a person's essence without going into too much detail. If your answers are compatible with someone else's you can decide to try to get better acquainted with that individual. 
Free vs. paid services on Elite Singles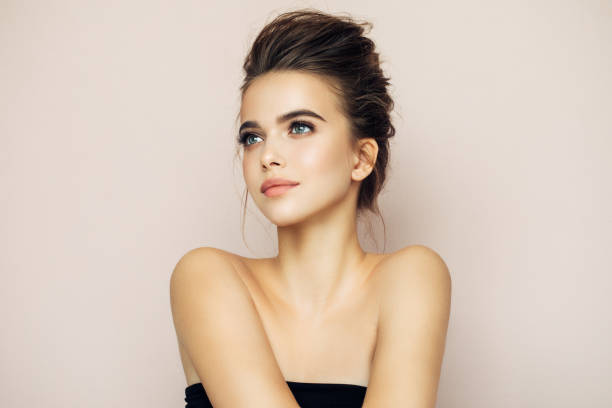 Only paying customers can enjoy access to all functions offered by this site. EliteSingles make this very clear from the beginning. They are not trying to lead you on and do not claim they are a free service. The free features are something like free samples and serve the purpose of giving you a taste of what you could get for a monthly fee. After all the site primarily targets professionals over the age of 30 – people who should be perfectly able to pay for a premium service. 
Liking someone's photo or information given in their profile is free of charge as well as sending smiles and using the 5 Questions feature. However, sending and receiving e-mails is reserved for paid members. Also, the site will only let you see pictures of your matches once you pay membership fees. As for the price of this site's services comparing to other sites with similar content, we would put it in the upper-moderate price range. Although Elite Singles gives you quotes of their monthly fees, it's actually impossible to purchase a monthly subscription. The minimum paid membership is for three months, but the monthly fees go down if you decide upon a six-month or the whole year's subscription. You get charged for the whole sum upfront, and after your membership expires, it will get automatically renewed unless you manually unsubscribe or end your paid member status. 
The site's rating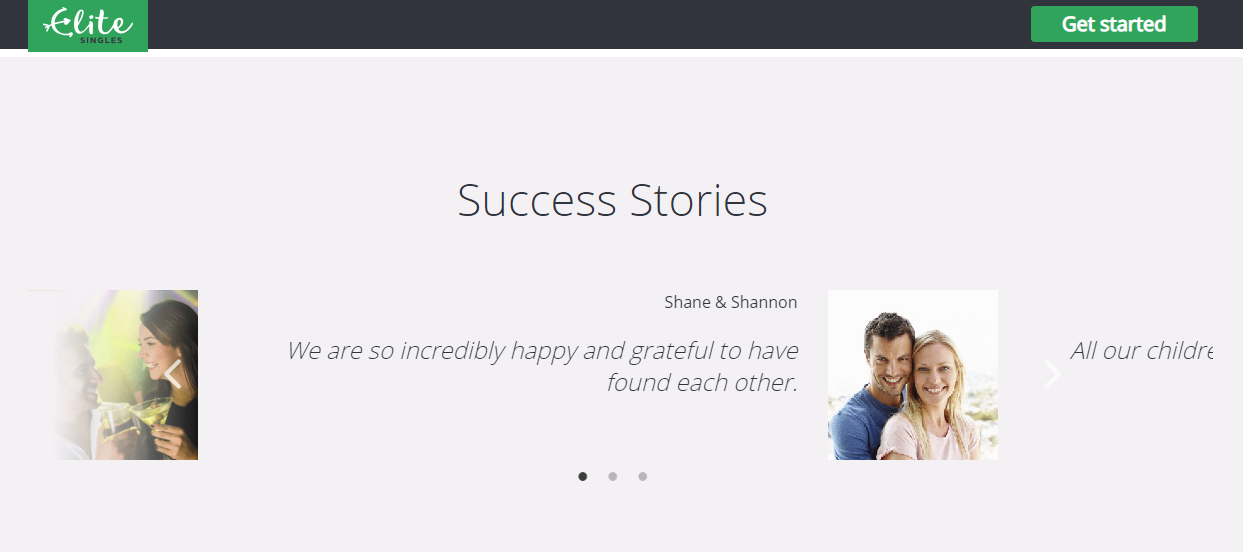 Overall, we would give this website a solid 4/5 grade for most of its functions, with a slightly lower grade for its mobile app. The app is currently only available to iOS users. 
Comprehensive psychological testing done in the registration phase is beneficial for creating a detailed profile, but it doesn't prevent anyone from lying. You don't have to own up to your past mistakes and shortcomings as you probably don't want to advertise them publicly. Similarly, there's no safety measure against entering false information concerning your income, place of residence, marital status, etc. For a site that boasts itself for being safe from scammers, this leaves room for improvement.
The option that allows filtering your matches based on distance from your location is quite convenient, but we feel that the lowest option of a 30-mile radius should be narrowed down more. Dating with someone who resides 30 miles or more from you can put a strain on a relationship especially when the persons involved are busy professionals. Setting the lowest distance limit to 5 miles would come in handy particularly to those not willing to depend on their cars or public transportation. Being in a walking distance from the person you're in a relationship with has some real benefits.  
When using EliteSingles, you have to leave matchmaking to them. If you prefer a particular type of guy or girl and the site does not think you're compatible, you will not get matched. There's no way you could manually search their database and decide who's a good fit for you. The site's computer program is responsible for determining matches, and there's nothing a user can do about it. 
On the plus side, the site is very well organized and easy to navigate. The fact that it takes at least 30 minutes to set up a profile discourages those who are not seriously committed to starting a long-term relationship. It mainly attracts intellectuals, and those are the hardest to meet socially since they usually avoid places like bars or clubs and feel awkward in a group of strangers. On EliteSingles, you will be able to find a person who will enjoy chatting with you for hours and not rush into making your relationship more physical right away. 
Unlike many other sites in the dating niche, EliteSingles doesn't put dozens of photos of half-naked people in your face as soon as you click on their homepage. It emphasizes personality features as its developers appreciate the fact that it takes a lot more than physical attraction to bring about a solid base for a lasting relationship. That said, EliteSingles is not about finding you an easy hook-up or a one-night-stand. Those are not too hard to come by anyway. It suffices to go to a local bar, have a few drinks and small talk to another bar patron. Chances are they are there for the same reason. And if you later discover that you have nothing in common with the person you spent a passionate night with, no one is at a loss. Similarly, if you don't feel like meeting inappropriate people and wish to start a more meaningful relationship, EliteSingles is an excellent place to look.
---
More online Dating Services
---