Pros
Customer Service 24/7

All profiles are thoroughly verified

Professional Matchmaking System

Lovestruck comes with loads of free services like advanced searching, messaging and other essential and interesting features

There is an app

Good gender ratio (45% women, 55% men)

Approximately 36.000 members active daily

No pop-ups

Shows when a member was online in the last time
Cons
Users living in big cities have to pay for chatting with other members. Here, however, the costs will depend on your location

No instant messaging
Verdict
The website seems to address mostly to professionals, always on the go and busy with their jobs, but who are also trying to find a romantic relationship that is worth their time.
---
Lovestruck Review of the Essential Features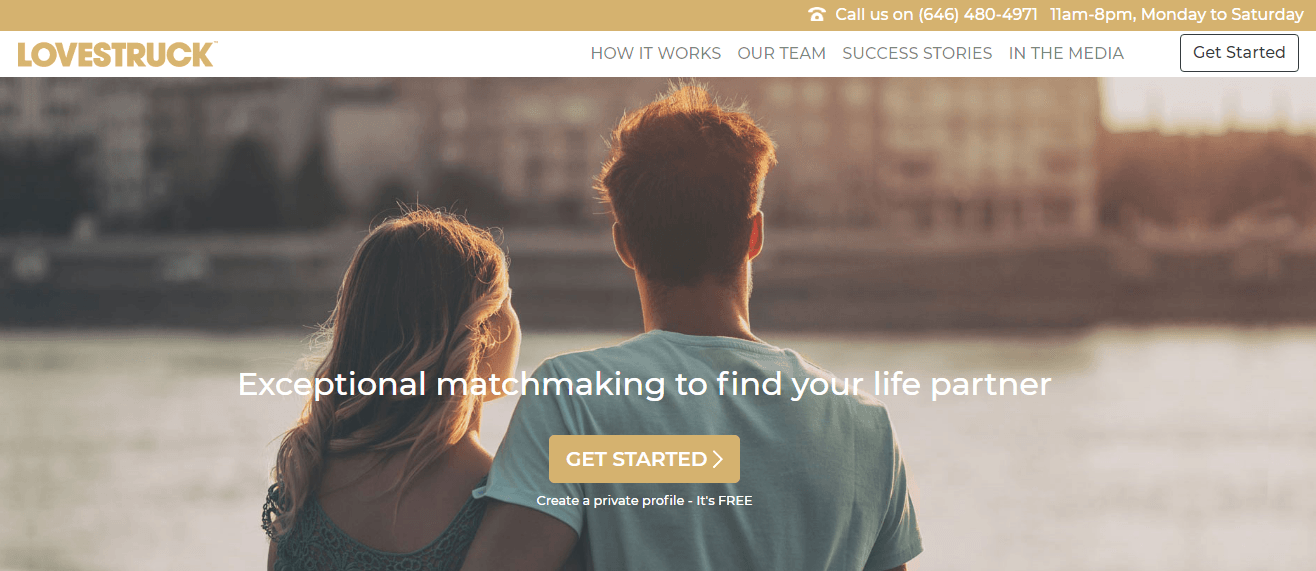 Lovestruck, an online dating platform founded in 2006 by Brett Harding, is part of Love Group Global and, along with other dating services and websites under the care of CEO Michael Ye, tries to ensure quality matchmaking and fun social events for its single members. The head office is located in London, United Kingdom, but also offers its services to individuals from Hong Kong, Singapore, the United States, and Australia.
Also, for all smartphone enthusiasts, Lovestruck launched an app in 2010. What people seem to enjoy most about it is that it makes their phones vibrate when potentially compatible singles are in the near area.
The website seems to address mostly to professionals, always on the go and busy with their jobs, but who are also trying to find a romantic relationship that is worth their time.
Member Structure on Lovestruck
You get your very own profile to fill out with anything you consider worth mentioning
It is location-based and shows you professionals living or working close to you
Those who sign up seem to be looking for something meaningful
45% women and 55% men on the website
Most members are young, in their late 20's or early 30's
36.000 members active daily
The platform can be used by LGBT people as well for same-sex matching
Gives singles an option to attend Laissez-Faire parties
It is assumed that those who reach for the help provided by the matchmaking services of Lovestruck are indeed single people looking for a serious romantic involvement with their potential future partner. Most of this website's members are young, busy with their careers and are looking for similar people to share an understanding of a tight-schedule job. And what better way to meet someone who lives, breathes and works nearby than with a few clicks on one of an electronic device you are unavoidably tied to, anyway?
For those who are part of the LGBT community, Lovestruck offers the possibility of same-sex matching, communication, and dating. Last but not least, let's not forget about the little party animal in you, who might just think that the perfect way to meet your match is by getting to know them at one of Love Group's social events, in the form of a Laissez-Faire party.
Signing Up Lovestruck
It's possible to sign up using Facebook
Verification via SMS is required
For the verification, Lovestruck requests a valid phone number
You can do the verification later on
You need to be of legal age to get an account
As with most accounts these days, getting one on Lovestruck can be done in no time and with little sweat. It does have one important restriction – you need to be at least 18 years old to become a member. For registering, you also need to go through a verification process, which means you'll have to provide a valid email address and also a phone number which is active. They will use the phone number to send you a code via SMS so that you can finish the actual verification. Another way to do this check-up is in person.
Registration is also available through the always present, eternal Facebook. If you want to use it, you can postpone your verification for later. Plus, to get you started, you will need to provide your location and your occupation. Because, as we said, Lovestruck will find you like-minded professionals that you could easily run into. For all your other details, like hobbies and such, you can come back to your profile later, when your schedule allows you.
Making Contact with Other Users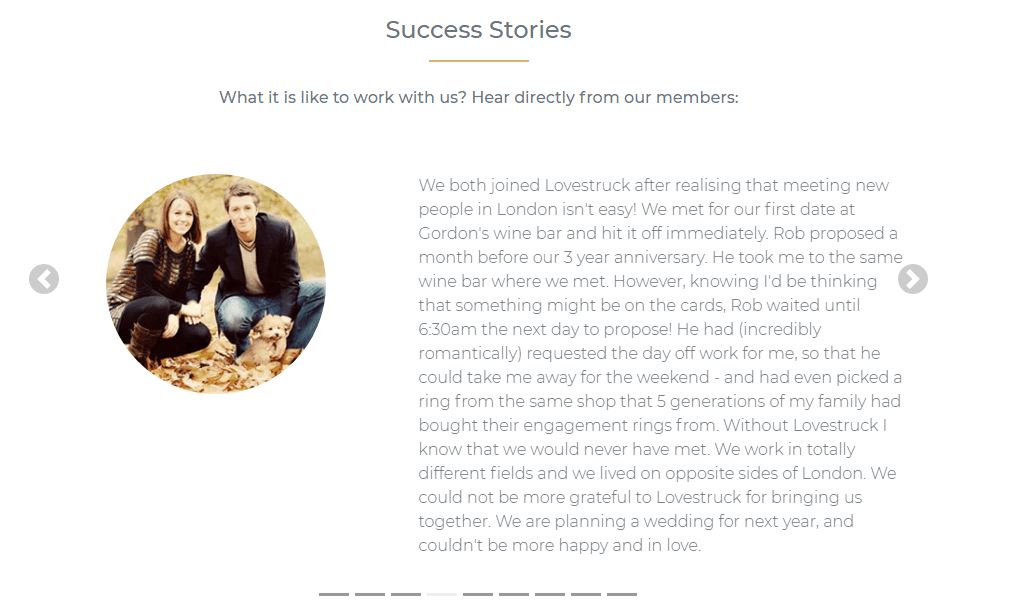 You can like profile photos
You can do opposite or same gender searches
You can do keyword-based searches
Searches can be filtered by different criteria
Contact options are limited
Lovestruck lets you choose keywords by which you can search for others and shows you their profiles if they contain those words. You can decide to get really specific and see only the results that mention a certain education, job, industry, hobby, interest, lifestyle, physical appearance, religion and so on.
Your search can also be based on gender, which means that you could choose to see profiles of opposite sex members.  Same-sex matches are also possible as the website is LGBT-friendly. At the same time, you can choose what you don't want to see and eliminate those types of profiles from your love research.
The means of reaching out to other users are a bit limited, though. There is an option to use messaging, but that one is free only for users in small towns, not in the big cities – megapolis dwellers always have to pay for messaging others. What can we say, having more options to choose from comes with a cost. On the other hand, you can like their profile pictures for free and hope this strategy is enough for them to start a conversation.
Profile Quality and Informativeness
Profiles need to be verified through SMS or in person, but this can be done later
Those who are verified get a badge to show it
You can see someone's last activity online
Profiles can get quite detailed, but some are not
The information in the profiles can be edited at any time
Profile pictures are visible to everyone for free
Lovestruck seems quite safe when it comes to your odds of running into a fake or a scam profile. The verification process is necessary for every new member, and it has to be done either in person or with a valid and active phone number. Furthermore, the profile will have to get approval from admins before it becomes 100% active (that is, is allowed to show interest and text other users).
It is true that verification can sometimes be postponed for later, but if you tend not to trust people easily, you can just avoid accounts without a verification badge. Some users add links to their Facebook, Twitter or LinkedIn profiles, so that might be of help as well. Another factor which takes away a bit of your privacy is that Lovestruck profile shows when a member was last online. Some might start taking guesses on who is avoiding to reply.
One really cute thing is that, if you have some date ideas, you can write them in your profile as well. So, for example, if you want to go on a boat ride during your date and someone else wants to do the same, they could hit like on it, or on you, and you could do the same for them. It's a great way to know what people actually consider fun and become a great source of inspiration if you're not really sure how to impress someone on a first date. 
Lovestruck App
It's free and available to download from Google Play or App Store
Profiles go through verification in here as well
It can be used either in English or Chinese
For those among us who rarely get the chance to sit in front of their computer and sip their coffee while browsing interesting and attractive singles, Love Group Global has developed an app to match the Lovestruck website. Luckily, it can be downloaded, for the amazing price of 0$, from Google Play Store or iOS's App Store. Next time you're worried you never have time to find a date, you can just take your phone and start clicking.
Registration is also possible directly through the app on your smartphone or tablet – of course, not without going through the verification process. Considering the location or motherland of most of its users, Lovestruck comes with the option of using it in either English, Traditional Chinese or Simplified Chinese.
Website Design and Usability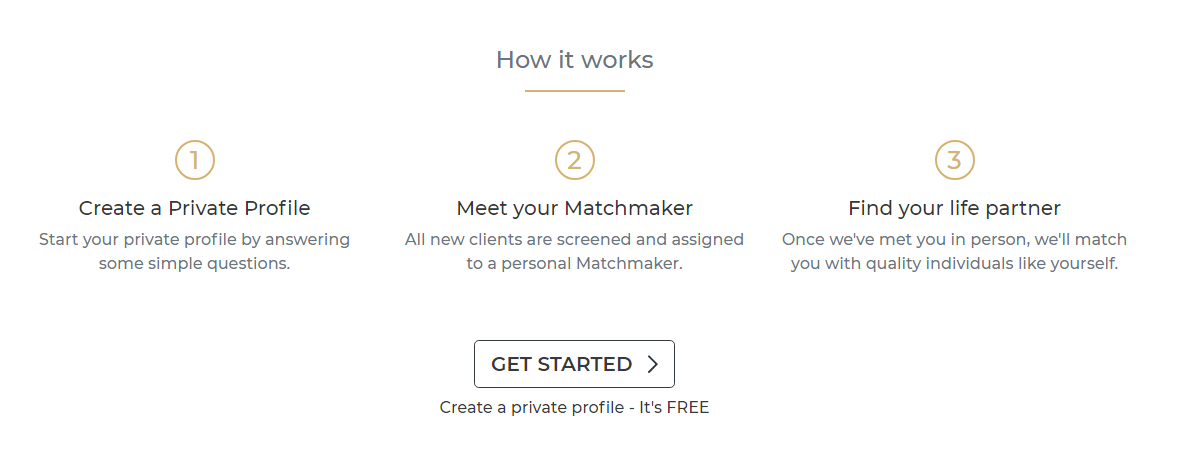 The main advantage of Lovestruck's website design is its simplicity. It uses a plain font, and colors such as white, black and gold, which could ensure not getting as tired during browsing, as you do with other flashy, bright web pages. Website sections also make it easy to navigate and find what you are looking for.
The best part might come from the fact that pop-up ads are completely absent! You don't need to stop browsing or checking out that attractive guy's or gal's profile because of getting annoyed at the extra tabs that you always need to close. Another perk is that pages don't take a lot of time to load or freeze out of sudden. 
Lovestruck Costs and Prices
Lovestruck comes with loads of free services:
Setting up a profile, photos included
Liking other people's profile pictures and viewing their albums
Browsing members and searching by different criteria
Viewing your matches
Seeing who viewed you or added you to their favorites list
Messaging
Going incognito
Getting individual advice from matchmaking consultants
Priority customer service
As already mentioned, users living in big cities have to pay for chatting with other members. Here, however, the costs will depend on your location, so you will always have to double-check Lovestruck's applicable charges.
Special Features
Some extras that could improve your experience of online dating while having a bit of fun and, why not, to make sure you keep choosing the services of Love Group:
Laissez-Faire Parties: events that are organized to help singles meet each other in a relaxed atmosphere where they can chat, have fun and get to know each other without going through the awkwardness of a first date.
Matchmaking: professional matchmakers from the Love Group team focus on your individual needs to find the best dating techniques which could bring you closer to finding the one.
FAQs
General Information
What is Profile Verification?
Your identity gets checked with the help of your phone service provider or your social media accounts, to make sure your profile is not a scam.
What happens after my profile gets verified?
You get a badge that says you are verified and your social media will appear in your profile.
Can I contact customer service anytime?
Yup, they work 24/7.
I made an inquiry via email, how long do I have to wait for the response?
It shouldn't take longer than 36 hours.
Can anyone register to Lovestruck?
As long as you are over 18, sure.
Profile
Can I update my profile? If yes, how?
You need to go to the "Edit my Profile" section, make the changes and click "Save" on all of the sections that you modified.
What shouldn't I write in my profile so that it doesn't get rejected?
Nothing related to business ads, political ads, sexism, racism, your exact location.
What size can the photos I upload be?
No bigger than 8 MB.
Can I use any file format for the photos?
You can use JPEG, JPG, TIFF or GIF.
I uploaded a profile picture, why doesn't it appear?
Give it 24 hours, it has to be approved first.
App Facts
Is the app compatible with any device?
You need an Android version 4.1 or above, or iOS 8.0 or above.
Account
How do I deactivate my account?
In "My Settings," you click "Deactivate my Account," and it will be gone for good.
How do I cancel my paid subscription?
You need to send a cancellation request to [email protected] two or more working days before your subscription is supposed to renew.
---
More online Dating Services
---
Brides by countries on site