Pros
Quick&easy registration

Free browse through profiles

The site applies tight security measures

There is an app

There is an 'Instant Messenger' whic allows you to chat via audio or video

Available on many languages
Cons
Number of features available to non-paying users is very limited

Quite small database

Lots of incomplete and empty profiles
Verdict
UkraineDate is not a bad option for those who would like to meet Eastern European women. We grade it a solid 4.0/5.
---
UkraineDate: How to date European beauties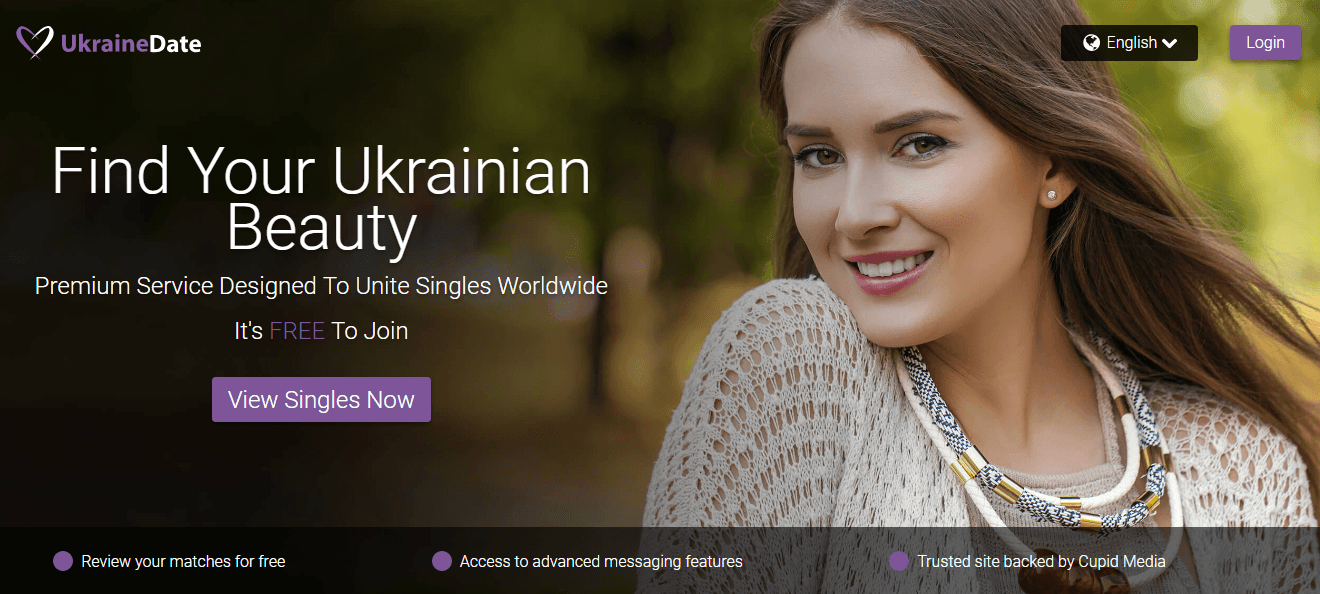 The beauties from Eastern European countries have always fascinated foreigners. In any spot of the world, you will find a man who will gladly connect his life with one of them. The reasons for this are rather different – from these women's stunning looks to their views on family life. 
Ukraine is the largest Eastern European country and, during the centuries, has experienced the influence of many cultures. This is why the gene pool of the nation is very diversified. The abundance of gorgeous Ukrainian girls – blondes and brunettes, with blue, green, and brown eyes, of different height, and built differently – drives every gentleman crazy. 
To marry a Ukrainian girl, you don't need actually to go anywhere. A myriad of dating websites can help you with that. But choosing a trustworthy website may take you too much time if you just browse for them. Here, we take a look at one of the most popular sites aimed at bringing Ukrainian women and their admirers from around the world together – UkraineDate. Our review will help you make a decision on whether this site is worth a shot. 
UkraineDate Members
UkraineDate is a part of the huge Cupid Media which has 35 million members all over the world. The site has quite a large database itself – 80,000 users and 500 join every month. The users' activity is high, bringing UkraineDate 12,000 monthly visits. You will find more than 400 members online every day. 
About a third of the site's population comes from the US. The overwhelming majority of users here are men. The female percentage is only 15% which brings a certain competitive spirit to the male population. But since most users are seeking a long-term commitment, it is all about the quality of matchmaking, not the quantity of potential partners. Most girls on the site are, obviously from Ukraine, while men are from the US, Western European countries, and Turkey. They are straight and looking for a serious relationship and marriage. UkraineDate members fall into all legally aged groups, but there are still more users in their thirties and early forties. 
How to sign up
All Cupid Media websites allow users to choose between email verification and joining with Facebook. UkraineDate is no exception. Both ways of registering are easy and convenient. 
If you want to use your email address for registration, you are to indicate it alongside with your name, gender, and age. Also, choose a password and make it safe, just in case. You may take extra precautions and create a brand new email address. After that, click the 'View singles now' button. That's it, and no email verification is needed. 
Signing up with Facebook is even quicker. The site promises never to share any information with your FB account. Why would they, anyway? So, no friends of yours on social media will know about your UkraineDate activity. 
How to build a good UkraineDate profile
All users want to feel secure on a dating site. But when the time comes to fill out their profiles, a lot of them completely forget that they are actually going to be chosen by other people who want to feel secure, too. The point is that a completed well-built profile makes others feel safe when they try to contact you. Plus, it doesn't give site admins second thoughts as to your authenticity. Thus, your account won't be marked fake or get terminated. 
Please, remember that any piece of the information you provide might be essential when someone special is searching for you. 
To make your chances of getting noticed by REAL people higher, you can also verify your profile and get a green badge, the same as all verified Cupid Media users get. Email an official ID to the security team, and wait a bit for their reply. This is extremely easy and totally safe.  
The app and the website: Pros and cons

UkraineDate provides its users with an opportunity to easily access the full website's functionality when they are away from their computers with the mobile app. It can be downloaded from the App Store and Google Play absolutely out of charge. 
In fact, you can use UkraineDate services only via your application, as everything from creating an account to all communication tools are accessible to mobile users. It allows you to always stay in touch with gorgeous Ukrainian women you have met online. You won't miss any messages or likes they send you. 
The design is not super modern but very convenient. It doesn't take too much storage space on your device, and you can enjoy its stable work every time and everywhere. 
The developers of both UkraineDate site and app are not striving to impress users with modern design trends. All you can see is a simple interface and layout. On the other hand, leaving the site's version this way, they address three important issues at once: 
operating the site is quick and glitch-free because no excessive content slows it down,
users won't get lost in the abundance of unnecessary functions and will find all they need with no effort. This is quite a wise decision as the majority of the site users don't want to learn how to use it. Some of them lack technical skills, while others have never used any online dating services at all. There are also people who have no time on super complicated site's features because they are too busy, 
the pricing is reasonable because the site doesn't need to pay extra for constantly updating their design.
Users' feedback
Steve, 22: 'It was hard to get used to the website from the very beginning. This is not Tinder, you know. It feels like I am at least ten years back in time. But I understand that what a site has to offer is more important than how it looks. I was searching for a service I can trust – the one that has real people's profiles. A lot of websites that promise to set you up with a Slavic girl are downright scams and so are women you can meet there. Cupid Media has some reputation, so I've decided to give it a shot. So far, so good. Some girls didn't seem sincere. But I've made some interesting connections, so maybe it will lead to something real.'
Carl, 46: 'I just want to thank UkraineDate for their excellent service. About a year ago, I spent more than a month on the site writing to a lot of girls. Some of them were just lovely, but it didn't work out. At that time, I never felt that it would really work – just chatted and enjoyed the attention of pretty ladies. But then, I came across the profile picture that I thought I would never forget. I wrote to her, and she replied. We spent weeks and weeks chatting before I found the courage to go to Ukraine and meet her in person. And we fell in love the moment we saw each other. Eventually, I asked her to marry me. We are together for five beautiful months now, and I have never been happier.'
Membership and pricing 
Paid Vs. Free membership 
Each Cupid Media website has a very limited number of features available to non-paying users. While some people see it as pushing clients to spend money on the website, others consider it to be an indelible part of secure and diversified service. This issue is quite controversial, and it is obvious that one can find arguments both for and against buying a subscription. If you are sure that UkraineDate is the site you need, we would recommend you subscribe to enjoy the full functionality of this service. 
As a non-paying member, you access simplified matchmaking based on the most general information. Plus, you can send interest to those you like, but you can't communicate with other free users. 
Paying members can send messages to anyone and read all the mail they receive. In addition, they can communicate via live chat without having to wait for someone's reply. Messages they get can be translated into their language. A very small percentage of ladies on this site have enough skills to express what they really want to say in English. So, it might be advantageous to let her open her heart in her own beautiful language and have a machine (but very precise) translation of her words right away.
On the one hand, paying members can get more attention because they are ranked above others. Enabling the 'Highlight' feature is one of the most effective ways to get noticed. Besides, they can share more information with others if they opt to double their profile space. On the other hand, they can avoid exposure by hiding their profile and switching to anonymous mode. 
Searching for potential partners is also more enjoyable for paying users. They can use advanced search filters that makes the results much more accurate and exciting. And they are matched up with the help of upscale algorithms; this, in turn, eliminates the chances of skipping an interesting profile. 
UkraineDate prices
This site offers two types of membership: Gold and Platinum. Both of them might be purchased for one, three, or twelve months. 
Gold membership will cost you $29.98 for a single month. The price per month gets lower when you pay $59.99 for three months ($20/month) and $119.98 for a year ($10/month). 
Platinum membership monthly cost is the cheapest on a yearly plan. That way, you pay $12.50 per month that makes $149.99 for the whole period and allows you to save 64%. A three-month payment is $69.98 which is $23.33 per month, while a single-month cost goes up to $34.99.
All membership plans can be purchased with a credit card, Paypal, Paysafecard, or bank transfer.
Mind that the default settings are adjusted to auto-renew your membership when it ends. Thus, if you have looked around for a month, for example, and are now ready to purchase a longer plan while saving a great deal of money, you have to switch this option off. It should be done at least two days before your subscription expires. The same thing applies to those who want to cancel their membership. 
Final word on UkraineDate
Cupid Media has gained the reputation of a trustworthy dating service provider and for a reason. Their websites cater to a lot of user groups, and they have made international dating much easier for people around the world. 
In particular, UkraineDate helps men from the US, Europe, and Turkey find a perfect match among Ukrainian beauties. The first impression of the site might be a little deceiving. The website lacks the newest features, and the interface isn't updated often. However, a lot of users find UkraineDate website and app functionality sufficient. They come here to find a life partner and not to be constantly distracted with the abundance of cool but unnecessary things. 
Security issues are addressed by the team immediately. They do everything possible to minimize the chances of scam or coming across any ill-intended people. Most profiles at UkraineDate seem to be of genuine people who are in search of a real, long-term commitment. 
Although free membership doesn't allow one to do a lot on the site, the pricing seems to be quite fair and affordable. Free dating platforms can't offer a half of services UkraineDate provides. 
Searching for love online can be either an enjoyable or distressing experience. It depends hugely on how inspired and persistent you are. But above all, it depends on the service provider you choose. Overall, UkraineDate is not a bad option for those who would like to meet Eastern European women. We grade it a solid 4.0/5.
---
More online Dating Services
---
Brides by countries on site