Pros
Free&easy registration

Free browse through profiles

There is a mobile app

Useful search filters

There is profile badge for verified accounts

Most profiles are quite detailed
Cons
Communication options are very limited for non-paying users

Many Gold Diggers
Verdict
While plenty of other sites out there are offering similar services, MexicanCupid can professionally match Westerners with Mexicans in a matter of seconds. If you want to enjoy your MexicanCupid experience fully, it is best to get a premium (preferably Platinum) membership to have a higher chance of meeting your perfect match.
---
MexicanCupid: A Platform to Find Your Mexican Match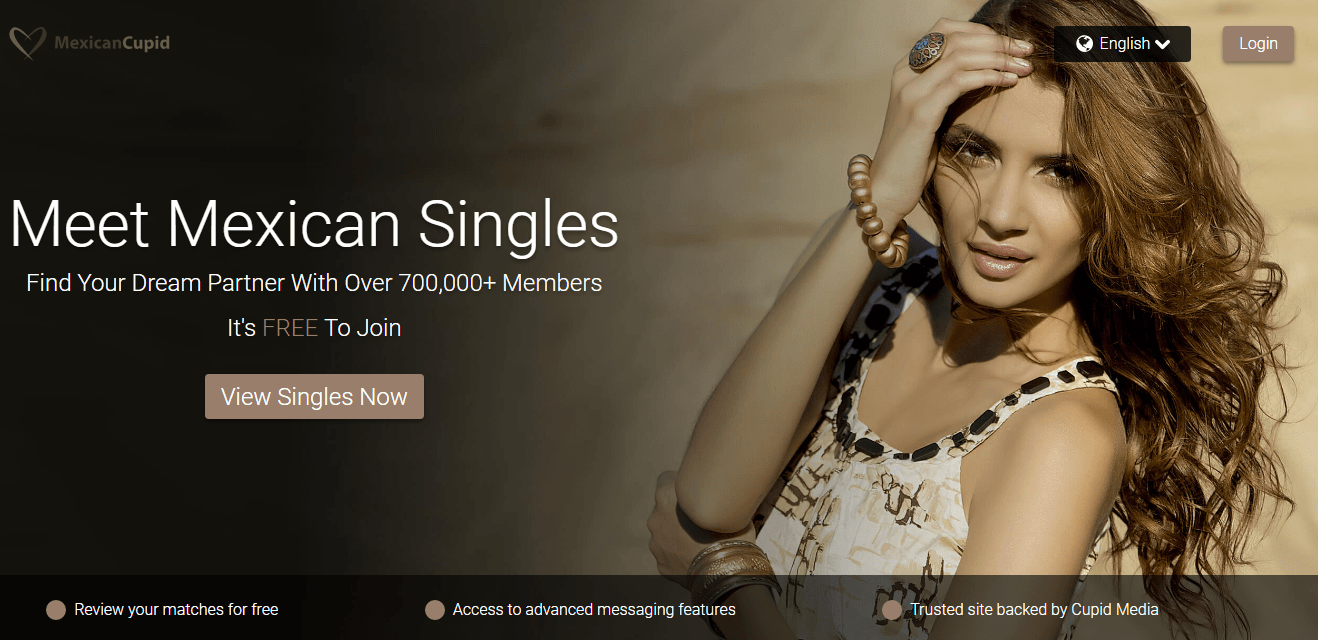 MexicanCupid, as its name suggests, is a platform for dating Mexicans. It also caters to single Westerners who want to find the love of their life among the Mexican population. MexicanCupid is one of niche dating sites operated by Cupid Media which was founded in Australia in 1999. 
With more than 700,000 users across the globe, the site provides a diverse community for members from all the parts of the world. The majority of its members are from Mexico and the United States, though. With such a huge member database available, you will get to meet a lot of interesting people with a wide variety of backgrounds. 
The site is very user-friendly. There are many ways to connect with singles from all over the world, especially for those who have paid for a premium subscription. 
Member Composition
Everyone can join MexicanCupid as long as they are at least 18 years old. According to an online Hypestat analytics and statistics service, 85% of MexicanCupid's total membership are actually from the United States and Mexico. The remaining 15% are from other parts of the world. The gender ratio is 6:1, with more female members. As for the age, the most active members are between 25 to 45 years old. 
Signing Up for MexicanCupid
Signing in is a straightforward process on MexicanCupid. All you need is a valid email address and a password. You can also join via Facebook if you wish. Whatever option you choose to go with, signing up does not take long. You just need to provide your email, name, age, gender, current location, a unique password you will use to enter MexicanCupid, and your profile photo. Of course, there are other details you can put into your profile, but those are completely optional, and you can add them later.
Messaging Members
MexicanCupid members have many ways to contact each other. Upon signing up successfully, get ready to see hundreds of instant matches. Using the search criteria allows you to expand your match results even more or narrow them down.
Free or, so-called, standard members face considerable limitations in communication tools. As a standard member, you can only chat with premium – both Gold and Platinum – members. You would need a subscription to chat with free members. Moreover, sending unlimited messages is for paid members only. But there is nothing to worry about. There are plenty of other ways to connect with others. For example, you may send friend requests, add users to your favorites list, or send them interests.
What Are MexicanCupid Profiles Like?
MexicanCupid profile section has many sets of questions, ranging from basic information, personal details, and physical appearances to lifestyle and cultural views. Therefore, it is pretty clear that you can express yourself the way you want putting as much information in your profile as you find appropriate. With such a customizable profile structure, expect to see informative and substantive profiles from other members too. Answering optional questions on your profile can be useful when you need to find your perfect match. 
You may also upload photos, but they need to meet the standard requirements of MexicanCupid. Basically, it is to have a certain size and appropriateness. The photo needs to be recent, has to show your face clearly, and must not contain pornography or nudity. Standard members can upload only five photos. Moreover, they need to be in .jpg, .bmp, .gif, or .png format, and each photo must not exceed 10MB in size.
While there is no email verification required, you should still verify your account by uploading a photo of you holding an ID or any official document confirming your identity. After you are approved, your profile will get a green badge, proving that you are a legit and authentic user. The MexicanCupid team will review your profile to make sure that it follows its Terms of Use. It usually takes 24 to 48 hours.
Security Measures
While MexicanCupid is just as secured like any other Cupid Media website, you should still keep an eye out for scam accounts. As mentioned previously, it is very easy to identify fake or scam profiles from the lack of information or verification. Other members will see whether your profile has that green badge. They do not even need to waste time finding out whether a profile contains enough information when it doesn't feature the verification badge.
Another security measurement you will notice is that your session will be timed out after 20 minutes of inactivity. After the time-out, you will need to log in again to continue using MexicanCupid. 
Mobile Application

The mobile app version of MexicanCupid allows you to remain connected with other members online anytime and anywhere. Everything the website offers is available in its mobile counterpart. You will notice though that the design and interface are much more systematic and compact. 
Usability and Design
MexicanCupid is similar to other Cupid Media dating sites, which is known for having a simple and functional interface, allowing both young and mature users to navigate through the website with ease. MexicanCupid uses a neutral, earthy color palette. Its web design elements are just perfect, and its font choices are good enough letting everyone use it easily. Overall, it is very user-friendly as everyone can navigate and familiarize themselves very quickly. Everything is just a few clicks away. 
Costs and Features
There are two premium memberships to choose from – Gold and Platinum. Gold membership goes for 29.98$ a month, 59.99$ every three months, and 119.98$ every year. The monthly rates are 29.98$, 23.33$, and 12.50$ respectively. Platinum membership is a little more expensive at 34.99$ a month, 69.98$ every three months, and 149.99$ a year. The monthly rates are 39.99$, 23.33$, and 12.50$ respectively. Note that the monthly rate is there just for comparison as you need to pay for your subscription in a single payment. Overall, the prices at MexicanCupid are very reasonable. 
Payment Options
There are three options to choose from. You can pay via bank transfer, credit card, or PayPal. Your subscription on MexicanCupid automatically renews when it expires, so you can continue to access all features of MexicanCupid without interruption. You can always turn off the auto-renewal at will. Go to 'Billing' from the Settings menu and click on 'No' next to 'Auto Renew My Membership.'
Features
As a standard user, you can create your account, upload five photos, search for other members, see their profiles and photos, send them interests, or add them to your list of favorites. You can also block and report them. 
As a paid user, you have access to all of the above, plus unrestricted messaging, commenting on other users' photos, read received messages, going incognito, and gain access to exclusive search features. 
So, considering that a year of Platinum membership costs less than 50 cents per day, we see no reason to ignore this opportunity if you are serious about dating on this website. 
Advantages of MexicanCupid
High Demand
There is a saying in business 'Look for those who are looking for you.' Applied to online dating, it means that you shouldn't waste time on members who are not interested in you or not serious about meeting up and dating. Instead, look for members who are already looking for someone like you. This is a sure-fire way to get matches and dates immediately. 
Nonexistent Language Barrier
You actually do not need to know much Spanish if you want to meet Mexican members because most of them come from the cities and are very fluent in English. But do not judge their language skills by their profile. If they message you in English, you can proceed without speaking Spanish. This is a perfect scenario because you can at least talk to the members before meeting them in person. But if they write messages in Spanish, there is still no need to panic as all Cupid Media niche dating sites have the auto-translate feature available to all Platinum members. 
Dates, Dates, Dates
If you play your cards right at MexicanCupid, your schedule will be filled with dates very quickly. You can use MexicanCupid to build a network and arrange dates with a lot of users before you go to Mexico. That way, you will not be lonely in the first few days of your journey. If arranging multiple dates on the same day seems like a bad idea to you, remember that some of your matches might bail on you. So, you are better to make sure you have options.
Disadvantages of MexicanCupid
Cheap, but Not Free
While MexicanCupid is not expensive, you still need to break out your credit card and pay if you wish to communicate with its members more effectively. Sending interests and adding them to your list of favorite will not help. After all, they are not willing to meet you in person if you cannot spend 50 cents a day for a premium membership.
Gold Diggers
On the flip side, some members want you to send them money just because you like them that much. This is an example of a typical scam which you might come across more or less often depending on your profile information and where you live. Just be on the lookout.
Older Male Members Have an Advantage
Perhaps it is just a cultural thing, but Mexican women seem to prefer older men. This is probably because mature gentlemen are more respected and wise. 
Not Ideal for Short Trips
Many MexicanCupid members might want you to video chat with them for several hours in multiple sessions. They need to get to know you and be comfortable with you enough before seeing you in person. So, if you are staying in Mexico for only a few days, MexicanCupid might not be for you. A possible workaround is to get matched and date online for some time before you visit Mexico. That way, by the time you are there, you will have plenty of people to meet.
The final verdict on MexicanCupid 
Mexicans are known for their passion, and many people from other countries are interested in meeting, dating, or even marrying them. While plenty of other sites out there are offering similar services, MexicanCupid can professionally match Westerners with Mexicans in a matter of seconds. If you want to enjoy your MexicanCupid experience fully, it is best to get a premium (preferably Platinum) membership to have a higher chance of meeting your perfect match.
---
More online Dating Services
---
Brides by countries on site