Pros
Signing up and setting up a profile is very quick and effortless

The layout is stylish and eye-pleasing, and the use of the app is intuitive and self-explanatory

The entire user experience is fun

Members are highly responsive and friendly

The essential set of functions is free of charge

Paid features are quite cheap compared to other dating services
Cons
There is no desktop version

It's impossible to sign up if you don't have a Facebook or Instagram account (or if your profile there is relatively empty)

There is no search option, so you always have to rely on the matching system

It all looks like fun and games, which makes it unsuitable for those with more or less serious intentions in mind

The payment options are limited
Verdict
If you want to find someone to start a family with or merely a date for the night, you'd better off looking for it on a specific platform. But if you are feeling playfully romantic and don't have any definite goals in mind, then FuckMarryKill is an excellent way for you to have fun. Maybe, you can find out what kind of a romantic involvement you'd like at this point in your life. We'll grade FMK a modest 3.5/5 on our rating of online dating services.
---
FuckMarryKill – Land Yourself a Date While Playing
Everybody who has been a teenager knows the game of Fuck Marry Kill (or Kiss Marry Kill in case you prefer the censored version). We all have had fun playing this game with our friends or at least heard about it. When playing, many of us would often imagine some hot celebrities or other people with whom we had little to no chance of hooking up. Today, you can play Fuck Marry Kill AND have an actual chance of landing yourself a date with someone you like.
FuckMarryKill is an app that utilizes the principle of this game and applies it to online dating. This app was launched in 2017 and is currently only available on PlayStore. You download it on your Android device, install it, and start playing. The principle is simple: you see pictures of three random members and choose which of them you'd like to fuck, marry, or kill. If someone you like likes you back, the two of you get connected and are welcome to start a conversation. Whatever it can lead to depends only on you. It seems simple and straightforward, but no app that wants to survive in the highly competitive and volatile market of smartphone-based entertainment and stay afloat ever keeps standing. As such, FMK also offers a little more than it may seem, – let's take a look.
First glance and general overview
The design is quite eye-pleasing. The colors are bright and cheerful, suggesting a playful mood. The navigation is simplistic and self-explanatory. It seems like the whole idea of the app is to inspire users to act intuitively and not have to think about anything extra even for a moment.
The bulk of FMK users are people in their late teens or 20s. Most of them are college students and active Instagram users. In our experience with the app, we have bumped into an interesting conversation partner every single time, so you can always count on that here.
Signing up and getting started
As we have mentioned, the FMK app is only available for Android devices as of now. You download it from the PlayStore for free and sign up with your social media account. You cannot create a profile from scratch using your email address. Instead, you log in with Facebook or Instagram, and your photo along with some of your details (name, age, gender, and a few more) will be copied automatically from there. This is the only thing the app does with your social media account, so there is no reason for concern here. There will be some more details that you should specify yourself: Those include your sexual preference, the school you attend(ed), a few words about yourself, etc.
Restricting the sign-up options to social media accounts is a step that FMK takes to ensure the members' authenticity. For the same reason, FMK staff will additionally review each applicant's profile manually. So, it's best if you use your original and genuine account. The approval may take up to 30 minutes, but usually, it's done within no more than five minutes. 
Gameplay and dating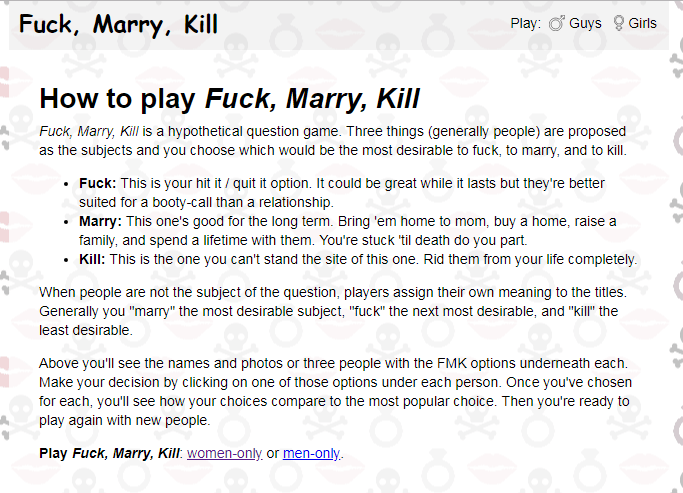 Once your profile is set up and approved, you are ready to start playing. As you may guess, you are shown three photos of different random users, and you have to choose which one of them you find the most attractive, which is the most seductive, and which one you'd never like to meet. You can make the show-up less random by applying search filters. Aside from your gender preference that we have already mentioned, you can specify your matches' age limits, their vicinity to your location, etc. Note that the person on the other end will only get notified about your reaction to them if you reactions coincide (except the 'kill' one). This means that you are welcome to rate people sincerely and subjectively without being afraid to hurt someone's feelings.
If the person whom you chose to 'fuck' or 'marry' has the same reaction to your photo, you two get connected and get the opportunity to message each other directly. From there on, what you do about your match depends solely on you: you may want to meet in real life, start an online friendship, or just have a one-off flirty conversation. Those functions are available to all users, but you can purchase a subscription and have more.
Additional features for paying players
The app would like to make your FMK experience more exciting than a very basic game and to monetize along the way. So, it has launched a few advanced features available to the members who buy a subscription. Some of these features are still at the stage of beta-testing and are only available in a few selected areas, but here are the ones available to FMK gamers all over the world:
Winks
You can send winks to people you like on pretty much every dating platform. On FMK, however, it has a slightly different function. Here, sending a wink will automatically get you into a person's list of liked profiles. It means that, as opposed to the regular gameplay for non-paying users, you don't have to wait for another person to like you back to start a conversation. A wink gives you the opportunity to start writing right away.
See who voted for you
In the regular gameplay, voting to 'fuck' or 'marry' a person will indeed get you in the line for their potential matches. Likewise, if they vote to 'fuck' or 'marry' you, they will eventually appear in your app. With the 'See who voted for you' option, you don't have to wait for the system to generate that match. Instead, you'll be able to see who liked you instantly, send them a wink, and start chatting.
Boost your profile
This feature exposes your profile to more users by making it appear in others' potential matches more frequently. It ultimately gives you more opportunities to get liked, connects you with more people, and increases your chances to find someone special.
P-p-powerVote!
Suppose you see three pictures of the gorgeous human beings. But you still have to choose which of them you want to fuck, marry, and kill. That doesn't seem very fair, does it? The first two options may be not mutually exclusive, but you just feel too sorry to have to kill any of them. FMK staff admits to having got a considerable amount of feedback about situations like this, – those were not as rare as one might think. To address this issue, FMK has introduced the PowerVote feature. It allows you to choose to fuck or even marry all three people from any given combination that you get shown, without having to kill any one of them.
Prices and fees
Winks were the first paid feature introduced by FMK, and there are separate price tags to it. It means that even if you purchase a subscription, you still have to pay extra to send Winks. But it also means that you can buy them even without purchasing a subscription. A package of 10 credits costs 3.49 EUR, 20 credits cost 6.49 EUR, and 30 credits cost 8.49 EUR. The amount of winks you can get for one credit varies seasonally, – there are always various special offers from which you are welcome to benefit.
As for the subscription that allows you to take advantage of the rest of the special features we have described, online dating services always make it cheaper for you to buy a longer subscription plan. At FMK, this difference in price depending on the term of your subscription is downright astounding. A subscription for one week costs 4.99 EUR, a one-month subscription costs 2.49 EUR, and the one for three months costs 1.99 EUR.
As of now, FMK accepts the only payment method. You can buy their paid features with nothing but your mobile phone account.
Final verdict: Whom FMK suits best and why
FMK doesn't pose itself as an online dating platform per se. According to the app's creators, it's a social experiment that aims at exploring possible innovative approaches to the very process of online dating. For this reason, as opposed to both general and niche online dating services, FMK looks like it's not quite sure yet what precisely it wants to be.
Usually, when people go online dating, they have a more or less precise goal in mind – from starting a lifetime commitment to merely finding company for some NSA fun without consequences or continuation. Depending on the goal, they pick the most suitable platform. FMK looks like it's not ultimately suitable for either of those possible goals. Instead, it's a lot like an online equivalent of a local bar – a place where mostly single people go to socialize with vague intentions in mind. Some wish to meet someone special, some merely want to get laid, and others just want to look around and chat with random people. But all are here essentially out of sheer boredom.
This indeed reflects the essence of FuckMarryKill: It's a game. It's meant as a fun way to pass the time. It might lead to a romantic involvement, perhaps even an earnest one, but it's not a must. It is indeed downright naïve to expect a platform named after a teenager game to offer or guarantee anything serious. As such, if you want to find someone to start a family with or merely a date for the night, you'd better off looking for it on a specific platform. But if you are feeling playfully romantic and don't have any definite goals in mind, then FuckMarryKill is an excellent way for you to have fun. Maybe, you can find out what kind of a romantic involvement you'd like at this point in your life. We'll grade FMK a modest 3.5/5 on our rating of online dating services.
---
More online Dating Services
---
Brides by countries on site