Pros
You will get match suggestions right after registration

All the essential online dating-related features are free

Advanced matchmaking and search filters

There is a mobile app

You can see if someone has a free or a premium account

Most profiles are very detailed
Cons
Communication options are limited for free users. Standard users can only message paying subscribers

The subscription plans at ChinaLoveCupid are somewhat pricy compared to other online dating websites

There is no video chat

No travel and legal assistance

Mobile app isn't available for IOS
Verdict
ChinaLoveCupid effectively connects singles from different parts of the globe, offering all the essential online dating-related features for free and a few additional ones at a reasonable price. We give it 4/5 stars
---
ChinaLoveCupid –Safest Online Venue to Meet Chinese Ladies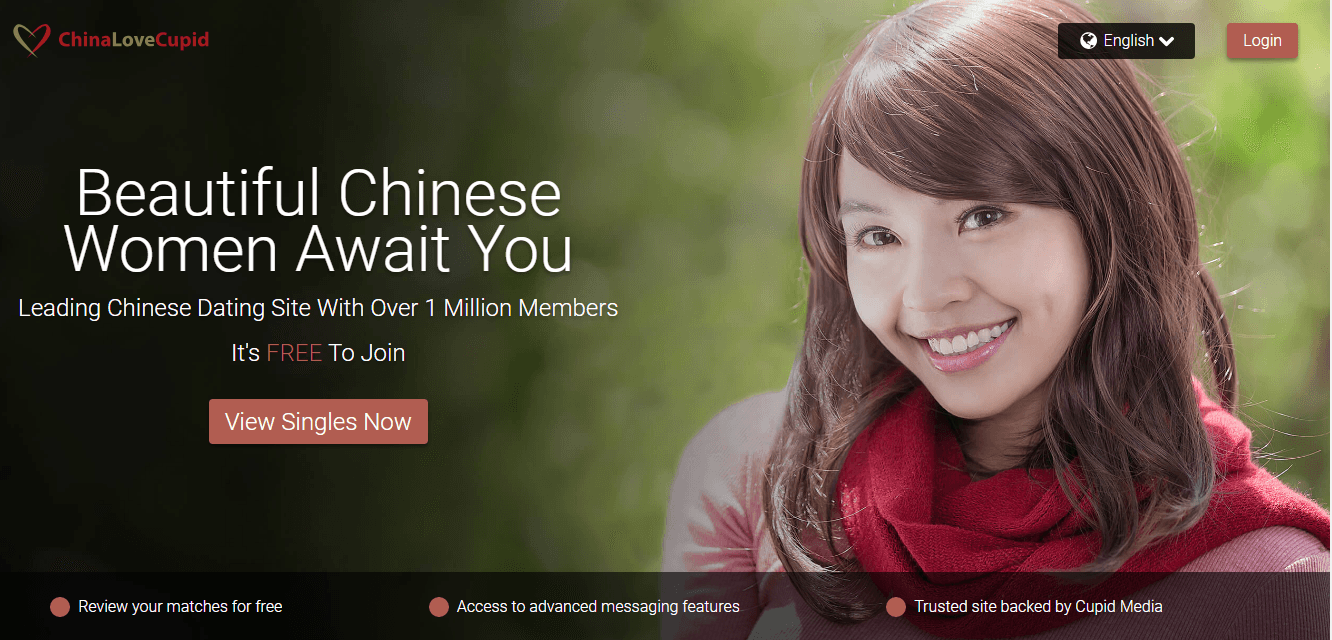 There are many gentlemen in western countries who are eager to meet, date, or even marry Chinese women. Some get charmed by Chinese ladies' delicate features such as petite stature, porcelain skin, silk-like hair, etc. Others get wooed by the persistent stereotype that Asian women are particularly obedient and fond of traditional gender roles in a family. Either way, there has been a significant demand for a means to connect Western gentlemen and Chinese ladies for quite a while now. Naturally, this demand has led to the rise of numerous specific online dating platforms. Unfortunately, not all of them were equally well-developed and well-intended. At some point, there were so many gentlemen sharing their disappointing experiences and telling stories about how they got scammed, that it almost killed the entire niche.
Fortunately, there are websites like ChinaLoveCupid.com that put their users' safety at the top of their priorities. ChinaLoveCupid got established by the Cupid Media Company back in 2004. The company operates a number of international dating websites, so they obviously should know how to do it right. Indeed, through the years of its existence, ChinaLoveCupid has earned the reputation of one of the safest and most efficient websites in the niche.
First glance at ChinaLoveCupid
ChinaLoveCupid.com layout is quite similar to that of any other dating website operated by the Cupid Media. It seems quite simplistic but has all the functions and features one would expect a topnotch dating website to have. Upon opening the main page, you immediately get prompted to sign up. But before you do, you are also welcome to read the website's terms and policies, success stories, FAQs, etc. Users can select one of the 16 different languages on the website! 
The sign-up process
Signing up and creating a profile from scratch is completely effortless. All you do is specify your email address, gender, and a few more essential details. There is no need to pass extensive personality tests or write lengthy essays describing yourself and your expectations from a relationship. The whole process takes two minutes. Of course, there are some extra fields that you can fill out to build a representative profile and make the automatic matching system more accurate. But you can return to that whenever you feel like it. Some of those additional questions are multiple-choice, others you answer in free form. In the latter case, you are welcome to use hashtags. As for the photo, it doesn't appear in your profile immediately after you upload it. The staff takes some time to verify its authenticity.
ChinaLoveCupid caters to heterosexual audiences exclusively, so the system will not ask you about your sexual preferences. Instead, it will automatically assume that you are interested in women if you register as a man, and vice versa. So, gentlemen who want to meet Asian men should better find other dating services out there.
Connecting and communicating with other members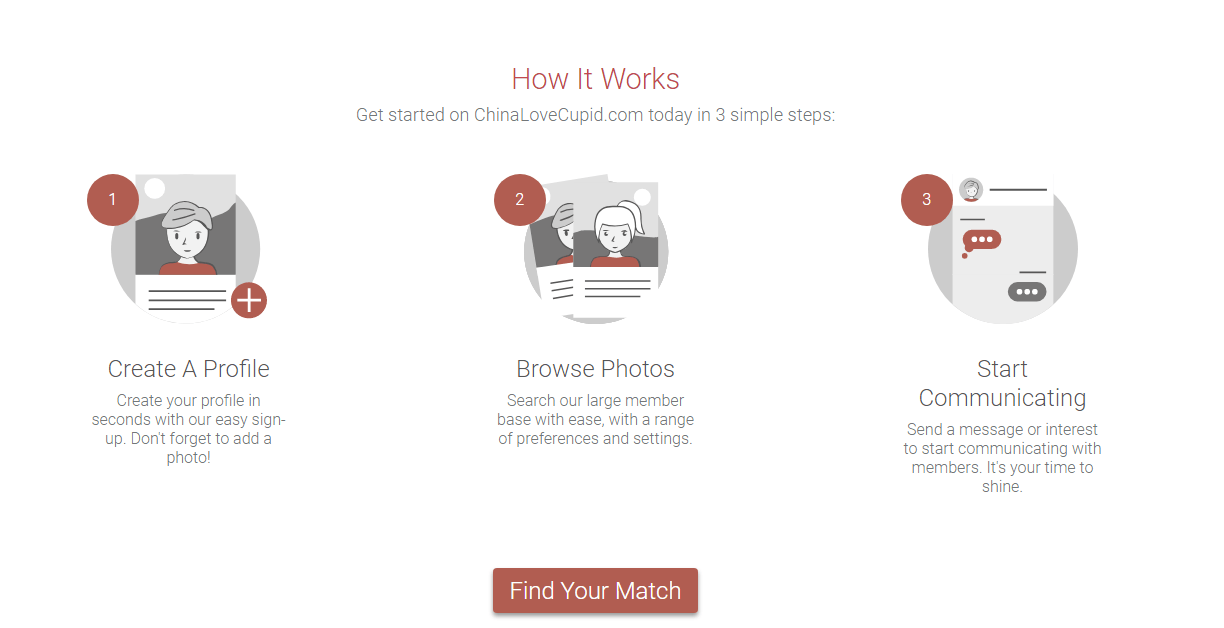 Even without filling out your profile fully or waiting until the staff verifies your photo, you can start browsing through other users' profiles, see if there's someone you like, and even engage in a conversation. There are three ways you can look for people to chat with at ChinaLoveCupid:
Search filter. You specify the desired characteristics of your partner and see who fits them. It can be anything – from their height, weight, and age to online status, location, and hobbies. Notice that platinum members will always appear on the top of your list of search results.
Automatic matching. Based on the information you have entered in your profile, the system will generate matches for you. It will work even when you have only entered the essential information while signing up. It gets more accurate when you input more data. 
Popular list. You can take a look at the section of the most popular profiles. These are the users that get the most messages and are the most active on the website. Usually, they are all platinum subscribers.
You can use all three even without buying a subscription. Moreover, all users can view all information and photos from other users' profiles – no restrictions for non-paying members here either. But as a free user, you will be able to write only to Premium members. You can't contact other free users. This way ChinaLoveCupid encourages its members to purchase subscription without getting too pushy and restricting free users fully.
There is another unique messaging feature on ChinaLoveCupid.com. You might notice that people here are utterly friendly and communicative. Exciting as it may be, it can also get overwhelming or even exhausting. If you get bombarded with messages, set up a filter to receive messages only from a particular group of users. For example, you can choose only women between 28 and 35 residing in Hong Kong to write to you.
Profile quality
Apparently, photo verification is not the only tool that ChinaLoveCupid staff uses to ensure its users' authenticity. Through our experience with the website, we have noticed only genuine and active (often, hyperactive) profiles. It looks like ChinaLoveCupid is doing an excellent job making sure that all the profiles on the website are indeed authentic. They don't disclose the actions they take, but they are efficient and seamless with no influence a genuine and well-intended user's experience.
Even though ChinaLoveCupid advertises itself as a platform connecting western gentlemen and Chinese ladies, it doesn't discriminate against any users who don't fall under either of the categories. The platform doesn't want to be a mere breeding ground for males from the West and females from China, Hong Kong, and Taiwan. Instead, it welcomes anybody whom it may interest. You can people from all over the world here, like American expats living in China, American women of Chinese descent, Chinese men willing to meet Western women, and women who'd like to meet them. The platform is quite inclusive in this regard.
We have also noticed that the vast majority of members have their profiles filled out fully. This is why automatic matching algorithms work flawlessly. As an extra perk, you can enjoy those even if you don't use them intentionally to look for potential partners. Every time you view another user's profile, you also see a quite accurate tab telling you how well this person matches to you.
ChinaLoveCupid mobile app

ChinaLoveCupid has an app available for Android-based mobile devices. Unfortunately, they don't have an app for iOS as of now. You can download ChinaLoveCupid for free from Google Play. With the app, you can start a profile, manage your subscription, and enjoy the full set of the platform's functions and features. But it doesn't offer any new features compared to the desktop version.
Subscription plans, prices, and special features
The subscription plans at ChinaLoveCupid are somewhat pricy compared to other online dating websites. On the other hand, all the essential functions are freely available to non-paying users, so one doesn't need to purchase a subscription to look for a match and interact with people at ChinaLoveCupid. Still, you can make your profile stand out and have an even more enjoyable dating experience. Here are the website membership options:
Gold membership
Gold membership at ChinaLoveCupid allows you to take advantage of the following extra features:
Unlimited messaging. Since free users can only message paying subscribers, you can't message free users you like until you purchase a subscription yourself.
Ad-free experience. Free users will see ads at ChinaLoveCupid.com now and then. With Gold Membership, you will no longer get distracted by ads.
This subscription plan costs $29.98 if you purchase it only for one month and gets cheaper if you choose to pay for three or twelve months in advance. Three-month Gold Membership costs $59.99 ($20 per month), and a one-year subscription costs $119.98 which equals only $10 per month.
Platinum membership
In addition Gold features, Platinum membership offers a set of exciting advantages:
Highlighting. First of all, you get a Platinum logo attached to your profile. It's visible to other users. It makes your profile stand out among others (for example, in the search results) and tells your potential match about your serious intentions and desire to invest a few extra bucks into looking for your ideal match here.
Priority ranking. If your potential match is looking for users by search criteria to which many other members fit, you get an advantage over other similar members. Your profile will show up at the top of the search results.
Double show-up. If your potential match for some reason skips your profile, it will show up in their search results once again later on. This way they will surely notice you.
Advanced matchmaking and search filters. Platinum membership also adds a few additional criteria to your search filters and automatic matchmaking algorithms. Platinum members get even more accurate matches.
Translation. For some reason, many people going for international online dating overlook this crucial factor. Either they assume that their international date will by default have some basic knowledge of their language, or they rely on the language of love to do the trick, – it's not our place to judge. Anyway, ChinaLoveCupid solves this problem for its Platinum members. You can have your correspondence translated automatically – at least, in four languages: English, German, Chinese, and Japanese. If you are feeling mistrustful about automatic translation, let us assure you of its remarkable quality at ChinaLoveCupid – way better than Google Translate, for example.
With all these exciting additional features, Platinum Membership is only slightly more expensive than Gold Membership. One month costs $34.99, three months cost $69.98 or $23.33 per month, and one year costs $149.99.
Billing details
Once you purchase any subscription, it renews automatically upon expiration. This means that you will get billed when your subscription runs out, regardless of whether you want it or not. To avoid it, simply uncheck the auto-renewal in your account settings.
ChinaLoveCupid accepts all major credit cards, but no alternative payment methods are available.
Disadvantages
With all its undeniable advantages, ChinaLoveCupid does lack a few features that we'd expect from a platform like this:
No video chat. A long-distance relationship means that you and your partner will have to remain nothing more than penpals for some time. It's not fair to expect everybody to have enough patience for that. The possibility of live video chats can ease the wait, but it's somewhat complicated when one of the parties is in China. Plenty of apps that we are used to are banned there – for example, WhatsApp. It would be delightful to video-call your partner directly through ChinaLoveCupid, but there is no such option. You'll have to use an alternative video messenger – for example, WeChat.
No travel and legal assistance. Plenty of international dating platforms assist you in organizing the trip to your partner's place of residence (or their visit to you). Some go even further and offer legal assistance when the two of you decide to get married. ChinaLoveCupid offers neither and leaves you on your own there.
Final word on ChinaLoveCupid
ChinaLoveCupid effectively connects singles from different parts of the globe, offering all the essential online dating-related features for free and a few additional ones at a reasonable price. They also take decisive steps to eliminate any chance of scam or other unpleasant user experience. Still, they don't offer some things that many people consider essential in online dating – like video chats and, most importantly, travel and legal assistance. That's why we can't rate them higher than 4/5, which is still respectable.
---
More online Dating Services
---