Pros
All the frequently asked questions, tips, and feedback can be found in the BBWCupid menu. These will surely help you stop hesitating and finally set your love life on the right course.

Most features are available out of charge on BBWCupid. They include a basic search engine, the possibility to view others' profiles and like them, access to photos, messaging, etc.

The fees are quite low

You can download a BBWCupid app on any Android or iOS device out of charge
Cons
A high number of inactive or fake profiles
Verdict
Considering all said below, we certainly recommend this platform to all wonderful BBWs and their admirers from all over the world.
---
Searching for gorgeous plus-size ladies? Try out BBWCupid!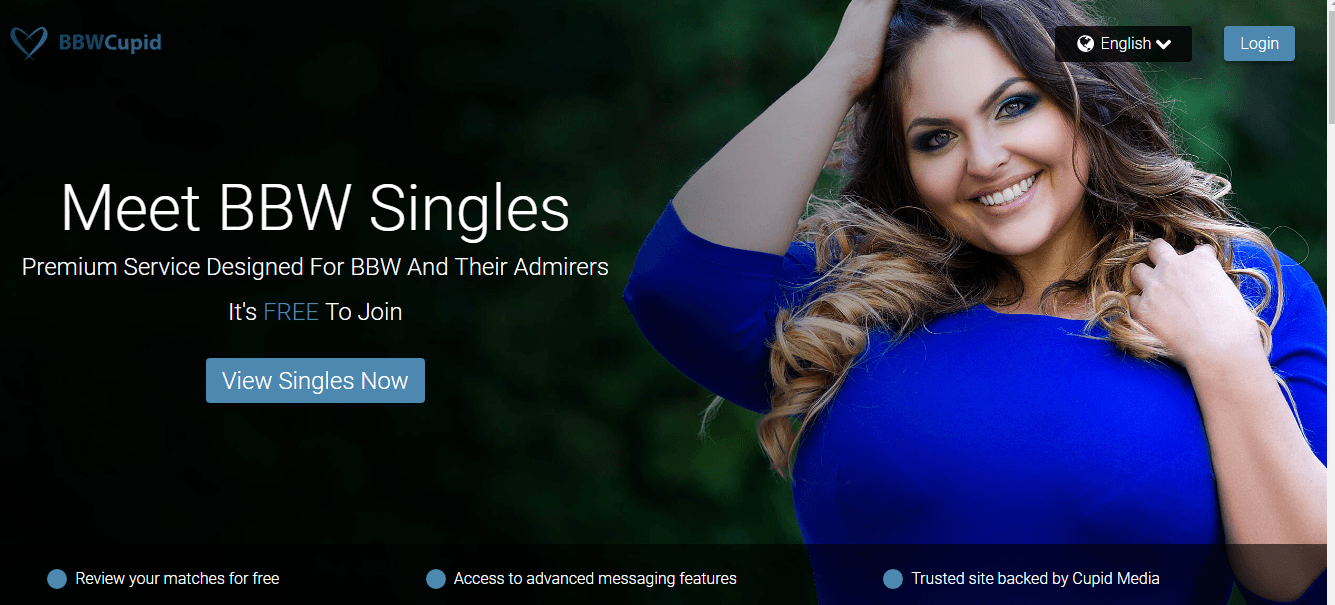 BBW stands for Big Beautiful Women which precisely characterizes ladies that come to these sites. These are women who feel fantastic looking just the way they do. And they know they deserve admiration. A BBW site is the perfect place for them to find it. Such sites are free from prejudices, and men who like big girls are very welcome here. Of course, communication is not only based on topics connected to someone's weight. Besides, it is essential to find a service that allows all its clients to feel secure and be able to arrange a real meeting.
Here, we present you with one of the most popular options one can find online – BBWCupid. Like all matchmaking websites, this one is created to match people up for a casual hookup or serious commitment. But above all, here gentlemen who are fascinated with larger ladies can find a woman of their dreams. 
BBWCupid members
Most members of BBWCupid come from the States. There are only 100,000 members. It is a rather small number as compared to the leading matchmaking platforms. But a particular niche and the fact that women are very active on this website (statistically, much more active than men) ensure that every man will meet his ideal match. 
Most females on BBWCupid are aged between 18 and 24 years old, and there are almost no women over 55. Male members fall into all age groups, so the age scatter is quite even here. 
Every member gets his or her personality tested to increase the chances of being matched with the right person. If you don't see a new member's photo, don't you worry. It doesn't mean that they want to hide their face for some suspicious reasons. The point is that all photos get reviewed by the staff before they get added to a personal page. To monitor all your activity, use the Activity section. All the likes, messages, and views are here. 
Why do I need to go through a test?
As we have mentioned above, a personality test is an obligatory part of the registration phase. But this doesn't make signing up any harder. The whole process takes several minutes. The photo verification, in turn, is a little more time-consuming but you can still start using your profile even before your pictures are approved. And the absence of photos for some time doesn't scare other members off because everybody is familiar with this rule. Besides, it means that all the photos you see on the website get double-checked, and you can rest assured that they are real and updated. 
How to search and contact other users
It is incredibly easy and fun to search for people in which you might get interested. Adjust search settings, and you will see all users who suit your requirements. There is a diversity of filters to choose from, and it is convenient that you can change them whenever you feel like it. The number of matches based on your settings is not limited whatsoever, and there is a high chance you can contact any of them. Mind that one of the two users who want to get in touch has to be a premium member. Thus, if you don't have a paid membership, you can only message and receive messages from those who do. Paying members don't have such a problem, as they can contact and get contacted by anyone on the site.
Decide whether you want to have an opportunity to contact those who haven't made up their mind wishing to look around before they buy the subscription. But one of them might be your destiny. Maybe this person will write to you and maybe not. So, isn't it better to have control over the situation? 
What are profiles like on BBWCupid?
In case you intend to save some time filling out your profile because you can surely impress your prospective partner in real-time communication, – well, this is not going to happen on BBWCupid. All the matches you get shown are selected based on your profile information. This is not a random liking and disliking others in a Tinder-like manner. It is a smart algorithm making thoughtful decisions, just like a human being makes in real life. That is why almost no profiles on BBWCupid are empty. Leaving them this way is a waste of time and depriving yourself of a chance to start an online romance. On the other hand, you can complete your profile with any info and additional photos later, – whenever you are ready. 
Initially, your photos are visible both for paying and non-paying members. If you feel like hiding them from other users for some reason, you might adjust the corresponding settings in the 'Edit Profile' tab by choosing 'Photos.'
You can use the 'Match Criteria' feature that allows you to see other users' preferences and estimate your chances to be matched up with a particular person. 
You can change the email address you have used to log in. Go to the Settings, click 'Email Address,' and type in the one you want to use from now on. 
BBWCupid mobile app

You can download a BBWCupid app on any Android or iOS device out of charge. The desktop version and the app share the whole functions available to the users. The app interface is easily navigable and much less bugged than the apps and, especially, mobile versions of many other matchmaking platforms. Nice welcoming themes and colors also contribute to your on-the-go online dating experience. The app will ask to access your galleries so that you could upload photos right from your device. 
Although Android users can enjoy the app, those who have Apple devices get additional bonuses which are only available for premium members. Using a mobile application is as safe as using a desktop version, including in terms of privacy. No personal information, settings, passwords, photos (until downloaded to the site), and other content from your device are accessible to other BBWCupid users. Plus, the cooperation with Apple and Google Play makes it easier for the BBWCupid management to sort out fake profiles. 
BBWCupid membership and prices
All membership prices on BBWCupid are very affordable. And they get even cheaper when you purchase a longer membership plan. One month of using premium services will cost you $24.98 (paid monthly), $16.66 (paid for three months in advance), or just $8.33 (when you pay for 12 months.) Platinum membership fees are a little higher but, again, as compared to other websites – not high at all! 
One may ask: Why would I pay anything if the abundance of BBWCupid features is free of charge? Indeed, free members can enjoy a bunch of great features dating online on this website. For starters, you can search and view any profiles and photos without paying anything. Moreover, you can like other users, add them to your Favorites, and see which users show their interest in you. You can even send messages and receive ones, as long as the person on the other end is a premium member. 
Nevertheless, the paid membership brings BBWCupid users so much more. They can utilize an advanced search engine, which means that their matches won't just meet their basic requirements, such as gender and age. They can ground their choice on someone's personality traits, mutual interests, hobbies, etc. They can write to whoever they like, no matter whether it is a paying member or not. The live chat is available to them, so they don't have to wait until their match answers their messages. Besides, those who speak different languages can enjoy communicating without any barriers by having their messages automatically translated. 
Premium members' profiles can get highlighted to make sure that interesting people will notice them. And they can use Cupid Tags which make the whole searching process less time-consuming than ever before. 
If you check out the profiles of free and premium members on BBWCupid, you might notice that some of the latter have more information on their profile pages. This is achieved with the 'Double' feature that allows users to tell the community more about themselves. 
You can purchase a premium or platinum membership paying with your credit card. Mind that there is a re-billing feature that charges you automatically once your membership expires. To cancel it, go to the Settings, choose 'Billing,' and switch to 'No' when the site asks if you want to auto-renew your membership. Then, save these changes.
Does BBWCupid have any downsides? 
Of course, it does. There is no perfect website for people to communicate on in the whole world. Even the worshiped social media get bugs and glitches from time to time, not to mention much smaller dating platforms. The point is whether the team can face these problems as soon as possible. And BBWCupid indeed does it's best in this respect.
A real problem is a high number of inactive or fake profiles. It's the same with many other dating websites. Users who come across such profiles can get quite upset. But the site does everything possible to minimize the chances for their clients to be scammed. Unlike many other services, BBWCupid requires users to fill out their profile pages to the full. Besides, you can see when this or that user logged in the last time. All photos undergo verification, and if there is no photo at all, it may either mean that this person is new to the site (which is easy to check) or that he or she has something to hide. One way or another, both free and paying members are fully equipped with all the tools to avoid ill-intended people, scams, and Internet bullies. 
The final word on BBWCupid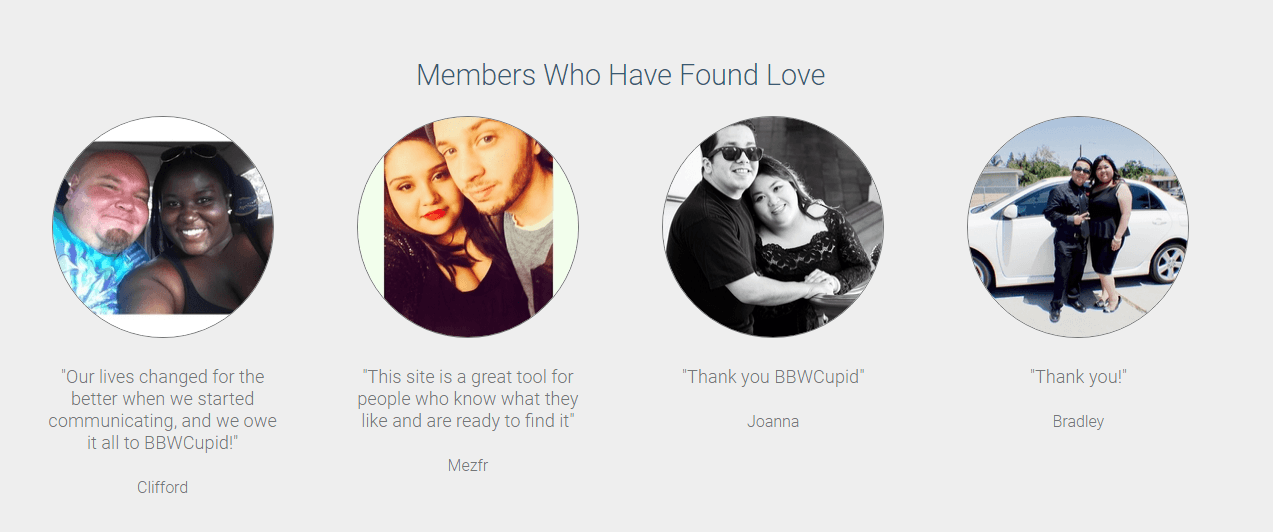 Although the mass media still try to dictate girls how they must and mustn't look and demand men to admire those corresponding these given criteria, the society has already understood what freedom means. The most various groups of people create communities based on their interests and preferences. This has spread in any sphere of our life, and online dating is no exception. 
That is why BBW websites have become so popular nowadays. Here, both men and women can find each other without feeling any pressure. BBWCupid certainly stands out among such dating platforms because of its closest attention to security issues. All users who show disrespect or try to abuse others get blocked in no time after the staff receives an abuse report. The site also keeps an eye on different sorts of scams and delete fake profiles immediately. 
Using the website and the app is fun anybody can enjoy for free. Most features only available to paying members on other websites are out of charge on BBWCupid. They include a basic search engine, the possibility to view others' profiles and like them, access to photos, messaging, etc. As for paying users, they get rid of any limitations that might stop them from meeting their soulmate. They get a lot of extra cool features, like having messages they receive translated which is excellent if you happen not to speak the same language with your match. The fees are quite low, as compared to other BBW sites and general dating platforms. 
The site's blog will provide you with all the necessary information about dating online in general and using this service in particular. All the frequently asked questions, tips, and feedback can be found in the BBWCupid menu. These will surely help you stop hesitating and finally set your love life on the right course.
Considering all said above, we certainly recommend this platform to all wonderful BBWs and their admirers from all over the world.
---
More online Dating Services
---
Brides by countries on site