Pros
Free registration

Unlimited communication without getting a paid membership

Live chatroom

Notifications about profile views

Intuitive navigation

Eye-catching design
Cons
Zero unique features

Poor audience targeting (some are looking for friends, others — for dates)

Plenty of ads
Verdict
If you want to chat with friends and like their pics, go to Facebook or Instagram. If you want to land a date — go to any other dating site that matches your romantic goals and preferences. Mixing the two (which Waplog did) is counter-productive.
---
Waplog Review of the Essential Features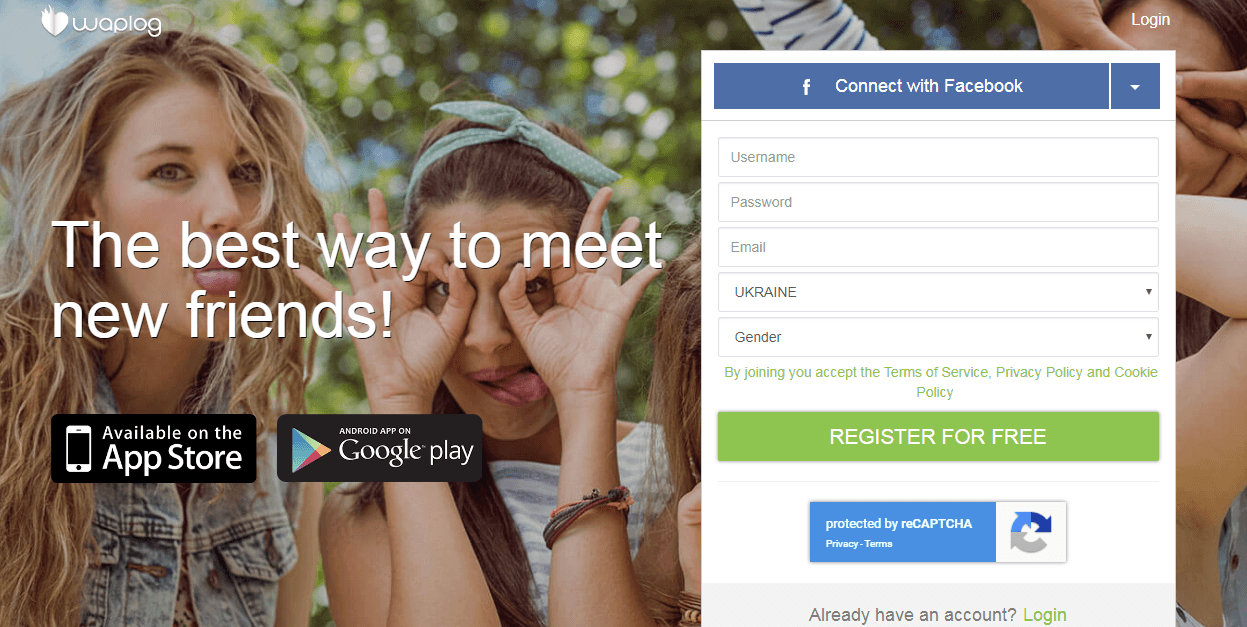 Waplog advertises itself as a dating platform, even though in practice plenty of members use it as a social networking site, not unlike Facebook or Twitter. On Waplog, users can create personalized profiles, post status updates, and interact with each other through likes and comments. Simply put, this platform acts not only as a date, but also as a friend finder, so if you're searching for a new networking site that can land you dates — read on. We'll discuss what Waplog is really about and how to use it. 
Waplog Members
Approximately 65% of the platform users are men, which is a very unusual stat for an average dating (or even social networking) platform, where women usually outnumber the men. It's tough to draw any conclusions as to member activity based on gender ratio, but one thing is rock-solid — Waplog boasts an impressive 21 thousand unique logins every day. Approximately 6 millions users come from the US.
The service was designed in 2010, and initially, it worked as another social media site. However, with the expansion of giants like Facebook, Waplog had to rethink its target share and position itself as a dating-related platform. Still, one will have to note that even today some of the Waplog members are using this service purely for networking. So, if you plan to use it as a dating site in its classical sense, finding a date might take a bit longer than usual. 
How to register with Waplog
Registration with Waplog takes about two minutes, even if you choose the lengthier option (that is, manual registration with an email). There is also a shortcut — simply sign in with your Facebook details; in this case, the app will automatically fill in your basic Facebook info. While registering with an email, you will have to fill in these details manually and verify your email address. Waplog registration is free of charge and does not require filling in pages of info about yourself, though. Once you sign in, you will be able to see all your potential matches based on the location and any information you've mentioned in your partner preferences. 
Communicating with other users
Waplog offers all of its users, both free and paid ones, a chance to engage in meaningful communication with practically anyone they like. A new member can browse through the entire user database and see a list of potential matches. Next, sending and receiving messages is 100% free. There is a chat, and you can invite anyone you like for a private conversation. All it takes is clicking the 'chat' button under a user profile and wait if the person approves. Also, it's possible to add other accounts as friends or like them. 
Waplog profile informativeness 
Most profiles are quite detailed and feature a lot of photos all users can browse through for free. Besides, as we already mentioned, interacting with other site subscribers is incredibly simple — you just click on the account, browse through user photos, and if you feel like it, add this account as a friend or start a private chat. All in all, the logic of Waplog is pretty similar to that of Twitter — where all info is easily accessible to anyone on the platform. 
Next, users get notifications when someone views or likes their photos/accounts. The pictures, however, are first run through a quick check by site admins, so it may take a couple of hours before your newly uploaded pics become visible to a broader audience. 
Editing a profile, changing the info, and uploading new photos is possible on any stage of using Waplog, not just during the registration phase. The biggest downside is that you cannot see if the person is looking for friends or a relationship — not on their profiles, at least. So, you'll have to engage in conversation to find that out. 
Website and app design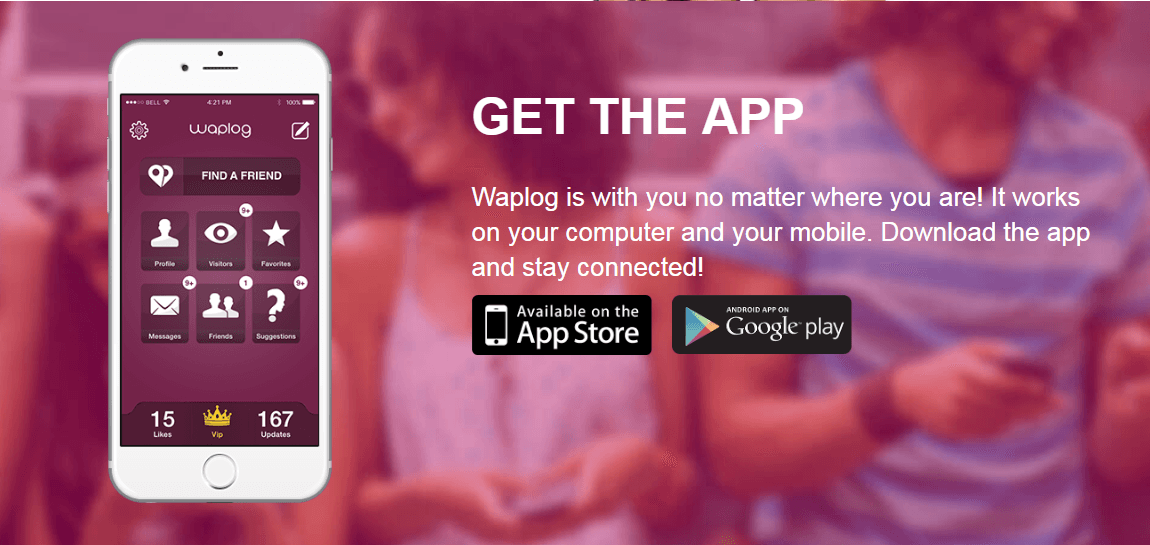 Waplog user interface is both eye-catching and intuitive. All essential tabs and buttons are where users expect them to be, and they are quite catchy — so it's hard to miss them. But, as you'd expect from a free platform, Waplog makes revenue from ads — and if you're not a paying member, these ads may get a bit annoying. Basically, any time you click or tab on a button, an ad appears, interrupting your whole user experience. 
An app version of the service is also available, and it runs both on iOS and Android. Downloading and using the app is free, and if you are not a fan of manual registration, you can import all of your Facebook details and be done with it. Waplog app features the same flashy design as the website and is also incredibly user-friendly to navigate. It does not add new features to the desktop functionality, but on the upside, it does not compromise on any of them either. And, similar to the desktop version, you can search for the potential matches in your immediate vicinity or pretty much anywhere around the globe.
User feedback and testimonials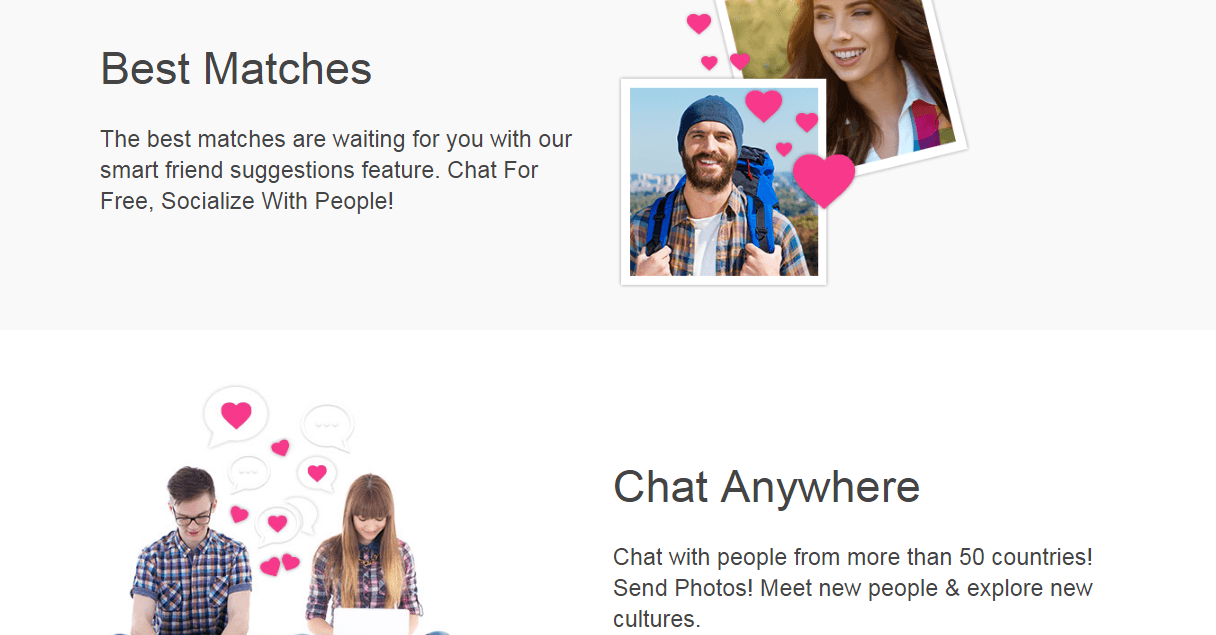 Even though Waplog does not offer its users any special perks, customer feedback is quite satisfactory. Here's what a young college girl had to say about the platform:
"I love this app! It's true that the ads get in the way quite often, but I love the fact that you can truly communicate for free, even without getting a paid membership. So, I guess ads are tolerable. As for communication means, I really enjoy chatting to plenty of other students worldwide. Waplog really has what it takes to connect you to hundreds of people across the globe. Plus, you instantly get access to their profiles, so you don't have to guess who they are. I personally see Waplog as a blend of Facebook and Twitter, and it's great. You can have your wall and share your ideas, just like on Facebook. But, you can also quickly interact with other users, without having to friend them or something — like Twitter. I think that's a great mix!"
Waplog membership fees
As already mentioned, you can use Waplog for free without having to downsize on any of the essential communication features. Free users can create and edit their profiles, upload pictures, as well as search and get in touch with other members via a free live chat. 
Paid users, however, get to enjoy an ad-free experience. There are also a couple of other services one might find useful. First, premium accounts get in the spotlight and are shown on top of the search results. Besides, they get featured in the matching section more often, so if you want to boost your chances of a date, you might want to consider getting a paid membership, after all. Finally, paid members can see read messages receipts, which is also a handy little feature most people would enjoy.
As for the membership costs, we'd call them moderate. One month of using Waplog comes at $9.49. Three-months subscription is cheaper: $8 month, or $23.99 total. And, if you decide to subscribe for a full year, the price per month drops to just $4.75, or $56.99 total. 
Users can pay for a premium membership via a mobile app, from their iTunes accounts. Note that all subscriptions renew automatically, so should you want to cancel, you'll have to switch the auto-renewal first. Otherwise, your card will be billed 24 hours before the current subscription expires.
Special features from Waplog 
As you already noticed, Waplog is not too creative when it comes to the services offered. Basically, it all goes down to posting status updates, liking each other's pics, and chatting. The only extra perk is Waplog stories — which, in all honesty, work exactly the same as Facebook or Instagram stories. Those are 15-second videos, visible for 24 hours after you post them. All users on your friend list can watch and react — simply put, old news.
Safety and security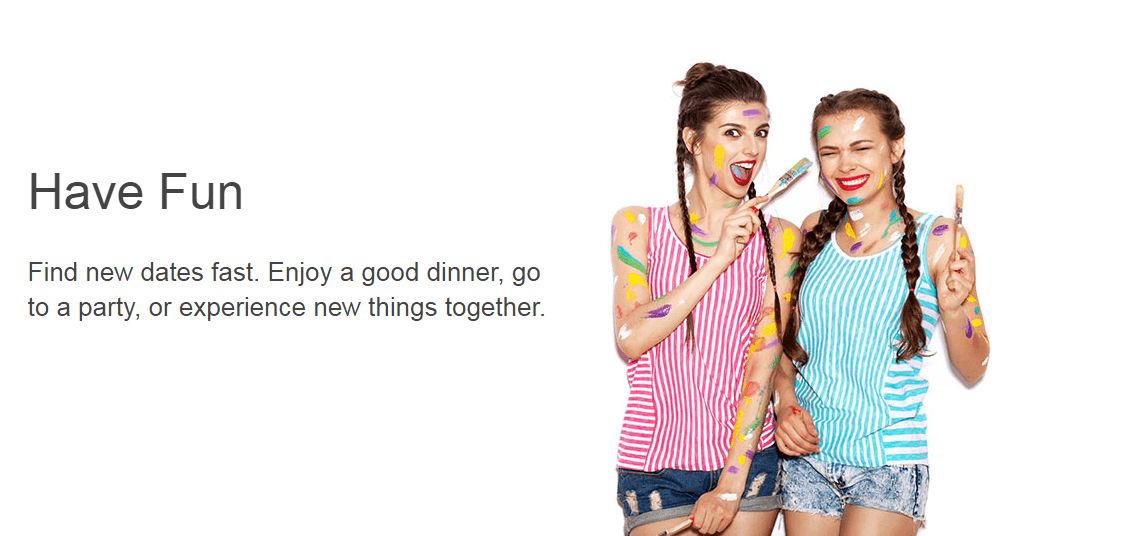 As you already guessed, Waplog operates on the same basis as most sites these days — they're not supposed to share user data with the third parties, repost it without user persimmon or use it to their benefit in any other way. So, the privacy policy is pretty standard. And, given that Waplog has not been engaged in any sort of Internet security scandals, we can just assume that the management is doing their job. 
However, as with any other dating or social networking site that does not ask its users to verify their IDs (and Waplog does not ask anyone to do so), you will have to keep a clear head when interacting with other users. It's true that most profiles are authentic and accurate. However, there is always a chance of coming across a spammy or a fraudulent profile. You can report suspicious activity or simply block messages from people you do not know personally.
If you do not like your Waplog user experience, deleting a profile is also simple and takes about a minute or less. Just go to the website setting and scroll down until you see 'Delete Account.'
Summary & takeaway 
Waplog is a solid and nice to use platform but, in all honesty, it does not offer anything special. The functionality is clearly borrowed from Facebook and Twitter, and the audience (and its goals) is poorly defined. The only excuse is that Waplog started out as a networking site. This did not work, so the company rebranded as a dating/networking app. And, even though, Waplog does have a few users across the globe, it remains somewhere in between a media site and a dating platform. 
In our opinion, however, it would be wiser to choose one goal and stick to it — both for the company owners and its average users. Our conclusion is — if you want to chat with friends and like their pics, go to Facebook or Instagram. If you want to land a date — go to any other dating site that matches your romantic goals and preferences. Mixing the two, however, is counter-productive. 
On the upside, the site is easy to use and is 100% free, so if you want to check it out personally, nothing can stop you from doing so. Besides, it does have a couple of perks to offer.
---
More online Dating Services
---
Brides by countries on site