Pros
Quick and easy registration

Multi-layer security policy

As a free user, you can access basic matching, send interest, and reply to messages

You can choose one of the two memberships purchased for one, three, or twelve months

It has a mobile app

Most InternationalCupid profiles are very detailed

Over 1,000,000 users worldwide
Cons
Communication options and other features are very limited for free members

App is not available on IOS
Verdict
In all, the experience you get from InternationalCupid is worthwhile and rewarding. The variety of users is amazing - much better than many other niche dating sites can provide. You can easily find a person that is your type. Thanks to the multi-layer security policy, you do not need to worry about fake or scam accounts.
---
InternationalCupid: A Dating Site for Everyone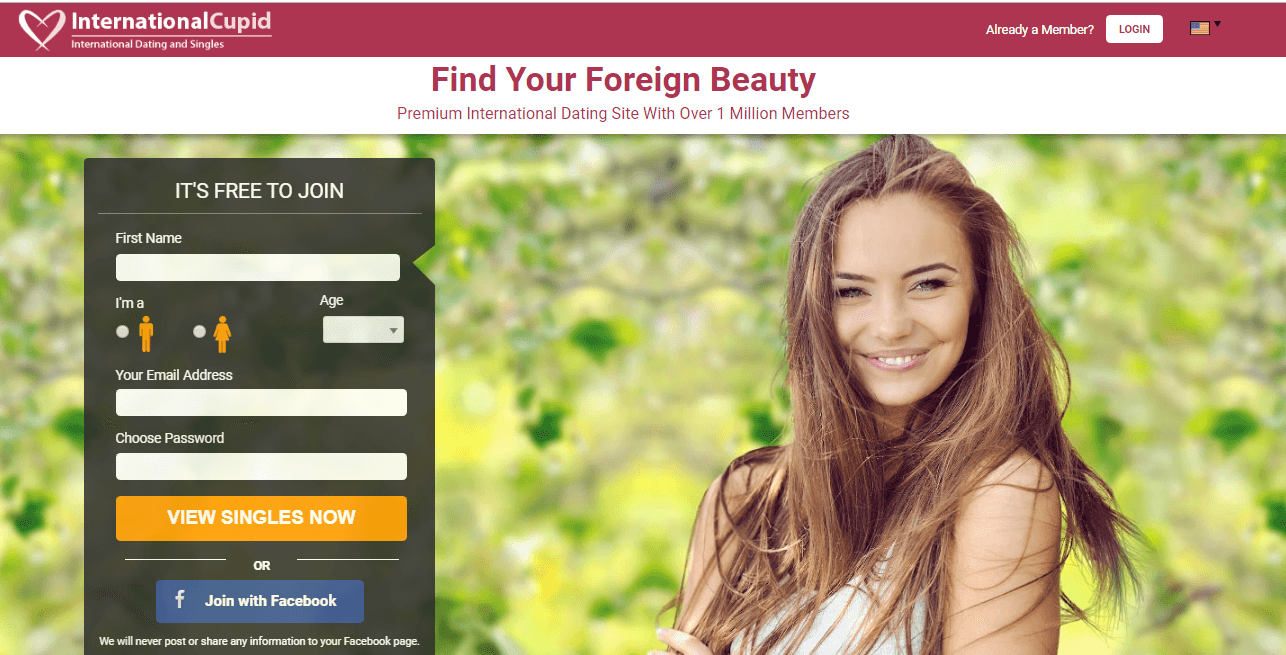 You may be unwilling to date people in your area or tired of it for different reasons. Sometimes, locals can't offer the kind of fun you are pursuing. Or they do not share your values. Maybe, you travel often, and you can't spend enough time in a single location to have a traditional love life. Perhaps, the idea of international dating is fun and exciting for you. If any of these is your case, InternationalCupid might just be for you. 
InternationalCupid is a dating website that is owned and operated by Cupid Media network that also created Muslima, AfroRomance, and FilipinoCupid. Cupid Media is known for its reputable niche dating websites. As its name suggests, InternationalCupid is intended to provide singles all over the world with a platform where they could connect. It is for everyone seeking love and relationships, regardless of their nationalities or physical distance. With countless success stories on the site, InternationalCupid is one of the best and trusted dating sites in the world. Many frequent travelers adore InternationalCupid as it allows them to date on-the-go, which is basically a 2 for 1 deal. You can talk to members on the site in the taxi or get yourself some local dates while traveling.
InternationalCupid provides its users with the variety and diversity of choices. So, you will find someone that is just perfect for you. If you are looking for a one-time fun or a long-lasting commitment, InternationalCupid will help you. 
InternationalCupid Members 
With over 1,000,000 users worldwide, InternationalCupid has a really diverse and multinational member base. While most of its users come from the United States and European countries, quite a significant number of its member are also from Latin America, Africa, Asia, and the Middle East. Many members are between 35 to 54 years of age, and they all joined InternationalCupid to find a relationship with a foreigner as they stated that clearly in their profile. The site has 1,000 daily logins, so you can be sure to get some action. You have a higher chance of finding female users between 18 and 45 as most of them are concentrated within that age range. The gender proportion is surprisingly balanced, and the number of male users equals that of the female. 
Creating an Account
Signing up on InternationalCupid is very quick and straightforward, taking less than 5 minutes. Provide basic information, including your name, email, password, gender, and age. Verifying your email, uploading a profile photo, and sharing any additional information is not required to create an account. However, you should get to these as soon as possible because whenever you want to do something, a pop-up window will prompt you to complete your profile, which is a bit annoying. 
You also have the option to join via Facebook. Linking your accounts would import photos from your Facebook profile to your InternationalCupid photo gallery. Free members can only upload five photos.  
Messaging People
While there are many ways for its users to reach out to other members (video chat is not one of them), free users can only send hearts or add others to their favorites list. Sending message is only for premium members. However, free users can reply to messages. If you are just starting out on InternationalCupid, you can send hearts to other users and hope that they would message you back. Statistically, free female users get more luck than male ones in such a case. Clearly, saving a few bucks is not the way to go, which is why you should consider upgrading your membership. 
There are basic and advanced search filters available on InternationalCupid. The set of filters you can use depend on the kind of membership you have. In addition to the filters, you can browse popular categories such as most popular users, latest photo uploads, users in your area, or new users. There is also a special section called 'Exotic Foreign Ladies Gallery,' but free users can't interact with them. Sending hearts, messaging, and adding them to the favorite list are strictly for premium members.
The Quality of Profiles
Most InternationalCupid profiles are very detailed. A lot of users take their time to fill out all the details they are willing to provide. Their profiles have more fields containing a variety of information that allows them to find a better match. Everyone, including free users, can view any profile without restriction. It is also worth noticing that you will earn a verified badge when you go through a verification process.
An average profile on InternationalCupid has an 'About Me' section that contains information about the user's appearance, lifestyle, cultural values, background, and personal details. There is also the 'About the person I am seeking' section which tells you about a person's preferences of a partner. All profiles have an indicator showing if you and the other user fit each other's criteria. If it's a green dot, it's a match. If it's a red cross, it's not. 
In an attempt to protect its user's privacy and prevent fraudulent activities on the site, InternationalCupid terminates suspicious and low-quality profiles almost immediately. As such, you should at least verify your identity by uploading a clear picture of your ID if you don't have time to fill out all the fields in your profile. That way, your profile would not be suspended immediately, and you can go on to fill out other details later. 
Speaking of details, you can always change your profile photo and information later, so there is no need to fill everything out in one sitting. Moreover, if you are inactive for six months in a row, the site will delete your account. In case you wish to delete it yourself, just go to your account settings and click on the 'Delete account' button. 
Of course, with all of these security features, InternationalCupid is supposed to be 100% safe. Unfortunately, try as they might, there are still a few scammers with malicious intents roaming the site. Therefore, you should be careful about low-quality profiles as most likely they are fake. If you stay cautious, you should be fine. The rule of thumb is: Never spend a cent on a person unless you know them well or have seen them in person. If you come across a suspicious profile or obvious scam, you can report them. InternationalCupid's lines are always open for reports, and they made the 'Report User' button easily accessible to ensure that they take action as soon as possible. 
Mobile App

The InternationalCupid mobile app shares the same functions as its website counterpart. All its main features are displayed as icons at the top of the screen for easy navigation. The member search results show new profiles or new photos uploaded on top in a linear layout. You can see all successful matches.
You will also notice two action buttons atop each profile photo on the member search display. One of them is to send a heart, and another is to send a message. Just like the desktop version, the app only allows paying users to send messages. Mind that this app is only available for Android, not iOS.
The Site's Usability
Overall, both InternationalCupid site and app are easy of use by people of all ages. The features are put into accessible tabs at the top so you can navigate through the site with no effort. Contacting other users is also a single click away whenever you are looking at a profile and photo in the search results. In the match suggestion tab, the results are well-organized, and space is optimized. Hovering over a photo would make the action buttons appear, helping you contact others quick and easy. 
Free and Paid Memberships
As a free user, you can access basic matching, send interest, and reply to messages. Again, this is very limiting, and you will not get very far, if at all, with this. There are two membership plans you can choose from, though you should definitely think about spending a few extra bucks on the best plan.
Gold membership allows you to communicate with both free and premium users. Basically, you can talk to anyone on the site with no restriction. You also have an opportunity to browse anonymously through other user's profiles, if you don't want them to know that you have checked them out. There aren't that many ads, to begin with, but Gold members don't see any of them.
With a Platinum membership, your profile is placed at the top of any search results, and it will also be featured throughout the site. This increases your chance of being found by other users hugely. You will have access to advanced matchmaking algorithms and advanced search filters. Finally, all the messages you get are translated into your language. Don't rush into conclusions thinking that this feature is not as helpful. Given that there are plenty of users whose English is bad, translation services might be very handy.
On top of that, you will get more space on your profile (twice the size) to work with, not to mention that you can access the Exotic Foreign Ladies gallery and contact the members featured there. 
Prices and Payment Options
You can choose one of the two memberships purchased for one, three, or twelve months.
For the Gold Membership, the price is $29.98, $59.99, ($20.00 per month), and $119.98 ($10.00 per month) for a month, three months, and a year respectively. 
For the Platinum Membership, the price is $34.99, $69.98 ($23.33 per month), and $149.99 ($12.50 per month) for a month, three months, and a year respectively. Purchasing either Gold or Platinum membership, you save 33% with the 3-month subscription plan, and 67% with the 1-year subscription plan.
Of course, the monthly rate is only mentioned for easy comparison. Everything is billed in one payment. You can pay via bank transfer, credit card, PayPal, Paysafecard, or online bank transfer. 
Your premium subscription automatically renews when it expires. You can always opt out of the auto-renewal by going into your account settings and disabling it. When you cancel your membership, you will get a refund only you have not used any of the paid features of the website. If you happen to cancel your membership in the middle of your membership term, you will not get a refund. However, you get to enjoy all the features provided, until the term ends. If you do not like the membership, you can send feedback to the customer support team. They will always face any issues immediately to improve the service.
Final Verdict
In all, the experience you get from InternationalCupid is worthwhile and rewarding, but premium members get much more. When you think about it, both Gold and Platinum Membership cost you less than 40 cents a day, which is more than affordable. 
The variety of users is amazing – much better than many other niche dating sites can provide. You can easily find a person that is your type. The users are looking both for quick fun and lasting commitments. Thanks to the multi-layer security policy, you do not need to worry about fake or scam accounts. There is always someone for everyone, which is why InternationalCupid is so successful.
---
More online Dating Services
---
Brides by countries on site